OUTSTANDING PASSENGER VESSELS OF 1988
ALEXANDRIA BELLE Blount Marine In 1988, busy passenger boat builder Blount Marine Corporation of Warren, R.I., delivered the 87- foot replica steam paddlewheeler Alexandria Belle to Uncle Sam Tours of Alexandria Bay, N.Y.
The third vessel to have been built by Blount for the Combined 1000 Island Boat Tours' Uncle Sam Tours, the Alexandria Belle is powered by a pair of Detroit Diesel 8V71 diesel engines to speeds of about 10 knots. The 87-foot day/dinner excursion boat has a beam of 32 feet 2 inches, depth of 8 feet and loaded draft of 4 feet 8 inches. Cruising the St. Lawrence Seaway, the replica Mississippi steam paddlewheeler Alexandria Belle offers her passengers panoramic views of the islands of the popular Thousand Islands region of Upstate New York.
The 400-passenger excursion boat has dining facilities on her main and upper deck and outside seating on her bridge deck. Manned by a crew of up to 25, the Alexandria Belle has a potable water capacity of 515 gallons and a fuel capacity of 1,122 gallons.
Her special features include a non-propulsive stern wheel and rotating lift/lower bow ramp for easy passenger boarding/disembarking operations.
She offers a variety of live entertainment on her three-hour cruises, including dinner and comedy cruises.
AMORELLA Brodosplit In 1988, Yugoslavian shipbuilder Brodosplit delivered the 37,500-gt Amorella, the first of two new generation Baltic cruise ferries, to owners SF Line for operation by Viking Line on the Turku-Mariehamn- Stockholm service route.
The 2,200-passenger-capacity ferry, which also can accommodate 620 cars/53 trucks, has an overall length of 555-1/2 feet, breadth of 90-1/2 feet, depth of 28 feet and draft of 19-1/2 feet. With a deadweight of 2,800 metric tons, the Amorella is powered by four SEMT Pielstick- Jadranbrod 12PC2-6V/400E diesel engines rated at 7,965 hp each. The 12-deck vessel, which has 565 passenger cabins, can reach speeds in excess of 21 knots.
The order for the Amorella and her sister ship, which is expected to be delivered in the spring of next year, represented an important breakthrough into the passenger ferry building sector for Brodosplit and the Yugoslavian shipbuilding industry.
One outstanding feature of the Amorella is that 90 percent of her passengers will have berths, whereas current generation Baltic ferries on the route provide only about 60 percent of the passengers with berths.
The outfitting of the Amorella's public spaces was subcontracted to Danish company Aalborg Vaerft.
BAY LADY Service Marine In the first quarter of 1988, Morgan City, La.-based boatbuilder Service Marine Industries delivered the elegant 600-passenger cruise boat Bay Lady to operator Baltimore Harbor Bay Tours, Ltd., Baltimore, Md., for dinner cruise/excursion service on the Chesapeake Bay.
The sleek 140-foot-long vessel has a yacht-like hull shape and is designed for luxury harbor cruising.
Her interior features fine appointments throughout, including custom bars with back lighting, polished brass fixtures and teakwood accents.
A sophisticated atmosphere is created by the use of mirrors and an excellent sound system. Passengers are kept comfortable by 60 tons of Carrier air conditioning, and outside glare is reduced by the use of tinted glass.
The Bay Lady, a sub-chapter T vessel, is powered by a pair of Cummins 300-hp NT-855 diesel engines.
The diesels, which were supplied by Cummins Mid-South, Morgan City, La., are fitted with Nelson exhaust silencers to reduce engine noise.
Auxiliary power is provided by two Cummins NT-855 engines, also supplied by Cummins Mid-South, driving 150-kw Newage Stamford generators.
The generator sets are mounted on springs and the soundproofed engine room is fully insulated to reduce noise levels.
The top deck of the three-deck Bay Lady can accommodate 275 passengers, while her lower deck can handle 320 persons. The upper deck is partially covered by a canopy for open air passenger comfort.
One of the most distinctive features of the Bay Lady is her large full-service galley. The complete 30- foot by 20-foot galley, which is fitted with four convection ovens, a walkin cooler, a refrigerator, freezer, dishwasher, and electric range, is used to prepare all of the Bay Lady's meals onboard.
The Bay Lady will operate in the Baltimore Harbor area in the spring and summer months, and move south to the Key Biscayne, Fla., for the winter.
CARIBE TIDE Equitable Shipyards Last year, the New Orleans yard of Equitable Shipyards of the Trinity Marine Group delivered the 85- foot, 232-passenger, high-speed ferry Caribe Tide to Transportation Services of St. John, Inc., in the Virgin Islands.
The new ferry now carries passengers from cruise ships in Virgin Island harbors to points of interest.
It also doubles as a sightseeing boat carrying visitors on interisland tours.
The all-aluminum Caribe Tide is 85 feet in length, with a 24-foot beam, and a 5.5-foot draft. She is powered by four Cummins KT19M engines developing a total of 2,040 hp at 2,100 rpm through Twin Disc MG514 gears with a ratio of 2:1. The Caribe Tide can reach speeds of more than 21 knots.
Special attention to passenger comfort is provided by 10 tons of Rheem air conditioning which is sized 185 percent over total capacity for the warm climate and to compensate for open doors at loading and unloading.
CROWN ODYSSEY Meyer Werft Built at a cost of $178 million, the luxurious 1,221-passenger cruise ship Crown Odyssey was delivered last year by the Papenburg, West Germany, shipyard of Meyer Werft to Royal Cruise Line of Piraeus, Greece.
Intended for worldwide service, the Greek-flagged 616-foot cruise ship has a molded breadth of 92-1/2 feet and draft on summer freeboard of 22.7 feet. She has 12 decks, and is able to carry 1,221 passengers in 526 cabins. Each of the 526 staterooms are fitted with individually controlled air conditioning through diffusers discreetly incorporated into the ceiling. The 40,000-grt Crown Odyssey also has 199 crew cabins and a complement of 443.
Classed by Lloyd's Register of Shipping, the Crown Odyssey is powered by an innovative "father and son" four-engine plant consisting of two Krupp MaK 8M601 "father" engines with an output of 10,880 hp at 400 rpm each and two Krupp MaK 6M35 "son" engines, each developing 3,604 hp at 720 rpm. The plant produces a total of about 29,000 hp and a service speed of about 22 knots. The engine output is being transmitted via double reduction Renk gears with integrated lamella couplings to a KaMe- Wa controllable pitch propeller system.
The main and auxiliary engines are designed to operate on heavy fuel oil IFO 600.
Electrical power is provided by four Krupp MaK diesel generating sets with a total generator capacity of 12,500 kva as well as one emergency generator with a capacity of 760 kva.
Two semi-spade rudders directly fitted behind the controllable pitch propeller and two bowthrusters ensure good maneuverability of the Crown Odyssey. Additionally, she is fitted with Ross Industrie stabilizers which reduce her roll motion by 90 percent at a speed of 17.5 knots.
On board the Crown Odyssey there are a total of 11 public rooms including the "Seven Continents Restaurant" on deck 6 which seats 640 persons. The other public spaces are situated on the Odyssey, Lido and Horizon decks (7th, 8th and 11th decks). The sophisticated air conditioning system in the public rooms regulates temperature and humidity automatically depending on the room's occupancy. The Monte Carlo Court, which is located on the Odyssey Deck, includes a casino, bar and several boutiques.
Forward of this area there is the Odyssey Show Lounge with submergible stage and seating accommodation for 500 persons. Aft of the Court there is the Yacht Club, which has a 280-person capacity with an illuminated dance floor and an ample buffet.
The Crown Odyssey has a swimming pool on her 1st deck, as well as a fitness center, two saunas, two massage rooms, ample sun deck space and a beauty palour. She also has two whirlpools located on the Penthouse Deck (10th deck).
NILS DACKE Schichau Seebeckwerft In 1988, the Bremerhaven yard of West German shipbuilder Schichau Seebeckwerft AG delivered the world's largest railway/freight ferry, the 581-foot all-around combi-carrier Nils Dacke, to Rederi AB Swedcarrier, the pool-partner of Hamburg- based TT-Line.
Classed by Germanischer Lloyd, +100 A4 E3 + MC E3 AUT "Pas- senger Ship/Railway-/Trailer Ferry" "suitable for the carriage of dangerous goods," the Nils Dacke, with a molded breadth of 84-1/2 feet, draft of about 20 feet, tonnage of about 24,000 and deadweight of 7,800 tons, is powered by two main propulsion plants consisting of four MAN B&W main engines. Each main propulsion plant consists of a MAN B&W 6L40/45 diesel, with an output of 3,170 kw at 524 rpm, and a MAN B&W 8L40/45 diesel engine, with an output of 4,230 kw at 524 rpm. The total power for the two main propulsion plants (all four engines) is 14,800 kw. For maneuverability, the vessel is equipped with Lips variable pitch propellers and Frydenbo rudder plants. She has a service speed of about 18 knots.
The all-around combi-carrier has accommodations for 300 passengers in 121 cabins with 280 berths located in the forward third section of the ship. Each cabin is fitted with a private shower and toilet. The ship features a restaurant, lounge/bar, cinema and conference room. The crew complement of 40 is accommodated in single cabins.
The bulbous-bowed Nils Dacke, along with her sister ship, the Robin Hood, which is scheduled to be delivered shortly, are replacing the freight ferries Saga Star and Saga Wind. The new ferries will both provide much-needed additional capacity on the busy Travemunde (West Germany)-Trelleborg (Sweden) route.
The freight capacity of the Swedish- flagged Nils Dacke represents a 50 percent increase over the capacity of the Saga Star or Saga Wind.
Her three decks are interconnected by internal ramps, and she load and discharge via a stern ramp.
The lower deck, or combi deck, is equipped with 910 meters of rail length distributed on six tracks, allowing for the transportation of 36 long-type railway wagons or 75 rail wagons of average size.
On the two upper decks, there is space for about 100 trucks/trailers.
When not in use for rail cargo, the lower deck can accommodate an additional 60 trucks/trailers.
QUEEN ROKKO Mitsui Engineering Mitsui Engineering & Shipbuilding Company recently delivered the catamaran ferry Queen Rokko to Japanese shipowners Awaji Ferry Boat Company. The vessel, now in ferrying service, is about 108.9 feet long and 29.5 feet wide with a displacement of 217 tons. It is approved for coastal service and has carrying capacity of 250 passengers.
The Queen Rokko is powered by tjvo Deutz MWM 12-cylinder engines of the 604B series, which are designed to deliver a maximum power of 1,260 kw each at a speed of 1,800 rpm, bringing the catamaran to a maximum speed of 30 knots.
ROYAL VIKING SUN Wartsila Marine At the end of last year, the Turku shipyard of Wartsila Marine Indus- tries Inc. delivered one of the world's most luxurious cruise vessels, the Royal Viking Sun, to Royal Viking Line.
At 38,000 gross tons, the new Royal Viking Sun is almost a third larger than existing Royal Viking ships, yet carries only 740 passengers in 370 staterooms. She has larger cabins, more open deck space and more public room space per passenger than most other cruise vessels— either afloat or under construction.
One hundred twenty-six of the Royal Viking Sun's 370 cabins are deluxe staterooms, all, except four, with a private outside veranda.
The eight-deck Royal Viking Sun has an overall length of 669 feet, molded breadth of 95 feet and draft of 23 feet. Her propulsion system features four rubber-mounted eight-cylinder ZA40 Wartsila-Sulzer main diesel engines developing a total of 28,161 hp. She is fitted with two Liaaen controllable pitch propellers and has a speed of 21-1/2 knots.
Auxiliary power is supplied by three Wartsila-Vasa 8R32D diesel engines and five Leroy Somer rubber- mounted generators.
Other equipment includes Blohm & Voss retractable stabilizers to reduce rolling to a minimum; two rubber- mounted Liaaen bowthruster units; twin rudders; and Frydenbo electrohydraulic steering gear. The ship's firefighting equipment, hospital and medical equipment, welding gas central and distribution system, electrical welding equipment, high pressure cleaning equipment, gas meters and measuring equipment were all supplied by Unitor Ships Service of Norway.
Many of the traditional features found in other Royal Viking cruise ships have been retained in the design of the Royal Viking Sun. For example, the ship features an unobstructed Promenade Deck circling the ship and her main dining room has been designed to accommodate all of the passengers at a single seating.
SEABOURN PRIDE Schichau Seebeckwerft In November of 1988, Schichau Seebeckwerft AG of Bremerhaven, West Germany, delivered the stateof- the-art, luxury cruise liner Seabourn Pride to owners Seabourn Cruise Line, San Francisco, Calif.
The elegant, all-suite Seabourn Pride is 440 feet in length, with a beam of 63 feet, design draft of 16.4 feet and gross registered tonnage of 10,000. She is powered by a Bergen diesel propulsion plant that produces about 5,846 hp. She can reach speeds in excess of 19 knots.
The six-deck Seabourn Pride, which flys the Norwegian flag, can accommodate 212 passengers in elegant and spacious outside suites.
Classed by Det norske Veritas, + 1A1 Ice C, passenger ship for unrestricted service, EO, to Nat B., the Seabourn Pride features a broad range of cruise amenities and activities.
The ship has a complete health spa and fitness center, swimming pool, lounges and indoor and outdoor verandas. There is an observation lounge for stargazing on the top deck called the Constellation Room and a second lounge, the Nautilus Room, located on the lower deck for observing underwater marine life.
Underwater viewing in the ship's Nautilus Room is made possible by two thick plates of glass, one in the outer hull where high-powered lights are focused to enhance the view and attract sea creatures.
These glass plates conform to international safety standards.
The Seabourn Pride also has an elegant restaurant that features international cuisine, casino, shop, boutique and library. A special feature of the cruise ship is her marina located at the stern, where passengers are able to swim, sail, and snorkel.
The Seabourn Pride will cruise worldwide, with itineraries scheduled for the Caribbean, South America, Northern Europe, Mediterranean and West Africa.
SEAWARD Wartsila Marine Finnish shipbuilder Wartsila Marine Industries Inc.'s Turku yard also completed its biggest passenger vessel to date, the 1,800-passenger Seaward. She is the first new generation cruise ship built at the yard.
Delivered to Kloster Cruise Ltd., the 708-1/2-foot Seaward has a beam of 95 feet, maximum draft of 23 feet and gross tonnage of 42,300.
The vessel is powered by four eightcylinder Sulzer ZA40 medium-speed diesel engines which produce a total of 28,800 bhp. She can cruise at speeds of more than 21 knots.
Shaft alternators driven by power take-offs (PTOs) from the two main gearboxes provide electricity while maneuvering, and also supply a part of the ship's at-sea auxiliary power requirements.
The vessel, which is manned by a crew of 600, is operated by Norwegian Cruise Line, Miami, Fla., a subsidiary of Kloster Cruise Ltd., on seven-day cruises in the Caribbean.
In addition to the 774 passenger cabins on board, there is ample public space, including three large restaurants, three night clubs, seven bars, a casino, spacious shops, a beauty salon, saunas, a fitness center, two swimming pools, whirlpools, a launderette, a hospital and several rooms reserved for various entertainment games.
The Seaward is fitted with advanced firefighting equipment, including fire extinguishers, fire hoses, and firemen's outfits, along with a modern welding gas central and distribution system supplied by Unitor Ships Service. Unitor also supplied an owner's supply medical package that included medicine and medical equipment.
WEST VIRGINIA BELLE Patti Shipyards One of the largest passenger excursion boats built last year was the triple Cummins engined West Virginia Belle.
Operating on all-day excursion trips between South Charleston, W.
Va., and Huntington, W. Va., the West Virginia Belle is the latest addition in owner Bob Kehl's fleet.
Mr. Kehl owns Robert's River Rides, which operates three other excursion/dinner boats on the Mississippi River in the Quad Cities, Dubuque and Bettendorf areas of Iowa and Illinois.
Built by Patti Shipyards, Inc., Pensacola, Fla., and designed by their own in-house architectural staff, the West Virginia Belle measures 197 feet 9 inches by 46 feet with a 10-foot draft. She features two totally enclosed decks, a partially enclosed third deck, and an open fourth deck topped by a pilothouse.
Although the boat will be certified for at least 1,200 passengers, but capacity will be limited to 1,000 on all-day 100-mile trips.
While the 500-hp KTA-19 engines are one of the standard workhorses of the Cummins marine diesel line, the propulsion system aboard the West Virginia Belle is unique.
For example, the Columbian Kaplan- style propellers are enclosed in Padget-Swann kort nozzles. "That's a first for passenger excursion vessels as far as we are concerned," said Frank Patti, owner of Patti Shipyard.
Another important aspect of the propulsion system is its vibration isolation system, supplied by Lo Rez Vibration Control, British Columbia, Canada. This system provides an effective isolation system for engine- sourced vibration in mediumand high-speed marine engines, reducing noise by 90 percent over the entire speed range of the engine. It was custom designed for this application by Lo Rez working with the Patti design staff and Cummins engineering.
Two additional Cummins engines are located far forward to power a pair of 250-kw gensets. Cummins NT855 models were chosen for this job. All five Cummins engines were sold by Northern Iowa Diesel, Dubuque, Iowa.
The hydraulic system onboard the boat was supplied by Custom Hydraulics, Gretna, La. A PTO, attached to one of the gensets, runs a hydraulic pump that powers the bowthruster. Separate electric motors powering hydraulic pumps operate the steering system, and the paddlewheel lifting system. The West Virginia Belle has a cosmetic paddlewheel that can be lifted out of the water to cut drag during times when the boat is underway at full speed.
Rounding out the selections for "Outstanding Passenger Vessels of 1988," are the previously featured "Outstanding Shallow-Draft Passenger Vessels of 1988." These vessels were highlighted in the August 1988 issue of MARITIME REPORTER.
Here, once again, is a brief glimpse at these notable craft.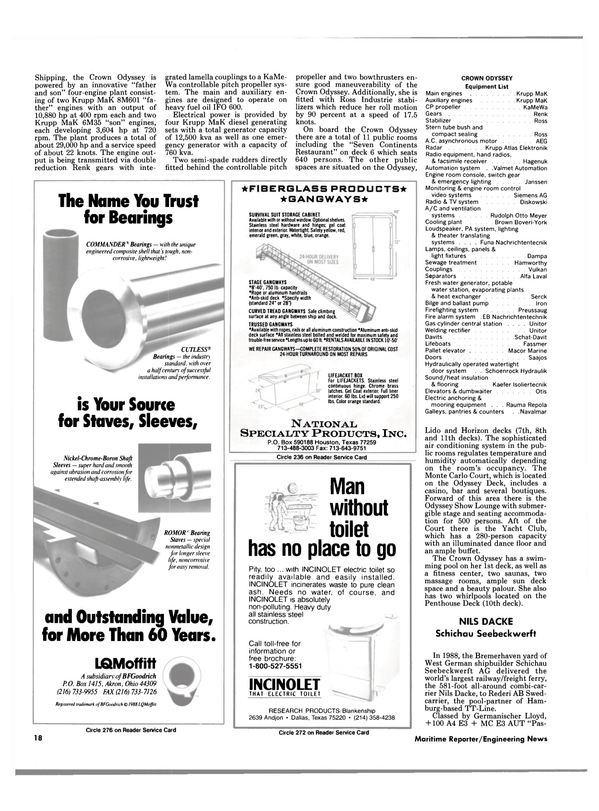 Read OUTSTANDING PASSENGER VESSELS OF 1988 in Pdf, Flash or Html5 edition of January 1989 Maritime Reporter
Other stories from January 1989 issue
Content