"Happy" New Year?
Little more than 12 months ago newbuilding prices had been drifting down steadily for more than a year and some industry analysts were warning that soft ship prices could be here for some time.
Simultaneously, the closure of some yards were more than offset by the opening of new ones, particularly in China, while improvements in productivity were constantly adding capacity.
Some brokers and industry analysts were warning of surplus capacity, not just in containerships. but in the Aframax, Suezmax and 45.000 dwt products carrier range.
What a difference a year makes.
Today the picture is radically different.
The container, tanker and bulk carrier markets are all buzzing, with certain sectors of the dry bulk market reaching record levels, beyond most owners' wildest dreams. The world's shipyards Contact us for your custom marine travel solution.
1.888.841.5577 w w w . t s u - n e t . c om Visit us at the Seatrade Cruise Shipping Convention Miami, FL - March 15-18,2004 Booth #1636 200 Golden Oak Court Suite 120 Virginia Beach, VA 23452 [email protected] 1.888.841.5577 Rachel Pitt Sales Representative Travel Services Unlimited is a leader in innovation and expertise in the marine and offshore travel industry. Last year alone, we moved over 50,000 crew members and marine personnel around the globe - where they were needed - when they were needed.
Our unique global marine rates give us the leading edge to serve cities from Mumbai to Dubai.
Johannesburg to Djibouti Savannah to San Francisco and all around the globe.
We currently serve one of the largest global shipping companies in the world by moving their personnel throughout the world.
We offer great rates, greater service.
Let us tell you about it.
are full, almost without exception, for the next three years and some builders are now taking orders for 2007 delivery.
New ship prices are rising dramatically (see table) and the markets are so buoyant that there are few re-sales available.
Secondhand vessel values are spiralling, with some buyers prepared to offer over the odds just to secure the tonnage they want.
There are significant new ship price rises in both the dry and liquid sectors.
But it is the increase in the cost of Capesize units that is the most dramatic.
Fuelled largely by Chinese demand for iron ore and coal, Capesize charter rates have climbed to unprecedented levels, pushing up both new and secondhand prices too. Newbuilding brokers believe it is only a matter of time before the price tag for a new Capesize will start with an almost incredible five.
However, shipbuilders may not have it all their own way. Iron ore prices are climbing, which could soon manifest into rising steel prices.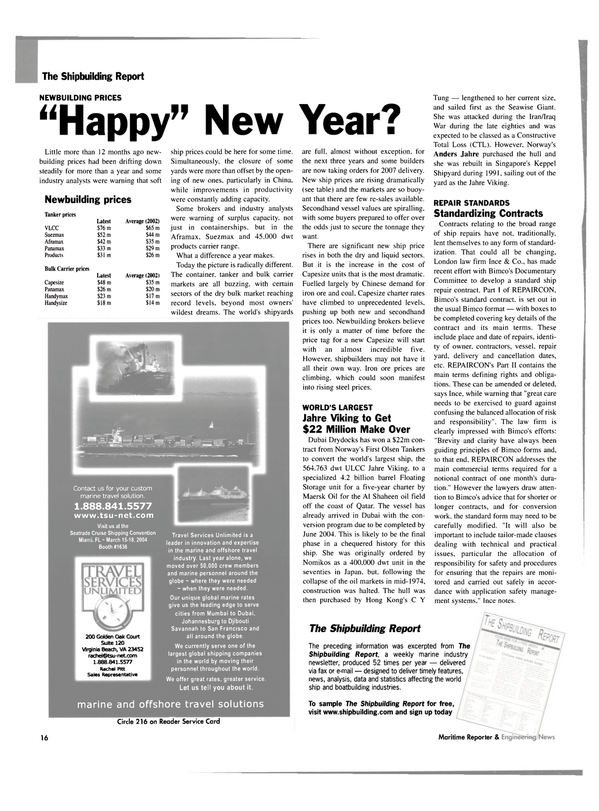 Read "Happy" New Year? in Pdf, Flash or Html5 edition of January 2004 Maritime Reporter
Other stories from January 2004 issue
Content