EC: Spanish Shipyards Owe €308.3M
The Spanish shipbuilding establishment received a financial blow when the European Commission ruled last month that aid provided was not in line with EC rules on State aid to shipbuilding. In a nutshell, Izar owes 6 308.3 million, plus interest, a tall financial hurdle in the face of an already declining market in Spain.
In its ruling, the Commission established that State holding company — Sociedad Estatal de Participaciones Industrials (SEPI) — in 1999 and 2000, granted aid worth €500 million to the civil public shipyards that are today all owned by Izar. The aid took the form of a capital injection, loans and a purchase price above market value. As the loans amounting to €192.1 million to SEPI were paid back, the sum to be reimbursed will amount to the aforementioned € 308.3 million figure.
The object the decision are a number of transactions that took place between 1999 and 2000 involving SEPI and its subsidiaries Astilleros Espanoles (AESA), the former holding company of the public shipyards, and Bazan, the military shipbuilding group. Since the Commission suspected that these transactions might have contained state aid, it opened a formal investigation in July 2000, was extended in November 2001 and extended again in May 2003.
In its investigation, the commission found that: • An excess purchase price paid by SEPI when AESA sold three shipyards to SEPI in 1999. According to the - Commission's calculation the purchase price paid by SEPI contained an aid element of € 55.9 million. The aid benefited the remainder of civil shipyards still owned by ASEA; • A 1999 SEPI loan amounting to €192.1 million to three shipyards; • A capital injection by SEPI of €252.4 million to AESA in 2000, benefiting the remaining AESA's civil shipyards.
Striking a conciliatory, yet still hardline note, the Commission further commented that it is aware that the consequences of this decision may be serious for the Spanish public shipyards, and its employees.
However, there were a number of complaints from shipyards in other EU Member States and even from Spanish organizations, arguing that job losses have already occurred in their companies as a result of suspected illegal state aid.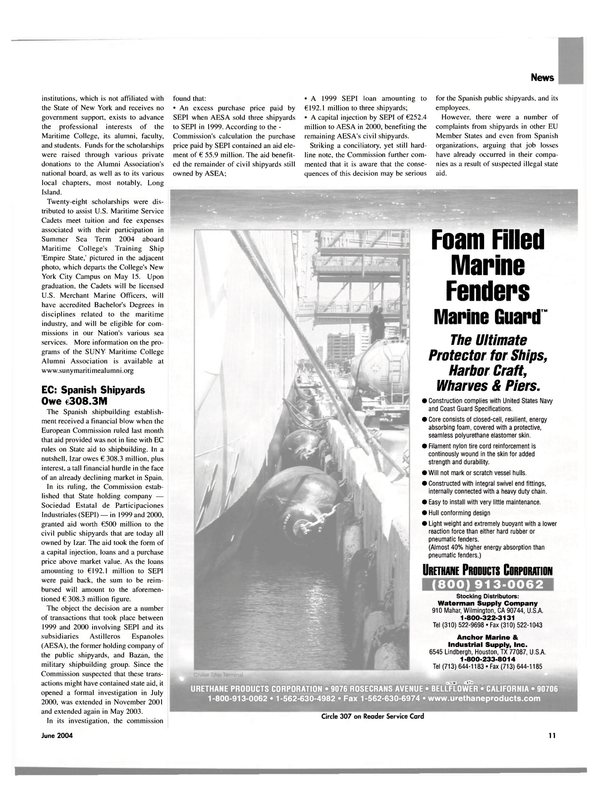 Read EC: Spanish Shipyards Owe €308.3M in Pdf, Flash or Html5 edition of June 2004 Maritime Reporter
Other stories from June 2004 issue
Content