Will Oil Continue Heading Up?
"Due to increasing demand and reducing reserves, oil prices currently at $40 are likely to soon enter a period of sustained rises resulting in a need to massively develop natural gas and renewable energy resources" according to John Westwood of energy analysts Douglas-Westwood.
"Oil reserves are depleting and demand growing. Recent increases in oil demand from China, for example, are likely to accelerate. The average American consumes 25 times as much oil as the average Chinese yet China has five times the population and is industrializing rapidly. Vehicle growth in China is rising rapidly and this will cause global demand for oil to continue its increase.
Quoting from a number of new studies on oil, gas and renewable energy published by his firm, Westwood said, "Any growth in global economic activity increases oil demand such that at 1% demand growth a production peak occurs in 2016. at 2% it occurs in 2012, and at 3% it occurs in 2008. "The world's known and estimated yet-to-find reserves and resources cannot satisfy even the present level of production of some 76 million barrels per day beyond 2020." Oil Production to Decline Oil & gas supplies studies author Dr Michael R. Smith of Energyfiles said "although 99 countries have produced or can produce significant oil, 52 are already well past their production peak, including the U.S., and this is now happening in several more, including the UK. Another 16 are at peak or will reach it soon. As graphically displayed in the Energyfiles Online Database, once a country is past peak production, there is a negligible chance that it will be able to reverse its long-term decline. Of course when this happens to total global oil supply then growth in demand will be impossible." "Large capital investments within OPEC countries are already required to rapidly increase production after 2008 by at least an additional 1 to 2 million barrels per day every year to offset declines elsewhere. It is by no means certain that such growth in output will be achieved as fast as is required. It is likely that the world will then begin to see sustained growth in oil prices.
Oil Prices to Double?
"Once oil supplies begin to approach peak so oil prices will, like during the oil shocks of the 1970s, double within 3 or 4 years as the world changes from oil abundance to oil scarcity. Then prices will continue to rise until sufficient falls in oil demand are achieved.
"Under such a scenario a new stable energy mix might ultimately be achieved with substitute fuels but how long this will take is uncertain.
"Price rises will depend on the real global response to impending and actual shortfalls - a response that needs to be implemented immediately. Drastic conservation will make prices fluctuate as they did in the oil shocks, always settling at a higher level.
"Meanwhile producers will face steadily increasing government, environmental and conservation regulations.
Windfall profits arising from energy price surges, which traditionally have funded new oil and gas investment, will have to be, at least partly, employed in bringing other forms of energy to profitability.
"Without early remedial action the discussion is not if oil prices will massively increase, but when they will." Importance of Natural Gas "Natural gas is the only viable fuel Tcm, almost double oil resources in oil equivalent terms. Russia holds the largest share but a significant portion is also located in the Middle East. "Global production of natural gas, currently some 2.600 Bern, is expected to grow to 4.755 Bern per year by 2025 an average increase of 2.75% per annum.
Estimates of capital required for its exploitation range between $25bn to $40bn per year. Considering LNG alone, we expect over $39 billion to be spent over the next five-year period on LNG plants, carriers and import terminals." For additional details on this report as JUE-410F Inmarsat Fleet F77 Mobile Earth Station Multi-interfacing; mobile packet and high-speed data service capability; antenna of unique, robust design well as other reports from Douglas- Westwood Circle 19 on Reader Service Card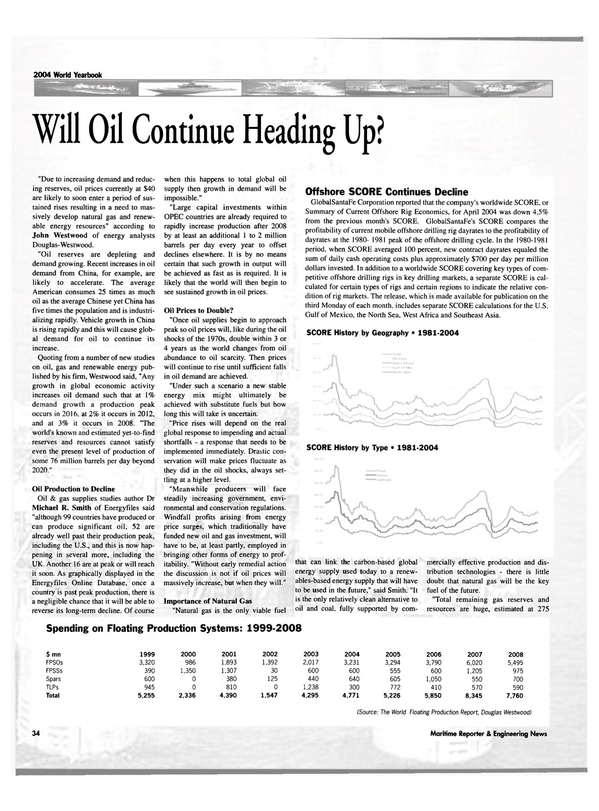 Read Will Oil Continue Heading Up? in Pdf, Flash or Html5 edition of June 2004 Maritime Reporter
Other stories from June 2004 issue
Content