Brasa: FPSO Modules a Specialty
By Claudio Paschoa
There has been a significant increase in shipyard construction in Brazil in yards large and small alike. Maritime Reporter's Contributing Editor in Brazil visited Brasa Shipyard in Rio de Janeiro and spoke to Philippe Levy, Country Manager for SBM Offshore, who is one of the yard directors. Brasa Shipyard is building FPSO deck modules for integration onto FPSO hulls.

"Brasa shipyard was created by Synergy and SBM in order to simplify FPSO module integration for FPSOs leased to Petrobras for pre-salt oil production," said Philippe Levy, Country Manager for SBM. "A holding company named SNV was created, with its assets being the shipyard and the crane barge, with equal shares belonging to Synergy and SBM Offshore."
Since Brasa shipyard is located in the city of Niterói, across Guanabara Bay from the city of Rio de Janeiro, SNV managed to resolve three major bottlenecks at the same location. "These bottlenecks are, the shipyard construction site, a heavy lift crane barge and an integration quayside, therefore allowing us to streamline production, while at the same time eliminating the problem of finding a qualified workforce, by being located within a major city," said Levy. The new company also has a project office in downtown Rio de Janeiro.
Brasa shipyard can be seen on the right side of the Rio-Niterói bridge, just before arriving at the bridge toll booths. The main construction area and office building are located right next to the bridge and across the channel from the integration quay. While walking through the construction area, which has been fabricating 10 deck modules for the Cidade de Ilhabela FPSO, it became obvious that there was a large amount of detailed work going into each module's construction, which demands highly specialized labor and stringent quality control. The shipyard is equipped with six mobile cranes (60-130 ton) and two munck trucks (10 ton), two tower cranes (5 ton) and six forklifts (2.5/7/15 ton), one truck with flat trailer, high standard welding equipment and extensive scaffolding equipment.
"SBM has a long track record in Brazil with a long and varied list of successful projects including loading and offloading terminals, turret mooring systems, and turnkey FPSO units. Over the last 15 years SBM Offshore has operated eight FPSOs in Brazil," said Levy. Until 2008, SBM operations in Brazil comprised two shore bases in Macaé and Vitória, from which seven FPSO units were successfully operated. In 2008 a new design office was opened in Rio de Janeiro.
"Brasa shipyard commenced operation in the second quarter of 2012 with the fabrication of the topsides modules for the FPSO Cidade de Ilhabela, with around 1,600 people directly and indirectly involved in the execution of the project. When completed the modules will be lifted from the yard by the crane barge and transported across the channel to the integration quay and mounted in a specific part of the FPSO deck" said Levy. Cidade de Ilhabela will have a processing capacity of around 150,000 bpd.
In March 2013 Petrobras confirmed a $3.5B fast-track order to SBM. This was for two more FPSOs of the same scale as FPSO Cidade de Ilhabela. The units, known as Cidade de Maricá and Cidade de Saquarema are destined for the deepwater Lula Alto and Lula Central pre-salt fields and will be built at a faster pace than the Cidade de Ilhabela FPSO, in order to keep up with Petrobras' production plans for its pre-salt plays. "Cidade de Paraty and Cidade de Ilhabela represent the successful launch of our new Generation 3 FPSOs, building on our trusted performance and unrivalled uptime," said Bruno Chabas, CEO of SBM Offshore.
This decrease in construction time will be possible partially due to the fact that the new builds will be "clones" of the Cidade de Ilhabela FPSO, fabrication and integration of the modules is expected to develop at a accelerated pace now that Brasa Shipyard has a trained workforce with experience in fabricating FPSO modules, along with experience in module integration. "We are delighted to have been selected by Petrobras for this significant project and look forward to starting work on the FPSOs, which are amongst the largest ever built by SBM Offshore. Jointly, the two FPSO's represent the biggest contract ever awarded to us, underlining our unparalleled expertise and leading position in the market for large-scale tanker conversions to FPSOs," said Chabas.
The orders for these two units are the largest ever received by SBM Offshore and will keep Brasa shipyard busy until deliveries are made at the end of 2015 and early 2016. The FPSOs will be deployed at the Lula fields in the pre-salt, around 300 km offshore Rio de Janeiro. SBM Offshore will convert two double hull sister vessels into FPSOs in China, after these are integrated at the Brasa Shipyard in Rio, they will be moored in approximately 2,300m water depth, each will have a storage capacity of 1.6 million bbls each.
The topside facilities of each FPSO come in at around 22,000 tons, and will be able to produce 150,000 bpd of well fluids and have associated gas treatment capacity of 6,000,000 Sm3/d. The water injection capacity of the FPSOs will be 200,000 bpd each. The BM-S-11 block, where they will be producing, is under concession to a consortium comprised of Petrobras (65%), BG E&P Brasil (25%), and Petrogal Brasil (10%) for 20 years and will be operated by SBM. The FPSOs will be owned and operated by a joint venture company owned by SBM Offshore, Mitsubishi Corporation, Nippon Yusen Kabushiki Kaisha, with other partners including Queiroz Galvão Óleo e Gás S.A.(QGOG), with SBM Offshore in charge of the construction. The FPSOs will be built following local content specifications, with substantial parts of the project management, procurement and engineering services carried out in Brazil.
The majority of the topside module fabrication, integration, and commissioning will be performed at Brasa shipyard.

FPSOs with GTL
SBM Offshore has joined forces with CompactGTL, cooperating exclusively on offshore projects, to provide a solution using a pioneering new technology to be used on FPSOs, aiming at increased productivity while leaving the environmentally aggressive practice of gas flaring behind.
The GTL (Gas-to-Liquid) modular solution converts the associated gas into synthetic crude oil (syncrude), which can be blended with the natural crude oil cargo produced on the FPSO. A commercial demonstration facility has been in operation onshore in Brazil for two years for Petrobras.
This optimized FPSO with an integrated GTL plant can be applied to an Extended Well Test (EWT) vessel or service or on a full field development. This is the only onboard no-flare solution currently available on the market for offshore oil production and eliminates the need for costly gas export or re-injection infrastructure. This solution has been "Approved in Principle" by Det Norske Veritas in February 2012.
Some key goals of the GTL concept design are the ability to minimize flaring by adopting CompactGTL technology for conversion of all surplus associated gas (after fuel removal) into Synthetic Crude Oil (syncrude). This technology maximizes the amount of integration between CompactGTL process and the FPSO topsides process, utilities and marine systems for improved operability and Capex / Opex optimization and allows the GTL process to be eventually extended to full field developments. The GTL plant module on an FPSO is ideally suited for remote, deepwater locations, and typically for fields with low gas to oil ratios.
(As published in the August 2013 edition of Maritime Reporter & Engineering News - www.marinelink.com)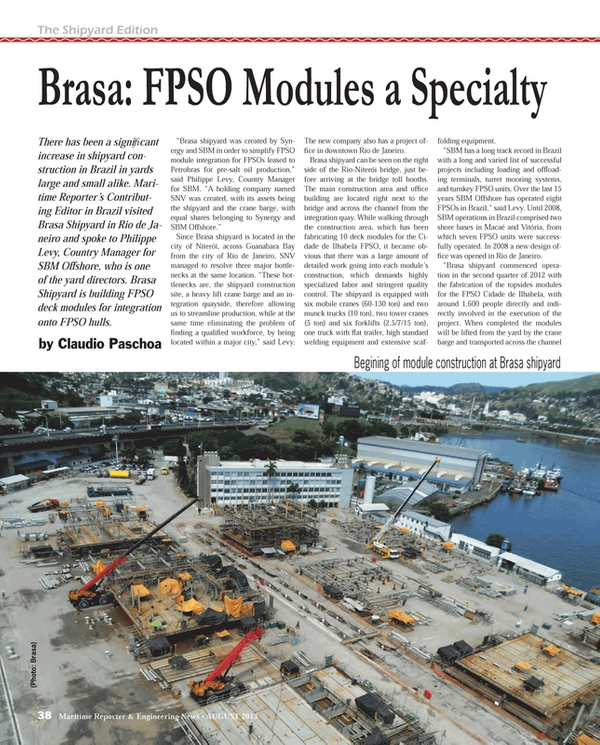 Read Brasa: FPSO Modules a Specialty in Pdf, Flash or Html5 edition of August 2013 Maritime Reporter
Other stories from August 2013 issue
Content