Offshore Deepwater Brazil Sevan Drilling's Big Dig
By Claudio Paschoa
Up until 2011, Sevan Drilling was part of Sevan Marine, which builds FPSOs. In 2011 Sevan Drilling was separated from Sevan Marine becoming an independent company. Sevan Drilling was established by Sevan Marine in 2006 for the purpose of building state-of-the-art, ultra deepwater drilling rigs based on the Sevan 650 design, commonly known as the bucket design.
Later the same year, Sevan Marine completed a private placement for the purpose of financing, in part, its drilling business, and an order for Sevan Driller was placed with China Ocean Shipping (Group) Company (COSCO) in 2007.
Sevan Drilling owns and operates two rigs of the cylindrical Sevan design. Both rigs have long-term charter contracts with Petrobras in Brazil for deepwater and ultra-deepwater plays including the pre-salt.
In March 2013, Jon Willmann CFO and Deputy CEO for Sevan Drilling, gave a presentation at the exclusive Hotel Santa Teresa in the hills overlooking Rio de Janeiro. According to Willmann the company has a management and operating organization well positioned for further growth, sans the financial difficulties that afflicted Sevan Marine in 2012.
Willmann explained that its four high-end UDW rigs have a unique and cost effective design and have proven to be safe and efficient for operations in ultra deep waters worldwide, including Brazil, West Africa and the U.S. Gulf of Mexico.
"Sevan Drilling has a perpetual license with Sevan Marine for use of the Sevan design for drilling purposes," Willmann said. "The company has approximately 481 employees based in Brazil, Norway and China."
"This month, Sevan Drilling signed a three-year charter contract for operations in the U.S. GoM with LLOG Bluewater Holding LLC. This rig, now named Sevan Louisiana, is currently under construction at the Cosco Quidong shipyard in China, and will be used for this contract," said Willmann.
The rig is scheduled for delivery in Q4 2013, with operations set to start in January 2014, with a total value of the charter contract in excess of $550m. Willmann also explained that due to this new contract, Sevan Drilling will establish a Houston office to support its GoM operations, where it expects new charter contracts to be forthcoming.
When asked about their relationship with Petrobras, he said "Petrobras has been extremely supportive of both Sevan Marine and Sevan Drilling. Without Petrobras neither company would be in the market today. Petrobras betted on us, awarding contracts without any track record, which is pretty bold and they have been extremely important in developing our company. That said, they do not operate as a charity and are a very professional company. We have had to demonstrate operationally that their trust was well placed."
"The Sevan design has some competitive advantages. The motion characteristics are better than those of semi-subs or drillships. This better sea performance equates to longer uptime for the operator. From an environmental perspective, the second factor is that our design has a moon pool, and a semi-sub does not. The risers and the drill strings are protected in this moon pool, whereas in a semi it is just open sea with no protection whatsoever. Our units are also cheaper to build, so we do not need the peak rates to generate returns."
Regarding prospects for the coming five years, Willmann said, "Since November 2011, Seadrill acquired Sevan Marine's stake in Sevan Drilling. Seadrill is the world's most successful operator. There is however a high financial risk associated with Sevan Drilling coming from the fact that we have high leverage. The most important step going forward is to deleverage the company. We are aggressively amortizing the debt that we have today. In addition, rigs three and four have much lower Capex than the previous two and they are exposed to a market with much higher day rates than the first two. Assuming market rates for those two units, this will generate deleveraging for the company and will give us better financial flexibility. If you measure risk by operational leverage: debt to EBITDA, we are aiming to move from a net ratio of more than eight down to three in 2015 when all four rigs are on contract, assuming that all rigs are at market rates. The key will be to get contracts for rigs 3 and 4. Rig 3 is already contracted, so we must concentrate on chartering rig 4. We then have options for a further two rigs from COSCO."

Sevan 650 design characteristics
• Large load carrying capacity
• Low roll and pitch motions
• Simple structural layout – simple to build
• Lower cost to build and operate
• Offers a very stable drilling platform to meet growing need for low cost-efficient operations

Deepwater exploration drilling requirements
• The number of exploration and appraisal wells is expected to rise by 50% within 2020
• Discovered resource volumes are becoming increasingly drilling intensive
• Pre-salt drilling requires much more rig capacity per well
• Leading to a step increase in rig demand while number of wells are fairly flat from 2008 to 2013


Sevan Drilling – Fleet Capabilities
Ultra deepwater capabilites
• Capable of drilling in water depths up to 10,000 feet.
• Upgradable to 12,000 feet.

Storage capacity
• 2.5–3.0 times deck load capacity of a sixth generation semi-submersible unit.

Environmental advantages
• Zero discharge capabilites.
• Double sides – double bottom.
• Drilling through moon pool.
Operations and uptime – Sevan Driller
• 95.9% technical uptime
• 98.9% commercial uptime
• Planned maintenance and marine hull survey completed January.
• Petrobras' "Bad Sonda" rating system: (Scale 1 to 10): 9.3
• Operations and uptime –

Sevan Driller
Sevan Driller achieved a technical uptime of 99.7% in April 2013. In Q1 2013 Sevan Driller had a technical uptime of 72.7% and a commercial uptime of 69.8%.

Sevan Brasil:
Sevan Brasil achieved a technical uptime of 96.0 % in April 2013. Following the settlement of disputed hours related to the repair of an electrical switchboard, the commercial uptime for Sevan Brasil in January 2013 is 80.5%. The technical uptime for January was 97%. In Q1 2013 Sevan Brasil had a technical uptime of 92.4% and a commercial uptime of 95.4%.

Sevan Drilling Operational Update for January 2013

Sevan Driller:
Sevan Drilling performed required maintenance on the dynamic positioning and electrical systems on the rig and the three-year compulsory marine hull survey in January. Sevan Driller returned to a new location in Santos Basin and started required testing of the rig on the new location on 24 January. The required maintenance and inspection work took 5 days longer than originally estimated. Sevan Driller achieved a technical uptime of 73% in January 2013.

Sevan Brasil:
Sevan Brasil achieved a technical uptime of 97.0% in January 2013.

Sevan Drilling Rig no 3:
Construction of Sevan Drilling Rig no 3 (Sevan Louisinana) is progressing according to plan and reached 68.2% overall completion in January 2013. Commissioning of the first systems, diesel generators, was initiated in January 2013.

Sevan Drilling Rig no 4:
Construction of Sevan Drilling Rig no 4 is also progressing according to plan and reached 54.4% overall completion in January 2013. Lifting of modules up to upper deck is complete and the drill floor, living quarters and derrick will be lifted and integrated to the main hull in March 2013.



Sevan Brasil
The construction of the UDW Sevan Brasil took place at the Cosco Quidong Shipyard. Sevan Brasil is of the same design as Sevan Driller. Sevan Brasil is contracted to Petrobras S.A. on a six year contract for drilling operations offshore Brazil. The Rig was accepted by Petrobras in July 2012 and spudded it's first well on August 31 in Santos basin at a water depth of 1800 m.

Design: Sevan 650
Yards: Cosco Shipyard, China
Client: Petrobras S.A.
Field/area: Pre-salt Brazil
Water/Drilling depth 3,000 m / 12,000 m
LOA (Length) 86 m
Breadth 75 m (at waterline)
Depth 24.5 m
Displacement 55,800 mT at 12.5m draft


(As published in the August 2013 edition of Maritime Reporter & Engineering News - www.marinelink.com)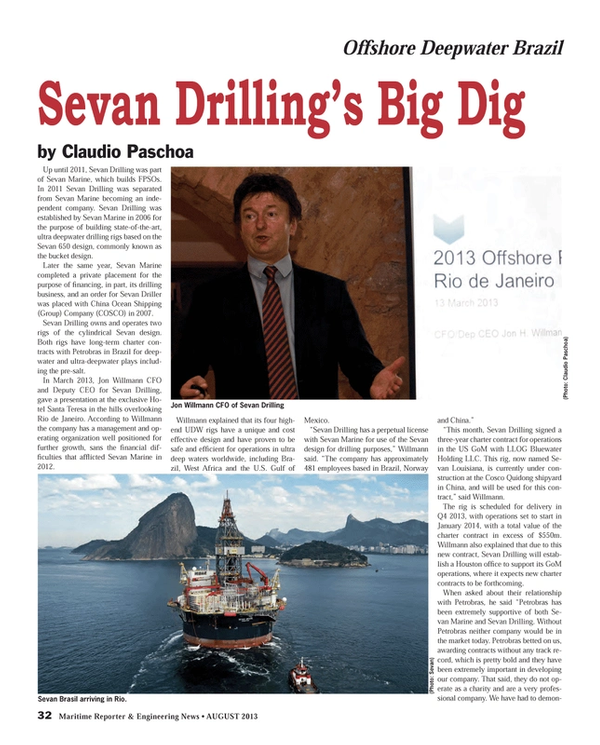 Read Offshore Deepwater Brazil Sevan Drilling's Big Dig in Pdf, Flash or Html5 edition of August 2013 Maritime Reporter
Other stories from August 2013 issue
Content