Siemens: Gigantic Gear Unit Technology
By Ralf Meyersieck, Mechanical Drives, Siemens AG
Gigantic multi-engine ship's gearboxes in the world's biggest ferry boat
Gigantic records are set by land, sea and air. For them to be set, modern high-tech solutions are needed that in the right combination make the impossible possible. For example, one insider calls gigantic ferry boats "cruise ships with car decks." By that he is referring to their size and the comfort that size brings with it. The biggest ferry boat ever built was launched in South Korea in 2012. Going along with it was the German-made standard gearboxes that in size, performance and quality are far from just standard. In 2012, the world's largest ever means of transporting motor cars and commercial vehicles was added to the list of gigantic record-holders, as the world's largest ferry boat.
Low-Vibration Gearbox Tech
Daewoo Shipbuilding & Marine (DSME) shipyard built a gigantic ferry that put everything built to date in the shade. This ocean giant (DSME newbuild number 7511, dubbed Hannibal), which can carry 3,200 passengers accommodated in first-class cabins and 1,060 vehicles, was built for the Tunisian state shipping company CoTuNav and today runs the route between Tunisia, Italy and France.
Important for guests' comfort is that during their time aboard, engine noise and vibration is kept as low as possible, which is one reason the decision-makers chose a Flender Navilus GVLQ 2500 by Siemens for the propulsion gearbox, a multi-engine ship's gearbox optimized for low noise and vibration signatures courtesy of its layout and design. The two propulsion gearboxes by Siemens were built at the Voerde facility in Germany.
Another advantage is the redundancy that can be achieved with the gearbox with regard to propulsion. On Hannibal, four common-rail diesel engines generating a total output of 57,600 kW provide the primary drive. Each pair of engines transmits the required power to the relevant propulsion drive with adjustable propellers via a type GVLQ 2500 gearbox. Because of the combined power of the two diesel engines each of the two gearboxes thus transmits an output of 2 x 14,400 kW.

Multi-Engine Solution
A concept of this kind with four engines and two propellers offers passenger ships a good combination of safety and comfort. On one hand, single- or twin-engine drive enables different speeds to be run on the propulsion drive. In the case of the Hannibal, these are speeds of 514 rpm or 139.9 1/min. On the other, a multi-engine solution of this kind offers especially high servicing flexibility. After all, an ocean giant cannot just be parked on the open sea.
With a breadth of 7.35 m, a height of 4.92 m and a length of 3.7 m these units weigh 89 tons and are thus the largest ship gearboxes ever built at Siemens's Voerde/Friedrichsfeld location. Even transport to the shipyard in South Korea was a masterpiece of logistics. Another feature of the Siemens gearboxes is that they are equipped with a top-mounted oil-supply system and an attached monitoring system for unsupervised operation. In addition, the propeller thrust bearings are built into the gearbox. For operation that means that the gearbox housings are designed to be especially torsion-free, thus ensuring a faultless tooth mesh in all conditions – such as, rapid changes of load while running in bad weather.

Multiple-Disk Clutches for Easy Service
Multiple-disk clutches enable the engines of the twin-engine gearboxes to be engaged and disengaged. Because of the power boost, the Hannibal can reach a maximum speed of up to 27.5 knots. During servicing, one engine can be flexibly disengaged, while the other remains engaged and drives the ship. The second important function of the multiple-disk clutches consists in using the power take-off (PTO) outputs integrated into multi-engine gearboxes.
A PTO enables power to be generated onboard the ship with a generator. Thanks to these primary PTOs, the ship's engineering team can maintain generator operation on the PTO, even when the propeller is disconnected. In the case of the Hannibal, however, this feature was not required, because the ship has its own power plant to feed its main supply.
The example of the world's largest ferry boat, which links the two continents of Africa and Europe on a line between Tunisia, Italy and France, reveals two things: The need to transport large quantities of goods and large numbers of people is unchanged. At the same time, the limits of what is technically feasible and what is economically sensible are pushed further out.
For gigantic records like these to be set, reliable and efficient drive solutions like the Flender Navilus GVLQ 2500 gearboxes by Siemens used here are needed.
Ralf Meyersieck is with the Mechanical Drives business unit of Siemens AG.
www.siemens.de/navilus



(As published in the August 2013 edition of Maritime Reporter & Engineering News - www.marinelink.com)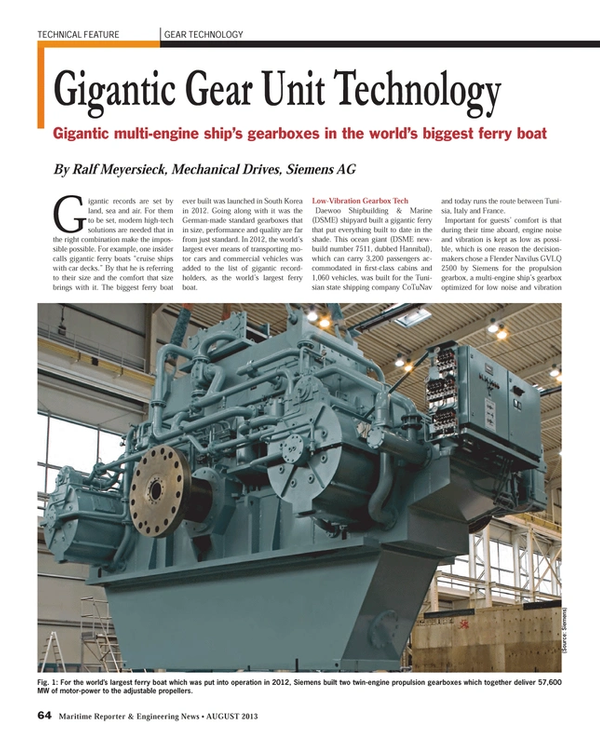 Read Siemens: Gigantic Gear Unit Technology in Pdf, Flash or Html5 edition of August 2013 Maritime Reporter
Other stories from August 2013 issue
Content