Marorka's Powerplay
By Greg Trauthwein, Editor
As Ole Skatka Jensen settles into the CEO suite at Marorka, Maritime Reporter & Engineering News catches up with the industry veteran to discuss the future direction of this provider of online shipboard energy management systems.

What attracted you to the top spot at Marorka?

I have always be attracted to new technologies and being part of MDT development over the almost last 20 years gave me a great opportunity to be in the forefront of new technology development. Marorka has been developing Marorka energy management solutions for the last 12 years, and have great experience in the growing energy management sector and an unlimited potential in this field. I am attracted to new challenges and at present Marorka is entering a considerable growth phase, and managing such rapid growth phases is the challenge that attracted me to Marorka.

For our readers not familiar with your company, please describe it.

Marorka is a leading provider of on-board and online energy management systems for the international shipping industry. Marorka's products and services enable vessel operators to optimize fuel consumption by maximizing the energy efficiency of their vessels. The results are minimized harmful emissions and reduced costs.

We regularly talk about 'ship efficiency' regularly in our pages, print and electronic. Put in perspective for our readers an overview perspective (during your career) that puts fact and figure to the increase in ship efficiency.

At Marorka we are focused on the ship's energy efficiency. Generally one can divide "ship efficiency" between the fixed technical aspects of energy efficiency that is determined by the design of the vessel and then we have the operational factors. For the technical part we are seeing some interesting development in the design of ships where computer aided ship optimization is on the rise with new ships being built. At Marorka we are looking at the efficiency from energy efficient operation. During the past two decades there has been increased development towards better energy efficiency when we have seen fuel oil prices rising. By optimising the fleet, ship operating companies can expect savings up to 10% in fuel, depending on the ship, managerial circumstances etc.

What have been the primary drivers in this regard?

In the past, the main driver has been to reduce costs or rather optimize the use of fuel. Today the environmental factors are becoming more and more important as we are all showing more awareness towards the environment and companies with better environmental footprint are gaining competitive advantage in supplier evaluation. The good thing about our offering in Marorka where we are focusing on improving the energy efficiency in operation you get both improved environmental footprint and very short return on investment.

With the economic need to run more efficient ships, and the legislative demand cleaner ships, there have sprung to life a great many providers of "ship efficiency" solutions to this sector. Without making it a corporate pitch, what in your mind makes the MARORKA solution stand out amongst a fast growing crowd?

Marorka focus on improving energy efficiency by applying computerised energy management solution has a solid theoretical background and foundation; the roots of the company are from 1997. An entrepreneurial start born from a PhD study, the company spun off from the academic world, formally established in 2002. Since then Marorka has put a lot of effort in further developing and fine tuning our solutions and methodology. By implementing a wide variety of data collecting we get a holistic approach which leads to a transparent overview of the fleet. Hence the ship operators have greater power to advice on managerial level more efficient handling of their fleet.

As you settle in the CEO seat, what is your vision for Marorka in the coming months and years? To be more precise, when we have this interview again in July 2015, what change(s) do you envision discussing?

Marorka will have enforced its position as the leading Energy Management Company for the maritime sector by continuously development and improvement of our energy management solutions and project implementation.
Our fleet implementation program have taken the installation of Marorka systems above 750 systems.
We have opened our offices in Copenhagen, Singapore, Korea, Shanghai and strengthened our presence in Middle East and Europe
Our expansion and growth strategy will have resulted in one or two acquisition in relevant fields.
The new emission regulation will be enforced from January 2015 which will be an impetus for shipping operators and owners to adhere to regulations with more automatic reporting and a better overview. Marorka can provide and is ready to provide the means to make these challenges and changes for ship owners a smooth transition.

Please provide some statistics on the number of installations Marorka has today, with specifics on the size and types of ships where Marorka might be found.

The number of our references is about 400 ships. While most of our references are from relatively large container ships, tankers and bulk carriers, we have all types and sizes of ships fitted with our systems. We have also some very interesting and special ships as references such as research ships, coast guard, fishing vessels and host of off shore vessels.

Every business has its challenges. What are Marorka's and how are you addressing them?

The big challenge for us is to keep providing outstanding services to a growing customer base that is located around the globe. We are addressing this challenge by adding more people to our organization and by opening up our own offices in strategically selected locations. First we are opening our office in Copenhagen this summer. Next phase is to open up offices in the Far East and strengthen our position in the Middle East. Successfully managing such rapid growth is always going to be challenging. We have prepared well by having developed solid infrastructure and procedure that give us solid ground for growth.

Can you discuss a recent case study or two that you feel best exhibits your company's capabilities?

Laurin Maritime operates a modern fleet of MR tankers for oil products and chemicals worldwide. A management team oversees day-to-day operation of the ships. Laurin Maritime started with an energy conservation program back in 2008, and quickly identified the need for an automated data logging system. In 2012, they chose Marorka as provider of that system.
"Today, fuel costs are higher than the daily cost of operating the vessels. It has become necessary to shift our focus over to fuel costs. We identified a need for a system that could monitor fuel performance. We decided to implement an ISO 50001 energy management system on a company wide basis, and we have implemented a system that makes energy usage transparent for the crew and onshore management. We use Marorka Online to collect data for long-term analysis, to establish fleet trending and to highlight the "cost of lost energy," said Capt. Pär Brandholm, Laurin Maritime's Environmental & Nautical Manager.
"We immediately saw the benefit of using automatically collected data compared to the data from noon reported we used before. The Marorka Maren Solution gives us much better information about what is actually happening on the ships. We can now accurately quantify the fuel oil savings we are achieving from hull and propeller cleaning. To date, we have experienced savings of 9.4% in fuel oil consumption as a result of our energy management activities. The Marorka project has yielded more the double the amount of savings that would have given us a good return on our investment. This project has most certainly proved to be the right thing to do."

MARORKA
Ole Skatka Jensen
Date of Birth June 22, 1966
Nationality Danish
Marital status Married, two children
Ole Skatka Jensen joined Marorka as CEO in May 2014. Ole has extensive experience of the international maritime sector and has worked in a diverse range of cultural and business settings, including starting up companies in Malaysia, the Netherlands and Qatar. He has also been involved in organizational restructuring in connection with acquisitions in several countries. During his 20 years in various MAN Diesel & Turbo overseas entities and functions, Ole amassed a wealth of multi-cultural experience on many levels after 16 years living and working in South East Asia, Central Europe and the Middle East.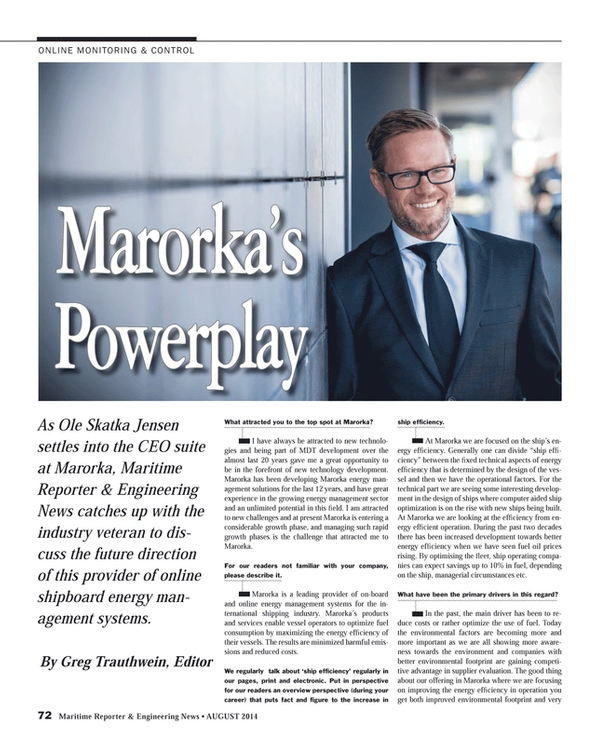 Read Marorka's Powerplay in Pdf, Flash or Html5 edition of August 2014 Maritime Reporter
Other stories from August 2014 issue
Content