Five Minutes with N-KOM CEO Abu Bakar Mohd Nor
By Greg Trauthwein
In the Middle East there has been a level of shipbuilding infrastructure investment unmatched, with companies such as N-KOM in Qatar among the leaders. N-KOM CEO Abu Bakar Mohd Nor shares his insights on growth & opportunity in the Middle East.

When you look at the expanse of your operations, what do you count as the primary strength of your company?

One of the most important strengths N-KOM has apart from its strong parentage is being strategically located in Qatar, the world's leading exporter of liquefied natural gas (LNG) and at the heart of the Arabian Gulf, which is teeming with offshore activities. By leveraging on the expertise and resources of both Keppel and Nakilat, N-KOM is able to offer a comprehensive range of repair, conversion, maintenance and fabrication services to marine, offshore and onshore industries. Having surpassed 250 projects to date, the shipyard consistently wins new and repeat clients with its track record of safe, quality and timely deliveries.

Shipyards are obviously capital intensive. How is N-KOM investing today, in its facilities?

Despite being a relatively new yard, N-KOM is heavily investing in further development of its facilities to keep up with market trends and demands. With increasing marine traffic and offshore activity in the region, we are already seeing stronger demand for quality and reliable repair and maintenance services from ship owners/managers and rig operators. As such, two floating docks - one VLCC size measuring 405m by 66m – and another Handymax-size floating dock measuring 163m by 26m, are under construction and will be operational by 2015. These floating docks will not only double the yard's docking capacity but also enhance its flexibility in scheduling repairs as the volume of work increases.
In addition to this increase in docking capacity, N-KOM has also established tank cleaning services for crude oil tankers as demand for this service grows apace the number of tankers plying the region. Being flexible with the provision of demucking and deslopping services either at Ras Laffan anchorage or while the vessel is en-route to the shipyard from Fujairah, further enhances the shipyard's attractiveness as a one-stop service provider.

How is N-KOM investing today, in training and in people?

Our people are our greatest asset. As such, we have a comprehensive training program for every employee to ensure they reach their maximum potential. Training is mostly conducted at our in-house training center and not only focuses on enhancing technical skills but also on enriching their personal development.

What, specifically, does your facility, your staff offer to ship owners that is unique to the region? Unique to the world's ship repair industry?

There are several unique selling points of N-KOM that few can compare with, such as its strategic location at the heart of busy shipping routes in the Arabian Gulf and having parent companies whom are leaders in their respective fields – Nakilat (Qatar Gas Transport Company) being the world's largest owner of LNG vessels and Keppel Offshore & Marine, a name synonymous with excellence in the areas of ship repair and conversion.
By leveraging on the strengths and expertise of our parent companies, N-KOM has successfully completed drydocking and repairs for more than 100 gas carriers in a short span of three years. We have carved a niche area for ourselves as the gas solution provider of choice, riding on the green shipping wave and latest IMO regulations.
As part of its value-offering, the shipyard provides a 'flying squad' to undertake marine repairs at the port and anchorage(s) as well as voyage repairs. A separate offshore team holding certifications from CDC, TBOSIET and H2S, can also be mobilized to undertake offshore hook ups, commissioning & installation as well as support services for Brownfield and new platforms.

Looking at the market overall, where do you see the best opportunity for growth in the coming few years?

We are seeing more demand for construction, repair and maintenance services as offshore activities continue to increase in the Arabian Gulf. The growth observed is parallel to that for the demand of offshore accommodation jack-ups, otherwise known as liftboats. There is great potential in this market and N-KOM, together with its partner companies, is well poised to cater to this demand. As it is, the shipyard has commenced its first offshore newbuild construction this year.

Every business has its challenges: what do you see as the biggest challenges for your company's continued growth and success in the coming years?

Qatar's maritime cluster is still at a nascent stage, though it has been rapidly building up over the past few years with the new Doha Port project and other developments in the maritime sector. With a wider range of vendors and suppliers available locally, N-KOM can then be more even more competitive with other regional yards.

Recent Projects of Note Completed at N-KOM

• Suezmax tankers Cap Felix and Cap Lara from Greek company Euronav were at the shipyard for repairs and drydocking back in 2013. General repairs were carried out for renewal of steel plates, overhauling of cargo pumps, mooring winch repairs, renewal of rudder carrier bearings, atmospheric condenser retubing, overhauling of main engine turbochargers and units, propeller treatment and switchboards inspection. A key element of both projects was the installation of a MEWIS duct. Additionally, major tail-shaft and intermediate shaft repairs were carried out for Cap Lara. This involved the removal of its propeller shaft and intermediate shaft for flange machining using our 50T Lathe Machine and in-situ boring of intermediate flanges.
• N-KOM has undertaken its first Ballast Water Treatment System (BWTS) retrofit for RasGas chartered LNG carrier Al Utouriya. Operated by NYK LNG Shipmanagement, the Q-Flex vessel was installed with Ocean Saver's 3000 cu. m./hr. capacity Mark II system (DNV-approved) during its drydocking period at the shipyard. Fabrication and installation of all steel supports, major components and pipework were carried out concurrently with other general repairs by the N-KOM project team. Highlights of the repair include the installation of C2E disinfectant unit and steam heaters, main filter units and pumps on filter platform, C2E filters units and C2E pumps on the C2E platform, hydraulic power pack unit on sub-platform as well as modifications on the ballast piping.
• Major repairs of the cargo containment system were recently concluded for a GTT MKIII-membrane LNG carrier at the shipyard. Following a Secondary Barrier Tightness Test (SBTT) and acoustic tests, cargo tank containment specialists Gabadi S.L. were engaged to undertake repairs in all four cargo tanks on the vessel. Other key components of the workscope included turbine overhauling, boiler repairs, main condenser bellows renewal and cleaning and overhauling of all cargo spray pumps and cryogenic valves.
• Emergency collision damage repairs were undertaken for an LNG carrier at the shipyard this year, involving more than 150T of steel fabrication. Despite the short-notice vessel arrival and complex nature of repairs, which involved cropping and renewal of the damaged side shell, bulbous bow, deck plating and its attached internals, the shipyard was able to quickly turnaround the project and deliver on time, budget and schedule to our customer's satisfaction.
• Jan de Nul's 27,240 kW J.F.J De Nul, the world's most powerful cutter suction dredger, underwent major mechanical repairs during its drydocking period at the shipyard early this year. The dredger's entire spud carrier, traveling cylinder, spud and ladder hoisting shaves were over-hauled, including its cutter drive and inboard pump drive coolers. The coolers' 6000kW motors were subsequently overhauled in our electrical workshop. Other notable repairs carried out were the overhauling of the deck crane bogie, reconditioning of toothed racks on crane rails, propeller blade repair utilizing hot treatment, flywheel calibration as well as hull coating work.

(As published in the August 2014 edition of Maritime Reporter & Engineering News - http://magazines.marinelink.com/Magazines/MaritimeReporter)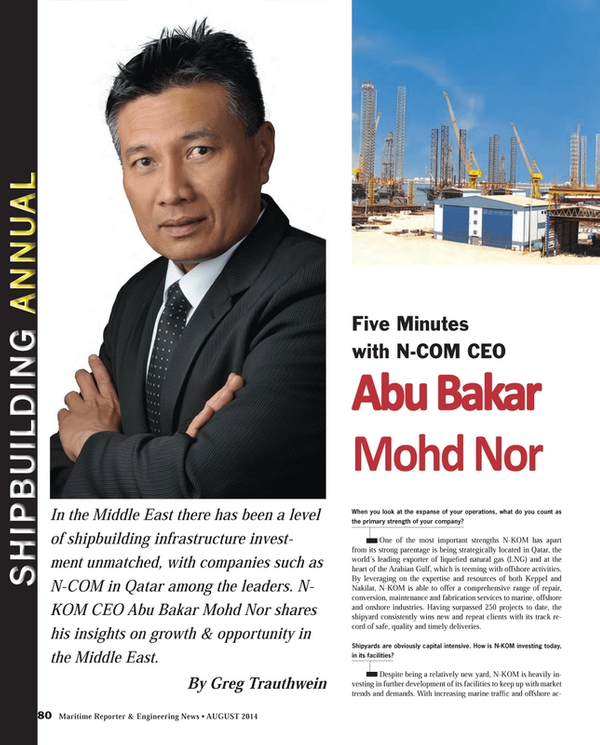 Read Five Minutes with N-KOM CEO Abu Bakar Mohd Nor in Pdf, Flash or Html5 edition of August 2014 Maritime Reporter
Other stories from August 2014 issue
Content