Energy Markets Buoy U.S. Shipbuilding
By Maritime Reporter Staff
Proliferation of energy related transport continues to drive commercial U.S. Shipbuilding
As the United States aims towards energy independence by the end of this decade, domestic shipyards and vessels owners are reaping rewards from this most unexpected turn of events.
Hydraulic Fracturing, or fracking, has been the main (and well publicized) culprit in the rapid turn of events. While the proliferation of gas has been widely known for years, the presence of oil, in quantity, was a pleasant surprise that has set domestic operators on a tear to devise new means to deliver the tools and materials needed for fracking operations, and to move product to market more efficiently than the present method of road and rail. But energy is not the only story, as U.S. marine vessel operators have invested in fleets to adopt new technologies and switching to cleaner burning engines and fuels to meet emerging, strict regulations. Following is a recap of some of the more notable recent events in the U.S. maritime market.
McAllister Towing marks its 150th anniversary this year, and the company's fleet includes more than 75 tugs serving the U.S. East Coast from Maine down to Puerto Rico. McAllister's business is multi-dimensional, from traditional ship docking to harbor and coastal towing and bulk operations. It also owns the Bridgeport & Port Jefferson Steamboat Co., a business which runs passenger/car ferries between Connecticut and New York. Fourth-generation Captain Brian A. McAllister worked his way up on the company's vessels and has been at the helm since 1974. Two years ago on his 80th birthday, Captain Brian promoted the fifth generation, his sons Buckley and Eric, and today the company is led by Chairman Brian McAllister, President Buckley McAllister and COO Eric McAllister. This year, McAllister welcomes three new-built Z-drive or azimuth thruster tugs, making one third of its fleet modern Z-drive tractor tugs. The Buckley McAllister, a 5,150-hp tractor tug built by Senesco Marine in Rhode Island, was launched in June and is based at McAllister's Providence site. Buckley's sister vessel, the Eric McAllister, was to delivered in July, and this fall McAllister plans to launch the Tate McAllister, a 6,000-hp tractor under construction at Washburn Doughty in Maine.
Edison Chouest Offshore, based in Cut Off, La., got its start in 1960 when founder Edison bought a 65-ft. steel-hulled shrimp boat and hauled supplies to an offshore rig. The family-run firm swelled into a ship construction and oilfield services leader, with more than 7,000 employees worldwide. ECO's fleet now exceeds 250 specialized offshore service and support vessels.
At the helm is president and CEO Gary Chouest, the son of Edison who passed away in 2008. Its presence in the shipbuilding sector has grown since it built North American Shipbuilding in Larose, La., in 1974. In 1996 Chouest affiliate North American Fabricators opened in Houma, La, and then affiliates Gulfship in Mississippi and Navship in Navegantes, Brazil opened. In the late 1990s, Chouest built two C-port facilities at Port Fourchon, La. to transfer cargo from deepwater vessels. Last year, the company said its orderbooks included 40 newbuilds at its U.S. Gulf affiliate yards and its Brazilian and Polish affiliates. Among them were 17 diesel-electric, 312-ft. platform supply vessels, with options for another 20. The company said it was producing four subsea construction vessels for Gulf of Mexico service. The new-builds included a refueling vessel, a multi-purpose construction supply vessel, a diesel-electric well stimulation boat and seven fast supply vessels. Chouest's Navship in Brazil, its largest affiliate with more than 1,600 employees, has been building diesel-electric PSVs and anchor handlers.
Crowley Maritime Corp. said that the third of four tugboats in the Ocean-class series, Ocean Sky, has been christened in Houston, which formally welcomes the third dynamic positioning (DP) tugboat to the company's expanded ocean towing fleet. The Ocean Sky, which features DP2 technology, is part of a feature-rich, four-vessel family of tugs suited to work with Crowley's new 455 series high-deck strength barges, which measure 400 x 105 ft. All four tugboats are designed to have a minimum bollard pull of 150 metric tons and a range of approximately 12,600 nm at 15 knots free running. They are outfitted with twin-screw, controllable-pitch propellers in nozzles and high lift rudders for a combination of performance and fuel economy.
Bollinger Shipyards, Inc., Lockport, La., recently won a contract for six additional USCG Sentinel Class Fast Response Cutters (FRCs). The U.S. Coast Guard (USCG) awarded a $255 million contract option to Bollinger Shipyards of Lockport, La., July 23, 2014 for the production of six more Sentinel-Class FRCs, bringing the total number of FRCs under contract with Bollinger to 30, with a current contract value of $1.4 billion. The FRCs are scheduled to be delivered in 2017. In June 2014, Bollinger Shipyards delivered the USCGC Raymond Evans, the 10th FRC to the USCG in Key West, Fla. The Sentinel-class is replacing the Coast Guard's Island-class 110-ft. patrol boat. The FRC uses an in-service parent craft design based on the Damen Stan Patrol 4708. It can operate at speeds over 28 knots and is armed with one stabilized, remotely-operated 25mm chain gun and four crew-served .50 caliber machine guns.
Eastern Shipbuilding said that Harvey Gulf International Marine, Inc. (HGIM) and Eastern Shipbuilding Group, Inc. (ESG) entered into a contract to construct a new Robert Allan, Ltd. (RAL) RAmpage 6400 Multipurpose Field Support Vessel (MPFSV) at Eastern's Panama City, Florida facilities.
The RAL design is designated RAmpage 6400 and Eastern Hull No. 234; the vessel will begin a 10-year charter when delivered in April, 2016. Harvey Gulf is Eastern's long term offshore vessel client; now contracting its 14th offshore vessel over the past 13 years. The RAmpage 6400 (MPFSV) will measure 212 x x 59 x 25.6 ft., power by a pair of GE Marine 12V250MDC IMO II, EPA Tier 4i marine propulsion diesel engines (4,694 hp each) for a total installed power of 9,384 BHP.
Metal Shark has commenced operations at its new shipyard, where the first of its recently announced Endurance-class catamarans is now in production. In January, Metal Shark acquired a 25-acre waterfront tract situated on the Charenton Bypass Canal in Franklin, La., and announced plans to develop the new property into a facility to support its planned aluminum and steel shipbuilding efforts for vessels up to 250-ft. long. Six months later, the new facility is operational and production is underway.
"We're booked well into 2015 with new 45-, 55-, and 75-ft. pilot boats multiuse port utility boats, and dive support vessels, so we've been working around the clock to bring our new Franklin yard online," said Christopher Allard, Metal Shark president. The first boat to take shape at the new yard is a 75 x 22-ft. aluminum catamaran-hulled Metal Shark Endurance-class vessel built for a Louisiana port operator. Soon, work will begin on a second 75-ft. Endurance and two 55-ft. versions of the company's Defiant-class monohull pilot boats as Metal Shark ramps up its operations at the new facility.
Horizon Shipbuilding of Bayou La Batre, Ala., delivered the fourth in a series of 74-ft. towboats to Canal Barge Company. Jane Merrick is 74 ft. long with a 32.5-ft. beam and an 8.5-ft. draft. Designed by Marine Design, Inc. of Gulf Breeze, Fla., the vessel is capable of pushing fully loaded fuel barges at 10 knots. Its 2000 hp is provided by Cummins K38M, tier II 12-cylinder marine propulsion engines, and drives 74-in. Kahlenberg propellers through Reintjes WAF 562 reduction gears.
Offshore Inland Marine & Oilfield Services Inc. (OIMO), which provides in Topside and Riding Crew repair services, said it expanded its facilities and services at the Port of Pensacola. This phase of planned expansions will include a lease of 40,000 square foot manufacturing space to support subsea and marine related businesses. This expansion is in sync with the Pensacola Port Advisory Committees' recommendation to the mayor that offshore/subsea business development be the focus of Port asset usage. This approach provides a catalyst for increased economic growth in downtown Pensacola. Through this public/private development project enhanced capabilities are added thereby increasing Port attractiveness to offshore service companies. "As OIMO continues to build reputation in dockside service offering, it is important to continue to meet increased expectations for one-stop service delivery," said Robin Roberts, OIMO's Founder and President. "This expansion is a major step in accomplishing the goal of building the Port of Pensacola into a major Gulf of Mexico Offshore & Subsea Support Services Center."
With a several vessels delivered, from pushboats to OSVs, Joe Gregory's New Generation Shipyard in Houma Louisiana, is now a well-recognized shipyard. Early this summer, the yard delivered one of its signature 72 x 30-ft. pushboats, with a sistership well on the way for a September delivery. The Lisa Gail Strafuss carries the well know Blessey Marine stack logo and is well sized and fitted out for pushing fuel barges in both the canals along the Gulf of Mexico and the Mississippi River system. A pair of grid-cooled Cummins K38-M main engines provides main power. Recognized as the industry standard for towboats of this size, the engines each deliver 1,000 hp at 1,800 fpm to Kahlenberge 72 x 58-in. propellers on 7-in. shafts through Twin Disc MG540 gears with ratios of 5.96:1.
Bay Shipbuilding Company (BSC) of Sturgeon Bay, Wis., has been awarded a contract to build two 155,000-barrel capacity barges and two 6,000 HP tugs for Kirby Corporation. The vessels are to be operated as Articulated Tug-Barge (ATB) units and will haul petroleum and chemical products domestically. The first ATB unit is scheduled for delivery in the Fall of 2016 and the second unit will be delivered in Summer of 2017.
Kvichak Marine Industries, Inc. recently delivered a multi-mission 66-ft. all-aluminum Shallow Draft Crab and Salmon Tender to the Norton Sound Economic Development Corporation (NSEDC).
Designed by Kvichak Marine to the mission specifications of NSEDC, the 66 x 25-ft. vessel is intended for very shallow draft crab and salmon tendering operations in the Norton Sound region, and will draw just 4.5 ft. when fully loaded. The vessel is powered by twin Cummins QSM11 marine diesel engines each rated for 450 bhp at 2,100 rpm and coupled to ZF 360 transmissions driving NiBrAl 4-blade propellers. The Paul C. Johnson is the first of its kind tender vessel built to classification society rules applicable to tender vessels of this type and holds a Class Certificate per RINA.
Bouchard Transportation Co., Inc., recently announced the next step in its ongoing fleet expansion with the construction of two 6000-hp ATB tugs. These newbuilds, the M/V Bouchard Boys and the M/V Evening Light, will be equipped with Intercon Coupler Systems and constructed by VT Halter Marine, Inc. Measuring 130 x 38 x 22 ft., these 6,000-hp Twin Screw ATB Tugs will be classed by ABS as XA1 Ocean Towing, Dual Mode ATB, USCG Subchapter C, both will be built with Tier III engines and Lufkin gears. With the addition of these two new tugs, Bouchard's fleet will be equipped with Intercon from 80,000 bbls to 250,000 bbls. The new tugs will be married up to two existing Bouchard barges.
Austal USA Launches LCS 8
Austal USA completed the launch of the future USS Montgomery (LCS 8). This vessel is the second of ten 127-meter Independence-variant LCS class ships Austal has been contracted to build for the U.S. Navy as prime contractor subsequent to a $3.5 billion block buy in 2010. "The LCS program continues to progress very well as we continue to see marked improvement in performance ship to ship," said Craig Perciavalle, Austal USA President. With the assistance of Berard Transportation and BAE Systems' Southeast Shipyard, the launch of Montgomery was conducted in a multi-step process which involved lifting the entire 1,600-metric-ton ship almost three feet in the air, moving it approximately 400 ft. onto a moored deck barge adjacent to the assembly bay, then transferring the LCS to a floating dry dock, BAE's Drydock Alabama. The floating dry dock was submerged with Montgomery entering the water for the first time. The ship is now moored in the Mobile River in front of Austal USA's facility, where it will undergo final outfitting and activation before sea trials and delivery to the Navy.


(As published in the August 2014 edition of Maritime Reporter & Engineering News - http://magazines.marinelink.com/Magazines/MaritimeReporter)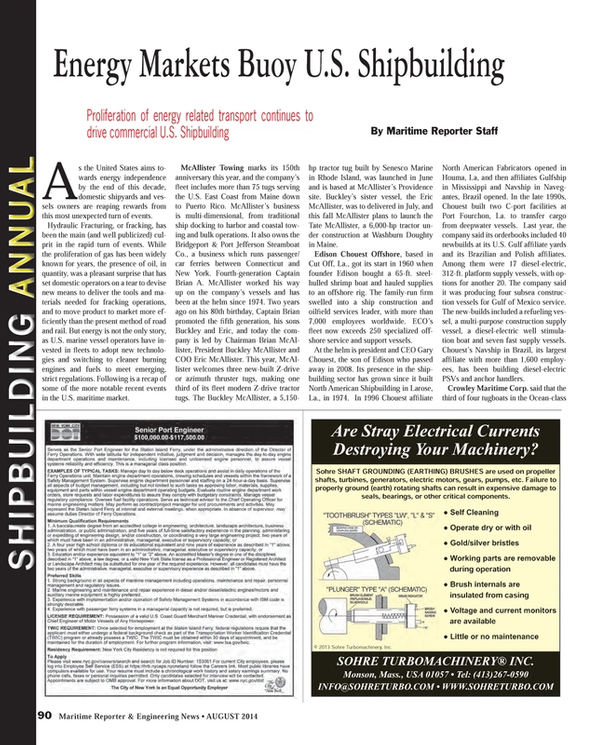 Read Energy Markets Buoy U.S. Shipbuilding in Pdf, Flash or Html5 edition of August 2014 Maritime Reporter
Other stories from August 2014 issue
Content