Floating Production Roundup: August 2014
By Jim McCaul, IMA
What's New in August 2014
There are 320 oil/gas floating production units are now in service, on order or available for reuse on another field. FPSOs account for 64% of the existing systems, 79% of systems on order. Production semis, barges, spars and TLPs comprise the balance. Total oil/gas inventory is the same as last month – but two units on order last month (N'Goma FPSO and Delta House Semi) were completed and are now in the active inventory.
Another 29 floating LNG processing systems are in service or on order. Liquefaction floaters account for 17%, regasification floaters 83%. No liquefaction floaters are yet in service – all five are on order. Total LNG inventory is the same as last month.
In addition, 102 floating storage units are in service, on order or available.

Production Floater Order Backlog
Sixty-three production floaters are currently on order, a reduction of two units since last month. The figure includes 37 FPSOs, 10 other oil/gas production units and 16 LNG processing units. In the later are five floating liquefaction plants and 11 regasification terminals.
The backlog of orders has been falling over the past few months as deliveries outpace intake. Backlog is down from a high of 72 units last October. Given expected orders and scheduled deliveries over the next five months, order backlog at end 2014 will likely be in the range of 58 to 60 units.
The declining trend is mostly the result of a wave of orders 24 to 36 months back that created a cluster of deliveries in 2014. Recent orders have been strong – just not as high as deliveries. But there has also been some impact from deferral/rethinking of several projects – e.g., Rosebank, Fram, Fyne, Mad Dog, Cheviot, etc.

Who's Building What
Production and storage floaters are being built in more than 40 locations.

MR8 Offshore Floater Notes
Here's a summary of where various type systems are currently being built.

• FPSO conversions – Shipyards in Singapore and China are the principal players in this type activity. Of the 20 FPSO conversions now in progress, nine are being performed in Singapore. Keppel is converting six tankers to FPSOs, Sembawang is converting two tankers and Jurong has one conversion. Another eight conversions are being performed in China – three at Chengxi and five at Cosco Dalian. To meet local content requirements, a portion of topsides completion in around half of these contracts is being performed in Brazil.

• Purpose built FPSOs – Korea and Brazil are the main sources of large purpose built FPSOs. Yards in these countries have contracts for 13 of the 17 new FPSOs now on order. In Korea, Hyundai is building two FPSOs, Samsung two units and Daewoo one unit. One of the Samsung units (Egina) will have significant topsides work performed in Nigeria. In Brazil eight replica FPSOs are being built by Ecovix at the new Rio Grande Shipyard. Elsewhere, two FPSOs are being built in China and two FPSO hulls are being built in Japan with topsides finishing in Singapore or Brazil.

• Other oil/gas production units – Asia is the dominant area for building non-shipshape production units. At the moment five of the 10 large purpose-built non-shipshape units on order are being built in Korea. Samsung is building a production semi and Hyundai is building a spar, a TLP and two large production barges. The topsides to several units are being completed in the US or Indonesia. Elsewhere, a spar hull is being built in Finland for topsides completion in the US and MMHE is finishing a TLP in Malaysia.

• FSRUs – Construction of regas units is fully reserved to Korea and China. Eight FSRUs are now being built in Korea. Samsung is building four FSRUs, Hyundai and Daewoo are each building two FSRUs. In China, Wison Nantong is building two FSRU barges.

• FLNGs – Liquefaction floaters are all being built in Asia. In Korea, Samsung is building two units, including the massive Prelude FLNG for Shell and the initial FLNG for Petronas. Daewoo is building the second FLNG ordered by Petronas.
In China, Wison is building a liquefaction barge for use in Colombia. All of these units are newly built hulls. In Singapore, Keppel is converting an LNG carrier into an FLNG.
The large role of Asia facilities in this market sector is apparent from the above. Overall, 50 of the 63 current production floater orders are contracted with Asian yards.
In term of number of production floater fabrication/conversion contracts being performed, the Asian share of market is just under 80%.

Backlog of Planned Floater Projects
231 floating production projects are in various stages of planning as of beginning August. Of these, 58% involve an FPSO, 13% another type oil/gas production floater, 23% liquefaction or regasification floater and 6% storage/offloading floater.
Among new projects emerging since last month, LoneStar FLNG, a Texas company, proposes to build an FLNG by inserting a midsection in an existing Moss LNG carrier. The mid-section would contain the liquefaction module and turret. Processing and gas treatment would be on an accompanying cylindrical FPSO or fixed platform. The unit would be capable of processing 1 to 4 mtpa. LNG transfer from the FLNG to transport carrier would be performed in a sheltered area. Among proposed applications is use of the unit for gas export in the US GOM.
Brazil, Africa and SE Asia continue to be the major locations of floating production projects in the visible planning stage. We are tracking 44 projects in Brazil, 50 in Africa and 40 projects in SEA – 58% of the visible planned floating production projects worldwide. Several large projects in Brazil and (less so) Africa will require multiple production units.
Around 12% of the 231 visible planned projects are likely to advance to the EPC contracting stage within the next 12 to 18 months. These projects typically have either entered the FEED phase, prequalification of floater contractors has been initiated or bidding/negotiation is in progress. A list of near term projects is provided below.
Another 50% of the visible projects are at a stage of development where the EPC contract for the production unit is likely within the next 18 to 48 months. The remaining 38% of projects are less advanced in planning, with the EPC contract likely four to 10 years out.

Outlook for Equipment Orders
Oil demand keeps growing, the threat of conventional supply disruption keeps pressure on finding new sources of oil and a large number of additional deepwater drill rigs are entering service. These are clearly positive indicators for deepwater project starts and floating production system orders.
Importantly, the most basic underlying market driver, price of crude oil, remains supportive of deepwater oil development. As of beginning August, Brent is trading around $106. For delivery at the end the decade, Brent is trading around $99 in the futures market. This pricing level provides solid commercial support to all but the most marginal deepwater projects.
But oil companies have been pulling back on investment in new projects. Barclays' mid-year survey of oil industry executives found that spending by oil majors will be flat in 2014. Earlier the bank projected a 3% increase in spending.
In the deepwater sector, cost escalation is causing companies to slow investment decisions.
The planned $6 billion Bressay heavy oil project in the UK North Sea, for example, hit a cost wall that forced Statoil to rethink the project. Cost escalation caused Chevron to stop, at least temporarily, the $10 billion Rosebank project offshore the UK Shetlands Islands. Commenting on the cost pressures, Technip said in July that "some of our customers are taking a much slower and more combative approach."
Compounding this, shale oil and gas development is increasingly drawing capex resources from energy companies. Rystad Energy says "spending on drilling, completion and lease equipment in North American shale plays will reach $140 billion in 2014." The figure is up 10% from 2013 and Rystad expects similar growth in 2015.
Wood Mackenzie expects the Texas Wolfcamp tight oil play alone to draw $12 billion in capital spending in 2014. Some of the growing capital expenditures on shale projects have undoubtedly migrated from deepwater development.
The impact has been to cause some backing off on new deepwater project starts – which may explain why orders for production floaters are within, but at the low end of our forecast range.
We will examine these conflicting underlying market forces in more detail when we issue our new five year forecast of floating production system orders in September.

IMA provides market analysis and strategic planning advice in the marine and offshore sectors. Over 40 years we have performed more than 350 business consulting assignments for 170+ clients in 40+ countries. We have assisted shipbuilders, ship repair yards and manufacturers in forming a a plan to penetrate the offshore market. Our assignments have included advice on acquiring an FPSO contractor, forming an alliance to bid for large FPSO contracts, satisfying local content requirements and more.

t: 1 202 333 8501
e: [email protected]
w: www.imastudies.com
(As published in the August 2014 edition of Maritime Reporter & Engineering News - http://magazines.marinelink.com/Magazines/MaritimeReporter)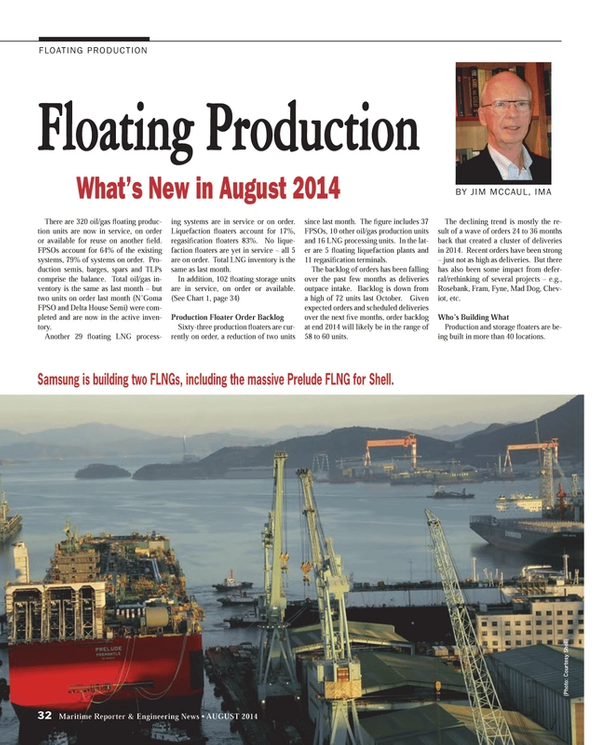 Read Floating Production Roundup: August 2014 in Pdf, Flash or Html5 edition of August 2014 Maritime Reporter
Other stories from August 2014 issue
Content