MTR100 '13 Diving Unlimited International, Inc.
Marine Technology Reporter
1148 Delevan Drive
San Diego, Calif., U.S. 92102-2499
Tel: 619-236-1203
Fax: 619-237-0378
Email: [email protected]
Website: www.DUI-Online.com

CEO/President: Susan Long
# of Employees: 76
Annual Sales: $7,500,000.00

The Company
Since 1963, DUI has been protecting divers in the world's most hazardous environments. Whether working 500 ft. below the surface on an oil platform in the North Sea, jumping out of a helicopter in Alaska, performing a covert operation in a distant land or simply wanting the same technology in your recreational diving equipment, DUI are the people who can make that happen. DUI began as a retail dive store manufacturing our own wetsuits. Then with its invention of the hot water suit for saturation diving, everything changed and its focus became primarily the commercial dive market including elaborate hot water heating systems. DUI then took that expertise and created high performance drysuits and insulation specifically for the recreational and technical dive markets giving divers the ability to do things and go places that were never before possible. DUI also design and manufacture specialized suits and equipment for the US and friendly foreign militaries around the world. All DUI suits are built in the USA and distributed through 400 dealers in North America and exported worldwide.
For 50 years, DUI has been on the forefront in bringing new technologies and capabilities to divers around the world. DUI were one of the first to create custom wetsuits in the 60's, the inventor of the hot water suit for saturation diving in the early 70s, brought drysuits to the recreational diver in the 80's with new designs and materials and made them commonplace in the 90s, invented field replaceable seals in the early 00's and is now leading the field in complete encapsulation for public safety divers. This year DUI is launching a high performance electrically heated undergarment as well as a completely new design of hot water suit that will bring commercial diver performance and safety to new levels. DUI continues to be the benchmark for which all other manufacturers look to for their designs. DUI continues to design and manufacture all of their drysuits and hot water suits in the USA. DUI's obsession is to provide divers with equipment that is dependable, performs flawlessly, long lasting and feels as if it were a second skin. The goal is to make the insulation system virtually invisible to the diver underwater so that they can focus on the job, the operation or the simple pleasure of their dive.
(As published in the July/August 2013 edition of Marine Technologies - www.seadiscovery.com)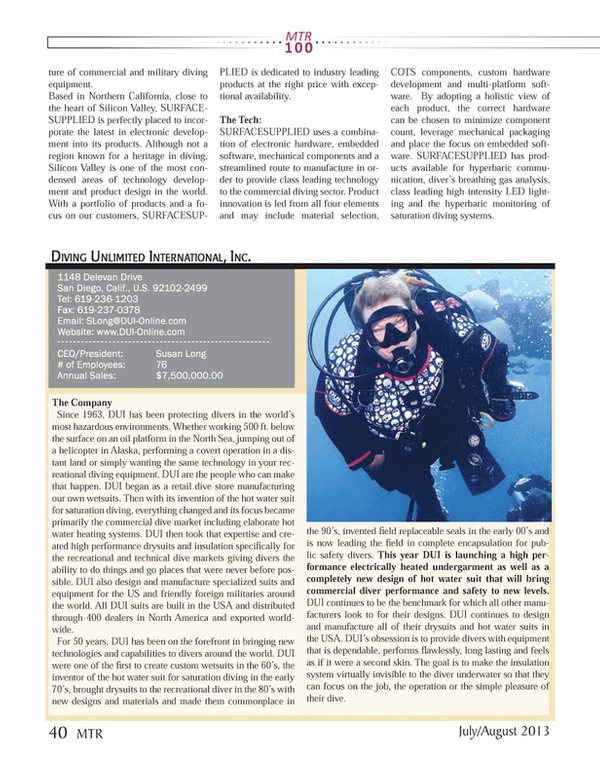 Read MTR100 '13 Diving Unlimited International, Inc. in Pdf, Flash or Html5 edition of July 2013 Marine Technology
Other stories from July 2013 issue
Content