MTR100 '13 Soil Machine Dynamics Ltd.
Marine Technology Reporter
Turbinia Works, Davy Bank
Wallsend, Tyne & Wear, U.K. NE28 6UZ

Tel: +44 0191 234 8864
Fax: +44 0191 234 0444
Email: [email protected]
Website: www.smd.co.uk

CEO/President: Andrew Hodgson
Vice President: Mike Jones/Peter Imlah
Marketing Director: Richard Howarth
Engineering Director: Steve Shoulder
Square Footage: 90,500
Number of Employees: 370
Annual Sales: $200,000,000.00
The Case
SMD is a leading manufacturer of remote intervention equipment, employing more than 300 staff in the U.K., Singapore, U.S. and Brazil. The company has been honored with three Queens Awards, for innovation in Trenching vehicles and ROVs, and for its growing presence and success in global markets. SMD manufactured the world's most powerful subsea tractor and world's largest trenching ROV, and is currently manufacturing the world's first deep sea mining vehicles.

The Tech
SMD's origins are in agricultural engineering related to research at Newcastle University. In the early 1970's, the North Sea oil industry required the development of seabed geotechnical knowledge, together with theoretical analysis of the particular problems encountered in seafloor earth moving activities. SMD began to design and manufacture sea floor trenching and ploughing equipment used to lay and bury oil and gas pipelines. SMD's technology was unique in its application of land based soil mechanics principles to innovative subsea trenching machines, and a number of benchmark patents resulted from this early work. The innovation of a new range of more powerful and more capable trenching machines is helping the Offshore Wind industry meet The Techinical challenges identified in the early Round 1 Wind Farm Installations in U.K. waters. SMD's innovations in product, technology, and offering to market have seen The company grow from shipping its first WROV in 2005, to having the largest market share of the three major independent WROV manufacturers in 2010 (based on overall market size forecasts by the Douglas Westwood analyst group). SMD bring more than 40 years of subsea engineering experience to various markets and are currently in the process of building the world's first deep sea mining vehicles for Nautilus Minerals. SMD's Renewables business stream is dedicated to developing cost effective installation technology for marine renewable energy.

The Company
SMD is one of the world's leading manufacturers of remote intervention equipment, working in hazardous environments worldwide. Customers span a range of sectors from energy (oil and gas, marine renewables and offshore wind infrastructure), to telecoms, mining, naval/military and scientific communities. The company has recently reorganized itself along a number of key business streams: Work Class Remotely Operated Vehicles (ROVs), Subsea Trenching, Marine Renewables and Submerged Mining. SMD has 90,000 sw. ft. of manufacturing space over four production sites in and around Wallsend near Newcastle, where the head office is based. The company also has offices in, Singapore, the U.S. and Brazil.


(As published in the July/August 2013 edition of Marine Technologies - www.seadiscovery.com)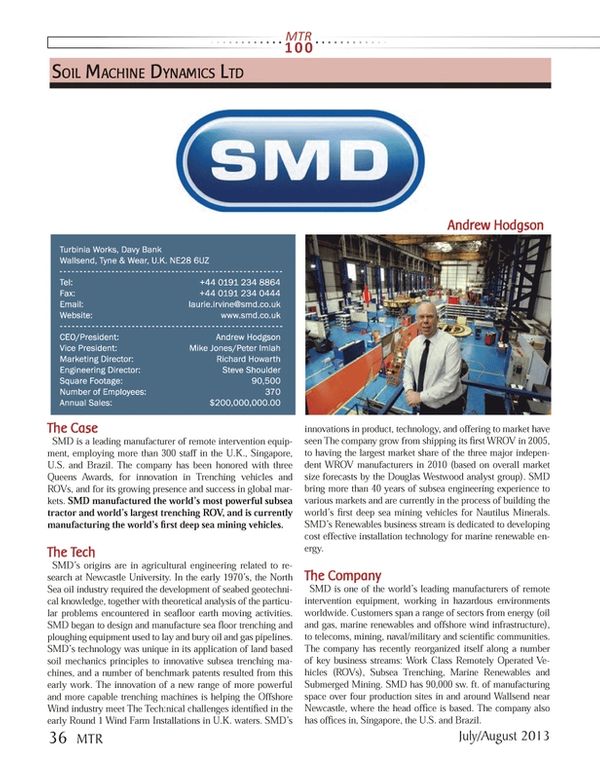 Read MTR100 '13 Soil Machine Dynamics Ltd. in Pdf, Flash or Html5 edition of July 2013 Marine Technology
Other stories from July 2013 issue
Content