From Tiny Electrical Impulses Grows a $2.6B Giant MOOG
By Tom Peters
In 1951 William (Bill) Moog developed the electro-hydraulic servovalve that translates tiny electrical impulses into precise and powerful movement. Moog, an inventor, entrepreneur and visionary, likely knew then that valve would open the flood gates that would transform a small workshop in East Aurora, New York into the corporate giant Moog Inc. is today.
Bill Moog, along with his brother Arthur and Lou Geyer, formed the Moog Valve Company, and their first four servovalves were sold to Bendix Aviation. That order was followed by larger orders from Boeing and Convair. Moog had made a significant move into the aerospace industry and has never looked back.
Today, Moog Inc. employees 8,000 people around the world and has revenues of $2.6B. The Moog vision has been to diversify and although the main focus of the company has been the aerospace industry serving the commercial aircraft industry, military and defense and even supplying highly sophisticated components for the U.S. Space program, Moog also supplies and manufactures components for a variety of industrial, medical, marine and energy applications. And through initiative and innovation, Moog staff have created new products for these various industries that have been both customer specific and for a broader based customer use.
The diversification has led to Moog's acquisition around the world of leading companies producing top quality products that would complement and expand the various Moog product lines. Such was the case with Focal Technologies of Halifax, a marine product company, which in 2005 became part of the Moog Components Group and now the base of its marine operations. "This facility is almost 100% marine. Nearly everything we do here is marine and energy solutions," said Moog Focal's Managing Director Michael Glister, who explained how Focal became a good fit for Moog.
Focal actually started as part of the Nova Scotia Research Foundation, said Glister. With a private owner, the company grew and settled in Burnside, an industrial park across the harbor from Halifax. In 1999 Focal was sold to the U.S.-based Kaydon Corp.
"They were looking for slip ring manufacturers," said Glister. "They didn't really understand that although we made slip rings we are very much a marine company. Being a slip ring manufacturer was not our main objective."
In 2005 Kaydon sold Focal to Moog.
"They were looking for diversification, adding technologies that they thought were adjacent to their own and synergistic with their own. So we are part of Moog but still keep the Focal brand name because it has a very strong brand identity within the marine business. So we are Moog Focal and a business segment of the Moog Components Group," said Glister.
When Focal came out of the Nova Scotia Research Foundation, its concentration was in a couple of areas, said Glister. One of those areas was the use of fiber optics for marine and subsea applications and its first application was a towed array for the Canadian submarines. The other area was developing an electrical slip ring for marine use. They would typically be deployed in the winch of some type of marine system.
Glister offered this example.
"If a ship was to deploy something underwater, it would tail out from a winch. It would have a situation where the cable coming into the winch would be static but having to convert to the rotary side of that cable winch as it deploys the cable into the ocean. Our devices initially were mainly to convert any type of power or signal from the stationary world to the rotational world and that's what most of our products do today but to that we have added many more fiber optic capabilities," he said.
Glister, a native of England (and a citizen of Canada) and a design engineer by profession, said fiber optics send signals through photons of light and can carry much more data and transfer it further than electricity.
"So we make many parts for fiber optic systems that are used underwater. A very typical one is you have an underwater robot (ROV) that is doing maintenance. It may be a wellhead on the ocean floor or a sunken wreck they want to have a look at. There may be other types of inspection like on a pipeline checking for cracks, ocean bed debris covering the pipe, etc. They send down these robots with cameras, sonar and other sensors. They use and produce a lot of data, therefore, we supply fiber optic systems for ROVs plus electrical power systems. Those are two main products - fiber optics and electrical power - and they are all made here. Other products made here include very large electrical power swivels for floating oil platforms and we do what is called a fluid rotary union, the fluid equivalent of a slip ring. So we have basically four major disciplines in the (Burnside) building making advanced technology products for the underwater business," said Glister.
Creating advanced technology for marine applications is an ongoing process at Moog Focal's Nova Scotia facility. Research and development are part of the company's engrained culture.
"Out of approximately 190 people in this building we have about 45 in engineering and about another 15 in what we call production engineering," said Glister. "So we have about 60 engineers and technologists doing a lot of development. At anytime there is at least 20 new product developments going on in the building. It could be for one customer or a product we are trying to sell across the total marine market," he said.
Some of Moog Focal's developments include a fiber optic rotary joint for use with a ship's winch, "which basically you can put a stationary fiber on one end, a rotating fiber on the other end and it converts the signal without any degradation. We are pretty well the world leader that in that product," said Glister.
"Another product we make is the media converter. Once you have the fiber optic system in place, eventually that fiber optic signal has to become electrical again so it can go into a camera, computer or something of that nature. We also make a lot of the very clever electronics and optical systems which convert from the optical into the electrical world and back. You might have 10 or 20 electrical signals and that doesn't add up to that much data. But it is collected together and sent down one fiber. The system then reassembles them into individual signals and converts them back to electrical. These are called multiplexers and we are possibly the world's leading supplier of underwater multiplexer systems," said Glister. They are used in the exploration and production of oil and gas, scientific research and many other subsea applications.
In 2012 Moog added to its marine portfolio with the acquisition of Tritech International Ltd. of Scotland.
"Tritech is part of the marine products operation of Moog Components Group," said Glister. "We (Focal) are doing all the work that provides the communication and the power products while Tritech adds something adjacent and that is sonar and sensing. They have a number of products for people trying to navigate or guide themselves in underwater situations. You can't use radar or GPS, none of those work underwater, so the main types of sensors used are acoustic instruments, like sonar, altimeters and other instruments that use acoustic wave lengths. They also make some cameras and lights and a few other sensors as well," Glister said. "So we are adding the Tritech sonar and other sensors and also they do all the software that interprets these signals and turns them into images. So this expands our marine section. Focal and Tritech are in the same market but with slightly different technology," he added.
Moog's marine division is an approximate $80 million a year business and is growing.
"When I came here in 2001 the company was around $10 million. This year alone in this building we will grow substantially," said Glister.
Greg Boyer, Moog's Vice President of Sales and Marketing in Blacksburg, Virginia, said the marine market represents about 15% of the Moog Components Group's business.
Surprisingly, very little of Moog's marine products stay in Canada.
"With the marine business and predominately with oil and gas, it has always been a very international business so we retain less than 1% of our output in Canada. The rest is all exported to other countries. Either into the U.S. and mainly for Gulf of Mexico, the North Sea area of Europe, offshore Brazil, the West Coast of Africa, Northern Australia and some areas of Asia," said Glister.
However, there is some potential for Moog Focal close to home. British Petroleum and Shell are ramping up for major offshore oil and gas exploration off Nova Scotia and Moog Focal could quite likely have product involved in all facades of that work from seismic to drilling to production.
Boyer added that, "We try to grow in synergistic steps and the next area that we see substantial growth is in the supply of our equipment to subsea wellheads and drilling systems."
But like any other company constantly striving for excellence, there are challenges and being a world leader makes the task greater.
"If you are going to perform underwater, you can't have a product that is going to fail in any shape or form," said Glister, because that failure could cost the user of the product hundreds of thousands of dollars. And, of course, the manufacturer's reputation.
"So there is the absolute need to perform and that is the competitive side of the business," he said. "We are also becoming a little bit dollar conscious because costs are going up like crazy in oil and gas production markets so we are watching our pennies. But mainly we spend money to make our products high performance with a focus on excellence," he said.
Glister said the company is constantly on the lookout for top notch talent to work in the Moog environment that has a reputation of treating its employees with trust and respect.
Boyer sees finding well-trained technologists and engineering graduates suitable for the marine industry a most pressing issue.
"In the long term, it will be adapting to the change in oil sources from standard oil and gas wells to shale, coal bed methane and similar non-conventional sources," he said.
Overall, Glister sees a bright future for Moog's marine division.
"As far as I can see, the underwater technology sector will grow, and I think we have a future in growing with it here in Halifax. We certainly see a good future in what we do and we are focused on adding to that. It's a fun thing to be in," he added.

(As published in the September 2013 edition of Marine Technology Reporter - www.seadiscovery.com)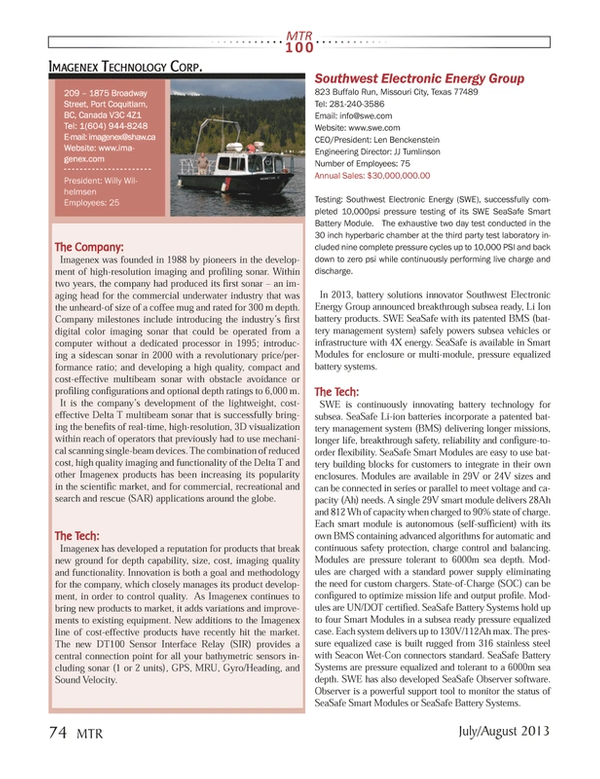 Read From Tiny Electrical Impulses Grows a $2.6B Giant MOOG in Pdf, Flash or Html5 edition of July 2013 Marine Technology
Other stories from July 2013 issue
Content