SMD Improves 2013 Work Class ROV Range
Mark Collins, ROV Business Stream Manager
SMD has been a leading manufacturer of subsea robotic systems since the 1980s. In 2003 SMD started manufacturing Work Class ROVs, a business that has grown steadily.

SMD's ROV division operates from a modern facility named "i19" in Newcastle Upon Tyne, UK. ROV sales, project managers, engineers and technicians are all located within the facility and the company has the ability to manufacture up to 48 Work Class ROV systems per year.

SMD also has offices in Houston, Singapore and Macau. SMD introduced the original Q-Series range of Work Class ROVs in 2005. The range consisted of three vehicles - Quantum construction class, Quasar general purpose class and Quasar Compact lightweight work class.

Through market trends and customer feedback, SMD undertook its first range refresh in 2009. The refresh retained three vehicle models - to give customers choice and flexibility when building fleets - and updates focused on key attributes SMD felt were of absolute importance to clients;

• Dependability – Robust construction, stable control system and careful selection of sub components.
• Performance – The ability to operate in high currents while remaining composed and offering precise control.
• Flexibility – The ability to configure for any operation. Defined free spaces within the vehicles for tool fitment, powerful tooling hydraulics, broad choice of customer interfaces.
• Ease of use – Intuitive control software. Inclusion of automatic pilot aids. Good access for maintenance.
• Value – Use of off shelf components, low through life costs

By 2012 SMD had delivered more than 94 Work Class ROV systems. Four years had passed since the last refresh so SMD deemed it time to revisit the product range again and the decision was made to develop the next generation Quantum, Quasar and Atom (Quasar Compact replacement) for 2013 release.

New for 2013
SMD's new 2013 range of Work Class vehicles builds on the original key attributes. All aspects of each system were reviewed and updated with one of the main changes being the introduction of the DVECSII/S control system. First deployed on the i-Tech only SMD manufactured QX Ultra ROV, the SCADA/PLC based DVECSII system offers advancements in configurability, diagnostics and graphical user feedback. Proven industrial PLC technology is employed to maximize reliability.

Pilot aids through dynamic position technology were available on previous generation SMD WROV systems but were limited to relative positioning through seafloor lock technology. The new ROVs have the option of a more advanced dynamic positioning system - relative and absolute - co-developed by SMD and Seebyte.

Advanced flight modes such as auto-position, navigation map trail, cruise-control, advanced waypoint tracking, chart overlay, auto fly follow and survey are all included with the latest DVECSII/S system. Seafloor lock, mid water positioning and sonar lock and auto follow are available when relevant transducers are fitted to the vehicle. DVECSII/S also sees the introduction of the multiplatform CORE pod which forms the control hub on the new Quantum, Quasar and Atom vehicles. SMD's distributed control architecture remains ,but the field maintainable and compact CORE pod offers increased instrument connectivity permitting operators to fit and control the latest HDTV cameras, and high bandwidth sonars, for example.

Improvements have also been made to the mechanical and hydraulic aspects of the new vehicles. Vehicle construction of previous incarnations employed aluminum alloy section bolted in triangulated configurations to aid stiffness. SMD wanted to lighten, stiffen and free up more space for tooling and access to components on the new range.

The 2013 ROV models employ space frame construction that moves away from internal bolted sections. This has resulted in robust, stiff yet light vehicle frames that still retain bolted extremities for damaged section replacement. For the customer, this translates to better collision resilience, improved stability for manipulator work and more space within the frame.

SMD design and manufacture all its Work Class hydraulic componentry under the well-known brand name Curvetech. Many of the Curvetech components fitted to this latest vehicle range have been updated and improved. Quantum is now fitted with a new Curvetech HTE 430mm thruster.

The thruster uses a unique mono strut design to minimize water flow disruption. Lighter and more compact hydraulic power units (HPU) have been developed for the Quasar and Atom and a new range of smaller, lighter and feature-packed Intelligent Hydraulic Control Units (iHCU), are available for customers to configure their ideal system. Atom is available in 60hp and 100hp guise, Quasar 125hp and 150hp and Quantum 200hp and 250hp. The first new Atoms, Quasars and Quantums entered service at the beginning of 2013.

The 2013 range share a new topside control console design. Using client feedback and adhering to the latest IMCA and NORSOK standards the layout offers an ergonomic environment with space for a surveyor and observers. SMD offers a choice of screen and control desk configuration. The standard control setup can be either 20ft cabin or vessel room installed.

(As published in the September 2013 edition of Marine Technology Reporter - www.seadiscovery.com)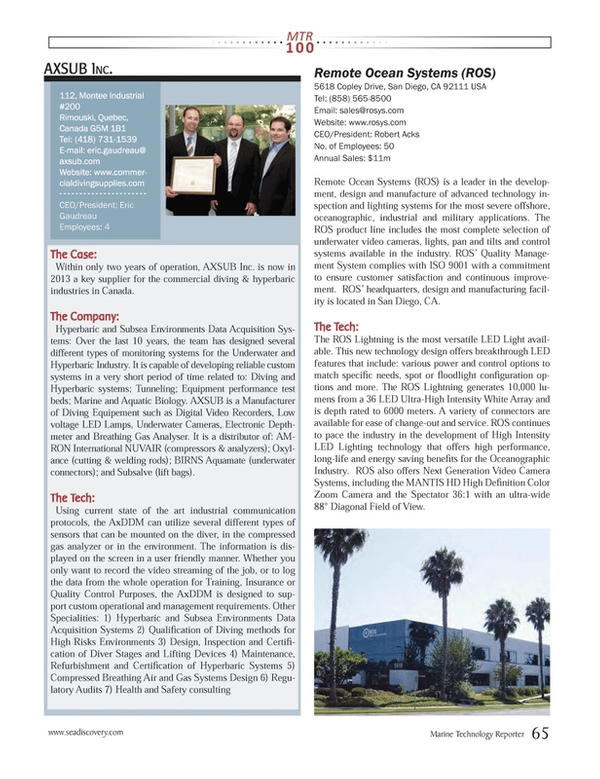 Read SMD Improves 2013 Work Class ROV Range in Pdf, Flash or Html5 edition of July 2013 Marine Technology
Other stories from July 2013 issue
Content