Eagle Eyes on Mooring
By Tom Peters, Halifax
Welaptega Marine Ltd., Halifax

From agriculture to aquaculture with a little bit of Mi'kmaq First Nations' folklore thrown in for good measure.
It is an intriguing story of a company with innovative ideas adapting technologies and tools to carve out its own niche in a marine sector industry where one million dollars is pocket change.

Welaptega (Mi'kmaq for 'eagle eye') Marine Ltd. headquartered in Halifax, Nova Scotia and with several global operations, has become a world leader in risk-based mooring integrity verification for the offshore oil and gas industry. It develops and commercializes technologies for the inspection of moorings and other underwater assets such as pipelines and wellhead controls.
The agriculture comes in with Tony Hall, the company's founder and CEO. Born in England, he moved to Canada at a young age where his father had a small farm in Nova Scotia. He initially followed that farm path and got an undergraduate degree in agriculture. But he drifted away from the land to the sea and into aquaculture where he earned a Masters degree in Marine Biology from the Memorial University in Newfoundland and Labrador.
In his search to find a career path, he began integrating some of his agriculture background with his work in aquaculture. He started applying agriculture pest management to marine growth on mooring lines and subsea structures with the premise that a lack of regular maintenance on these subsea assets could cause deterioration of the structure by the marine environment which in turn goes to the subject of safety.
In 1991 Hall started Welaptega, "borrowed a few grand" and went to Aberdeen, Scotland, a hot bed of offshore exploration and production, to sell his research.
"I literally went to oil companies pounding on doors," Hall said. On his first trip to Aberdeen, he landed a contract with a British gas company who liked his approach to the issue.
Following his system to measure marine growth on subsea assets, he was asked by companies if he could to measure chains and their integrity when used as mooring lines.
It was a new arena for Welaptega to explore.
In 1996 Hall moved the company to the U.K., to work on new technologies and systems and developed a chain measurement system which could supply data for inspecting moorings on semi-submersibles. That system was followed by the development of yet another for rope moorings involving high resolution cameras to identify potential problems.
Over the years the company has developed a strategy in tackling these inspection projects.
"Our progressive inspection philosophy is a guided examination of mooring systems that focuses on known problems and failure modes," said Hall. "When anomalies, wear or damage is identified, progressive inspection technologies are used to zero in on the problem and identify its characteristics and operational implications."
Welaptega has developed several innovative schemes to carry out its inspections. It specializes not only in chain and rope measurement systems but underwater asset 3D video and 3D modeling, high definition 3D, risk verification and mooring integrity. Its 3D modeling was significant in the repair and capping of the damaged wellhead at British Petroleum's Deepwater Horizon disaster in the Gulf of Mexico. Welaptega's client list includes such heavyweights as BP, Exxon Mobil, Statoil, Woodside, Transocean, Chevron, Shell, Suncor and Hess.
Over the past several years Welaptega's thorough mooring inspections have saved clients millions of dollars which could have been lost if major drilling installations had to be taken out of service because of maintenace issues. The company has further diversified to inspections of subsea pipelines and wellhead controls. In a sense, the diversification was out of necessity. Oil and gas production is an up and down business so when commodity prices drop, budgets for mooring inspections often take a hit, said Hall.
As the technology to inspect moorings has beome more sophisicated, so has the regulatory regime evolved to police mooring maintainance programs, which in turn has demanded more stringent requirements on operators for insurance purposes.
Hall said inspections of moorings, traditionally, have relied on the classification system (Lloyd's for example) which was oringally intended to determine if a vessel was "fit for purpose and what happened was as they moved into ship-shaped floating production, the class system was carried across but not with the same level of scrutiny that tradionally applied to a vessel in drydock," said Hall.
Ships could be drydocked and inspected very closely in detail for sea worthiness but "when it came to mooring systems, they still classed them but the amount of rigor or imperical evidence they had to give it, the class was not the same. They were both considered classed but mooring systems were not being given the same level of look see," Hall said.
In the earlier days of offshore production and exploration, these mooring systems weren't old so not really an issue "but now as things get older and losses from things like mooring failures are starting to increase, those losses have accumulated in the insurance industry," said Hall. And, as a response, the insurance industry has moved unilaterally to impose its own standards with a body called the Joint Rig Committee (JRC) comprised mainly of senior offshore engineers and insurance underwriters. This committee gets involved when existing standards aren't sufficient to manage the risk and losses continue to mount.
"They (JRC) stepped in to create a new regime, which has higher expectations of the assured (people insured) to make sure things are in fact fit for purpose and that's what they have now done for moorings," said Hall. This practice has previously been done on other subsea equipment in the offshore industry where losses started to accumulate. In the case of mooring systems, underwriters "generally found any of the class societies were far below what were considered to be best practices for mooring systems because deep water mooring systems are considered to be the highest level of safety critical systems."
The developments within the insurance industry and its efforts to minimize its risk with mooring systems bodes well for Hall and Welaptega.
Hall said for operators to get insured, they will have to show the underwriters that they have a handle on the condition of their systems and "when you have an underwater system the first thing you need to do is go down and inspect it and get the appropriate level of detail."
Welaptega can do that and employs what it calls progressive inspections.
"We go down and have a look around and use high resolution cameras to see if there is anything at first glance that appears not to be right. We also do a risk-based analysis of the actual system and identify which components are most likely to suffer deterioration. There are also detailed inspections to better characterize problems," said Hall
The Welaptega CEO said operators are not forced to carry out these more detailed inspections, but if they don't it will become increasinly difficult to find the "same kind of priced insurance or even find insurance because the underwriters will make it essentially an endorsement on the policy."
To add further sophistication and depth to the data produced for clients through its inspections, Welaptega has formed an alliance with highly respected BPP-TECH of London.
"We are primarily a technology company, and they are more of a naval engineering company," said Hall. Headquartered in London with offices in Aberdeen, Newcastle, Houston and Singapore, BPP-TECH "will take the information we collect from our inspection program and combine it with other engineering data like enviromental stuff, design and design codes and from that comes a series of opinions. We are generating three opinions and basically engineering opionions. That is the expectation of the insurance market and also the operating companies," Hall said.
The opinions will consider the current condition of the mooring system and what can be expected over the next three to five years. With the condition of the mooring system, how does that align with class requirements, whether they are adequate or not and also how does that align with regulatory regimes in the country or region of operation. Finally, how well aligned is an operator with increasing expectations from the insurance industry.
That industry has produced a program called "floating unit mooring assesment (FUMA)," an endorsement that the industry is starting to insert into insurance policies.
"Their expection is as new technologies come along they will be continually added and always continually improving the quality of that fitness for puropose assessement," Hall said.
But even as Welaptega's future looks even more promising with the demand for more stringent inspections and an alliance with BPP-TECH, there will continue to be challenges and access to money will always be one of those challenges.
"It is a tight capital market out there, and it is hard to raise money for small and medium sized enterprizes," said Hall. "And if you are suddenly going through growth then capacity becomes an issue. You need more equipment, you need more people, you need a greater ability to execute more work and that obviously requires financing. Traditionally, technology companies have a problem because they don't really have a lot of hard assets to use as a basis for finance and the money tends to be expensive and hard to come by, so it is always a challenge," Hall concluded.

(As published in the September 2013 edition of Marine Technologies - www.seadiscovery.com)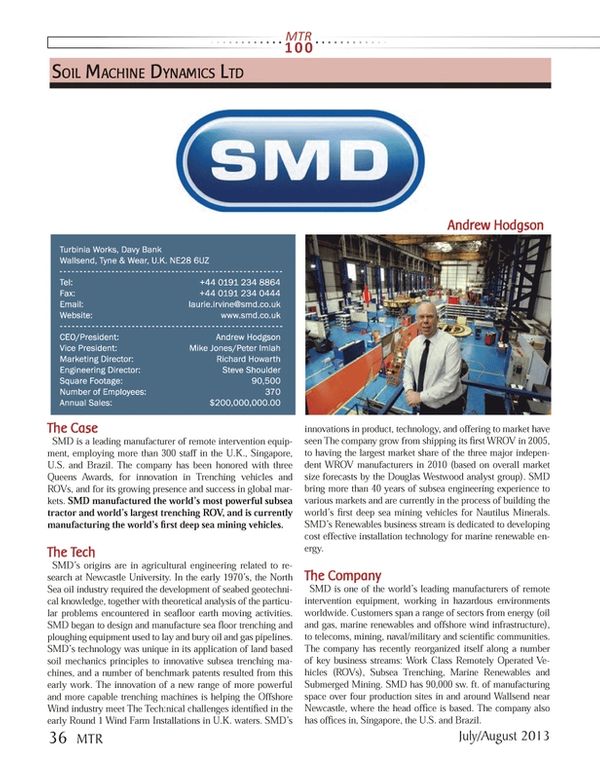 Read Eagle Eyes on Mooring in Pdf, Flash or Html5 edition of July 2013 Marine Technology
Other stories from July 2013 issue
Content