Meet The "Teledyne Twelve"
By Greg Trauthwein, Editor
Teledyne Marine has steadily built an armada of technologies and brands serving nearly every facet of the subsea sector through systematic acquisition, investment and organic growth. Recently MTR solicited the insights of a quartet of executives representing the various brands to discuss the evolution and future direction of the Teledyne Marine brand. Executives offering insights included Bill Kikendall, President of the newly formed Marine Sensors and Systems Group at Teledyne Technologies, Inc., Thomas W. Altshuler, PhD, VP and Group GM for Teledyne Marine Systems; as well as Andy Gardner and Maxwell Mulholland, Co-Managing Directors of Teledyne Marine Interconnect Solutions (TMIS).

While there are an increasing number of brands under the Teledyne Marine corporate umbrella (12 and counting), the company has, since the inception of its plan to grow the subsea business through acquisition, been astute to carefully choose the companies it sees as leaders in the field, and then once in the fold encourage them to maintain individual identities, while leveraging the advantages of the collective group. "We're trying to balance the aggregation of businesses under a single name, and amalgamate best practices while letting the underlying essence of what the business was survive," said Thomas W. Altshuler, PhD, VP and group GM for Teledyne Marine Systems. "We are buying highly successful businesses with incredible name recognition, all of which is important to the customer base. I think what Teledyne has done well is keeping that feel … the best of a little business and the best of a big business."
With that as a backdrop, MTR sought insights on the creation and future direction of the Teledyne brand in the subsea sector.

Q: What do you consider to be the top three individual (company) highlights?

Kikendall I'd like to answer that question for all companies at the same time because I believe that the highlights and strengths are common and a key element of why Teledyne was attracted to these businesses and how we will continue to operate. Each of these companies has a long-standing reputation for introducing products that in some way have revolutionized the marine market sectors that they serve.
Our individual reputations span decades of delivering high performance, reliable products that operate in very harsh environments. Our companies operate in partnership with our customers in meeting their objectives. We feel the pain if something does not go as expected, and we feel the excitement when things go right and new discoveries are made or operational efficiencies are achieved.
Second, the application of our products and technologies is very broad. We love to hear about the ways our instruments are being used around the globe to advance a business or science objective, especially when they're used in manners that we did not anticipate. In the hands of our customers, our products are part of some amazing accomplishments.Finally we are very proud of our sustained innovation. Across our Teledyne Marine businesses we make a significant investment in research and development.
Gardner and Mulholland Teledyne Marine Interconnect Solutions aligns, integrates and standardizes the sales, marketing, business development, tendering and customer relationship management processes of Teledyne Impulse, Teledyne DGO and Teledyne ODI into a single, high performance, customer-facing organization. The combined footprint of its manufacturing, engineering and customer service operations includes major facilities in San Diego (CA), Portsmouth (NH), Daytona Beach (FL), and Alton (U.K.). A new 50,000 sq. ft. Technology Center dedicated to the development of advanced technologies was opened in 2013 in Daytona Beach.Teledyne Impulse delivers electrical and optical interconnect systems for a broad range of harsh environment applications. The organization's comprehensive product line of dry-mate, wet-mate and underwater-mate products contains metal-shell, rubber-molded electrical, fiber optic, Ethernet and hybrid systems. Teledyne Impulse incorporates these products into custom engineered cable assemblies using neoprene, polyethylene and polyurethane over-molding technologies. Teledyne DGO specializes in "severe environment" interconnect equipment and delivers systems which are used to provide power and signals across critical boundaries subjected to extreme pressures and temperatures. Teledyne DGO's core technology is the glass-to-metal seal. This dry-mate technology not only demonstrates outstanding resistance to extremely high pressures, it is also made of an inorganic material and thus possesses long-term stability and can withstand conditions that quickly degrade and deteriorate other types of sealing materials. Teledyne ODI is a leader in high power subsea interconnect products, and delivers rugged dry-mate and wet-mate connectors designed for electrical, fiber optic and hybrid applications. Teledyne ODI has achieved tremendous success supporting the development of ocean observatories and sea floor sensor networks, and it's wet-mate systems are based on patented oil-filled and pressure-balanced technologies.

Altshuler Teledyne Benthos is a 51 year old company focused on an array of marine systems, really deepwater systems so the core competency is putting systems deep into the ocean. In 2008 Teledyne acquired Webb Research, focused on getting an autonomous platform. Webb had the Apex float, a free floating autonomous system and the Slocum glider. The focus was on winning a Navy program for gliders, the Littoral Battle Space Gliders, a contract to provide 150 gliders for the Navy to provide oceanography to the fleet which was won in 2009.
Gavia in Iceland presented an exciting technology ready to blossom. In Gavia, we acquired a propeller driven underwater autonomous vehicle; Low logistics, high performance vehicles with the focus on the survey market, and also the foreign military market.
Each of the three businesses are technology based, and the underlying theme was to accelerate the growth of the technology portfolio. We invest heavily in Research and Development and we are aggressive in looking at how we are going to generate the next-generation technology for ocean observation. In the glider world we introduced a modification to the Slocum glider that allows us to use it as a propeller driven vehicle, so you can use it in gliding mode or a more classic AUV. Very low speed but very energy efficient, but it really increases the operational envelope. In the float world we are in the very early open water testing of our next generation APEX float that will be able to go to 6,000m.

What do you consider to be the overriding collective group strength?

Kikendall The group strength is a combination of the people, the focus provided by our organizational structure and the broad resources of Teledyne. We are fortunate to have many very experienced and capable people in our organizations that have tremendous domain and technical knowledge. We are also fortunate to produce products that, in many cases, are the standards within the industry. With respect to organization, we have organized in a manner that is customer/application focused. Whether we are talking about sensors, telemetry products, underwater vehicles or navigation tools, we are focused on providing the independent solutions that are leading the industry. Collectively, we strive to provide high level systems that incorporate a variety of Teledyne Marine components for those seeking innovative, turn-key solutions; however, we do not want to dictate that our systems will only be offered with Teledyne components. This approach allows our customers to choose the individual components that best meet their overall objective.
Teledyne Technologies, our parent company, is a diverse and unique organization. Within the larger corporation is a broad range of applicable technologies and capability which are at the disposal of the Teledyne Marine companies to augment our capabilities. This includes a corporate R&D laboratory, Teledyne Scientific Company, (www.teledyne-si.com); the world's foremost pure-play MEMs foundries, Teledyne Dalsa (www.teledynedalsa.com); and a highly capable systems engineering business, Teledyne Brown Engineering (www.tbe.com).

Altshuler I think the group strength is the depth of engineering. We've got a very broad engineering group. We have a voracious appetite for engineers. And the goal is to take that core competency and have each of the businesses accelerate their product development and if possible to have collaboration across the businesses.

Gardner and Mulholland Teledyne Marine Interconnect Solutions is a unique competitor in the marine equipment industry. This new organization not only designs, develops and manufactures a range of high performance, high reliability electrical interconnect systems, it is also backed by the unparalleled scientific and R&D capabilities of Teledyne Scientific. The collective group strength of the combined TMIS organization is the ability to deliver to customers the broadest available portfolio of cutting-edge electrical, fiber optic, hybrid and Ethernet interconnect products that are optimized for use in mission-critical applications which are required to function flawlessly – under extreme conditions and in any expected operational environment.


The "MTR100" is an annual list of leading companies in the subsea sector: Why are the companies under your 'group' worthy of inclusion in this annual presentation?

Altshuler I think something you would find across the company is a focus on a broad set of technologies that address the submerging marine market. I think the marine market really is emerging, if you look at offshore oil and gas, if you look at where science is going particularly in terms of the study of climate change, and if you look at the defense, with the U.S.' shift in focus to the Asia Pacific. Teledyne has identified the areas that will be exciting growth markets and is investing to grow those markets.

Kikendall I believe what is unique about the Teledyne Marine companies is the extended period over which these businesses have been supporting the subsea sector with innovative products that are very broadly applied to applications within the market. Each of our marine businesses are "go-to" companies with an earned reputation for delivering precise and dependable measurements and solutions that can be relied upon to deliver results in the very challenging subsea environment. In many cases these Teledyne products have been a key part of significant scientific discoveries that have influenced the understanding of our environment.

As consolidation continues in the subsea sector, and Teledyne sits as a driving force, what do you see as the chief benefits to housing multiple companies, multiple capabilities, under the Teledyne banner?

Kikendall We touched on this earlier when we discussed our collective group strength and our independent market focus for all product offerings. I will try to address this in a somewhat different manner. Teledyne's products are generally used to acquire information that is used to improve our understanding of the marine environment. This information may be used to make and/or influence significant decisions. The subsea market is very attractive to Teledyne, as we believe there is a need to continue the expansion of mankind's understanding of this unique and diverse environment. Through the various sensors and systems that we offer, we believe that we can make this information gathering process more precise and efficient, fostering informed decisions on important topics affecting the health and stability of our environment, our economies and our planets' diverse inhabitants.

Gardner and Mulholland Teledyne Marine Interconnect Solutions is a market-focused and process-centered organization that develops and delivers innovative solutions to its customers. TMIS was formed for the very purpose of harnessing the combined engineering resources, technical and design capabilities, manufacturing capacities and business competencies of three affiliated Teledyne businesses, and utilizing these important assets in a smart and effective manner to deliver to its marine customers interconnect systems that are 1) innovative, 2) competitively priced and 3) which possess the highest levels of quality, reliability and performance. In addition, the single go-to-market organization allows TMIS to better leverage its collective talents in the collaborative pursuit of business growth opportunities and provides greater value to customers by simplifying their interactions with Teledyne. From these attributes TMIS intends to develop lasting and durable business partnerships and become a "trusted advisor" to its customers.

And what are the challenges?

Kikendall Challenges should be discussed in the context of objectives. From a business perspective, we always face competition. Strong competition is good for the market and truly fosters an acceleration of information. Competition leads to better products at lower costs which ultimately results in more, high quality information. From an industry service perspective, challenges include uncertainty of markets which makes it difficult to plan and create a truly efficient business model. From a technical perspective, our challenge is to offer increased capability via smaller, lower power, less expensive solutions. From a staffing perspective, it is an ongoing challenge to attract the talent required to continually advance the technology within our industry. This includes fostering interest in students of every age in the wonder and excitement of marine science and technology.

Gardner and Mulholland As with any large business integration effort, there are always maturation issues that need to be overcome as previously separate organizations get accustomed to aligning their internal activities along common policies and begin standardizing their processes in accordance with defined "best practices."

Where do you see growth opportunities in the sectors you serve?

Altshuler I think that the offshore energy is still going to be the hottest growth market. In the science market there are incredible requirements, but the funding is challenged. There's the need; the question is; is there money? When you look at offshore, including renewable and oil and gas, those projects have very large, longer-term plays. So we're seeing a very dynamic market, specifically in Southeast Asia. The other area where you have incredible pent-up opportunity is in the Polar region. There is much unknown, but there are substantial potential opportunities both from the military and the energy markets.

Kikendall We see broad growth opportunities. Specifically, we continue to see growth in the energy markets, whether it is deep ocean oil and gas or renewable energy. We have also seen growth over the past couple of years in the transportation infrastructure support market, particularly in the dredging and underwater inspection sector. On a worldwide basis, the autonomous underwater vehicle market continues to grow as this technology matures and expands in its capabilities. This, in turn, drives the sensing solutions as well as navigation solutions required to support these missions. On a regional basis, the inland and offshore market in China has been very strong for several years.

How is your organization investing to further penetrate these opportunities?

Kikendall Investments at Teledyne are strategically broad in nature and include: People and processes – the right team using the right tools to yield continuous improvement; New products development to replace our legacy products, offering more precise and efficient information gathering; expansion into adjacent markets and business and product line acquisitions in the sensors, platforms, infrastructure, systems and navigation areas; and Advanced material sciences to help us understand and improve how our products will perform in harsh environments.

(As published in the July/August 2013 edition of Marine Technologies - www.seadiscovery.com)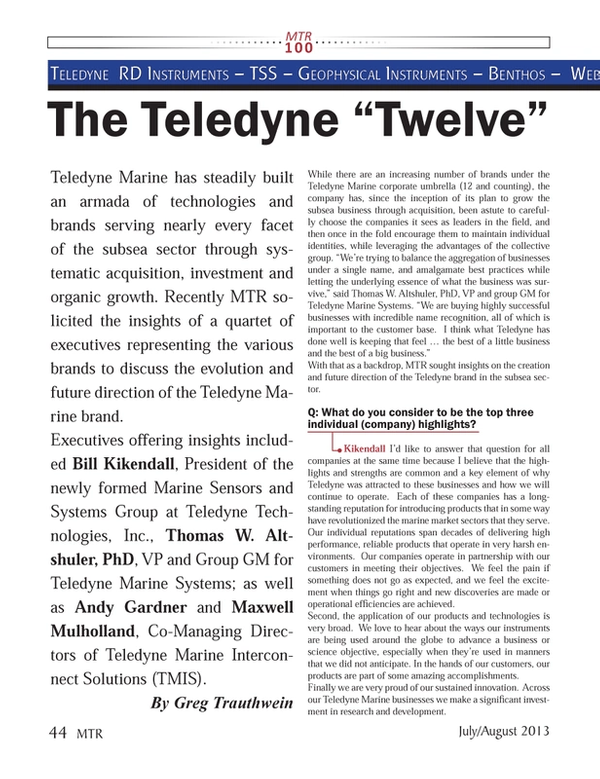 Read Meet The "Teledyne Twelve" in Pdf, Flash or Html5 edition of July 2013 Marine Technology
Other stories from July 2013 issue
Content