Making the Connection SEA CON
By Chris Batten
For those that know SEA CON best it will be no surprise to learn that their desire to continue its growth and to find new ways to better serve its expanding market is at the forefront of its mind. A prime example of this commitment is SEA CON's new Encapsulating and Molding facility in the West Houston area, opening to develop even greater levels of support both to the Gulf Coast region and internationally.
"There is clear evidence that the market is growing," said SEA CON's Marketing Manager Melanie Harrison. "The demand on suppliers to increase manufacturing, design, support and customer service also grows in line with this upturn. This new facility is just one of a number of steps we will be taking to achieve our mission."
Concurrent to this growth in demand is the need for suppliers to exhibit great flexibility and the ability to react quickly to customers needs both planned and unforeseen, while still maintaining high levels of quality and innovation. Part of this solution is seen by SEA CON to include holding increased stock of most popular connectors to help fill an increasing need for short order custom assemblies.
The SEA CON team believes that this ability to be flexible and meet demand while maintaining quality is equally important as the continued acquisition of good quality intelligence on the needs and solutions required by the marketplace. This intelligence gathering ensures that SEA CON can continue to deliver a clear message and demonstrate not only its expertise, but its understanding of the needs of its clients. With the new facility, SEA CON will be able to deliver on needs to the marketplace in general at a local and international level.

New Facility, Greater Flexibility
This new encapsulation, molding and central stocking facility has been designed to be geared towards the customers of SEA CON, many of whom have a "need it yesterday" approach when things don't quite work out to plan. SEA CON currently has five main production facilities geared to the delivery of a mass production of subsea connectors. At times this can make it difficult to provide customers with short order custom assemblies. The new work shop will specialize in these short order needs of SEA CON clients, current and future.
The workshop will allow SEA CON to carry more stock of their most popular connectors to benefit its existing customers who don't necessarily need a molded assembly. Some of the product lines they will carry will be the Rubber Molded, WET-CON, ALL-WET and 55/66 series assemblies. Stocks of these are already held, but this new facility will see these stock levels increase. Of course there is a wider picture to consider and the addition of this new facility will give SEA CON's other production facilities yet another asset to help satisfy customer needs, for example short order jobs.
The facility will be an extension of SEA CON's office located in El Cajon, CA. According to SEA CON it will become ISO 9001, following the same high quality plan as the main production facility so they can assure the quality is to the same high standard as the rest of the organization.
Adding this new facility is another step forward in the development of SEA CON in general and the Gulf Coast area in particular. Once the facility is operating to its fullest potential ROV manufacturers, survey and rental companies along with the drilling and geophysical companies who are so vital to the continued Oil & Gas production globally will have a valuable new resource.
SEA CON prides itself on seamlessly melding marketing, sales, production and service in a manner that is proactive and customer focused. This can also be witnessed in the strong inter department communications and in particular the vital sales, marketing and production teams. Mal Hughes who heads up projects for SEA CON Europe said, "It is always a balancing act due to the amount of work undertaken in production, but we are constantly involving key people in production in the sales and marketing process to ensure expectations can always be met."
Craig Newell, Vice President of Sales & Corporate Business Development said, "Consistency throughout the business is paramount to our success and the launch of a new Encapsulation and Molding Workshop is just another example of our commitment to over deliver on the promise and work with an overt focus on the changing needs of our clients."


Chris Batten is a freelance writer and author, ex British Army and former CEO of a US 'Under the Hook' rigging company. Chris has been involved in heavy lift in oil and gas in the United States, Europe and the Middle East as well as many other business sectors, including technology and marketing.
(As published in the September 2013 edition of Marine Technology Reporter - www.seadiscovery.com)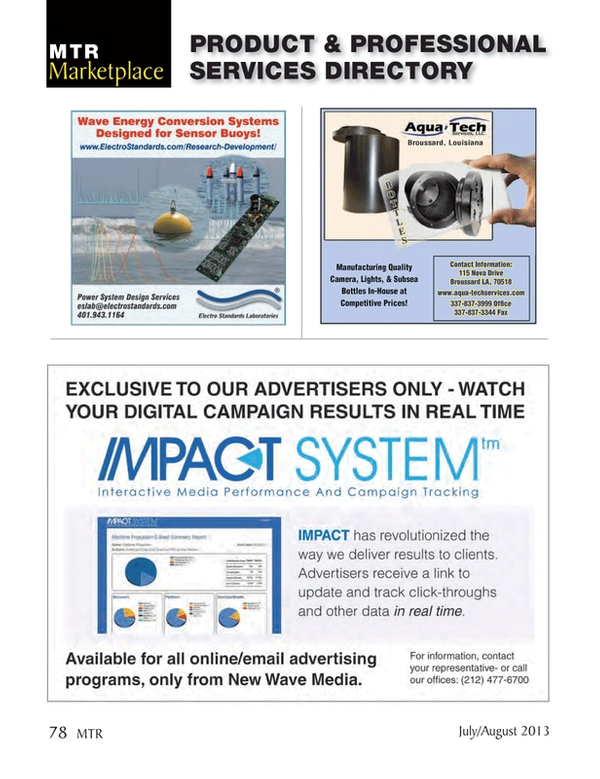 Read Making the Connection SEA CON in Pdf, Flash or Html5 edition of July 2013 Marine Technology
Other stories from July 2013 issue
Content