Free 32-Page Full-Color Brochure Details Hagglunds Cargo Cranes
ASEA Hagglunds, Inc. is offering a free, 32-page full-color booklet on their extensive range of cargo cranes.
The handsomely soft-covered publication is oversized and features several large, outstanding fullcolor photographs of some of Hagglunds' 300 standard type cargo cranes.
The text, which is printed on a high quality paper, quotes several maritime corporation executives, officers, engineers and dock personnel on the advantages of owning and operating a crane made by Hagglunds.
The text is broken into over a dozen articles with such titles as "Not Every Shipowner Realizes the Economics of Cargo Handling," "Precision in Cargo Handling is Just as Important as Speed," "When it Comes to Easy Handling, Hagglunds is One of the Best Cranes Around," and "Quality Translates Into an Attractive Bottom Line." In addition, the booklet also includes a four-page fold-out section featuring a full-color cutaway drawing of a Hagglunds' cargo crane. In the fold-out section, there is a listing of the types of cranes that Hagglunds offers. There is the S-Crane, for installation as service cranes on all types of vessels with a safe working load (SWL) of 3-10 tons; HCranes, for fast cargo handling (in excess of 50 m/min at full load) on small ships, with an SWL of 12-20 tons; G-Cranes, which are said to be the most popular crane type anywhere in the world, and which are used for bulk cargoes and containers and have an SWL of 20-60 tons; KCranes, which are bulk cargo cranes with mechanical grabs—these reinforced, high-output units are made for 24-hour operation and have an SWL of 25 tons; L-Cranes, which are special container cranes with very compact installation dimensions to maximize container capacity on board and which are said to be the only special container crane with all machinery fully enclosed and with internal entry (it has an SWL of 25-40 tons); Gantry Cranes, which are built to suit any ship; Offshore Cranes, with an SWL of up to 200 tons and are used for drilling rigs, service and diving rigs and MSV platforms; Twin Cranes, which use Hagglunds' H, G and L cranes for tandem installation to double lifting capacity; and Team Cranes®, which are used for twopoint attachment for long loads or for really heavy work, up to 240 tons—use single or twin cranes operated in coordination.
The booklet says that Hagglunds offers the most extensive range of cranes anywhere in the world. A total of about 300 cranes, if all variants are included. The publication also states that "if 300 standard types aren't enough, we'll design and build number 301." Futhermore, the booklet describes Hagglunds' optional fouryear guarantee which would extend their product guarantee, and provide extra protection against unforeseen expenditures.
For a free copy of this attractive booklet from Hagglunds, Circle 77 on Reader Service Card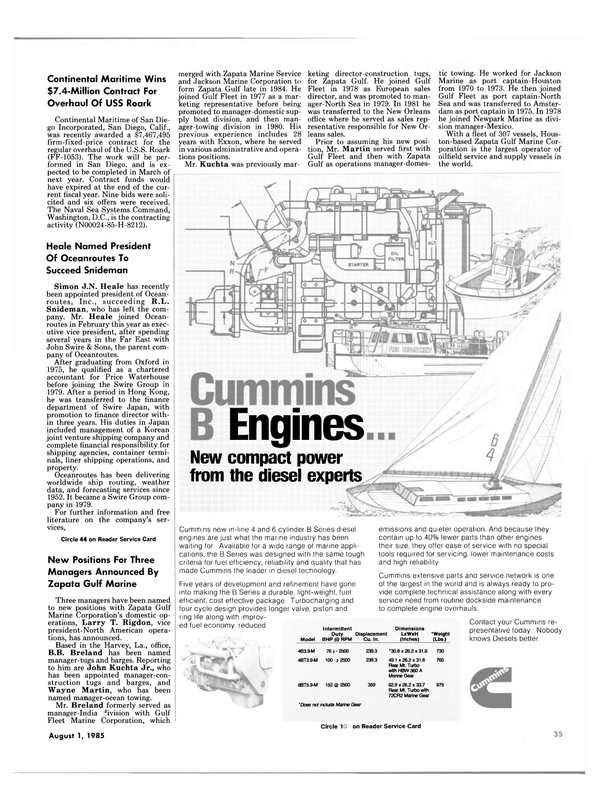 Read Free 32-Page Full-Color Brochure Details Hagglunds Cargo Cranes in Pdf, Flash or Html5 edition of August 1985 Maritime Reporter
Other stories from August 1985 issue
Content