INLAND WATERWAYS/ GREAT LAKES YARDS Review
FOR MORE INFORMATION If you wish to receive additional information on any of the yards described in the review, circle the appropriate reader service numbers) listed under each company's name, using the postage-paid card bound into the back of this issue.
BAY SHIPBUILDING Circle 10 on Reader Service Card Bay Shipbuilding Corporation in Sturgeon Bay, Wise., is a wholly owned subsidiary of The Manitowoc Company, Inc. Bay was established in 1968 when Manitowoc relocated its shipbuilding and repair operations to Sturgeon Bay. Since that time, an aggressive expansion program that included renovation, new facilities and equipment, land acquisition, and dredging has greatly increased the yard's capabilities, making it one of the most modern shipyards on the Great Lakes.
Drawing workers from a threecounty area, Bay is Sturgeon Bay's largest employer. It is a full-service yard with complete in-house capabilities to design, engineer, build, repair, convert, repower, retrofit, or jumboize salt-water ships and tug/ barges up to 730 feet in length, and Great Lakes ships up to 1,100 feet long. Since its founding, Bay has built 34 vessels including 17 selfunloading bulk carriers ranging from 550 to 1,000 feet in length.
The yard's current orderbook includes three 700-FEU containerships for Sea-Land Corporation that are being built to the most optimistic construction schedule attempted in the U.S. since World War II. In addition to new ship construction and vessel repair, non-marine industrial products are ideally suited to Bay's extensive fabricating and machining facilities.
Capital improvements made over the years included a 1,158-foot-long, 140-foot-wide graving dock completed in 1976. This dock can be divided by portable gates to allow the flooding of one end while work continues in the dry end. A 200-toncapacity gantry crane added in 1978 spans both the graving dock and the adjacent block assembly area that is used to construct individual hull and deck sections.
Bay also has a 7,000-ton floating drydock, 604 feet long and 70 feet wide, used primarily for survey, repair, and conversion.
A computerized lofting system has been installed to expedite the process. This system numerically controls both a dual-head plasma arc burning machine, with a 22- by 41-foot water table, and an oxygen fuel burning machine.
A 30,000-square-foot expansion to the existing heavy fabrication shop was completed in 1981. A higher working bay and increased crane capacity enable this shop to fabricate and pre-outfit large ship modules, reducing overall production costs. A one-sided welder designed and built through the cooperative efforts of Bay Shipbuilding, Manitowoc Engineering, and Manitowoc Shipbuilding has been installed in the fabrication shop. This unit has the capability of welding 50-foot stiffened plates together to form module panels with a single welding pass.
Additional improvements include: a steel shot blast and prime line adjacent to the fabrication shop; renovation and enlargement of the pipe shop, with automatic pipe welding and burning machinery; and modernization and enlargement of the electrical shop to increase its capacity to design, engineer, and build electrical panels and switchboards.
FRASER C i r c l e 1 1 o n Reader S e r v i c e Card Fraser Shipyards, Inc., located in the Port of Duluth/Superior at the west end of Lake Superior, recently completed a busy winter. The yard converted the USS Great Lakes Fleet, Inc.'s George A. Sloan to diesel power. Sea trials were held in June this year. In addition, the shipyard performed major as well as routine repair and maintenance work on several other Great Lakes vessels.
The current backlog of work scheduled for the drydocks includes six vessels for five-year inspection and routine repairs. In addition, Fraser maintains a fleet of workboats that service vessels in the port on an around-the-clock basis.
The decline in tonnage on the Great Lakes as a result of the downturn in the economically depressed steel industry has adversely affected the yard, which had been a leader in vessel lengthenings and self-unloader conversions. Fraser management is confident that their efforts to survive the recession in the shipbuilding and repair industry have strengthened the yard. They plan to aggressively pursue their market share of conversion and repair work in the future.
HUMBOLDT BOAT C i r c l e 12 o n Reader S e r v i c e Card The past year has been a very active one for Humboldt Boat Service Company in St. Louis. Some of the major projects completed by the yard's craftsmen were new decking on five 200-foot barges and extensive hull repair on five other deck barges. Five boat hulls received complete new plating or bows and towknees, and 14 boats had extensive rudder, shaft, and propeller repairs.
One 1,000-bhp boat received an additional third engine.
Two 300-passenger excursion vessels received extensive hull and deck plating, along with shaft and rudder repair, and a 265-foot barge was modified to accommodate the 2,500- passenger excursion vessel President as a dock barge. Two boats had new hydraulic steering systems installed, and one dredge was dry- docked for engine cooler repairs.
One new 600-bhp boat was completed at the end of 1984.
The yard's electrical department installed several sets of barge connector winches and new xenon searchlights, and completely rewired a boat for generators.
Activity in the machine shop was brisk. The shaft welding and metalizing equipment was kept busy full time, while machining work was performed for other boat repairs.
Some new equipment was purchased to increase production and efficiency. A major installation was two new winches for the yard's 400- ton haulout ways.
Humboldt is looking forward to another good year, and has tentative plans to begin building a new stock boat late this summer.
JEFFBOAT Circle 14 on Reader Service Card As America's largest inland shipbuilder, Jeffboat, Incorporated of Jeffersonville, Ind., continues to pursue other market areas in which to diversify. The company's current construction reflects this marketing approach: a 280-foot, 25,000-barrel coastal tanker for Sun Transport; a 300-foot, passenger sternwheeler for Opryland, USA; a 207-foot cruise vessel; lock bulkheads for the U.S.
Army Corps of Engineers; and warping tugs for the U.S. Navy.
The shipyard consists of 90 acres along the Ohio River. Production buildings include 21,700 square feet of machining, 50,000 square feet of storage, and 43,500 square feet of assembly. Four major building ways and one 500-foot launch way comprise the major component assembly area. Yard capabilities include Wheelabration, optical burners, 38 material-handling cranes (up to 50 r tons), and computer-aided material and production control.
The Marine Repair division maintains four drydocks, the largest being 3,000 tons, and a 50-toncapacity floating crane. Repair capabilities include machining, propeller work, and repowering.
Recent major capital investments include an additional automatic blast and paint steel processing unit, a 15-ton magnetic steel-handling gantry crane, and a new 40- foot shaft lathe that expands the yard's machine shop capabilities.
Jeffboat's engineering and naval architecture staff is continually updating and expanding its studies into fuel economy and towing efficiencies.
The engineering department is currently utilizing IBM computers to assist in developing designs and systems for all types of vessels constructed at the yard.
Even though "special" vessels have provided a substantial backlog for Jeffboat, the yard has contracts to deliver one 2,800-bhp retractable pilothouse towboat, one 6,200-bhp towboat, one dock and service barge, four deck barges, and a quantity of 195-foot covered hopper barges.
Future plans have Jeffboat expanding its heavy industrial fabrication capabilities, while upgrading production facilities to meet changes in market demands. The company's diversity of products and the flexibility of its manufacturing facilities has enabled the yard to take advantage of market opportunities and remain a strong leader in the shipbuilding industry.
MARINETTE MARINE Circle 15 on Reader Service Card 1984 was a good year for Ma Marinette Marine Corporation, and 1985 looks even better, according to Larry N. Hairston, vice president- marketing for the mediumsized shipbuilder located at Marinette in Northeastern Wisconsin.
Last year MMC began construction of two wooden Mine Countermeasure (MCM) vessels and won Navy contracts for 13 wooden Yard Patrol (YP) boats and 52 workboats.
In addition, a number of Torpedo Weapons Retrievers (TWR) are nearing completion and will be delivered later this year.
MMC began construction of the YPs in May this year and plans to deliver the first craft by July 1986, thereafter turning out one 108-foot vessel per month beginning in August.
Already valued at $57 million, the YP contract could reach $78 million when the Navy exercises its option for six to eight additional vessels later this fall.
To handle this increased workload, MMC has established one of the most sophisticated engineering capabilities in U.S. shipbuilding today, including a comprehensive computer graphics augmented design and manufacturing system (CADAM). The Marinette yard covers 57 acres stretching two-thirds of a mile along the Menominee River, with 440,000 square feet of enclosed work space permitting year-round uninterrupted construction.
As part of a continued upgrading of facilities and emphasis on stateof- the-art technology, MMC has installed a dual walking beam ship transfer system. This 160,000-toncapacity system will be used to move the MCMs from the yard's new 70,000-square-foot ship erection building to the outside launch area beginning in early 1986.
In October of 1984, MMC completed its new 200-ton shiplift, a movable docking platform that enables the yard to launch or retrieve vessels up to 120 feet long and 200 tons displacement. This both simplifies launching techniques and allows for an increase in production with faster launches. The shiplift is used for launching the 50-foot workboats, Torpedo Weapons Retrievers, and YP craft. The entire shiplift system was built and installed by Marinette's own people.
MONARK Circle 21 on Reader Service Card MonArk Boat Company in Monticello, Ark., has been building tough workboats of all kinds for more than 20 years for clients around the world. MonArk boats are designed, engineered, and constructed to perform under the harshest conditions, day in and day out. They prove durable through the years and bring a good price at resale time.
Aluminum hull construction makes MonArk boats fast, tough, and economical. The company's patrol boats are built to deliver speed without sacrificing durability.
MonArk also offers one of the industry's largest selections of stock designs, as well as custom designs built to meet customer specifications.
NABRICO Circle 22 on Reader Service Card Nashville Bridge Company (NABRICO) is a wholly owned subsidiary of The American Ship Building Company of Tampa, Fla. Headquartered in Nashville, Tenn., the company has been in the marine field for more than 60 years, and is primarily concerned with the design, engineering, and construction of grain and coal barges, deck barges, liquid tank barges, and cement barges for river and ocean service, as well as drydocks and towboats.
In addition, NABRICO is a major supplier of marine deck hardware to the entire marine industry. The company pioneered in the design and construction of much of the modern equipment used on the rivers today.
At its Ashland City, Tenn., facility, NABRICO has installed a blast and paint operation that permits the blasting and coating of steel in one location. Because the operation is under cover and includes heaters and dryers, it allows for all-weather operation.
The final barge in a 45-unit contract with the City of New York has been delivered. Used to transport garbage from the city to an outlying landfill site, these specially constructed barges measure 150 by 37 feet by 12 feet 9 inches.
NABRICO and New York City's Department of Sanitation have now contracted for an additional 25 barges. The shipyard also has a contract with New York's Department of Ports and Terminals for a crane barge carrying a 45-ton steam-operated crane.
Construction is under way on two split-hull dump barges for the Panama Canal Commission. For use in dredging operations in the Panama Canal, these barges will measure 215 by 50 by 14 feet, and carry approximately 1,300 tons of material.
NABRICO has recently received an order for one additional barge for the Commission.
In addition to these recently completed and under way jobs, the yard has a backlog of various deck barges for inland and offshore service.
NATIONAL MARINE Circle 16 on Reader Service Card The National Marine Service name and its symbol—the red and white beaver—have been synonymous with quality and service for almost 60 years. NMS crews travel worldwide on short notice from bases in Norfolk, New Orleans, and Hartford, 111. for diesel engine/gear repairs and in-place boring. Major and minor hull repair and gasfreeing are performed at the company's full-service shipyards in New Orleans and St. Louis.
The Hartford facility is currently performing a complete repowering of the motor vessel Henry B. for Riverway Company. This job includes removing two Alco 270 engines and replacing them with three 251s.
Since its opening in September 1983, the NMS Norfolk division has been on a very busy schedule. It now has two full crews available at any time for service work required by customers. This division is currently overhauling nine EMD engines on the tank landing ship USS Sumter (LST-1181), and doing maintenance work on two 16-V71 Detroit Diesel engines on the frigate USS Truett (FF-1095).
The New Orleans shipyard has recently been involved with work on several vessels, including the Joyce Loope for Gulf Intracoastal, the Okalossa for Plimsol Marine, and the Delores Pawg for SEACO.
PETERSON Circle 17 on Reader Service Card Peterson Builders, Inc. (PBI) of Sturgeon Bay, Wise., is a wellknown Great Lakes shipyard that has maintained its reputation for quality, diversification, and ingenuity since 1933.
Current construction contracts under way for the U.S. Navy include three 224-foot wooden Mine Countermeasure Ships (MCM), four 255-foot steel Rescue Salvage Ships (ARS), and seven 108-foot wooden Yard Patrol Craft (YP).
Peterson's development and marketing plans have produced the PBI MK-1, a 66-foot aluminum multimission inshore patrol boat. The yard also has a long history for excellent commercial vessels including tuna superseiners, research ships, and large passenger/car ferries.
PBI serves the government, commercial, and services sectors with its construction capabilities in wood, steel, fiberglass, and aluminum, as well as its design and production expertise. Its continuing backlog of ship construction, complemented by conversions, repairs, and special projects of unique assembly fabrications enables the yard to maintain an excellent labor force, and keep pace with the latest technologies and developments in the industry.
PBI is a privately owned, fullservice shipyard with 800-900 employees.
Approximately seven acres of buildings provide inside construction and production facilities; total company area is 13 acres. Extensive waterfront facilities provide berthing and shipways for ships into the 300-foot range. The yard's floating drydock facilities are Navycertified for 900 long tons, with current plans for re-certification to 1,300 tons. Overall length is 374 feet, with inside dimensions of 360 by 40 by 18 feet. Inside construction capabilities extend to ships 230 feet long, 60 feet wide, and 60 feet high.
In construction techniques and operational functions, PBI complies with numerous Mil-Q government standards, and has earned Certification Status from the U.S. Navy for other procedures and capabilities as well.
SERODINO Circle 18 on Reader Service Card Serodino, Inc., headquartered in Chattanooga, Tenn., is a privately held corporation that, with its related companies, covers all aspects of the inland marine field. Established in 1933, the corporation has served the marine and construction industries for more than half a century.
Serodino's towing vessels are expressly designed for heavy-duty work. Three crews produce six vessels per year, usually a 1,600-bhp towboat, a 1,040-bhp linehaul vessel, and four 1,000-bhp workboats.
The company's entrance into the excursion boat field is a natural extension into a growing new industry.
In addition to its shipyard activities, Serodino operates towboats and barges handling more than 3 million tons of bulk goods annually.
The recently delivered, 550- passenger excursion vessel Southern Belle was built at the company's Hales Bar, Tenn., shipyard for the Chattanooga Riverboat Company.
Designed by Alan Bates of Louisville, she is a unique departure from the standard sternwheel replicas.
The Belle's steel hull is 105 feet long, with a beam of 34 feet and depth of 7 feet. The main deck will seat 180 for dinner, and the second deck, which has a bandstand and dance floor, will seat 168 diners.
The 500-bhp, twin-screw vessel is powered by Cummins 855M diesel engines driving 3-inch shafting via 3:1 reverse/reduction gears to 40- inch propellers turning at 600 rpm.
Special copper Fernstrum coolers mounted on the outside of the hull provide engine cooling. Top speed is 12 mph.
Full vessel control is in the pilothouse, with all steering, engine, and electrical controls at the pilot's fingertips.
Advanced electronics equipment includes radar, a digital depth sounder, and two VHF 70-channel radios. Two Carlisle & Finch searchlights cast two-mile beams. The pilot's eye level, 37 feet above the water, gives him a commanding view of his surroundings.
The Southern Belle conforms to all applicable U.S. Coast Guard Regulations, and she is designed, approved, constructed, tested, and accepted to meet these rigid standards.
Annual USCG inspections will insure that she will continue to retain her safe and shipshape standards.
TWIN CITY Circle 19 on Reader Service Card From a mass production barge yard to a full-service shipyard, Twin City Shipyard, Inc. within three years has transformed its facility in St. Paul, Minn., into a versatile operation from a 4,000-cubic-yard sophisticated hopper dredge to 56- foot aluminum launches. A management team with a wide range of design and construction experience in medium-sized vessels, and an aggressive bidding philosophy has enabled the yard to maintain a steady work load during a depressed period seldom witnessed in the commercial marine industry in recent times.
Launched from a newly completed, 3,000-ton, tilt beam side launching on June 1 this year, the 8,000-bhp trailing hopper dredge is nearing completion. This vessel is scheduled to begin her journey from the Upper Mississippi River to New Orleans in mid-October, and enter service for Gulf Coast Trailing shortly thereafter.
A 100-foot, 3,000-bhp offshore tug is under construction in the yard's large building hall, and is scheduled for delivery in early winter to the Panama Canal Zone. Following completion of five deck barges for the Army Corps of Engineers, a contract for five additional barges for the same owner was awarded to the shipyard. The backlog also includes three 3,000-cubic-yard offshore hopper barges and one 55-foot river towboat.
Twin City recently was awarded a U.S. Navy contract for construction of a series of landing craft (LCM), adding the Department of the Navy to its successful association over the years with government agencies such as the Army Engineers and the Panama Canal Commission.
Twin City has become a leading U.S. shipyard in the design and construction of dredging equipment such as hopper dredges and split hull dump barges. Portabarges®, a unique design patented by TCS, enables barges to be transported over the road in modules and then assembled in the water into virtually any size or shape for land-locked lakes or other inaccessible bodies of water. Portabarges are available for either lease or sale.
Built in 1973, the Twin City yard features a modern enclosed plant layout. Within this facility, state-ofthe- art technology is utilized for high productivity and quality assurance.
Headlining this technology is a sophisticated computer-controlled plasma arc cutting machine with water table for precise, high-speed cutting of plates without distortion.
Of special interest is a robotic panel welding machine that provides automatic, continuous high-strength welding of four stiffeners simultaneously.
WALKER BOAT Circle 20 on Reader Service Card Walker Boat Yard, Inc. is located in Paducah, Ky., at Mile Three on the Tennessee River. The close proximity of the yard to the Ohio and Mississippi Rivers makes it a convenient location for repair on a large portion of the inland waterway system.
The yard offers a totally integrated repair facility for all inland waterway equipment, with six drydocks ranging in size up to 2,500 tons. A complete machine shop, steel fabrication area, engine overhaul shop, and paint facility rounds out its capabilities. Walker maintains a work force of nearly 150 skilled employees, with the flexibility to handle both minor repairs and major alterations.
Some of the more unusual jobs completed during the past 12 months included complete replacement of towboat Kort nozzles, cement barge conversions, and installation of a 4,000-ton crane foundation on an offshore deck barge.
The yard's machine shop has a wide array of equipment, with lathe capacities up to 36 feet in length and 36 inches in diameter. Metalizing and heat-treating equipment provides the capabilities for major shaft rebuilding. Coupled with the adjacent fabrication shop, featuring a 750-ton press brake, these facilities allow Walker to perform all types of work efficiently.
The company's Diesel Division has grown rapidly in the past year.
In-place overhaul of Electro- Motive, Fairbanks Morse, and Caterpillar engines is offered both at a convenient boat landing near the shipyard and at remote locations specified by the customer.
Walker also offers factory-trained mechanics for servicing of Detroit Diesel and Cummins engines, as well as spare parts. The Division's recent assignment as a marine distributor for Caterpillar, M.A.N., and Volvo-Penta engines permits it to provide service on nearly any type of equipment.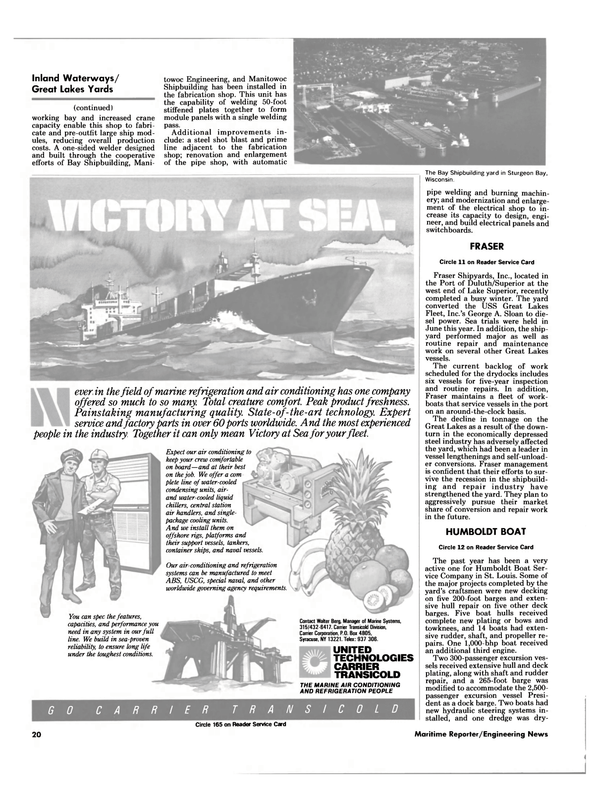 Read INLAND WATERWAYS/ GREAT LAKES YARDS Review in Pdf, Flash or Html5 edition of August 1985 Maritime Reporter
Other stories from August 1985 issue
Content