OUTSTANDING OCEANGOING SHIPS OF 1986
A roundup of some of the most notable vessels delivered by shipyards during 1986—selected for their outstanding design features, fuel efficiency, performance, and service characteristics.
ACT 10 Jansen Werft Jansen Werft GmbH of Leer, West Germany, recently delivered the compact containership Act 10 to Sibum GmbH of Haren/Ems. The vessel is a new design developed in close cooperation with the owner and Buss of Leer. She is said to be the most efficient containership of her compact size, and at the same time the biggest full container carrier that Jansen has ever built.
With a grt of less than 4,000, the Act 10 has a capacity of 885 TEUs, with connections for 80 refrigerated boxes. The vessel is fitted with a cellular container guide system in the holds, folding type hatch covers, and two Liebherr cranes with an especially low center of gravity and lifting capacity of 40 tons each.
The ship has an overall length of about 436 feet, beam of 74.5 feet, depth of 35.4 feet, and design draft of 24.6 feet. Propulsion is by a single MAN B&W 7L52/55B diesel engine with a maximum output of about 8,045 bhp. At the service speed of 17 knots fuel consumption will be 20 tons per day; at 15 knots it will be 12 tons per day.
The Act 10 is designed according to the latest IMO rules for the transportation of dangerous cargoes. Also considered was the "Ship of the Future" design in regard to wheelhouse arrangement, life-saving appliances, and arrangements of the accommodations. She is equipped with the latest technology in communications and navigation gear, including satellite communications.
With the cooperation of Fastbox Befrachtungsges of Hamburg, Sibum has arranged a charter for the Act 10 with ACT of the U.K., a consortium of Blue Star Line, Cunard, and Ellerman. She will operate in liner service between the U.S. West Coast and Australia.
ALPS MARU Hitachi The Maizuru Works of Hitachi Zosen in Japan this year delivered the 21,183-dwt heavy-lift cargo carrier Alps Maru to co-owners Baba- Daiko Steamship Company and Mitsui O.S.K. Lines.
The specialist vessel has an overall length of 475.7 feet, beam of 87.9 feet, depth of 45.3 feet, and full-load draft of 31.2 feet. Propulsion is provided by a low-speed Hitachi/B&W diesel engine with a maximum continuous rating of 8,750 bhp at 133 rpm. Trial speed was 16.5 knots.
The cargo area is divided into two long holds for the transportation of long plant equipment and rolling stock. There are one 400-ton and two 30-ton cranes at midship, and 50-ton crane forward and aft of the cargo holds.
The deckhouse aft is eight levels high to provide good forward visibility, and is asymmetric to provide a storage area for the aft crane.
ATLANTIC PRINCE Halter Marine Halter Marine, Inc., a Trinity Industries company headquartered in New Orleans, this year delivered the catcher/processor fishing vessel Atlantic Prince. Built at Halter's Moss Point, Miss., shipyard for Lund Fisheries, the vessel was designed by naval architect Richard Taubler of Dover, Del. Detail working drawings were produced by Halter.
The Atlantic Prince is fully outfitted with state-of-the-art fish-processing equipment. She is capable of processing and freezing 275 metric tons of boxed fish, and can stay at sea for 21 days. She has an operating crew of four and as many as 22 packers, depending on the particular catch that is being processed.
Main propulsion is provided by twin Caterpillar 3512 diesel engines with a total output of 1,800 bhp.
Two Caterpillar 3412 diesel generator sets are each rated 460 kw. The vessel is fitted with a Marco bow thruster. Marco also supplied the anchor windlass, trawl winch, and net reel.
Navigation and communications equipment includes two Furuno radars, Northstar Loran C, Robertson automatic pilot, Datamarine and Skipper depth sounders, Furuno weather facsimile, and Cybernet, Motorola, and Sailor radiotelephones.
BERGE STAHL Hyundai The gigantic, 365,000-dwt ore carrier Berge Stahl was delivered recently by Hyundai Heavy Industries of Ulsan, Korea, to Bergesen d.y.
A/S of Oslo, one of Norway's leading shipowners and operators.
The vessel has an overall length of 1,125.3 feet, beam of 208.3 feet, depth of 99 feet, and design/scantling draft of 75.5 feet. Her volumetric capacity (grain) is 200,000 cubic meters. Propulsion is by a twostroke, low-speed Hyundai/B&W 7L90MCE diesel engine with a continuous service output of 24,850 bhp at 70.9 rpm, giving a service speed of 13.5 knots under normal sea conditions.
Fuel consumption will not exceed 71.2 tons per day. Electric power is supplied by two Wartsila 800- kw diesel generators and one Sinko 800-kw direct-coupled turbogenerator, plus one 200-kw emergency generator.
The machinery space is arranged to include a dual-pressure type exhaust gas economizer for the turbogenerator and general service. A waste heat recovery system utilizes energy from the scavenging air coolers and the cylinder cooling water.
The turbo compound system, comprising BBC gas turbine, Renk reduction gear and automatic clutch, contributes to reduction of fuel oil consumption. The freshwater cooling is based on a HDW scoop and central cooler.
Highly advanced automation systems are installed in the vessel. The Damatic control system supplied by Valmet, consisting of double CPUs and CPRs and a multi-function keyboard in the engine control room console, monitors and controls all essential functions with regard to the ship's operations, starters, generator power management system; controllers for pressure, temperature and level; ballast, bilge, and fuel piping systems control. An engine control system supplied Soren T. Lingso allows maneuvering from bridge wing consoles. External remote monitoring CRTs and keyboards are arranged in the wheelhouse, ship's control center, and engineers' cabins.
In order to obtain optimum hull form and a suitable type of propeller, various model tests were carried out at the Norwegian Marintek laboratory.
As a result, a barge hull form with ellipsoidal bow was adopted to minimize resistance. For increased propulsion efficiency, a skewed propeller and spoilers of Harmstorf design (hydrodynamic fins) were fitted to the vessel.
BIRKA PRINCESS Valmet Valmet Corporation's Helsinki Shipyard in Finland this year delivered its first passenger ship, the Birka Princess, built for Birka Line Ab of Mariehamn, Finland.
Unlike the numerous passenger/ car ferries operating in the Baltic area, the Princess is a true cruise liner. She has only a small car deck at the stern that accommodates 50 private cars and six motor coaches, or 75 cars, with access via a side ramp.
The new liner has an overall length of 469 feet, beam of 81 feet, depth to Deck 11 of 100 feet, and draft of 18.4 feet. Main propulsion is provided by four Wartsila-Vasa diesel engines with a total output of 23,600 bhp at 750 rpm, driving two KaMeWa controllable-pitch, highly skewed propellers via Valmet/Renk reduction gears. Cruising speed is 18 knots.
The accommodations, which provide for 1,500 passengers in 500 cabins, are of unusually high quality.
This was achieved by detail work, careful selection of materials, unique lighting systems, and other refinements. Passengers can view the impressive Stockholm archipelago and the Aland Sea through special panorama windows in the a-lacarte restaurant and dancing restaurant aft, as well as in the cocktail lounge and one of the large conference rooms forward.
The principal design considerations for the Birka Princess were economical operation, safety, easy maintenance, and a high level of automation. Machinery is controlled by Valmet's Damatic ship automation system. The company's other units are also well represented among the suppliers; the Tampere Works provided the six passenger and service elevators, and the reduction gears were supplied by the Rautpohja Works.
In cooperation with the Finnish company Rakennusvalmiste Oy, Valmet developed a totally new cab- in construction method, with cabin wall elements completely fabricated at the factory. The units were fitted with all needed details, including furniture fastenings, plumbing, and electrical wiring. The partition wall between cabins is comprised of two PVC-coated steel sheets backed by a 15-mm layer of mineral wool, with a 40-mm air gap between. This insures the best possible sound insulation between cabins.
The main navigation equipment in the spacious wheelhouse is concentrated in a cockpit type desk, making it possible for one man to control the navigation of the ship in a sitting position. The radar system is from Racal-Decca; it comprises one 10-cm ARPA radar that is interswitched with a 3-cm true motion unit.
The ARPA radar antenna is installed on the mast atop the wheelhouse, with the 3-cm antenna on the radar mast on the forecastle deck. In addition, there is a third independent 10-cm radar with a true motion display and an antenna atop the wheelhouse. Other navigation equipment includes a Raytheon DSN-450 dual-axis doppler speed log, a Simrad ED 61 echo sounder with a digital repeater, and an Anschutz Standard 4 gyrocompass.
The partially enclosed lifeboats supplied by Fiskars have a total capacity of 536 persons. The 62 davit- launchable life rafts supplied by Viking each have a capacity of 25 persons. All lifeboat and life raft davits are equipped with a remote control for the brake.
CHICAGO Southern Shipbuilding The dredge Chicago, said to be the world's largest and most powerful combination clamshell/dipper dredge, was completed recently for Great Lakes International, Inc.
(GLI). According to the owner, the new vessel will provide unequaled capability and versatility for the dredging industry in both the clamshell and dipper modes.
The Chicago's hull, built by Southern Shipbuilding Corporation in Slidell, La., is more than twice the size, by volume, of other clamshell and dipper dredges. In order to effectively utilize the great production capacity of the new dredge, two split-hull, hopper dump barges were designed and have been built by Bay Shipbuilding Corporation in Sturgeon Bay, Wise. With a 6,000 cubic yard capacity each, these vessels, called Hydro-Dump barges, are 1 lA times the size of the next largest barge of this type in use. They have an overall length of 277 feet and beam of 63.5 feet, and will be towed by 5,600-bhp tugs with twin screws and Kort nozzles. Additionally, these barges can be operated remotely by a radio transmitter located on the towing tugs which allows the barges to be operated unmanned.
The main power source on the Chicago is two generators driven by two GM Electro-Motive Division 20-710G diesel engines with a total output of 8,800 bhp at 900 rpm.
This horsepower is almost four times greater than any previous dipper dredge, and seven times more than any other clamshell.
The Chicago develops a dipper hoist pull of 480,000 pounds at a line speed of 240 feet per minute, about twice that of the next largest dipper currently in operation anywhere in the world. In addition, the new dredge has been designed to operate with a 27-cubic-yard dipper bucket, compared with the 14-cubic-yard bucket that was the biggest previously in use.
The first design criterion for the Chicago was to double the capability of any clamshell or dipper dredge in existence. Constructed by the Harnischfeger Corporation of Milwaukee, Wise., the dredge will consist of a P&H model 5700 electric excavator mounted on a self-propelled 75-by 220-foot hull. It will operate with either the 27-cubicyard dipper or a 50-cubic-yard clamshell bucket for excavation of harbors and river channels. The excavator will be readily convertible from shovel configuration to clamshell boom operation to maximize its versatility.
Operating weight of the 5700 excavator, excluding the hull, is about two-million pounds. The 5700's slewing rim (or turntable) will be attached to the hull on a large adapter mounting designed by Harnischfeger for the project using CADAM-NASTRAN computer engineering technology. This design capability not only optimized the configuration and costs of the hull adapter, but also reduced manhours significantly to speed the design process.
As a dipper dredge, the 5700 has a 92-foot shovel boom and 92-foot handle equipped with 27-yard dip- per. The boom is set at a 25-degree angle to accommodate an underwater digging depth of more than 70 feet and a maximum dumping radius of 113 feet.
The clamshell has an even more impressive working range. The 155- foot-long lattice-type boom is equipped with 50-yard bucket that has a maximum digging depth of 150 feet below surface. Maximum dumping radius is 120 feet.
The dredge will be controlled by a P&H Electrotorque® solid-state DC system. Total connected DC-rated power of electric motors aboard the 5700 is 5,625 hp.
Working in either the clamshell or dipper mode, the Chicago will provide a continuous operation, dredging material and disposing of it without interruption, even if the disposal area is far from the dredging site. The exceptional dipper power also enables the dredge to excavate extremely difficult material that might otherwise have required blasting.
The Chicago was designed for work in U.S. ports including deepening of harbors, as well as for operation in other ports throughout the world. The $30-million investment in the new dredge and the two Hydro-Dump barges is the largest single appropriation in GLI's 100- year history.
In addition to the main engine/ generator plant, there is one 450-kw Caterpillar auxiliary generator and an emergency generator of 150 kw, also supplied by Caterpillar.
EXXON VALDEZ National Steel The 211,469-dwt VLCC (very large crude carrier) Exxon Valdez, built at the San Diego yard of National Steel and Shipbuilding Company (NASSCO), was recently delivered to her owner Exxon Shipping Company. The first of two Alaska Class tankers to be built by NASSCO for Exxon, she has an overall length of 987 feet, beam of 166 feet and maximum draft of 64 feet 6 inches. She is powered by a low-speed IHI-Sulzer 8RTA84 engine with a maximum continuous rating of 31,650 bhp at 78.9 rpm. A new design of BBC Brown Boveri NTC254 power turbine is fitted to the engine, which the company claims could provide a fuel savings of up to four percent. The tanker is capable of maintaining an average speed of 16.5 knots.
Said to be the largest ship ever built on the West Coast, the Exxon Valdez will transport 1.5-million barrels of crude per voyage from Valdez, Alaska, to Panama, where the oil can be delivered to U.S. markets on the Gulf and East Coasts.
Due to her large size, very efficient low-speed diesel engine and high degree of automation, the Exxon Valdez will enable the Exxon Shipping Company to establish a new level of efficiency in the transportation of Alaskan crude.
The NASSCO-designed Alaska Class tanker is fitted with the most modern equipment available and meets the latest safety and environmental protection standards, including a segregated ballast system, an inert gas system, sewage treatment system, collision avoidance radar and a back-up steering system.
HENRY J. KAISER Avondale The first in a series of six replenishment fleet oilers, the Henry J.
Kaiser (T-AO-187), under construction for the U.S. Navy was delivered recently by Avondale Industries' Shipyard Division. The mission of the Kaiser and her sister ships to follow is the transportation of bulk petroleum products from shore depots to combatant ships and support forces under way. These T-AOs will also deliver limited fleet freight, cargo water, mail and personnel.
The Kaiser has an overall length of 667.5 feet, beam of 97.5 feet, and maximum draft of 36 feet. Propulsion is provided by twin mediumspeed, 10-cylinder Pielstick diesels manufactured by Alsthom-Atlantique, driving controllable-pitch Bird-Johnson propellers via Cincinnati Gear reduction gearing. Jered Brown Brothers supplied the steering gear, and Tano the bridge and engine room control consoles.
Electrical power is provided by diesel generators supplied by Alco Power and power takeoff generators by Cogenel. The ship's twin-screw design provides improved directional stability, ease of control, and mission reliability under combat conditions.
The T-AO-187 has a cargo capac- ity of 183,500 barrels of oil in 18 tanks, and is capable of simultaneously receiving, storing, and discharging two separate grades of cargo fuel. All cargo pump and valve operations and the segregated ballast system are manipulated from the cargo control center located in the superstructure aft. This center has a good overview of the entire replenishment deck.
Underway replenishment is accomplished using transfer rigs with transfer hoses suspended by a span wire that is automatically maintained in a constant-tension range.
The T-AO ships are also capable of refueling helicopters from a vertical replenishment facility aft of the deckhouse.
The Kaiser and her sister ships are being built using state-of-theart modular construction techniques that include prefabricating and pre-outfitting individual modules that make up the ship. Each of the large modular units is assembled and outfitted with piping, ventilation ducts, electrical wireways, and other equipment in designated outfitting zones throughout the shipyard.
The pre-outfitted modules are then moved to the building site and erected into the complete ship. Prepackaged units of heavy machinery are assembled ashore and lifted aboard ship for installation. As a result of these modern techniques, the Kaiser and the two already launched sister ships, the Joshua Humphreys (T-AO-188) and the John Lenthall (T-AO-189) were more than 80 percent complete at the time of their launching.
HOMERIC Meyer Werft Jos. L. Meyer GmbH & Company shipyard in Papenburg, West Germany, this year delivered to Home Lines Cruises, Inc. the luxury cruise liner Homeric. Built at a cost of $150 million, the 42,092-grt, 1,085- passenger vessel has an overall length of 670 feet, beam of 95 feet, and maximum draft of 23 feet. Eight of the ship's 12 decks are devoted to passenger accommodations, public rooms, and outdoor activities.
The contract was awarded to Meyer Werft in 1984 against keen competition from other European shipyards. The order marked a new phase in passenger ship construction at the Papenburg yard. Subsequently, two additional cruise vessels were ordered for delivery in 1988.
Main propulsion is provided by twin MAN B&W 10L55GB diesel engines, each with an output of 16,200 hhp at 155 rpm, driving two Lips controllable-pitch, highly skewed propellers. Service speed is 21 knots. The ship is equipped with Sperry Gyrofin stabilizers for passenger comfort and safety, and with two bow thrusters for enhanced maneuverability during docking and undocking.
Electric power is supplied by four MaK 8M453 medium-speed diesel engines, each driving a Brown Boveri generator. Navigation equipment includes two Krupp Atlas radars (one with ARPA), Magnavox satellite navigator, Simrad Loran C, Anschutz gyrocompass, autopilot and course recorder, Plath radio direction finder, and JMC weather chart recorder. A satellite communications system is installed for telephone and telex services. A conventional communications system is also installed for radiotelephone and telex transmission via radio channels.
JUBILEE Kockums The 47,262-grt luxury cruise liner Jubilee was delivered at midyear by Kockums AB of Malmo, Sweden, to Carnival Cruise Lines Inc. of Miami.
Designed and built as a steel-hulled, twin-screw/rudder passenger ship, she has a raked stem, transom stern, bulbous bow, bow and stern thrusters, and fin stabilizers.
The new liner has an overall length of 733 feet, beam of 92 feet, moulded depth of 25 feet, depth to uppermost continuous deck of 51 feet, and maximum draft of 24.6 feet. A total of 733 standard cabins are arranged on decks 4, 5, 6, and 7, and 10 deluxe veranda suites are located on deck 11 forward. Total passenger capacity is 1,896, and she carries a crew of 680.
Propulsion is provided by two low-speed Sulzer 7RLB66 diesel en- gines with integral thrust bearings, each coupled directly to KaMeWa controllable-pitch propellers having a highly skewed blade design. The main engines each have a maximum continuous rating of 15,770 bhp at 140 rpm.
The Siemens propulsion control system, which includes automatic main engine overload control as well as an engine load increase feature, incorporated different operating modes, including: constant-speed operating mode at 136 rpm for shaft alternator operation; and two combination operating modes—one thrust mode and one pitch mode— where the engine speed, propeller thrust, and propeller pitch are controlled according to a pre-established curve.
At sea, the Jubilee will normally operate in the constant-speed mode at 136 rpm, and the shaft-driven alternators will feed the main switchboard. As it is not the intention to run the two shaft alternators in parallel, the main switchboard is capable of being operated in a "split" mode by means of a section breaker on the bus bar. In this mode each alternator will feed half of the main switchboard.
The vessel's hull form has been developed to give good propulsion and seakeeping performance with due regard to the large propeller tip clearance requirements at the various design conditions. The lines were designed to give the smallest possible resistance, with the bulbous bow designed for a draft of 24.6 feet and optimized for a service speed of 19.5 knots.
Except for certain parts of the public spaces, where special features are introduced, Dampa continuous ceiling systems consisting of prestressed, baked enamel steel/aluminum panels are used throughout the accommodations, and Ecomax has been used throughout for linings (bulkhead panels). Sound-absorbing decks consisting of mineral wool slabs with steel tops are installed in the crew accommodations above the engine rooms as well as below the bandstand and dance floors to provide maximum insulation against noise.
The Jubilee is the first large passenger vessel built by Kockums, soon to be followed by her sister ship Celebration scheduled to be delivered at the end of Janaury 1987: LAWRENCE H. GIANELLA Tampa Shipyards The 30,000-dwt motor tanker Lawrence H. Gianella, fifth of five sophisticated products carriers designed and built by Tampa Shipyards Inc. in Florida, was delivered this year to Ocean Shipholdings, Inc. of Houston.
The Gianella has an overall length of 615 feet, beam of 90 feet, depth of 53 feet 8 inches, and design draft of 34 feet. Propulsion is provided by a low-speed IHI/Sulzer 5RTA76 fuelefficient diesel with a maximum continuous rating of 18,400 bhp at 98 rpm. The main engine, derated to prolong its service life, drives a shaft generator via a speed-increasing gearbox to provide electric power while under way. These two characteristics contribute to excellent fuel economy.
Designed for unmanned operation, the propulsion plant is classed + AMS, ACCU by the American Bureau of Shipping. The engine is direct-drive to a Ferguson fixedblade, nickel-aluminum-bronze propeller.
Service speed at 75 percent of maximum continuous rating of the engine is 16 knots.
The new carrier is designed to deliver 30,000 long tons of petroleum products worldwide, and is icestrengthened to ABS Ice Class IC for Arctic and Antarctic operations.
Cargo is loaded in seven pairs of tanks, each pair being segregated from any other pair to allow seven different types of cargo to be carried simultaneously. Each cargo tank is fitted with a stainless steel, highpressure hydraulic pump supplied by Framo. These pumps are sized to discharge the entire cargo within 16 hours.
All cargo tanks are fully inerted by a Holec inert gas generating system designed to supply two pairs of tanks through dedicated systems to guard against cargo contamination; the other five pairs of tanks are served by a common system. Cargo piping and inert gas piping are fabricated entirely of stainless steel.
Facilities for underway replenishment at sea are provided at two stations; also incorporated is refueling at sea capability over the stern.
The construction of the cargo tanks developed by Tampa Ship has substantially reduced surface area compared with conventional construction, which results in significant cost reduction for epoxy coating maintenance inside the tanks.
Water ballast is carried in double bottom and wing tanks, completely segregated from the cargo, meeting IMO's Protectively Located Segregated Ballast regulations.
MINERAL NIPPON Mitsui The 194,744-dwt coal/ore bulk carrier Mineral Nippon, built by the Chiba Works of Mitsui Engineering & Shipbuilding, was delivered early this year to Toppenish Ltd. of Hong Kong. The single-screw flush decker has a number of energy conservation and labor saving features, including a hold cleaning system.
The bulker has an overall length of 984.2 feet, beam of 155.8 feet, depth of 82 feet, and full-load draft of 60.8 feet. Propulsion is provided by a low-speed Mitsui/B&W 6L80MCE diesel engine with a maximum continuous output of 19,200 bhp at 83 rpm. Trial speed was 16.31 knots. She is equipped with a Mitsui ATG-F1 turbogenerator system (mixed pressure turbine system) for maximum utilization of the waste heat of the main engine exhaust gas.
Other energy conservation features include a Mitsui Integrated Duct Propeller (MIDP), a reaction rudder, and extensive use of high tensile steel in the hull to save weight.
NORD BALTIC Samsung Samsung Shipbuilding & Heavy Industries Company in Korea in August this year delivered the 106,700-dwt Nord Baltic to Norstrom & Thulin AB of Sweden, followed by sister ships Nord Ocean and Nord Pacific. They are said to be the largest oil products tankers ever built.
The Nord Baltic has an overall length of 806.75 feet, beam of 140 feet, depth of 67.6 feet, and maximum draft of 47.6 feet. Main propulsion is provided by a KHIC/ B&W 6L70MC diesel developing 16,980 bhp at 95 rpm, driving a Kobe Steel four-bladed, fixed-pitch propeller. Service speed is 14.5 knots.
Three 830-kw diesel gensets, two oil-fired boilers, and one exhaust gas boiler are installed to provide electric power and steam for cargo loading and discharge, cargo heating, and for various loads under normal seagoing conditions.
Cargo space is divided by two longitudinal bulkheads and five transverse bulkheads into seven center tanks, four wing tanks on each side, and two slop tanks on the sloped double bottom that is arranged for easy stripping and cleaning and easy repair of tank coatings.
Two of the wing tanks on each side and the double bottom tanks are intended for segregated ballast water according to the requirements of IMO's Marine Pollution Convention (MARPOL) of 1973. The requirements of the 1978 TSPP are also observed, and the vessel conforms to the IMO requirements on minimum ballast draft, trim, propeller immersion, and on the protective location of the segregated ballast tanks.
Special coatings in all center tanks (85,600 cubic meters total) allow the loading of "white" products such as jet fuel, kerosene, gasoline, diesel oil, naphtha, and clean concentrate. At the same time, crude oil can be loading in the uncoated side tanks with a total capacity of 35,500 cubic meters.
The cargo-handling system allows discharge of cargo in about 17 hours.
Piping and pumping arrangements permit four parcels to be loaded or discharged simultaneously. Different grades of cargo are always segregated by two valves.
For highly efficient cargo handling and complete stripping, a tota of 17 submerged, hydraulically driven centrifugal pumps are installed— seven of 1,400 cubic meters per hour in the center tanks, two of 300 cubic meters per hour in No. 1 wing tank, and eight of 450 cubic meters per hour for the other wing tanks and slop tanks. Two 2,000 cubic meters per hour ballast pumps are installed.
Central control equipment is provided for the cargo oil pumps, ballast pumps, deck machinery, etc.
Cargo control stations are arranged on the upper deck in the accommodations space, allowing remote control of cargo/ballast valves, cargo level monitoring, temperature, etc.
OLYMPIA Wartsila Turku The Turku Shipyard of Oy Wartsila Ab in Finland delivered the 37,800-grt passenger/car ferry Olympia this year to Rederi Ab Slite of Sweden. The vessel is registered for 2,500 passengers and can provide cabin accommodations for almost that number. She has a capacity for 600 private cars or 62 trailers.
The Olympia has an overall length of 580.7 feet and beam of 93.2 feet. Main propulsion is provided by four Wartsila/Pielstick 12 PC2-6V engines with a total output of 31,280 bhp, giving a service speed of 22 knots. Auxiliary machinery comprises three Wartsila 6R32 diesels with a total output of 8,345 bhp.
The ferry is operating on Viking Line's Helsinki-Stockholm route.
This is the second big ferry delivered by Wartsila's Shipbuilding Division this year. The Turku yard also has under construction a 24,000-grt passenger-car ferry for A/S Jahre Line of Norway.
The 12-deck Olympia is fitted with two stern ramps, fore gate with driving ramp, bulbous bow, two propellers, two rudders, two bow thrusters, and fin stabilizers. Total lane length for private cars is 2,850 meters or 1,120 meters for trailers.
As a rule, passengers are accommodated in double cabins with berths at deck level. The cabins were prefabricated by the Wartsila Piikkio Works and are fitted with shower, radio, wake-up call, and emergency communication system with direct connection to the ship's office, which is open 24 hours a day.
ORMOND Mitsubishi The 169,247-dwt very large bulk carriers Ormond, built at the Nagasaki Shipyard of Mitsubishi Heavy Industries, Ltd., was delivered early this year to Whichin Company Ltd.
The state-of-the-art VLBC incorporates the latest energy-saving measures and several labor-saving devices, including a hold-cleaning system developed by Mitsubishi.
The Ormond is a flush decker with transom stern and Mitsubishi bow, with engine room and living quarters located aft. The cargo space is divided by eight transverse bulkheads into nine holds. The No.
6 hold can also be used as a ballast tank, and the odd-numbered holds are designed to carry iron ore. Each hold has a large, two-panel, siderolling steel hatch cover and makes use of an automatic hydraulic type cleat system.
Two cleaning eductors are provided in each cargo hold to make it possible to discharge large particles of iron ore from the hold along with the cleaning water. The drive water of these eductors is supplied from the fire and general service pump in the engine room via the general service seawater line of the upper deck.
Hold washing is carried out with portable machines.
The VLBC has an overall length of 983.6 feet, beam of 154.9 feet, depth of 80 feet, and design draft of 58 feet. The main engine is a superlong- stroke Mitsubishi/Sulzer 6RTA84 diesel with maximum output of 18,390 bhp at 71 rpm and normal output of 15,650 bhp and 67 rpm. Engine derating and a largediameter propeller improve fuel economy. A module type Halon 1301 fire extinguishing system is installed in the engine room.
The ship's electrical generation system consists of a turbogenerator as the main power source, two diesel generators as the supplementary power source, and an emergency-use diesel generator. Through the use of a dual-pressure and hot water flush steam type of exhaust gas economizer, it is possible for the turbogenerator to provide all of the electric power needed for normal seagoing use.
The accommodations make use of a gateway type wheelhouse to reduce wind resistance. Mitsubishi reaction fins are installed just in front of the propeller to improve the propulsion efficiency.
A total of eight mooring winches are provided.
OTSO Wartsila Helsinki The big icebreaker Otso, ordered in 1984 by the Finnish Board of Navigation, was delivered early this year by Wartsila's Helsinki Shipyard.
She is the first of two technologically advanced icebreakers of a new type. The second vessel was ordered in December 1985 and is scheduled for delivery in January 1987. The Otso and her sister ship will replace three icebreakers of the Karhu Class, which are more than 25 years old and too small to assist today's much larger merchant ships.
Compared with the Urho Class icebreakers built in the mid-70s, the Otso has a 21.33-foot shorter waterline but a beam 1.3 feet wider. This allows efficient assistance to the bigger ships in use today. The design draft is only 24 feet, less than the Urho Class, making a larger number of harbors accessible to the new icebreaker. The Otso has an overall length of 324.8 feet, beam of 79.4 feet, and maximum draft of 26.25 feet.
The main machinery comprises four Wartsila Vasa 16V32 diesel en gines, each developing 7,320 bhp, driving propulsion motors developed and manufactured by Kymi- Strombery Oy. The motors are of an advanced AC type, in which the rpm is regulated by altering the AC frequency.
The machinery can be started and supervised from the wheelhouse using a computer-assisted control system.
The control consoles in the wheelhouse are placed far out on the bridge wings, from which there is nearly 360-degree visibility. The computer-assisted radar system can also supply information on the speed and course, and data on the fairway can be fed into it in advance.
Crew accommodations have been designed to provide sufficient rest and recreation even under arduous working conditions. All cabins are located in the superstructure, which decreases the noise of breaking ice coming from the hull.
The forward propellers common in recent Baltic icebreakers have been replaced by Wartsila's patented air-bubbling system. This and the absence of forward propeller bosses decreased the resistance encountered by the vessel in ice. The ice resistance has also been reduced by modification of the hull shape and the use of compound plate with a surface layer of stainless steel in the ice zone. These features, together with application of epoxy paint to the underwater surfaces, will keep frictional resistance low for longer periods than could be achieved by the methods used previously.
The general arrangement of the Otso differs considerably from that found on earlier icebreakers. The diesel generators are placed on the upper deck, below the helicopter deck, resulting in simpler cable and piping systems. The heavy fuel tanks are placed amidships well away from the hull plating, which decreases the risk of pollution.
A new feature in comparison with earlier Finnish icebreakers is the "power station" type of machinery, in which no auxiliary units are needed. This js an economical arrangement as the vessel can run entirely on heavy oil, which is cheaper than diesel fuel.
RIO GAS Lindenau Paul Lindenau Shipyard in Kiel, West Germany, early this year delivered the shallow-draft, 7,150-cubic- meter ethylene/LPG carrier Rio Gas to Cryotrans Schiffahrts & Co.
KG. A sister ship, the Santa Clara, was delivered in 1985. Among the most modern ethylene gas carriers in the world, both ships have been optimized for shallow draft (17 feet) with a 4,000-ton cargo deadweight.
Both ships are now transporting ethylene between Brazil and Europe, within Europe, and to South Africa. The current gas transport market requires that an increasing number of calls be made at terminals located on waters having shallow depths. This demands a ship design with special marginal conditions conditions.
Despite draft limitation and trim restriction, to name only two of the conditions to be adhered to, these vessels have optimal ship lines insuring low fuel consumption and good behavior at sea.
The entire accommodation area is located in a separate deckhouse aft.
This house is strictly separated from the exhaust gas funnel in order to reduce any sound transmission.
The entire design of the cabins was completed in close cooperation with the shipowner, and incorporated the latest ergonomic developments— light layout, furniture layout, and accommodations system—in order to afford the special crew as much comfort and convenience as possible.
The entire gas plant system was developed, designed, delivered, and put into operation in cooperation with Liquid Gas International (LGI) Ingenieurgesellschaft mbH of Bonn-Bad Godesberg. Prior to delivery of the ship, LGI conducted a one-week gas training course at Bonn for the future crew.
Apart from the economical ship concept, great importance has been attributed to the fact, when completing the gas plant, that shape and arrangement of the tanks and of the deck facilities take into account overall concept relating to minimal draft.
As a special gas carrier the Ri Gas is permitted to transport all of the liquefied gases and chemicals on the list approved for ships of this type by the International Maritime Organization (IMO). These include ethene (ethylene), Propene (propylene), Propane, propane/butane mixture, I + N-butane, anhydrous ammonia, vinylchloride monomer, butene (butylene), butadiene, acetaldehyde, diethyl ether, dimethylamine, propyleneoxide, and ethyleneoxide/ propyleneoxide mixture.
The six gas tanks have a total volume of 7,178 cubic meters. They are designed for maximum overpressure of 5 bars (IMO) or 3.2 bars (USCG), and minimum temperature of — 104C. It is possible for two products to be simultaneously transported, refrigerated, and loaded or unloaded. Loading/unloading performance is 715 cubic meters per hour.
In order to further increase operational flexibility, the Rio Gas is equipped with an insulated nickelsteel deck tank and a product evaporator.
This tank may concurrently transport a certain amount of gas similar to the product that is to be loaded at the next terminal. This gas may be washed into the cargo tanks as early as the ballast trip.
Thus, the cargo tanks will, when arriving at the next terminal, already be prepared for the new cargo (temperature and pressure) without losing any time.
The five cylindrical nickel-steel cargo tanks are provided with the necessary internals as well as a residual drain system. The low-temperature insulation consists of cryogenic foam sprayed on in several layers. This achieves an insulating skin effect, inducing a considerable reduction of the thermal absorbtion in the cargo tanks.
The three LGI reliquefaction plants installed in the forward deckhouse have been set up so as to form a cascade refrigeration cycle. They are similar to 15 plants delivered previously by LGI that have proved to be extremely reliable. Unloading of the product is carried out by means of deepwell pumps; two booster pumps provide for an additional increase in pressure.
The power switchgear for the drives of the gas plant is installed in the electrical equipment room in the deckhouse. The plant is remotely controlled from the gas office in the crew deckhouse, where all of the important operating conditions are indicated. The modern outfit of the gas office includes, among other things, a cargo computer suitable for stability and logistic computations.
An LGI inert gas plant installed aft provides for the inerting and flushing of the piping, units, and tanks. This plant consists of generator, compressor, and drier. It operates in the following modes: generation of dry air having a dewpoint of up to — 75C at 6 bars; production of inert gas; and production of industrial nitrogen of the lowest C02 content.
SKULPTOR TOMSKIJ Aalborg Early this year Aalborg Vaerft in Denmark delivered the advanced refrigerated cargo ship Skulptor Tomskij to V/O Sudoimport of the U.S.S.R. Named for a famous Soviet sculptor, the 10,700 cubic meter vessel is the second of three ordered in 1984. The last ship in the series, the Akademik Zavarickiij, was also delivered this year.
Built to U.S.S.R Register of Shipping classification, the Tomskij is designed as a multipurpose reefer capable of transporting fruit as well as frozen meat. The ship has large, open type cargo hatches that, with the necessary reinforcement of tank tops and decks, provide the capability of carrying both 40-foot and 20- foot containers in the cargo holds as well as on the weather deck.
The new reefer has an overall length of 453.4 feet, beam of 70.5 feet, depth of 43 feet, and draft (bananas) of 23 feet. Propulsion is by a low-speed, two-stroke crosshead B&W 6DKRN 67/170 marine diesel manufactured by Bryansk Engine Works in the Soviet Union. The engine is fitted with a constantpressure Brown Boveri turbocharging system. Main engine output is 12,874 bhp at 123 rpm. It drives, via intermediate and propeller shafting, a four-bladed nickel/aluminum/ bronze propeller with fixed pitch. A KaMeWa bow thruster has an output of 800 hp.
The electric supply is provided by four diesel generator units, each consisting of a 720-kw generator coupled to a B&W Holeby fourstroke 6T 23 LH-4 engine with an output of 1,033 bhp at 750 rpm.
Both the main and auxiliary engines are designed for burning heavy fuel with a viscosity of 380 cSt at 50C.
Under normal operating conditions at sea, two of the gensets are in service.
A third is put into operation when the bow thruster is being used for maneuvering. A 100-kw emergency diesel generator set is also installed.
Steam for heating is produced by an Aalborg oil-fired boiler, type AQ- 12, also designed for burning heavy fuel. This boiler's capacity is 2,500 kilograms of steam per hour at a pressure of 7 bar. Steam production at sea is provided by a main engine exhaust gas boiler, Aalborg type AQ-7, with built-in steam cabinet, and one four-chamber AQ-7 auxiliary engine exhaust gas boiler, SONG HE Seebeckwerft Seebeckwerft AG of Bremerhaven, West Germany, this year delivered the fully cellularized containership Song He to the People's Republic of China. Business relations between Seebeckwerft and China Ocean Shipping Company (COSCO), the state shipping company of the People's Republic, have been active for more than 10 years.
During that time 16 ships have been delivered, ranging from a multipurpose cargo vessel to the sophisticated containership Song He.
The new vessel has an overall length of 653.5 feet, beam of 80 feet, depth to first deck of 50.7 feet, and summer draft of 35 feet. Propulsion is provided by a MAN B&W diesel engine. Trial speed was 16.9 knots with an engine output of about 10,000 bhp.
The Song He is classed by Germanischer Lloyd +100 A4E Containership + MC E AUT. She is the most modern vessel currently in the COSCO fleet, embodying state-ofthe- art design and construction.
STOLT SAPPHIRE Daewoo Shipbuilding The Stolt Sapphire, first of five advanced parcel tankers built for Stolt-Nielsen by Daewoo Shipbuilding & Heavy Machinery Ltd., was delivered by the Korean shipyard early this year. The remaining four ships—named Stolt Emerald, Stolt Topaz, Stolt Aquamarine, and Stolt Jade—have now joined the Stolt Tankers fleet.
These new ships will be among the most sophisticated and flexible parcel tankers in the world. About 70 percent of the total cubic capacity is acid-resistant stainless steel.
They are designed to carry the full range of parcel trade products, ranging from full deadweight of inorganic acids such as phosphoric and sulphuric to 6,900 cubic meters of cooled semi-gases like propyleneoxide; from the most toxic chemicals to the most delicate; and from edible oils to high-heat lube oil additives.
The Sapphire has an overall length of 580 feet, beam of 105.8 feet, depth to main deck of 49.2 feet, and design draft of 34.5 feet. Main propulsion is provided by a twostroke Hyundai/B&W 6L60MC diesel engine with an output of 12,480 bhp at 111 rpm. Service speed is 15 knots at the design draft on a daily bunker consumption of 35.8 metric tons of heavy fuel oil, including full seaload on a 900-kw shaft generator.
The ship has 58 cargo tanks, each served by individual stainless steel cargo piping and individual hydraulically driven deepwell pumps, and 13 transverse cofferdams that effectively separate each cross-over group of cargo tanks. These features permit safe, segregated carriage of up to 58 different cargoes on the same voyage.
Many additional features add to the versatility of these parcel tankers.
The air dehumidification plant for moisture control, the nitrogen storage plant and inert gas generator, availability of cargo heating by thermal oil, hot water or steam (up to 230 F in certain tanks), and the Skarpenord computerized Cargomaster cargo monitoring and control system, all enhance the cargohandling capabilities of the ship.
Stolt-Nielsen caters to the "drugstore" trade on its worldwide tanker trade routes. These are the smaller bulk parcels that require the most careful handling. The delivery of the Sapphire and her four sister ships will increase the company's capabilities in this increasingly important transportation segment.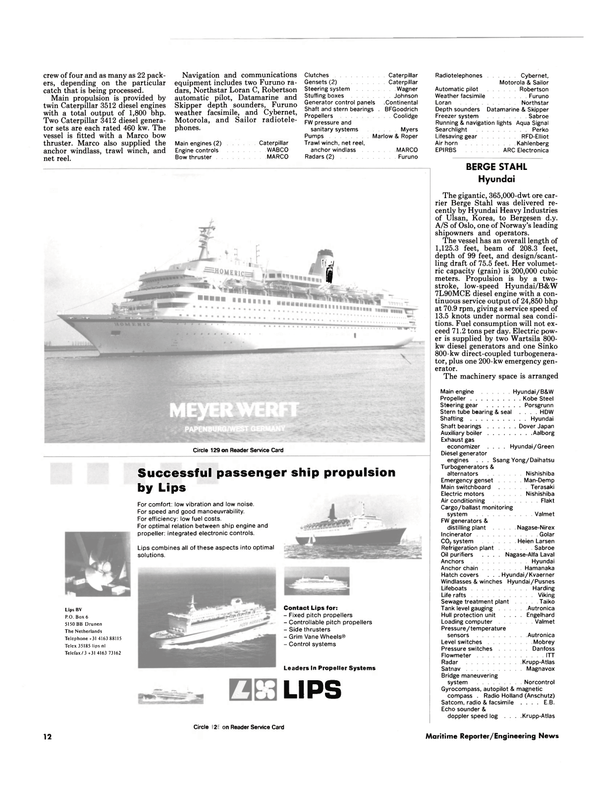 Read OUTSTANDING OCEANGOING SHIPS OF 1986 in Pdf, Flash or Html5 edition of December 1986 Maritime Reporter
Other stories from December 1986 issue
Content