OUTSTANDING PASSENGER VESSELS OF 1990
Despite recent concern about overcapacity in the cruise industry, new and refurbished luxury liners and cruise ferries continue to enter the market with more and more berths in an effort to attract firsttime and repeat cruisers.
However, according to Cruise Lines International Association (CLIA), an organization which represents about 95 percent of the oceangoing capacity serving North America, these berths will be needed since predictions call for cruise passengers to increase from 3.7 million to 10 million annually.
The fortune of the U.S. shallowdraft passenger vessel market also appears to be entering an uncertain period. A number of second tier yards have reported a slowdown in orders for dinner/excursion boats, ferries, tour boats and commuter vessels. However, this slowdown is set against a backdrop of an industry that has been in a phenomenal growth spurt over the last few years.
On the other hand, several yards have benefited from the impending legalization of riverboat gambling, with a number of new vessels on order and several others under design.
The following section celebrates the most outstanding new entrants into the highly competitive passenger shipping market as selected by the editors of MARITIME REPORTER.
The "Outstanding Passenger Vessels of 1990" range from megaton 2,000-passenger giants such as the Fincantieri-built Crown Princess to the elegant 350-passenger dinner boat Anita Dee II, built by Trinity Marine.
AMERICA Dinner Boat Marine Builders This past year, Marine Builders, Inc., of Utica, Ind., delivered the 150-foot dinner/excursion boat M/V America to River City USA, Inc., a Kansas City, Ks., vessel operator.
A sleek, modern-style vessel designed by Marine Builders in conjunction with the marine architectural firm of Coe M. Best Jr. & Associates, the America is a striking contrast to River City USA, Inc.'s Missouri River Queen, a traditional 1800s style riverboat also built by Marine Builders. The America seats 450 passengers for dinner cruises and is certified to carry up to 800 passengers overall. Propulsion is provided by two Cummins NTA- 855-M marine diesel engines rated at 350 hp each at 1,800 rpm, through Tonanco model KC-TM-828 marine gears to Bird Johnson 48- by 32- inch four-blade propellers. Normal engine vibration and noise is reduced by the use of a Lo-Rez vibration isolation system that Marine Builders incorporates in their vessels to provide optimum passenger comfort.
The enclosed, climate-controlled main and second decks are fitted with tinted and insulated glass in all cabin windows (designed by Marine Builders) that reduce condensation in all weather conditions and add to passenger sightseeing enjoyment.
Three complete bars, a gift shop, a food preparation facility and a canopied open-air 3rd deck are also incorporated on the America.
Captain Dick Lynn and Ms.
K.C. Stanley, co-operators of River City USA, opted for the "Love Boat" style for their new vessel and completed the interior with opulent appointed furnishings featuring extensive woodworking. As stated by Captain Lynn, "This makes it truly unique for the inland waterways, and it was an excellent idea." ANITA DEE II Dinner Boat Trinity Marine Aluminum Boats, Inc., Crown Point, La., a member of the Trinity Marine Group, has delivered the Anita Dee II, an elegant, all-aluminum, 140-foot, 350-passenger dinner yacht to Tee Dee Enterprises, Inc., Chicago, 111.
Looking more like a stylish meayacht than a commercial charter oat, Anita Dee II is available for group charters, private parties, wedding receptions, corporate functions, and other events from her berth at the Navy Pier.
Designed by Aluminum Boats, Inc., its parent company, the Trinity Marine Group, and yacht design consultant Alfred (Jay) Coyle Jr., Anita Dee II maximizes space on the two primary passenger decks by eliminating stanchions or supports.
The spacious main deck includes intimate and group seating, through-the-bulkhead bar, restrooms, large galley and owner's stateroom. Additionally, the main deck also includes a full walk-around and a covered aft deck with seating and roll-up weather curtains.
The second deck has seating for 152 diners, a large buffet and waiter's station and additional restrooms.
It also includes the pilothouse with port and starboard wing control stations, another double duty bar serving the diners inside and the covered aft deck outside, and stairs to the flybridge and main deck.
Atop is the flybridge which includes a lounge with seating for 62, an open dance floor and band stand, bar, and promenade area. A helipad is also on the flybridge along with a skylight to the dinner deck which doubles as a 16-foot long cocktail area.
The Anita Dee II is 140 feet in length, has a 33-foot beam, and draft of less than 5 feet 6 inches. Her shallow draft allows her to operate in the Intracoastal Waterway, normally inaccessible to vessels her size. A skegs protects her props and rudders.
Built to U.S. Coast Guard stand ards under subchapter T rules and regulations, the new boat is powered by two Caterpillar 3408TA diesel engines driving through Twin Disc reverse reduction gears.
The Anita Dee II operates in Chicago during the summer to mid- October and in winter from Bahia Mar Resort and Yachting Center in Ft. Lauderdale, Fla., from mid-November to mid-March.
AUDUBON EXPRESS Passenger Catamaran Gladding-Hearn Shipbuilding In the summer of 1990, Gladding- Hearn Shipbuilding, The Duclos Corp., delivered the M/V Audubon Express, the first high-speed catamaran (INCAT) for passenger service on the Mississippi River.
New Orleans Steamboat Company began operating the 102-foot, allaluminum, twin-hulled Audubon Express between New Orleans's new Aquarium of the Americas and the Audubon Zoo. The 360-passenger catamaran is expected to make the seven-mile run in about 18 minutes.
The Audubon Express has a beam of 28-1/2 feet, depth of 8-1/2 feet and draft of 3.3 feet. Powered by twin 1,600-hp General Motors Detroit Diesel 16V149TI main engines, supplied by Stewart & Stevenson, and driven by two KaMeWa model 63S2 water jets, the ferry was designed for medium speeds up to 26 knots (30 mph) on the Mississippi.
She is fitted with ZF model BUK485 marine gears. "By using waterjets instead of conventional propellers, the boat will have a draft of only three feet and produce minimal wake at all speeds," said Gordon Stevens, New Orleans Steamboat Company's general manager. The triple-deck vessel includes upholstered seats, air-conditioning, and a snack bar in the main cabin.
CROWN PRINCESS Cruise Ship Fincantieri-CNI The first of two luxurious 70,000- grt cruise ships, the Crown Princess, ordered by P&O Cruises was delivered this past year by the Monfalcone yard of Fincantieri Cantieri Navali Italiani.
With a length overall of 804 feet, beam of 106 feet, draft of 26 feet and passenger capacity of 1,950, the Crown Princess is one of the largest cruise ships afloat. She features extensive passenger facilities including lounges, night clubs, disco, casino, shopping arcades, cafeteria, conference room/cinema, two swimming pools, two jacuzzis, and other amenities. About 80 percent of the 792 passenger cabins have outer balconies.
Alfa-Laval, SpA, Italy, supplied the complete cooling system for the liner.
The ship's graceful and very distinctive silhouette looks somewhat like that of a dolphin. The profile of the "head" constitutes a large front dome over the Belvedere Bar/Casino.
Designed for worldwide cruising, the vessel is powered by a highly advanced diesel-electric plant consisting of four 6.6KV, 60-Hz main alternators driven through flexible couplings by four MAN B&W eight- cylinder, in-line L58/64 four-stroke, medium-speed engines, with a maximum continuous rating of 9,720 kw at 400 rpm. These alternators supply power through transformers to the two 12,000-kw, three-phase synchronous- type propulsion motors, each directly driving a Lips fixedpitch propeller via shafting.
CRYSTAL HARMONY Cruise Ship MHI Built at a cost of $200 million, the 48,621-ton luxury cruise liner Crystal Harmony, constructed by the Nagasaki shipyard of Mitsubishi Heavy Industries (MHI), is the first luxury ship for Los Angeles-based Crystal Cruises, a subsidiary of Japan's NYK Line.
Reportedly one of the most spacious ships in her class, the Bahamas- registered Crystal Harmony carries 960 passengers in first class luxury. Almost all of her passenger cabins are situated on the outside, more than half of which have a private veranda. She also features one of the largest penthouses afloat and the first floating casino to be operated by Caesars Palace of Las Vegas.
The Crystal Harmony's propulsion power is generated by four Mitsubishi- MAN B&W 8L58/64 large bore medium-speed diesel alternator sets. The output is fed via a 6.6 kv main switchboard to two 12 MW Cycloconverter drives, each serving its own 11.5 MW synchronous propulsion motors. ABB Marine supplied and engineered the Cyclo propulsion drives, generators, switchboard, bowthruster motors, integrated machinery and auxiliary automation system.
Plate coolers were installed on the vessel by Kyoto Machinery Co., Ltd., the Japanese division of Alfa- Laval.
Passenger amenities aboard the liner include two heated freshwater pools fitted with movable roofs called Magrodomes, a special piano lounge area with foliage on the Lido Deck, an Italian restaurant and Japanese restaurant.
DIAMOND LADY Casino/Dinner Sternwheeler Atlantic Marine In March 1991, Atlantic Marine, Inc., Ft. Georges Island, Fla., will deliver The Diamond Lady, the first of three 201-foot sternwheel casino/ dinner vessels for Steamboat Development Corporation of Davenport, Iowa. The vessels' authentic 1890's design was specially developed by John W. Gilbert, owner of Bostonbased John W. Gilbert Associates, Inc.
Interior Design International of Seattle, Wash., complements Mr.
Gilbert's 1890's theme with its distinctive Victorian period interiors design. Gilded Philippine mahogany, Aubusson-style carpet, carved Victorian glass panels, sconces, crystal chandeliers, marble/avonite counter tops, and embossed ceiling panels will make The Diamond Lady one of the most elegant inland passenger vessels afloat.
Launched in late October 1990, the 1,200-grt Diamond Lady will have a waterline length of 170 feet, width of 46 feet and total light ship weight of 863 tons.
The main deck will house the largest of the two casino rooms, containing 250 slot machines, eight blackjack tables, two roulette tables, and two craps tables. The next deck will have a 250-seat dining area and a lounge overlooking the paddlewheel turning at the stern of the boat. Moving up to the next deck, the forward area will be a lounge, with a second, smaller casino area in the center of the deck. At the rear will be a lounge with dance floor, video center and sophisticated sound system. The pilothouse will be on the top deck. Behind the pilothouse will be a large open-air deck from which passengers can get a panoramic view of the river.
Powering each vessel will be three Caterpillar 671-horsepower diesel engines, two of which will drive screw propellers and a third, the functional rear paddlewheel. The riverboat can operate by using the paddlewheel alone, the paddlewheel and screw propellers together, or the screw propellers alone. The top speed is about 9-1/2 knots.
The diesel engines sit on special vibration-absorbing mounts to isolate engine vibration, so that passengers are provided with the feel of an onshore casino.
The Diamond Lady along with her sister ships, The Emerald Lady and The Golden Lady, will be berthed in Iowa and cruise the Mississippi River with a maximum of 1,200 passengers.
DELFIN CARAVELLE Cruise Ship Rauma Yards This past year Finnish shipbuilder Rauma Yards Oy delivered the second of two smaller luxury cruise liners to Delfin Cruise Ltd., a shipping company based in Nauvo, Finland.
Christened the Delfin Caravelle by Mrs. Leena Matomaki, wife of the president of the Rauma-Repola Group, Tauno Matomaki, the liner has an overall length of 382 feet, breadth of 56 feet and draft of 14 feet. Her pair of Wartsila Vasa 6R32Ds produce a total of 3,017 hp at 750 rpm. She can accommodate up to 330 passengers in her 178 cabins, including her eight luxury suites fitted with jacuzzis and balconies.
Delivered by the yard in about one year, the Delfin Caravelle has conference facilities for 200 participants, saunas with a swimming pool and jacuzzi, duty-free shop, saloon, casino, club/restaurant with dancing, nightclub/disco, beauty salon, and hospital quarters. The ship's main restaurant can accommodate all 330 passengers at a single seating.
The Delfin Caravelle will cruise during the summer and autumn from Turku to Visby three times per week, Gotland-Borgholm cruises and trips to Tallinn and the isle of Saaremaa in Estonia. The line will also arrange 24-hour cruises as well as conference and charter cruises, EDELWEISS II Excursion Boat Skipperliner Shipyards Skipperliner Shipyards, Inc., La Crosse, Wis., delivered last year the 150-passenger excursion boat Edelweiss II to Edelweiss, Inc., Milwaukee, Wis.
Operating out of Milwaukee, the 82-foot European Canal boat Edelweiss II has a beam of 20 feet, draft of 3 feet and a water height of 8 feet 6 inches. She is powered by twin Cummins 6BT5.9M diesel engines, which drive four-bladed Michigan Wheel propellers via ZF model IRM220 reduction gears with a reduction ratio of 2.45:1.
The Milwaukee River cruise boat has seating for 101 passengers. Her air-conditioned deckhouse is fitted with a bar, two heads and a galley, which is used for food preparation for meals cooked ashore.
Edelweiss, Inc., also operates the excursion boat Edelweiss I on the Milwaukee River in downtown Milwaukee, Wis. The river has several bridges with a 9-foot 6-inch clearance.
The vessels are finished in a traditional European fashion with mahogany and brass.
Skipperliner Shipyards is one of the leading U.S. builders of excursion boats, sternwheelers and sidewheelers in the 49- to 300-passenger range.
HORIZON Cruise Ship Meyer Werft This year Chandris Celebrity Cruises added the 46,811-grt luxury liner Horizon to its fleet following her delivery by Meyer Werft's ship- yard in Papenburg, Germany.
The $185-million Horizon along with her sister ship, the Zenith, currently under construction at Meyer Werft, are the largest passenger ships ever built in Germany.
The 47,000-grt Horizon has an overall length of about 681 feet, molded breadth of 95 feet and draft of about 24 feet.
The 12-deck ship is propelled by a father-and-son four-engine plant consisting of two MAN B&W 9 L 40/54 "father" engines with an output of 8,152 hp at 514 rpm each and two MAN B&W 6 L 40/54 "son" engines, each developing 5,435 hp at 514 rpm.
ABB supplied the complete modular low-voltage switchgear system type MNS for an installed capacity totalling 20,625 kva and a short-circuit current of 160 ka, and the three-phase AC motors for the auxiliary systems.
Alfa-Laval Industrie of Hamburg, Germany, supplied three separators for HFO with a three-phase motor and electric switching cabinet and a total of seven lube oil separators, two type WHPX 410 and five type WHPX 407, with three-phase motors and electric switching cabinets.
The Liberian-flagged, 1,354-passenger vessel has 533 outside and 144 inside cabins.
LADY EXPRESS Passenger Ferry Munson Manufacturing The summer of 1990 saw the delivery of the 65-foot passenger ferry Lady Express by Munson Manufacturing to the Lake Chelan Boat Company of Chelan, Wash.
Based on Munson Manufacturing's Hammerhead 65 design, the Lady Express serves the town of Steheikin, located 57 miles up lake from Chelan. She has a beam of 21 feet and draft of 5 feet. The design of the Lady Express features a comfortable enclosed deck with an open covered area aft and an open back upper deck followed by a large open deck. There is seating for 70 passengers outside and 80 passengers inside.
Ample space is also available for luggage. She has a snack bar inside and men's and women's restrooms.
Great care was taken to protect the lake from the wake of the new vessel while maintaining quick and efficient transportation for passengers.
The vessel was constructed to be partially assembled at the lake due to the problems involved with transporting a 65-foot boat via the interstate.
The Lady Express is powered by twin 12V-92 Detroit Diesel engines . rated at 1,080 hp at 2,300 rpm each through ZF gears, four-inch straight shafts and 36-inch propellers. She has a top speed of 30 knots and a cruising speed of 24 knots.
NAVATEK I SWATH Excursion Vessel Navatek Ships One of the world's most unique vessels, the 140-foot Navatek I, the first U.S. commercial SWATH (Small-Waterplane Area Twin- Hull) vessel, began carrying passengers on luxury Hawaiian dinner cruises in the first half of 1990.
Certified by the U.S. Coast Guard to carry as many as 400 passengers on an ocean route, the Navatek I is the first SWATH in the world to be classed by ABS, +A1 Ferry, Hawaiian interisland service, +AMS.
A SWATH ship is designed to radically reduce ship motions— pitch, heave and roll—caused by waves. The SWATH ship's most unique market advantage is the virtual elimination of seasickness.
Compared to a conventional monohull or catamaran, it also offers greater maneuverability, more usable deck space, and can maintain greater speed through rough waters.
According to Navatek Ships, Ltd., which designed and built the SWATH ship, in her first seven months of commercial service, the Navatek I has carried over 55,000 passengers. Despite operating in rough ocean seas of 4-12 feet all year long, the passenger seasickness rate has been less than 1 percent. Since the start of service, the Navatek I has not lost any operating days due to mechanical failure, seas or weather.
"We're extremely happy with the response of tour wholesalers and customers to the product," said John Pyles, president of Hawaiian Cruises, Ltd., which operates the Navatek I under a long-term lease on whale watch, luxury dinner, gourmet lunch and private charter cruises.
Navatek I is 140 feet long, has a beam of 53 feet, displacement of about 365 tons, and variable draft ranging from 8 to 12 feet. She is powered by two Deutz MWM 16V- 816CR diesel engines, rated at 1,350 hp each, fitted with Ulstein reduction gears driving Ulstein controllable- pitch, four-bladed propellers.
Auxiliary power is provided by two GM 6-71-powered generators rated at 99 kw each.
The structural design of the vessel consists of two demi-hulls, connected by a cross-structure consisting of two box beams. There are two vertical struts per side which con- nect the lower hulls to the upper structure. The lower hulls have hemispherical endcaps at the bow.
Aft of this are two cylindrical lengths of hull of circular cross section.
The deckhouse is mounted on flexible mounts.
The hull of Navatek I was built by Thompson Metal Fab, Vancouver, Wash.; she was outfitted by Northwest Marine, Portland, Ore.; and Trinity Marine Group, Gulfport, Miss., built her superstructure.
NEW YORKER Dinner/Excursion Boat Eastern Shipyards Eastern Shipyards' Panama City, Florida facility recently completed the conversion of the 308-foot New Yorker, what is reportedly the nation's largest dinner cruise vessel.
Circle Line, headquartered in New York City, operates the luxurious cruise vessel, under its wholly owned subsidiary, World Yachts, which owns a fleet of five dinner boats that have set standards in the New York area for fine dining. The former Dayliner is one of the largest capacity excursion vessels operating in the U.S., capable of carrying 3,200 passengers. Built in 1972 by Bellinger Shipyards, Jacksonville, Fla., for the Day Line in New York City, the vessel spent many years carrying passengers up the Hudson River on excursion tours.
DeJong and Lebet, a naval architectural firm in Jacksonville, Fla., engineered the extensive conversion project, working closely with Circle Line, and subsequently, Eastern Shipyards.
U.S. Coast Guard-certified under subchapter H rules, The New Yorker has a full load displacement of 2,200 long tons. She carries 30 tons of stores, 16,415 gallons of fuel, 15,700 gallons of fresh water and have a 9,776-gallon sewage tank.
Tampa Shipyards, Tampa, Fla., was a subcontractor to Eastern, responsible for drydocking the vessel and all hull work, including the addition of the hull extension modules.
Eastern oversaw all of the major conversion work to the four decks as well as the installation of equipment in the galleys, bars, lounges, elevators, air conditioning systems, theater, stage and interior decoration.
According to Eastern's president Brian D'lsernia, Eastern plans to make extensive use of their advanced modular fabrication techniques in the construction phases of The New Yorker's superstructure and interior spaces.
The New Yorker measures 308 feet in length, has a beam of 65 feet, and loaded draft of 13-1/2 feet. The cruise vessel seats as many as 1,500 persons in a luxurious restaurant setting. She is powered by two EMD 16-645 E2 diesel engines.
NORDIC EMPRESS Cruise Ship Chan tiers De L'Atlantique This past year, Royal Caribbean Cruise Line (RCCL) of Miami entered the popular three- and fournight cruise market with its new 1,610-passenger Nordic Empress, delivered by GEC-Alsthom's Chantiers de L'Atlantique shipyard in St.
Nazaire, France.
First class accommodation for 1,610 passengers is arranged in 801 two-berth cabins and four suites over five decks of the 12-deck ship.
She is fitted with Sperry Marine's Integrated Bridge System for superior navigation and cost-effective operations. Sixty percent of all her staterooms have a view of the sea and 71 deluxe staterooms and suites have balconies.
The centerpiece and crowning achievement of the Nordic Empress is her atrium called the Centrum, which traverses nine decks and is crowned by a skylight. The atrium, which incorporates sculpture, plants and even waterfalls, is served by glass-enclosed elevators.
The 44,300-grt, 12-passenger deck Nordic Empress has an overall length of 692 feet, length between perpendiculars of 673 feet, 100-foot beam.
Propulsion power is supplied by two 12-cylinder V configuration Wartsila Vasa 32 and two eightcylinder Wartsila Vasa 32 main engines.
The geared diesels drive twin controllable-pitch propellers at 105 rpm.
Auxiliary power is generated by three Wartsila Vasa 8R32 diesel generator sets, producing a total of 9,300 kw.
Alfa Laval S.A., Les Clayes Sous Bois, France, supplied nine separators mounted on modules with program units, S&T heaters, with sludge tanks, three boosters for ME and AE, and 11 PHE.
SILJA SERENADE Cruise Ferry MASA-Yards The Turku shipyard of Finnish builder Masa-Yards recently delivered the cruise ferry Silja Serenade to Silja Line. When she goes into service between Helsinki and Stockholm, the Silja Serenade will mark a new era in the ferry traffic in the Baltic.
Masa-Yards and Silja Line have been actively developing the "Baltic Ferry Concept" since the late fifties and early sixties. The 665-1/2-foot Silja Serenade, although it incorporates many of the design achievements of the past, is unique because of the Silja Promenade. This "main street" is a huge atrium on her main deck, with a length of 470 feet, width of 27 feet and height of five decks. The promenade is accented by skylights atop and a glass wall at the aft end of the ship, those providing passengers with a view of both the sea and sky. Restaurants, shops, and other recreational and entertainment facilities are accessible from the promenade.
In addition, two accommodation blocks are situated on each side of the promenade, with cabins facing either the sea or the main street.
The Silja Serenade will have a gross tonnage of 58,376 tons, breadth of 103 feet, and design draft of about 22 feet. She has a passenger capacity of 2,500 in 952 cabins. Additionally, the Silja Serenade can also accommodate 450 cars or 60 trucks.
SPIRIT OF BOSTON Dinner/Excursion Boat Blount Marine In the first quarter of 1990, Warren, Rhode Island-based shipbuilder Blount Marine Corporation delivered the dinner/excursion boat M/V Spirit of Boston to Cruise International.
The Spirit was the first boat launched from Blount Marine's new shipway.
Built for Holiday Cruise II, a subsidiary of Cruise International headquartered in Norfolk, Va., the 600-passenger Spirit of Boston operates in Boston Harbor. At her launching, she was called "the finest (one) of her kind," by owner Richard D. O'Leary, president of Cruise International Commenting on the Spirit of Boston, Luther H. Blount, president of Blount Marine, said, "She represents the peak of design and construction of the last 40 years at Blount Marine." Mr. Blount said that the Spirit of Boston was similar in some respects to the Spirit of New York, a dinner/excursion boat delivered by Blount Marine to Cruise International in 1987. "She (the Spirit of Boston) incorporates some changes by the owner and is actually a foot longer than the Spirit of New York, even though she is listed as 192 feet long," said Mr. Blount.
Other noticeable changes from earlier designs are the Boston's sleek megayacht profile and enlarged pilothouse. Additionally, the vessel's superstructure has been extended on the aft part of the third deck to conceal her stacks.
The Spirit of Boston has an overall length of 193 feet, beam of 36 feet, depth at amidships of 10 feet 5 inches, and full load draft of 7 feet.
Her propulsion machinery consists of two Caterpillar 3408 marine diesel engines, Twin Disc MG-514 reduction gears and a pair of 48-inch by 32-inch Columbian propellers.
SPIRIT OF PUGET SOUND Dinner/Excursion Boat Service Marine Looking more like a sleek private yacht rather than an 800-passenger dinner/excursion boat, the 175-foot Spirit of Puget Sound, designed and built by Service Marine Industries, Inc., Morgan City, La., made her debut this past year to raves from customers who came to the waterfront in Seattle.
The newest member of the Cruise International fleet, the Spirit of Puget Sound began operations this past year from Pier 70 on Elliot Bay.
The vessel has an eye-catching megayacht appearance and striking window lines done in high gloss flag blue.
Each deck has a distinctive decor.
The first deck is done in black and mauve, the second in black, gray, and chrome. Vista windows near the large semi-circular bar on the second deck provide passengers with a panoramic view of the sights and scenery along the ship's course.
The boat was designed to have ceiling heights of eight feet and with widely spaced columns and oversized windows, passengers will enjoy a feeling of complete freedom. The cabins are temperature controlled by 62 tons of Carrier air conditioning, installed by Harris Refrigeration.
The two main Caterpillar 3408 TA engines, furnished by Carter Machinery Company, each generate 443 hp at 1,800 rpm. Two 180-kw Marathon Electric generators driven by a Caterpillar 3306 TA engine provide the vessel's electrical power.
Bird-Johnson furnished the two 52- by 46-inch Tomcat-style propellers.
The 150-hp bowthruster is a Schottel S-71-L driven by a Cummins 6BT5.9M with 210 hp at 2,600 rpm.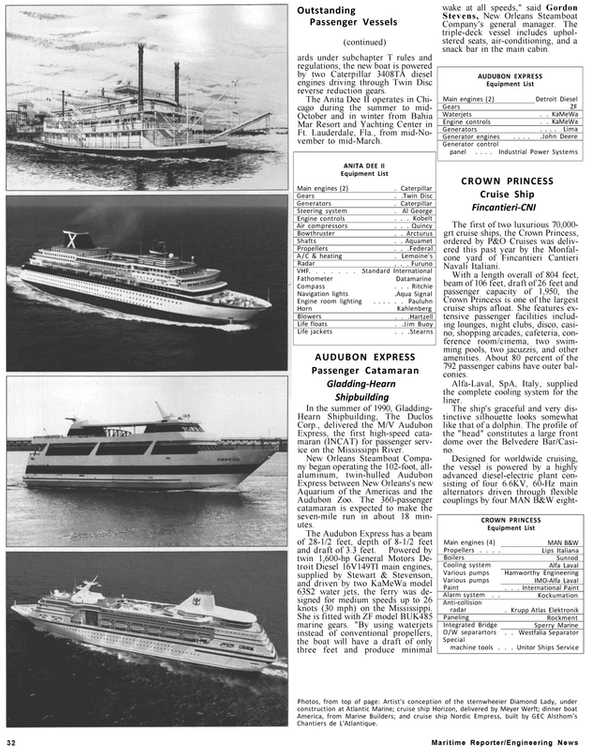 Read OUTSTANDING PASSENGER VESSELS OF 1990 in Pdf, Flash or Html5 edition of January 1991 Maritime Reporter
Other stories from January 1991 issue
Content