CRUISE SHIPPING '91 Conference & Exhibition
Miami Beach, Florida, February 5-9 A record attendance of delegates, visitors and exhibitors is expected at the seventh annual Seatrade Cruise Shipping Conference and Exhibition when its takes place at the Fontainebleau Hilton Hotel, Miami Beach, Fla., from February 5 to 9, 1991.
With an exhibition that has doubled in size each year since 1986 and a conference attracting an all-time high of around 700 delegates in 1990, this year's conference and exhibition is expected to exceed all previous marks for attendance.
Cruise Shipping '90 set the previous highs for attendance at 1,800 and number of exhibition stands at 242. The 242 stands was more than double the number of exhibitors at the 1989 show.
Representatives from every sector Photo: The M/V Eugenio Costa, operated by Costa Crociere.
of the international cruise industry gather each spring for this show's unique combination of discussion by leading personalities plus the latest ideas and information on all aspects of the cruise business.
According to Michael Kazakoff, vice president, sales, Seatrade Organization, all the exhibition area at Cruise Shipping '91 has been sold, with about 324 stands. As of press time, Seatrade was waiting for approval to expand the exhibition area. Mr. Kazakoff attributed the show's ongoing success to the fact that it offers attendees, delegates and exhibitors, "a wide diverse group of decision-makers from the cruise industry. It is the largest display of cruise-oriented products in the world." Mr. Kazakoff claimed that 92 percent of the exhibitors have displayed at a previous Cruise Shipping exhibition. He noted that several exhibitors have commented about how much business they have picked up as a direct result of the show.
This year's expanded exhibition will feature several national and loosely associated regional pavilions.
Among the national pavilions will be France, the largest with about 19 companies represented, the United Kingdom, and Finland.
The Caribbean Cruise Port Association, a loosely connected organization trying to market Caribbean ports to cruise shipping companies, includes such islands as Antigua- Barbuda, Bonair, British Virgin Islands, Curacao, Freeport and Nassau, Bahamas, Martinique and Curacao.
Another informal group, the Canadian East Coast/St. Lawrence Seaway ports, will also be exhibiting.
Not to be overlooked, Cruise Shipping's conference has been expanded as well. A number of key decision-makers in the cruise shipping market will present papers on issues affecting the industry's future.
Among the topics discussed at the conference's "State of the Industry" debate on February 6 will be: "The Ability of the Cruise Industry to Absorb the New Capacity in the Forward Order Book"; "The Globalization of the Cruise Industry"; "The Mega-Ship Concept and Its Potential"; and "The Nature of Competition for the Cruise Industry in the Nineties." Other sessions will discuss marketing and passenger relations, safety and the regulatory environment, destinations and ports of call, globalization of the cruise industry, efficient operations and maximizing on-board revenues.
Ships inspections at the Port of Miami of Royal Caribbean Cruise Lines' Nordic Empress, Norwegian Cruise Line's Norway, which just underwent a multimillion-dollar conversion, and Commodore's Carib I are being offered for February 8 and February 9.
For further information on the Cruise Shipping Conference and Exhibition, contact: Michael Kazakoff, The Seatrade Organization, 125 Village Boulevard, Suite 303, Princeton Forrestal Village, Princeton, N.J. 08540; telephone: (609) 452-9414; or telefax: (609) 452- 9374.
CRUISE SHIPPING 91 Conference Program Tuesday, February 5 Official Opening of Cruise Shipping 91 Delegate registration The Seatrade Welcoming Reception in the evening Wednesday, February 6—Morning Session State of the Industry Debate Introductory address by Bob Dickinson, senior vice president, sales and marketing, Carnival Cruise Lines and chairman, Cruise Lines International Association (CLIA).
Speakers will include: Dermott McDermott. chairman, Cunard Line Limited; Trygve Hegnar, chairman and CEO, Kloster Cruise Limited; Knut Utstein Kloster, chairman of the board, World City Corporation A/S; Nicola Costa, president, Costa Line Cruises; Don Tatzin, director, Arthur D. Little, Inc.
Topics to be discussed will include: "The Ability of the Cruise Industry to Absorb the New Capacity in the Forward Order Book." "The 'Mega-Ship' Concept and Its Potential." "The Globalization of the Cruise Industry." "The Nature of Competition for the Cruise Industry in the Nineties." "The Continuing Interest in the 200-Passenger 'Yacht Cruiser' Product and the Outlook for this Market Sector." Cocktails and Luncheon Luncheon Address—Carmen Lunetta, port director, Port of Miami.
Wednesday, February 6—Afternoon Session Marketing and Passenger Relations Panelists: William Smith, president and CEO, Commodore Cruise Line; Kirk Lanterman, president, Holland America Line-Westours, Inc.; Al Wallack, senior vice president, marketing and passenger services, Chandris Fantasy/Celebrity Cruises; and Mike Spinelli, president, Action 6.
Topics: "Implementing a Yield Management System for Cruise Lines," by David St. Amand, senior associate, Booz-Allen & Hamilton, Inc.
The components of yield management, revenue forecasting for both "fixed itinerary" and "product line" cruise companies, yield management vehicles and the benefits to the line of implementing a yield management system.
"The Travel Agents' View of the Business," by Murray Markin, president, Strategic Decisions, Inc.
Analysis of research among more than 1,000 travel agents on anticipated growth/ decline in sales over the coming 12 months, influence on line and ship selection, preferred supplier relationships and attitudes toward automated reservation systems.
"Tipping Policy," by Dr Stanley I. Buchin, senior vice president, Temple, Barker & Sloane, Inc.
Cruise lines have varying approaches to the question of passenger gratuities. How can operational and marketing considerations be best reconciled in devising an effective policy on tipping?
"On Board Spending Patterns," by Jay Lewis, president, Market Scope, Inc.
If a North American-based cruise line were to offer an unbundled ticket price for accommodation only and charged separately for other items, what would be the net effect on passenger spending overall?
Buffet dinner hosted by the Port of Miami.
Late evening reception hosted by the Key West Chamber of Commerce.
Thursday, February 7—Morning Session Safety and the Regulatory Environment Keynote address by William O'Neill, secretary- general, International Maritime Orgnaization (IMO).
Panelists: Capt. Arie van Noort, vice president, nautical operations, Holland America Line- Westours Inc.; and Robert S. Dietz, Le- Bouef, Lamb, Leiby & MacRae.
"Money and Cruise Ships—Building Large Cruise Ships: A Hightech Niche," by Alain Grill, chairman and CEO, Chantier de I'Atlantique.
"Secondhand Values and Availability," by Ken Trippe, chairman, Cruise Brokers, Inc.
"Financing Alternatives for Funding Newbuildings, Secondhand Acquisitions and Conversions," by Rolf Wikborg, senior vice president, American Marine Advisors.
"Current U.S. Tax Issues Attracting the Cruise Industry," by Alan Granwell, partner, Cadwalader, Wickersham & Taft.
Luncheon hosted by the Singapore Tourist Promotion Board.
Thursday, February 7—Afternoon Session Session I—Destinations and Ports of Call "New Homeports for the Nineties," by Luis Ajamil, executive vice president, Post, Buckley, Schuh & Jernigan, Inc.
Cruise industry expansion and diversification are creating substantial homeport needs. With popular departure schedules placing heavy demands on existing facilities, where will new homeport cruise ship berths be found?
"The Airline Connection," by Margarita Tamayo, vice president, passenger services, Royal Caribbean Cruise Line.
Panelist: Dr. A. Di Cio, president, Venice Port Authority.
"The Impact of Cruise Tourism on a Port of Call," by Baltron B. Bethel, director-general of tourism, Bahamas Ministry of Tourism, and immediate past chairman, Caribbean Tourism Association.
What are the implications for the local economy and community of a cruise call?
How to maximize the benefits; minimize the inconveniences and optimize the experience for the passengers.
"Itinerary Variations," speaker to be announced.
Despite substantial growth, the 80s saw very little change in the percentage distribution of berths between the various destinations.
Will this be the same in the 90s? If not, what regional swings in ship deployment can be expected?
Session II—Cruise Ships Design, Refurbishment and Conversion "Designing for the Next Generation of Cruise Vessels," by John McNeece, managing director, John McNeece Limited.
"The Catamaran Cruise Vessel," by Christian Aspegren, president, Diamond Cruise Limited.
"Cruise Vessel Refurbishment—Costs, Timing and Implementation," speaker to be announced.
"Conversion—What to Look for in Selecting a Vessel for Conversion; How Much Will It Cost?" speaker to be announced.
Friday, February 8—Morning Session Session A: A Global Market Place?
The globalization of the cruise industry, opening up new passenger markets in Europe and the Far East and deploying more ships there, is now underway. How fast will this process develop and how far will it run?
Speakers will include: Nigel Bath, director, China and South East Asia, Pearl Cruises; Mark Beaumont, managing director, Cruise Brokers Limited; Jennifer Brown, sales and marketing director (Europe), Royal Caribbean Cruise Line; and Peter Waehnert, chief executive, Transocean Tours.
Session B: Combining Economy With Efficiency In Cruise Vessel Operations "Propulsion Systems for the 'Horizon' and 'Crystal Harmony'," by Folker Boehm, vice president, MAN B&W Diesel AG.
"Quality Management as the Key to an Economic and Efficient Operation," by Terje Staalstrom, regional manager, North and Central America, Det norske Veritas.
"Air Conditioning and Refrigeration," by Andrew Steera, principal surveyor, refrigeration engineering services group, Lloyd's Register of Shipping.
"Is There a 'Manning Crisis' for the Cruise Industry and If So How Can It Be Resolved?" speaker to be announced.
"Shipboard Health Care: Current and Proposed Regulations," by Dr. Michael Stang, president, Maritime Medical Systems Ltd.
Session C: How to Optimize the On-Board Experience While Still Maximizing On-Board Revenues Topics to be discussed will include: "Concessionaires Versus In-House Operations." "Alternative Revenue Areas and Their Impact by Revenue, Cost and Satisfaction to Passengers." "How to Manage and Maximize On-Board Revenue." "New Revenue Areas and Their Potential." "The Rights and Wrongs of On-Board Marketing Strategies." Speakers will include: Clive Tilley, senior vice president, Shoreside Consultants Ltd.; Anthony Kaye, president, Coiffeur Transocean; David Stanley, vice president, casino operations, Royal Caribbean Cruise Line; John Kimbrough, vice president, marketing, Cruisephone, Inc.; Eric M. Rahn, senior vice president, Atlantic Maritime Services, Inc.
Cocktails and luncheon hosted by the Martinique Tourism Delegation.
Friday, February 8—Afternoon Ship Inspection: a visit to Royal Caribbean Cruise Lines' Nordic Empress.
Saturday, February 9 Visit to the Port of Miami, including an inspection of Norwegian Cruise Lines' Norway, following her major refurbishment.
Since places for ship inspections are strictly limited, early reservations are strongly advisable. Anyone wishing to sign up for a visit must do so at Seatrade Information Desk from 3 p.m. on Tuesday, February 5 and before the end of the conference and exhibition on Friday, February 8.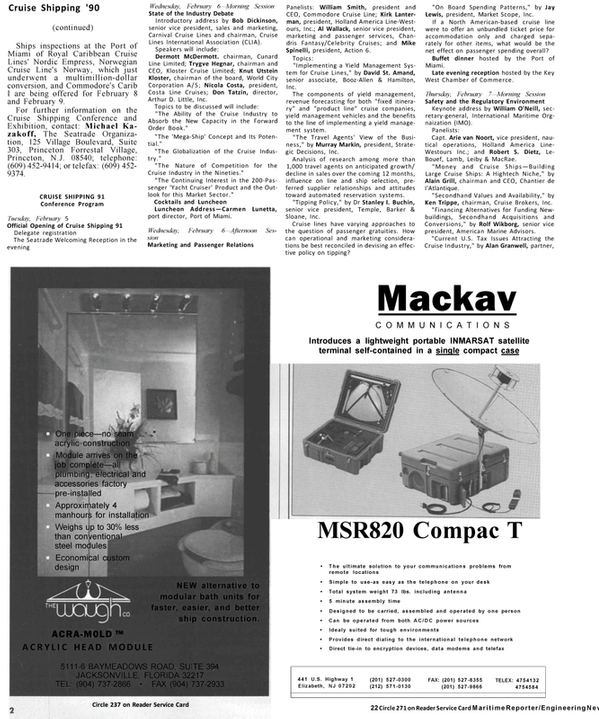 Read CRUISE SHIPPING '91 Conference & Exhibition in Pdf, Flash or Html5 edition of January 1991 Maritime Reporter
Other stories from January 1991 issue
Content