AMERICA'S SMALL- AND MEDIUM-SIZED YARDS REFERENCE GUIDE AND REVIEW
Serving The U.S. Inland And Coastal Waterways Vessels: Since the focus of the Annual National Waterways Conference August issue is on the inland and coastal waterways of the U.S., MARITIME REPORTER AND ENGINEERING NEWS thought it might be interesting and informative to examine and review a selection of small and medium-sized shipyards that serve the vessels operating in these waters. The following is a quick reference guide and review of a select group of inland and coastal yards that serve the tug, towboat, shallow-draft vessel, and barge market by offering such services as new construction, repair, conversion, and maintenance.
A Reader Service Number has been assigned to each yard included in this review for the convenience of readers who would like further information from a particular company or companies.
ATLANTIC MARINE Circle 81 on Reader Service Card Atlantic Marine Corporation, Jacksonville, Fla., builds, repairs, overhauls, and converts both Navy and commercial vessels. The Jacksonville shipyard can construct vessels up to 400 feet in length, drydock vessels up to 4,000 tons and perform topside repairs on ships as long as 800 feet.
At present, Atlantic Marine is building three 200-foot casino-dinner boats for the Steam Development Corporation of Davenport, Iowa. Delivery of the vessels is expected to be in the first quarter of 1991.
Facilities: Two marine ways, one with a 4,000-long-ton capacity and one with a 1,500-long-ton capacity, 1,500 feet of wet berths with up to 35 feet in depth and complete shop facilities.
AVONDALE BOAT Circle 134 on Reader Service Card Avondale's Boat Division was established to meet growing demands for all types of smaller craft by the military, municipal governments and private industry. Facilities include the Westwego Yard, located on the Mississippi River near Avondale's main yard upriver from New Orleans, and yards on the Gulf Intracoastal Waterway in Harvey, La.
One of the latest deliveries from the yard is the 40-knot-plus Surface Effect Ship (SES) Metro Manhattan, a commuter boat currently operating between J.F. Kennedy Airport and Wall Street in Manhattan.
Facilities: Five drydocks—two 2,500-toncapacity units, one 1,700-ton-capacity unit, and two 1,000-ton-capacity units; full welding equipment, machine, propeller, fabrication, electric and diesel and machine repair shops, nine overhead cranes with capacities up to 45 tons, one gantry crane with a 45-ton capacity and three locomotive cranes, with capacities up to 15 tons.
BENDER SHIPBUILDING Circle 82 on Reader Service Card Mobile, Alabama-based Bender Shipbuilding & Repair Co. is a full service shipyard which engages in all phases of shipbuilding, conversion and repair. Bender's entire shipyard complex provides it with more than 5,000 front feet of deep water on the Mobile River adjacent to downtown Mobile. The facilities comprise more than 54 acres including 102,000 square feet of covered warehouse space and 523,000 square feet of welding and assembly space.
Recent activities at Bender have ranged from complex conversions to new construction in mid-size steel vessels to major overhauls and modernization projects.
Facilities: Three steel floating drydocks, with lifting capacities of 18,000 tons, 7,000 tons, and 4,000 tons. Machine shop, optical and numerical control burning shops, panel and plate shops, joiner and woodworking shops, opened and covered fabrication and subassembly areas and pipe and electrical shops.
BETHLEHEM STEEL Circle 83 on Reader Service Card Bethlehem Steel Corporation's Baltimore Marine Division located at Sparrows Point, Md., is a full service shipyard specializing in the repair and conversion of oceangoing vessels of all types. The yard has also designed and built various kinds of barges, offshore drilling rigs, and production platforms, as well as naval auxiliaries and commercial ships of all kinds. Vessels up to 1,200 feet in length and 200 feet abeam can be repaired, constructed or converted at BMD.
BMD's last new construction contract was for two oceanographic survey ships for the U.S. Navy. The second of these vessels is to be delivered this month. These ships are 500 feet in length by 72 feet abeam, and are powered by two 12,500-bhp mediumspeed Enterprise diesels driving a single propeller.
Facilities: One 1,200- by 200-foot building basin for construction and repairs can handle vessels with drafts of as much as 26 feet.
The basin can be subdivided in length to handle smaller vessels more efficiently. One 44,000-ton-capacity drydock, Bethpride, for repair and conversion. Drydock is 900 feet long and has 140 feet between wing walls.
Full range of shops and equipment.
BLOUNT MARINE Circle 84 on Reader Service Card Warren, Rhode Island-based Blount Marine Corporation offers new construction of vessels ranging in size from 65 to 200 feet in length.
One of the latest deliveries by the Rhode Island builder is the 192-foot dinner boat Spirit of Boston for Cruise International, Inc.
Blount Marine at present is constructing a 149-foot passenger/cargo vessel, the Santa Maria, and two 130-foot Ellis Island Class passenger vessels for Circle Line/Statue of Liberty. Inc.
Facilities: One open 200-foot marine ways, one open 300-ton lift dock, one 150-foot enclosed hull shop and one 200-foot enclosed hull shop.
BOLLINGER Circle 61 on Reader Service Card Bollinger Machine Shop & Shipyards, Inc., with facilities at Lockport and Larose, La., performs new construction work in steel, aluminum and FRP for vessels in oilfield support and fishing industries, as well as various military craft. The firm also offers complete marine repair services.
Some of the activity at Bollinger includes: the design and construction of a liftboat to U.S. Coast Guard regulations; installation of a 40-MW electric power generator on board a barge for Wartsila Diesel; and delivery of thirty-seven 110-foot fast patrol boats for the Coast Guard.
Facilities: At Lockport—build and repair vessels up to 200 feet and barges up to 300 feet. At Larose—repair vessels to 250 feet in length and displacements of less than 3,000 tons and barges up to 300 feet long.
NC cutting machine, CADAM, electric, carpentry and machine shops, hydraulic work, propeller repair to 150 inches, gas freeing, blasting and painting services.
CAMPBELL INDUSTRIES Circle 62 on Reader Service Card Campbell Shipyard, Campbell Industries, San Diego, Calif., recently delivered the last of three Super Pacific Class 257-foot tuna purse seiners to Silla Trading Co. of Seoul, Korea. The San Diego firm is scheduled to deliver a similar vessel to Saupiquet Armement of Concarneau, France, this month.
An innovator in the fishing vessel construction business, Campbell builds vessels up to 400 feet in length and has the ability to drydock vessels up to 2,800 tons.
Facilities: Three drydocks with capacities of 400, 1,100 and 2,800 tons, a marine railway with a capacity of 800 tons, 3,200 feet of pierside berthing, a machine shop, complete steel and aluminum fabrication, plasma arc cutting, pipe shop, carpentry shop and electrical shop.
CONRAD INDUSTRIES Circle 85 on Reader Service Card Southern Louisiana builder Conrad Industries builds, repairs and converts all types of vessels for the inland waterway, offshore and fishing industries, as well as government craft. Additionally, the firm, headquartered in Morgan City, La., constructs floating drydocks for commercial and naval applications.
At present, Conrad has more than 20 vessels under contract. Included in the company's orderbook are four 130-foot deck barges for Great Lakes Dredge & Dock Co., Oak Brook, III., two 120-foot deck barges for Moody Brothers of Jacksonville, Fla., two 4,000-ft , 250-foot split hopper barges for T.L. James, Inc., six 140-foot barges for Doujon Marine Co., Inc., Hillside, N.J., and five 60-foot tank barges for Shell Oil Co.
Additionally, the firm has orders for a 200- ton naval drydock and a 900-ton steel floating drydock.
Facilities: Four drydocks—two 2,400-toncapacity units and two 900-ton-capacity units—with indoor facilities to construct barges up to 210 feet long.
EASTERN SHIPYARDS Circle 86 on Reader Service Card Eastern Shipyards, Inc., Panama City, Fla., is engaged in the design, construction, coversion and repair of all types of vessels.
The Florida firm can build vessels up to 40,000 dwt, including tankers, utilizing advanced modular fabrication techniques. In addition, Eastern Shipyards can drydock vessels to 220 feet and 1,000 tons.
Eastern Shipyards is also developing specialized high-speed vessel programs, including Surface Effect Ships (SES) and hovercraft for the commercial and governmental/ military markets.
The Florida yard recently delivered the converted 387-foot U.S.-flag fisheries processor Northern Victor.
Facilities: Drydock/railway system; large launch basins; computer cutting equipment, large crawler cranes; and auto-welding equipment.
FREEPORT SHIPBUILDING Circle 63 on Reader Service Card Freeport, Florida-based Freeport Shipbuilding & Marine Repair, Inc., is a full-service yard, performing new vessel construction in steel and aluminum, and conversion and repair in those materials, as well as wood and some fiberglass.
At present, Freeport is building a 110-foot custom steel trawler yacht.
Facilities:T7ie builder can construct or perform dockside repairs and conversions on vessels up to 200 feet in length. Drydock repairs can be performed on vessels up to 300 tons.
Freeport Shipbuilding has a side launch ways for construction, a railway for repairs and complete sandblasting and fabrication facilities. At present, a new fabrication building, 150 feet by 90 feet, is under construction and expected to be completed by the fall.
GLADDING-HEARN Circle 87 on Reader Service Card Located on the Tauton River across from the city of Fall River in Southeastern Massachusetts, Gladding-Hearn Shipbuilding is widely known for the construction and design of pilot boats, tugs, fishing boats and all-aluminum high-speed passenger ferries.
At present, Gladding-Hearn has three catamaran passenger ferries under contract.
GULF CRAFT Circle 64 on Reader Service Card Specializing in new construction of various types of aluminum vessels ranging in size from 32 to 165 feet, Gulf Craft, Inc., also repairs steel and aluminum vessels up to 185 feet in length.
The Patterson, Louisiana, builder recently delivered the 160-foot M/V Billy McCall, one of the world's largest aluminum crewboats.
Facilities: The yard has four sets of ways, cranes, machine shop, and hydraulic shop.
Services at the facility include aluminum and steel welding, carpentry, electrical work, plumbing, painting, engine installation and sandblasting.
HOMEPORT MARINE SERVICES Circle 65 on Reader Service Card Homeport Marine Services performs new construction, conversion, repair on various steel and aluminum vessels. The firm can build vessels as large as 300 feet in length, with maximum drafts of 16 feet and widths of 78 feet.
The firm recently delivered the 195-foot Eastern Wind, a fish tender, to Arctic Alaska Fisheries, Inc. of Seattle.
Facilities: Platens, lifting and welding equipment, launching ways, dock space, shore power, etc. Access to 2,500-ton drydock.
HOUMA FABRICATORS Circle 66 on Reader Service Card Recent deliveries from Houma, Louisianabased Houma Fabricators, a division of L.O.R., Inc., include two 3,000-hp, 94-foot Voith tractor tugs and a conventional 3,000- hp kort nozzle tug. Among the current work at the yard is a contract for two 180-foot oilfield supply vessels.
Facilities: Complete shipyard fabrication and oilfield fabrication facilities. Build both steel and aluminum vessels up to 300 feet in length. Perform topside repair and conversion and oilfield-related fabrication.
JEFFBOAT Circle 67 on Reader Service Card One of the premier inland waterways builders in the U.S., Jeffboat, Inc., Jeffersonville, Ind., has the capability to construct barges up to 600 feet in length and towboats up to 10,000 hp, as well as perform marine repair on these type vessels.
Some of the most noteworthy work at the yard includes the delivery of fifteen 10,000- barrel chemical barges and five 30,000-barrel tank barges in 1989. At present, the yard has 100 hopper barges on its orderbook.
Facilities: Four building ways and four drydocks with capacities as high as 3,000 tons on a 90-acre facility.
KOCH-ELLIS BARGE & SHIP Circle 88 on Reader Service Card Koch-Ellis Barge and Ship Service, located at mile 104 of the Mississippi River near New Orleans, offers two cleaning and gas freeing plants with a powerful new vacuum pump system.
Facilities: Machine shop, gas freeing, product steaming and above waterline repair services.
LEEVAC SHIPYARDS Circle 68 on Reader Service Card Jennings, Louisiana-based Leevac Ship- yards, Inc., recently received an order for the construction of a 200- by 40- by 15-foot offshore supply boat from a U.S. Gulf firm.
This order along with another order received by the Trinity Marine Group represents an important breakthrough in the U.S.
supply boat construction market. Leevac expects to deliver the boat in December.
In addition, the Louisiana builder also expects to deliver a 150-foot excursion vessel this month.
Facilities: One 400-foot side-launching ways, one 1,500-ton, 200- by 64-foot drydock, a rail system off the drydock for barges and certain boats, and a 40,000-square-foot fabrication building. Services include CADCAM, computer-aided plasma arc welding, welding, pipe fitting, electrical work, sandblasting, painting and engineering. Can construct offshore and inland vessels up to 400 feet in length, 100 feet in width, and light drafts of 11 feet.
LOUISIANA DOCK Circle 69 on Reader Service Card Louisiana Dock Company, Inc., with facilities at St. Louis, Mo., and Harahan, La., performs all types of marine repair on virtually any size barge or boats up to 10,000 hp.
Facilities: The company has at its disposal five drydocks (maximum capacity of 3,000 tons) and one marine railway.
MARCO-SEATTLE Circle 70 on Reader Service Card MARCO-Seattle of Seattle, Wash., can build and repair vessels of wood, steel and aluminum up to 250 feet in length. Additionally, the firm also can drydock vessels up to 1,800 tons and offers off-site services for larger vessels.
At present, the MARCO is lengthening the fishing vessel Golden Dawn and plans to shortly commence a similar project on the F/V Pelagros. The shipyard recently completed the 24-foot lengthening and RSW conversion of the North Pacific trawler Commodore.
Facilities: One 70-ton lift dock, one 500- and one 1,800-ton floating drydock, steel, aluminum, electrical, piping, machine, paint and carpentry/cabinetry shops, CAD/CAM support in both naval architecture and marine engineering.
MARINETTE MARINE Circle 90 on Reader Service Card Privately owned Great Lakes builder Marinette Marine Corporation, located at Marinette, Wis., has built over 1,300 vessels, ranging in size from 36-foot fish tugs to 300- foot research vessels, since its founding 48 years ago.
One of the most recent contracts received by the yard calls for the construction of a 120-foot Aids-To-Navigation (ATON) barge for the U.S. Coast Guard. The contract, which contains an option for a second unit, calls for a spring 1991 delivery.
Other work undertaken at the yard includes the construction of twenty 120-foot Torpedo Weapons Retrievers, twenty 108- foot Yard Patrol craft, and three 224-foot Mine Countermeasure vessels, all for the Navy.
facilities: The 57-acre yard has 440,000 ft of enclosed workspace, Ship Erection Building, large fabrication shops and erection areas, a 200-ton shiplift, three launchways, overhead bridge cranes with 10- to 50- ton capacities, multiple crawler cranes, 1,760-ton-capacity Dual Walking Beam ship transfer system, and design and engineering services.
MASTER MARINE Circle 71 on Reader Service Card At present, Master Marine, Inc., Bayou La Batre, Ala., is converting a 150-foot oil supply vessel into an Alaskan processor. Over the past year, other noteworthy work has included the drydocking, repair and maintenance of six U.S. Coast Guard 110-foot Island Class patrol boats and the conversion of a 110-foot crabber hull into a live-aboard dive/cruise vessel to Truk Islands in Micronesia.
Facilities: Specializing in the new construction of fishing vessels, tugs and barges, and the repair and conversion of all types of vessels up to 200 feet, Master Marine's main yard has two construction ways, one open and one closed, 1,000 feet of wet dock space, a fabrication building, carpentry department, paint department, pipe shop, threeplatens and overhead cranes.
MCDERMOTT SHIPYARD Circle 91 on Reader Service Card At present, McDermott Shipyard, headquartered in New Orleans, La., is constructing the USNS Victorious (T-AGOS-19), a 232-foot Small Waterplane Area Twin Hull (SWATH) ocean surveillance ship. The vessel was recently launched at the firm's Amelia yard.
Facilities: At Gulfport, Miss.—One 1,600- ton-capacity drydock. New construction and repair. At Amelia, La . — Three drydocks, one 5,000 ton capacity and two 1,600 ton capacity.
Fabrication, machine and propeller shops. New construction and repair.
MUNSON MANUFACTURING Circle 72 on Reader Service Card One of the leading builders of small aluminum workboats in the U.S., Munson Manufacturing Edmonds, Wash., recently delivered a 63-foot extreme weather pilot boat for Valdez, Alaska, and a 65-foot, 150-passenger.
26-knot excursion boat.
Facilities:77ie Washington yard has more than 15,000 square feet of enclosed space to construct top quality aluminum workboats, with the ability to build vessels ranging in size from 21 to 72 feet in two-foot increments.
NABRICO Circle 92 on Reader Service Card The Nashville Bridge Company (NABRICO), with yards at Nashville and Ashland City, Tenn., offers new construction of liquid cargo barges for oceangoing and river service, dry cargo barges with or without covers, and all types of deck barges, as well as a complete line of deck hardware and hatches. NABRICO, a subsidiary of American Ship Building, is capable of constructing barges up to 360 feet in length by 75 feet in width. The Tennessee firm also offers underwater repair on a marine railway on vessels up to 210- by 38-feet and 1,500 tons.
Topside repair is offered on two wet docks at Nashville and one at Ashland City, with 45-ton overhead crane service.
Several noteworthy projects have been undertaken by NABRICO as of late including the construction of a 125-ton-lift-capacity floating crane of the Huntington District Corps of Engineers, three 7,500-ton-capacity, 350-foot coal barges for a Maryland utility company, five 30,000-barrel tank barges for a Texas company, and a 45-ton steampowered floating crane for the City of New York Department of Ports & Terminals.
Facilities: At Nashville—A 320-foot, 1,200-ton sidelaunch ways, a 210-foot, 1,500- ton marine ways, two wet docks with 45-ton overhead crane service, electrical, water and other shipyard amenities and services. Utilize modular fabrication. At Ashland City—A 360-foot sidelaunch ways, one wet dock with 27-ton whirley crane service, and shot blast facility. Modular fabrication and barge/vessel construction under cover, with 50-ton overhead crane service of 125-foot span. All normal amenities.
NEW YORK SHIPYARD Circle 73 on Reader Service Card At present, New York Shipyard Corporation, Brooklyn, N.Y., is completing extensive repairs to the 700-foot containership S/S Guayama, as well as the 130,000-barrel tank barge Cibro Savannah. Additionally, the yard is drydocking the S/S Bermuda Star, which recently sustained bottom damage when she ran aground.
Facilities: Three drydocks—a 40,000-toncapacity, 720-foot graving dock and one 16,000-ton-capacity, 600-foot floating dock, and one 7,500-ton-capacity, 370-foot floating dock—five piers with up to 1,200 feet in length, a 70,000-ft industrial machine shop, steel plate, pipe, electrical, sandblasting and coating shops.
NICHOLS BROS.
BOAT BUILDERS Circle 74 on Reader Service Card Located in Freeport, Whidbey Island, Wash., Nichols Bros. Boat Builders offers new construction, conversion, repair and maintenance services for steel and aluminum vessels, with maximum lengths of 350 feet.
At present, the yard is involved in the construction of a 115-foot wave-piercing catamaran and a 186-foot catcher/processor North Pacific scalloper.
Facilities: Four covered fabrication buildings, machine shop, electrical shop, pipe shop, carpenter shop, warehousing, engineering, and pier space.
NORTH FLORIDA SHIPYARDS Circle 135 on Reader Service Card The Jacksonville, Florida, shipyard of North Florida Shipyards specializes in the repair, conversion, rebuilding and drydocking of vessels as large as 450 feet long.
North Florida can also perform topside repairs on any size vessel.
At present, North Florida's commercial yard is finishing the major reconstruction of the M/V Seabulk, a U.S.-flag chemical/ product tanker.
The Florida yard's Mayport Division, dedicated to Naval work, has been busy with a number of repair, overhaul and maintenance contracts for U.S. Navy destroyers, cruisers, frigates and aircraft carriers.
Facilities: One drydock with 6,500-ton lifting capacity, 5,000 feet of quayside, machine, pipe and steel fabrication shops, brit blasting, painting and coating, tank cleaning and engine repairs.
PATTI SHIPYARD Circle 75 on Reader Service Card Patti Shipyard, Pensacola, Fla., is currently constructing a 2,500-passenger gambling excursion boat, the Dubuque Casino Belle, for Robert River Rides of Iowa.
Facilities: Capable of constructing all types of steel passenger, fishing and work vessels, Patti has a fully paved yard with fabrication and sandblasting buildings, warehouses and 400 feet of dockside space with utilities.
PETERSON BUILDERS Circle 93 on Reader Service Card Peterson Builders, Inc. (PBI), Sturgeon Bay, Wis., has received a contract option to construct three more 224-foot wooden hull Mine Countermeasure ships (MCMs). This option, valued at $180,500,000, is a continuation of the Avenger class MCMs for which PBI is the lead shipbuilder. Delivery of the three newly awarded MCMs will be late 1993. This new option will bring the company up to maximum employment of almost 1,000 employees by the middle of next year. The award of these vessels gives PBI a solid backlog of work which includes five other MCMs in various stages of construction.
ROBERT E.DERECKTOR Circle 76 on Reader Service Card Robert E. Derecktor of Rhode Island Inc., Middletown, R.I., can construct or perform repairs on military, commercial and pleasure boats up to 600 feet in length and 20,000 tons (light ship).
The Rhode Island builder recently delivered its ninth Medium Endurance Cutter to the Coast Guard and completed the drydocking and overhaul of the frigate USS Jack Williams. In the pleasure boat market, Derecktor delivered a 74-foot high-speed sport yacht.
Facilities: Three drydocks, with lengths of 200 feet, 400 feet and 600 feet, 1,500-foot pier, 300-ton crawler crane and 200,000-ft covered shops.
SEAARK MARINE Circle 77 on Reader Service Card SeaArk Marine has over 30 years' experience building all-aluminum, special purpose workboats for use in both domestic and international markets. The company manufactures craft ranging in length from 17 to 60 feet for military use, as well as patrol and rescue, survey, navigation, fire control, transportation and offshore industry use.
One of the Monticello, Arkansas-based firm's latest contracts, worth about $4 million, is for the construction of 21 workboats for a British company.
Facilities: A 200,000-ft* all-welded aluminum workboat manufacturing facility, fork trucks, cranes, and overhead gantries.
SERODINO Circle 78 on Reader Service Card Serodino, Inc., of Chattanooga, Tenn., builds and repairs all types of excursion vessels, wharfboats, towboats, and specialty marine equipment.
Some of the most noteworthy projects completed by Serodino include the construction of what is believed to be the world's largest floating fountain at 410 feet, a landing wharfboat that is 100 feet wide by 300 feet long, and a 270-foot steamboat replica.
Facilities: Marine ways and floating drydock.
SERVICE MARINE Circle 94 on Reader Service Card Service Marine Industries, Inc., Morgan City, La., designs and constructs oilfield supply boats, tugs, barges, dinner/excursion boats and casino vessels, as well as repairing and converting all types of boats and barges. Service Marine has the ability to construct vessels as long as 250 feet with a maxiumum draft of 18 feet.
The Louisiana builder recently received a contract to construct an 800-passenger, 175-foot megayacht-style dinner/excursion boat for a Chicago firm. The firm's most recent delivery is the 175-foot, 800- passenger Spirit of Puget Sound for Cruise International.
Facilities: The 32-acre yard has three drydocks, one of 1,500 ton capacity, one of 1,000 ton capacity and one of 600 ton capacity; two high-bay assembly buildings; large enclosed warehouse; machine and propeller shops, sand blasting and gas-freeing services.
New construction, conversion and repair work.
SKIPPERLINER Circle 79 on Reader Service Card Skipperliner Shipyards, Inc., La Crosse, Wis., designs and constructs U.S. Coast Guard-certified vessels, workboats and custom pleasure yachts with lengths up to 110 feet and beams of 32 feet.
The Wisconsin firm recently launched a 150-passenger "nostalgic" sidewheeler for operation out of Bismarck, N.D., on the Missouri River.
Facilities: One 75-ton and one 35-ton travel lift and a 275- by 50-foot drydock.
ST. LOUIS SHIP Circle 95 on Reader Service Card Caruthersville Shipyard/St. Louis Ship, St. Louis, Mo., constructs all types of barges up to 320 feet in length and performs minor topside repairs on barges which do not require drydocking.
St. Louis Ship is in the process of building twelve 11,000-barrel, 200-foot double-skin tank barges. The St. Louis firm recently completed four 260-foot tank barge hulls.
The hulls will be fitted with cylindrical pressure tanks by another company.
Facilities: Six acres of covered fabrication and production line area including a steel uncoiler (for widths up to 74 inches), wheelabrator and preconstruction priming booth, plasma arc steel burning and panel welders.
SWIFTSHIPS Circle 136 on Reader Service Card Swiftships, Inc., with facilities at Morgan City, La., and Freeport, Texas, was estab- lished in 1969 to design and construct aluminum and steel vessels between 40 and 200 feet for the military, commercial and private sectors. The firm also has the capability to repair vessels up to 250 feet in length.
At present, Swiftships is building four motoryachts— from 85 feet to 155 feet in length—as well as constructing 10 LCM-8s (landing craft, mechanized) for the U.S.
Navy and an 80-foot steel support vessel and transporter for use by the U.S. Air Force in Greenland.
Facilities: At Morgan City (Site 1): Located near the intersection of the Atchafalaya River and the Intracoastal Waterway, with 1,000 feet of waterfront space. About 35 percent of the 15-acre facility is under cover.
Specializes in the construction of aluminum military craft, oilfield vessels, specialty boats and custom motoryachts. At Morgan City (Site 2): Three miles from Site 1, has 185 feet of waterfront along the Intracoastal Waterway with an additional 102 feet of outfitting/ slip space with water depths of 12 feet. The 10-acre plant, 25,000 square feet of which is under cover, has a covered 210- by 70- by 45-foot manufacturing bay. Specializes in fiberglass construction and custom yacht outfitting. At Freeport: Two drydocks, one 2,500-ton unit and 3,500-ton unit, which will accommodate vessels with widths up to 85 feet; and one 165-ton Travel lift. This facility, which specializes in marine repair, has 1,00 feet of frontage on the Intracoastal Ship Channel and 1,200 feet of frontage on the Union Oil Canal.
TEXTRON MARINE SYSTEMS Circle 80 on Reader Service Card Textron Marine Systems (TMS), New Orleans, La., engineers, designs, constructs and tests specialty military and commercial craft, including Landing Craft, Air Cushion (LCAC), Coast Guard motor lifeboat (MLB) and Patrol Boats (WSES), Navy SES-200 and commercial air cushion vehicles.
TMS recently delivered 15 U.S. Navy LCACs and is currently designing and constructing a new Coast Guard 47-foot MLB prototype. Additionally, the New Orleans firm is overhauling and modernizing the Navy SES-200 and beginning work on two new New York City SES fireboats.
Facilities: The firm can construct or repair aluminum or glass-reinforced plastic vessels up to 300 feet in length. TMS has completely covered, climate-controlled construction facilities certified for GRP and aluminum. Outfitting bays and dock space access to Intracoastal Waterway.
TRINITY MARINE GROUP The Trinity Marine Group of Trinity Industries now encompasses 10 shipyards—Aluminum Boats, Crown Point, La.; Equitable Shipyards (yards in New Orleans and Madisonville, La.); Gretna Machine & Iron Works, Harvey, La.; Halter Marine (yards in Lockport, La. and Moss Point, Miss.); HBC Barge, Brownsville, Pa.; Moss Point Marine, Escatawpa, Miss.; Moss Point South, Moss Point, Miss.; and Trinity-Beaumont, Beaumont, Texas. The following is a brief overview of each yard.
ALUMINUM BOATS Circle 96 on Reader Service Card Located in Crown Point, La., on the Intracoastal Waterway and Vendome Canal, Aluminum Boats, Inc., was established in 1983 for the purpose of constructing, repairing and converting aluminum boats. The yard was acquired by Trinity Industries, Inc., in October 1988.
Aluminum Boats is expected to deliver the 140-foot, 350-passenger dinner yacht Anita Dee II shortly to Tee Dee Enterprises, Inc. Because of an eight-month construction schedule called for in the contract, the boat's hull and superstructure were fabricated at Equitable Shipyards in New Orleans.
Facilities: New construction, conversion and repair of all types of aluminum vessels.
EQUITABLE SHIPYARDS Circle 97 on Reader Service Card One of the 10 shipyards in the Trinity Marine Group, Equitable Shipyards, Inc., has long been associated with the construction of barges and workboats.
Equitable Shipyards, Inc., Madisonville, La., has been awarded a $6.5-million contract to build thirty-seven 175-foot coal-carrying hopper barges for the Indiana Michigan Power Co. (I&M), Ft. Wayne, Ind.
Facilities: At New Orleans—Two 80- by 60-foot drydocks. New construction and repairs.
At Madisonville—All types of new construction, specializing in river hopper barges.
GRETNA MACHINE Circle 98 on Reader Service Card Established in 1935 and acquired by Trinity Industries, Inc., in 1981, Gretna Machine & Iron Works, Inc., is located in Harvey, La., on the Harvey Canal.
Facilities: One 700-foot graving dock, two 310-foot graving docks; repairing, cleaning, gas freeing, flaring and purging facilities.
Performs new barge construction and repairs.
HALTER MARINE Circle 99 on Reader Service Card Halter Marine, Inc., operates two shipyards, one in Lockport, La., on the Bayou Lafourche and one in Moss Point, Miss., on the Escatawpa River. Both yards perform new vessel construction and repairs.
At present, Halter Marine, Inc. is converting the Marsea 14, an offshore supply vessel owned by the EPA, into a research vessel.
The work is being performed under a $4.2- million Maritime Administration contract.
In addition, the Trinity Marine Group recently received a $15-million contract for the construction of three 220-foot supply boats for U.S. Gulf interests. The offshore supply boat construction contract, which is one of the first awarded to a U.S. yard in a number of years, was assigned to the Halter- Lockport yard.
Facilities: At Lockport—Has 150-ton-capacity floating crane, sandblasting and painting, and machine shop. At Moss Point—Machine shop.
HBC BARGE Circle 1 on Reader Service Card Located in Brownsville, Pa., HBC Barge, Inc., was established in 1938 and became a member of the Trinity Marine Group in 1989.
Facilities: Marine ways include nine double cradle 200-ton-capacity units, dry barge cleaning services and complete barge building and repair facilities. Hopper and tank barge construction and tug and pushboat construction. Has 300-foot marine railway for vessel repairs.
MOSS POINT MARINE Circle 2 on Reader Service Card Located in Escatawpa, Miss., on the East Pascagoula River, Moss Point Marine, Inc., was established in 1981 and acquired by Trinity Industries, Inc., in 1987.
Moss Point Marine recently completed the delivery of two 106-foot docking tugs to the Jordan Ports Corporation of the Hashemite Kingdom of Jordan. The tugs were part of a five-vessel construction contract undertaken by the Trinity Marine Group.
Facilities: One 160- by 60-foot, 2,000-toncapacity drydock. New construction, conversion and repair services.
MOSS POINT SOUTH Circle 3 on Reader Service Card Located about five miles from Moss Point Marine, Inc., Moss Point South serves as an adjunct to Moss Point Marine.
TRINITY-BEAUMONT Circle 4 on Reader Service Card Located on the former site of Bethlehem- Beaumont Shipyard in Beaumont, Texas, Trinity-Beaumont is the newest member of Trinity Marine Group. Acquired from Bethlehem Steel in 1989, the yard was used to build and repair commercial and military vessels, mobile offshore platforms, and for the fabrication of industrial products.
Facilities: Over one-half million square feet of production and storage space, advanced shipbuilding equipment, 4,600 feet of piers, wharves, and bulkheads, 1,400 lineal feet of launching ways, and 500-ton-lift capacity. Capability of constructing vessels up to 960 feet. Deep water and unrestricted access to the Gulf of Mexico.
WESTPORT SHIPYARD Circle 5 on Reader Service Card Westport Shipyard, Inc., of Westport, Wash., constructs passenger vessels ranging in size from 70 to 105 feet and motor yachts from 80 to 130 feet.
Some of the latest activity at the Washington State yard includes the delivery of two high-speed, 149-passenger, 95-foot ferries.
Facilities: 60,000-ftz building facility, 225- by 65-foot main finish bay, and launching facilities up to 130 feet. Primarily perform FRP construction with capability to work in aluminum and wood.
ZIDELL MARINE Circle 6 on Reader Service Card Zidell Marine Corporation, Portland, Ore., has the facilities to build, convert or repair a wide range of oceangoing and inland barges as long as 300 feet and as wide as 76 feet.
Zidell has built over 300 barges, including such types as chemical, petroleum, selfunloading grain, deck cargo, and chip barges, as well as dump scows.
The yard was recently reactivated for the construction of a 273- by 42-foot selfunloading grain barge. A second barge is slated for construction next month.
In addition to the construction and repair of barges, Zidell, Inc., an affiliate of Zidell Marine Corporation, has a full range of leasing and charter-hire arrangements available to customers.
Facilities: Two 35-ton Clyde Whirley cranes, one 75-ton gantry crane servicing erection area. Three bridge cranes are in the undercover 600- by 70-foot fabrication and NC burning shop.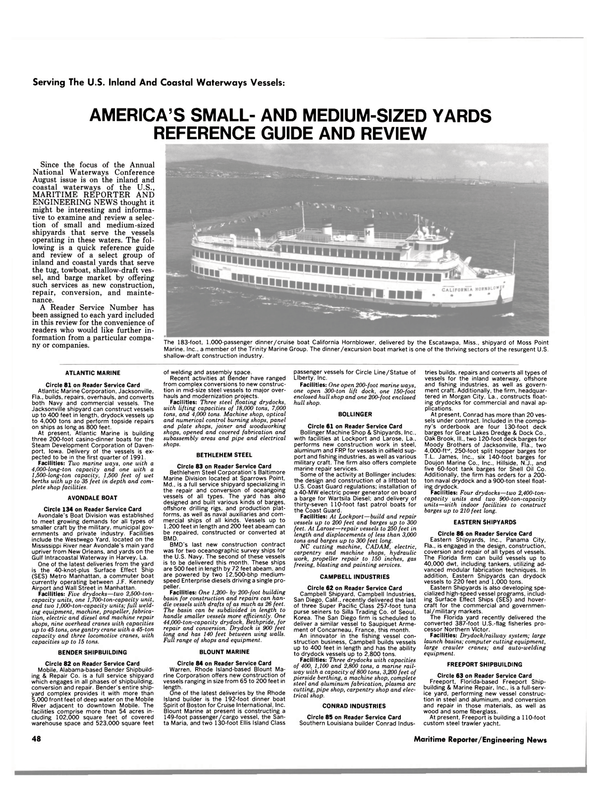 Read AMERICA'S SMALL- AND MEDIUM-SIZED YARDS REFERENCE GUIDE AND REVIEW in Pdf, Flash or Html5 edition of August 1990 Maritime Reporter
Other stories from August 1990 issue
Content