ASSESSMENT OF THE U.S. MARINE MARKET
By Jim McCaul, President, IMA Associates, Inc.
FOCUS ON THE STEADY GROWTH IN THE SMALL SHIP, BARGE & BOATBUILDING SECTOR IMA has just completed an indepth business assessment of the entire U.S. marine market. The study looks at 38 specific segments of the U.S. marine market—from large commercial ships through small municipal craft. The current situation in each sector is examined and a forecast made of business demand over the next five years.
This article highlights some of the findings and data in IMA's new report which deal with the small ship, boat and barge building segments of the U.S. marine industry.
Product Range Ship and boatbuilders in the U.S.
build a wide variety of small and medium-size ships and marine vessels.
Included among annual deliveries are ferries, dinner and excursion boats, harbor tugs, naval landing craft, patrol boats for foreign and domestic delivery, Coast Guard cutters and tenders, offshore support vessels, fishing boats, recreational boats, pushboats, river barges and a variety of other floating equipment.
Trend In Orders Shown in Exhibit 1 is the number of vessels ordered from U.S. yards over the past decade. As the data indicate, orders fell precipitously through the mid to late 1980s— reflecting a variety of underlying economic and weak market conditions.
The last three years have seen a dramatic pick up in this business sector. The nadir was reached in 1987, when only 146 small powered vessels and 119 barges were on order in U.S. yards.
At present, there are 384 powered vessels and 609 barges on order in U.S. yards. Steady and possibly dramatic growth will take place over the next few years as underlying market conditions improve.
Underlying Market Drivers Each component of the small ship, boat and barge building sector has its own unique market drivers which will size and shape future construction demand: •Ferries—increasing road congestion has created demand for commuter ferries in cities such as New York, Boston and San Francisco, a trend likely to continue; •Dinner & Excursion boats— changes in gambling laws have impacted the market for river gambling boats, enhancing the near term market for small "theme" vessels for use on the river system; •Harbor tugs—growth in future port traffic and resulting increases in ship entries will provide a steady, albeit modest, flow of future tugboat orders; •Naval landing craft—the tightening Navy budget and changing military requirements will slow the growth in this sector; •Patrol boats for foreign & domestic delivery—sale of patrol boats under the Foreign Military Sales (FMS) program will create a continuing market for companies such as Halter Marine and Swiftships; •Coast Guard cutters & tenders— the drug interdiction program and replacement requirements for aging Coast Guard vessels will make this one of the more interesting market segments over the next decade; •Offshore support vessels— rising oil prices and increased U.S.
offshore exploration and production will make this one of the most rapidly growing market segments during the 1990s; •Fishing boats—this market segment will continue to benefit from the Magnuson Act, which provides protection for U.S. fishing vessels in the 200-mile coastal zone; •Recreational boats—production of megayachts is already an export business in the U.S.; business prospects look very promising, but changes in foreign exchange rates could affect future demand; • P u s h b o a t s and river barges—grain coal traffic on the river system will likely increase over the next several years, creating demand for river equipment; however, a large surplus of equipment continues to exist which has to be worked off before new construction requirements significantly increase.
Principal Players There are about 60 U.S. firms currently involved in the small ship, boat and barge building sector.
Many of these firms tend to specialize in certain types of products or markets. The principal builders are listed in Exhibit 2.
IMA's new report, "Assessment of the U.S. Marine Market and Forecast of Future Construction Requirements" (Report No. 7115, August 1990, is available for $575 by contacting IMA Associates, Inc., 2600 Virginia Avenue, N.W., Suite 901, Washington, D.C. 20037; telephone: (202) 333-8501; or fax: (202) 333-8504.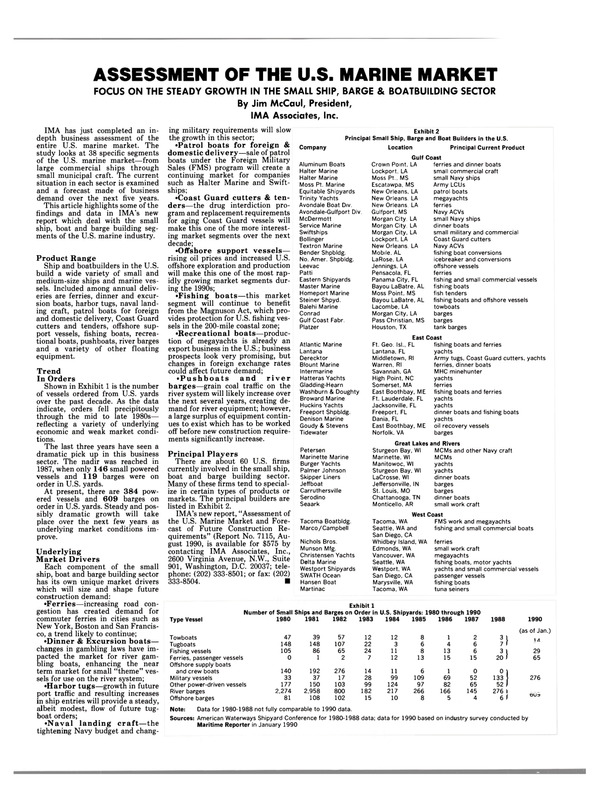 Read ASSESSMENT OF THE U.S. MARINE MARKET in Pdf, Flash or Html5 edition of August 1990 Maritime Reporter
Other stories from August 1990 issue
Content