National Waterway Conference To Hold Annual Meeting In New Orleans
Event Scheduled For September 26-28 Some 400 business, civic and waterway leaders are expected to participate in the National Waterways Conference's 1990 annual meeting when the organization will mark its 30th anniversary. The meeting is scheduled for September 26-28 at the Inter-Continental Hotel in New Orleans.
The program includes six panel discussions, two luncheons, and a banquet as well as several breakfasts, special reports and business sessions. There will also be a waterways exhibition, an opening reception and a spouses tour.
"We are planning a timely and informative program examining issues of importance to the entire waterways industry," said NWC chairman Berdon Lawrence.
"We will be exploring such topics as waterborne commerce trends, economic growth projections, environmental challenges, waterway policy changes, financing constraints and navigation funding prospects—each of which is crucial to the barge and towing industry and to waterway shippers." Mr. Lawrence is president of Coal is one bulk commodity that is shipped via the nation's waterways.
Hollywood Marine, Inc., a major barge carrier moving petroleum and petrochemicals on the Gulf Intracoastal Waterway.
Brig. Gen. Patrick J. Kelly, Director of Civil Works for the Army Corps of Engineers, will discuss the status and outlook for the nation's navigation system, which his agency is charged with planning, constructing and maintaining.
Wetlands management, which directly affects ports, terminals and waterfront industrial sites, will be assessed in a luncheon speech by H.
Leighton Steward, who is chairman, president and chief executive officer of the Louisiana Land and Exploration Company. He is chairman of the National Wetlands Coalition, an organization which is seeking balance in the nation's environmental and economic goals.
The meeting program will open Thursday morning, September 27 with the annual report of NWC president Harry N. Cook. Mr.
Cook will review the status of the waterways industry.
Several other waterway organizations have scheduled meetings in conjunction with the NWC convention.
Included are the Arkansas Waterways Commission, which will hold one of its regular monthly sessions in New Orleans; the Inland Rivers Ports & Terminals, Inc., which has scheduled a board meeting; and the U.S. section of the Permanent International Association of Navigation Congresses (PIANC).
At a PIANC-sponsored breakfast, Robert D. Davinroy of the Corps of Engineers' St. Louis District, will describe a new technique for constructing underwater weirs to control Mississippi River flows at sharp river bends. His paper on this subject recently won an international award.
The National Rivers Hall of Fame, which is located at Dubuque, Iowa, plans to present its achievement award, the highest honor bestowed by the organization, to a former NWC officer at the opening luncheon.
The Propeller Club of the Port of New Orleans will cosponsor the closing luncheon on Friday, September 28. The club's president is Capt. Henry G. Joffray, president of Joffray Maritime, Inc., will speak at the luncheon.
Spouses attending the NWC convention will be treated to a tour of two Mississippi River plantation homes, Houmas House and Nottoway Plantation, where lunch will be served. The tour leader will be Mrs, Edward S. (Pat) Reed.
For the second year, the NWC Annual Meeting will include a waterways exhibition. Space has been reserved for a total of 17 booths, which are being offered to marine manufacturers, suppliers and services.
The exhibits will be located in the convention foyer just outside of the La Salle Ballroom in the Inter-Continental Hotel. The area will also be utilized for annual meeting registration and for coffee breaks.
For registration or exhibition information and an annual meeting package, contact the National Waterways Conference, Inc., 1130 17th Street, Northwest, Washington, D.C. 20036; telephone: (202) 296- 4415; or fax: (202) 835-3861.
The annual meeting registration fee on or before September 7 is $225. After that date, the fee is $260.
A block of rooms has been set aside at the Inter-Continental Hotel at a special rate of $98 single or $108 double, plus tax, but the cut-off date on reservations is August 25.•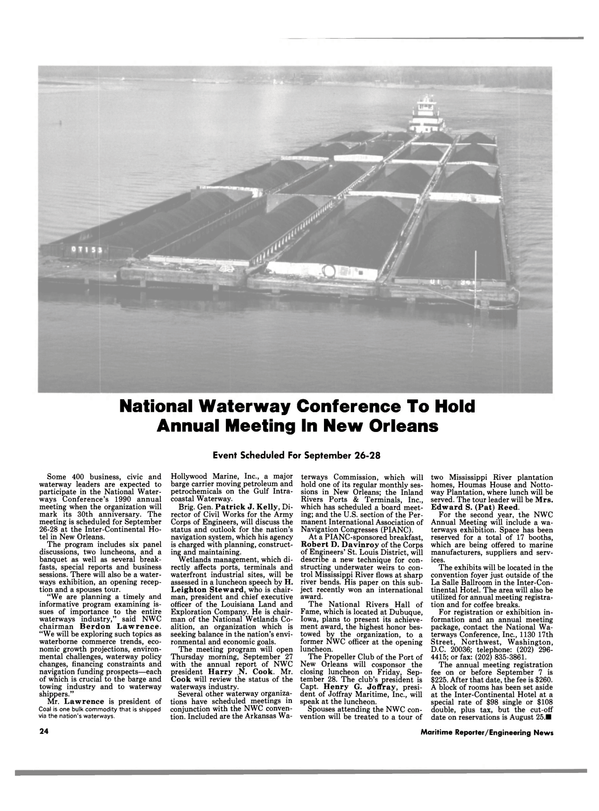 Read National Waterway Conference To Hold Annual Meeting In New Orleans in Pdf, Flash or Html5 edition of August 1990 Maritime Reporter
Other stories from August 1990 issue
Content