AIS:When & Where? Here & Now!
The events of September 11. 2001 will continue to have lingering effects on the world indefinitely. The most visible remnant in the maritime world is the drastically heightened sense of safety and security, as officials in countries around the globe seek to secure their borders from the threat of attack — either direct or covert — via ship.
Many of the issues currently on the legislative fast track were already in the works pre-September 11. False crew documentation, enhanced vessel tracking and beefed-up harbor controls were much-discussed topic in previous years.
As is the case more often than not.
though, a disaster of some proportion is inevitably the impetus in moving from discussion to action.
Such is the case with the Automatic Identification System (AIS). which has quickly become a top agenda item in the fight to ensure maximum maritime security.
The matter of fast-track implementation for AIS has been taken up by by the U.S. Coast Guard through the International Maritime Organization, with urgent suggestions to implement mandatory AIS on vessels of 500 gt and above on international voyages as soon as possible, with the final implementation to be decided at a meeting in December 2002.
What is an AIS?
As described in a booklet entitled "A Complete Guide to Automatic Identification Systems" by Leica Geosystems, a pioneer in AIS technology, AIS is a shipboard broadcast transponder system in which ships continually transmit their ID. position, course, speed and other data to all other nearby ships and shoreside authorities on a common VHF radio channel. AIS is designed to operate in one of the following modes: In a ship-to-ship mode for collision avoidance • As a means for coastal states to obtain information about a ship and its cargo • As a traffic management tool when integrated with a Vessel Traffic System (VTS) The primary operating mode for AIS will be autonomous ship-to-ship reporting.
In this mode, each ship transmits its data to all other AlS-equipped ships within VHF range. The unique communications scheme permits these data transmissions to take place independently without the need for a master control station.
Position and other data are fed automatically from the ship's sensors into the AIS system, where the data is formatted and transmitted in a short data burst on a dedicated VHF channel. When received on the other ships, the data is decoded and displayed for the officer of the watch, who can view AIS reports from all other AlS-equipped ships within range in graphic and text format. The AIS data may optionally be fed to the ship's integrated navigation systems and radar plotting systems to provide AIS "tags" for radar targets. The AIS data can also be logged to the ship's Voyage Data Recorder (VDR) for playback and future analysis.
In coastal waters, shoreside authorities may establish automated AIS stations to monitor the movement of vessels through the area. These stations may simply monitor AIS transmissions from passing ships, or may actively poll vessels via the AIS channels, requesting data such as identification, destination, ETA, type of cargo and other information.
Coast stations can also use the AIS channels for shore-to-ship transmissions, to send information on tides, notices to mariners and local weather forecasts. Multiple AIS coast stations and repeaters may be tied together into Wide Area Networks (WAN) for extended coverage. AIS data can be logged automatically for playback in investigating an accident, oil spill or other event.
Systems Available Not surprisingly, most major marine electronics manufacturers have answered the call to outfit the fleets of the world with AIS technology. While systems differ per usual — price depending on the number of bells and whistles sought by the owner — each must meet certain standards for international acceptance.
While shipowners will have the bear the cost of acquiring, installing and maintaining this new technology, they will also undoubtedly see costs rise as ports and other maritime authorities similarly raise the level of technology and security, and pass along the cost.
Such is the case with the Panama Canal Authority (ACP), which is making major investments to improve security and reduce the risk and vulnerability of its facilities. Because of these investments, though, which include expanding the Canal's electronic monitoring and tracking systems, a new fee will be assessed on all transiting vessels as of June 1, 2002. Among other things, improvements include adding new computerized systems and collecting data from all ships that arrive in Canal waters. The ACP is currently working on the Automatic Identification System (AIS), to be test- activated in 2002 and mandatory by July 2003.
AIS will permit identifying and tracking of all vessels before they enter Canal waters and during their transit.
In view of this and other major investments, the ACP has established a new security fee per vessel, per transit, based on net tonnage. Accordingly, the tariff will be implemented on June 1, 2002. For vessels weighing up to 3,000 PC/UMS tons, or 5,392 displacement tons, the fee is $50. Vessels weighing more than 3,000 PC/UMS tons or 5,392 displacement tons, will pay a fee of $400.
The St. Lawrence Seaway also announced that AIS will be mandatory on all ships that use the St Lawrence Seaway starting in 2003, the Seaway Management Corp has announced. The Management Corp plans to have the IMO-compliant system in operation this July and all ships using the system will be required to pay a levy of $0.0037 per GT until the end of June 2002. The levy, to a maximum of $3,200/vessel/ year, is being collected by the Seaway Corp. to help pay for the cost of installing shore-based AIS equipment. The money is being collected under an agreement reached in 2000 with the Canadian Shipowners Association and the Shipping Federation of Canada. CSA president Don Morrison said the Seaway took the initiative on this project, and "it is a good example of how we have to partner to get things done. It allows a vessel to know exactly where it is and where all nearby vessels are." Saab TransponderTech Involved in Finland AIS Implemenation Saab TransponderTech AB was awarded the contract to supply nine AIS Base Stations to the Finnish Maritime Administration through its local partner Navielektro ky. In addition, the company has supplied several mobile units to the inland waters of Saimen lakes in Finland, and the company is touting the combined effort as the first operational inland water AIS system in the world. The system will be integrated in the Finnish AIS Network Solution also provided by Saab and Navielektro and the equipment has already been delivered for installation within the next few weeks. Saab has already provided 10 AIS Base Stations for the first phase of AIS installations in Finland along the Aland archipelago and the Gulf of Finland.
Orders for China, Korea Saab TransponderTech AB has received orders for newly-built ships from Saab Rousemont Marine and Consilium to supply Dalian New Shipyard and Daewo Shipyard with fully IMO compliant AIS transponders.
Saab TransponderTech has, with its partner Saab Rousemont Marine, received orders from Daewoo shipyard in Korea to supply Daewoo Hull 5178 / 5179 — Oak Maritime 105K TDW Crude Oil Tanker with AIS. These are the first AIS orders for new built in Korea direct to a shipyard and more are to wait in the near future.
Also Consilium Marine has ordered five AIS transponders for National Iranian Tanker Companybuilding at Dalian New Shipyard in China.
Circle 192 on Reader Service Card www.maritimereporterinfo.com Japan Radio Company JRC Demonstrates UAIS to MCA The Japan Radio Company (JRC) demonstrated successfully its Universal Automatic Identification System (AIS) to the Maritime and Coastguard Agency at Southampton. This is a significant event for MCA as the Agency has been pressing for AIS since Lord Donaldson's Report "Safer Ships, Cleaner Seas" was published in 1994. The AIS successfully worked with the shore network operated by HM Coastguard, the Vessel Traffic Service (VTS) operated by the port of Southampton and other ships in the area.
Kim Fisher, Head of Navigation Safety of the MCA said "This is the first example of a Universal AIS meeting IMO performance standards that we have seen. JRC is to be congratulated on producing such a fine device." The report Safer Ships, Cleaner Seas was published after an investigation into marine safety following the wreck of the tanker Brear on the Shetland Isles in 1993.
Among the recommendations was a recommendation to the U.K. Government to remove the anonymity of shipping by the use of identification transponders.
Circle 197 on Reader Service Card www.maritimereporterinfo.com Transas AIS Boosts Transas' Range Transas last year added the Automatic Identification System. AIMS Mill to its range, providing the technological solution in cooperation with Marine Data Systems from South Africa, via a distributor agreement which was signed in June 2001. AIMS Mill is designed in accordance with, and is fully compliant with, the IMO's functional standard for UAIS. An important application of AIMS Mill is its use as a ship-borne mobile AIS Station for work on all types of vessels, or on buoys and other aids to navigation.
In this case, it can be efficiently connected to a manmachine interface such as Transas Navi-Sailor electronic chart systems. Another important application for the Transas AIS include the AIS Base Station and AIS Communication Controller (ACC). for existing and future VTS centers.
Circle 196 on Reader Service Card www.maritimereporterinfo.com STN Atlas Marine Electronics New Universal AIS Offered A new Universal AIS which can be used to provide alphanumeric and graphic target and traffic information on radars and Chartpilot ECDIS workstations, the Debeb 3400, has been introduced by STN Atlas Marine Electronics. The unit is designed for stand-alone use or as part of an integrated bridge.
Operating in SOTDMA (Self-Organized Time Division Multiple Acess) mode, the system can be switched from normal to autonomous operation to either assigned or polling modes by external VTS traffic monitoring authorities.
Circle 195 on Reader Service Card www.maritimereporterinfo.com Sailor UAIS 1800 Offered The Automatic Identification System — AIS will increase the safety at sea due to the fact that vessels carrying AIS will be able to get an overview of other AISequipped vessels within VHF range as the transponders will communicateautomatically and as the information can be displayed on different kinds of display systems, which may include electronic sea charts.
Sailor UAIS 1800 (Universal Automatic Identification System) is a Class A ship borne transponder designed to comply with the IMO Resolutions MSC.74(69), Annex 3, for compulsory installation on SOLAS Convention vessels.
Circle 194 on Reader Service Card www.maritimereporterinfo.com SKANTI UAIS 2000 and KDU 2000 Keyboard Display Unit The SKANTI UAIS 2000 has been developed according to IMO's requirements and fulfils the requirements for Class A ship borne equipment of the Universal Automatic Identification System (AIS). It is designed according to. among others, IMO resolution MSC.74(69) Annex 3., "Recommendation for performance standard of UAIS"; ITU.R.M.1371 "Technical characteristics for an Universal Ship borne Automatic Identification System"; IEC 61993 Part 2 "Universal Ship borne Automatic Identification System (AIS).
Operational and Performance Requirements, Methods of Testing and Required Test Results"; and IEC 61162 "Maritime Navigation and Radio Communication Equipment and Systems — Digital Interfaces." The KDU 2000, Keyboard Display Unit, fulfills the IMO requirements for a control and display unit. However, the UAIS 2000 will typically be connected to more advanced display sytems, which may already be installed on board the vessels.
SKANTI UAIS 2000 is an advanced integrated system with a GPS and a VHF data-link built into the transponder.
This makes the system very reliable as only few connections are required. Only a display system, a VHF antenna, a GPS antenna and power are needed to make the system operational.
Circle 193 on Reader Service Card www.maritimereporterinfo.com ObsTek: USCG Approves To Supply A I S Systems ObsTek and its partner SML Technologies, manufacturers and distributors of vessel traffic management and port safety systems have already been awarded a contract, and have been approved, by the United States Coast Guard for the demonstration of a Universal Automatic Identification System (UAIS) in the port of New Orleans.
The demonstration consisted of two UAIS transponders: one connected to a desktop system and one to a portable system; the demo took place in the spring of 2000. The Coast Guard has solicited public comments on its proposal to the IMO before it presented draft recommendations at an intersessional meeting of the Maritime Safety Committee (MSC) in February. The MSC will meet again in May to develop amendments to the Safety of Life at Sea Convention (SOLAS) that IMO will vote on at an international conference on Maritime security scheduled for December 2002. The initiatives the Coast Guard is considering proposing range from vessel equipment to increased portside security and would apply to vessels currently subject to SOLAS (vessels over 300 gt engaged on intentional voyages, and vessels over 500 gt on any voyage).
In addition to proposing an accelerated schedule for the AIS, the Coast Guard is expected to propose port vulnerability assessments, point of origin container identifications and four other items related to security.
Circle 198 on Reader Service Card www.mariHmereporterinfo.com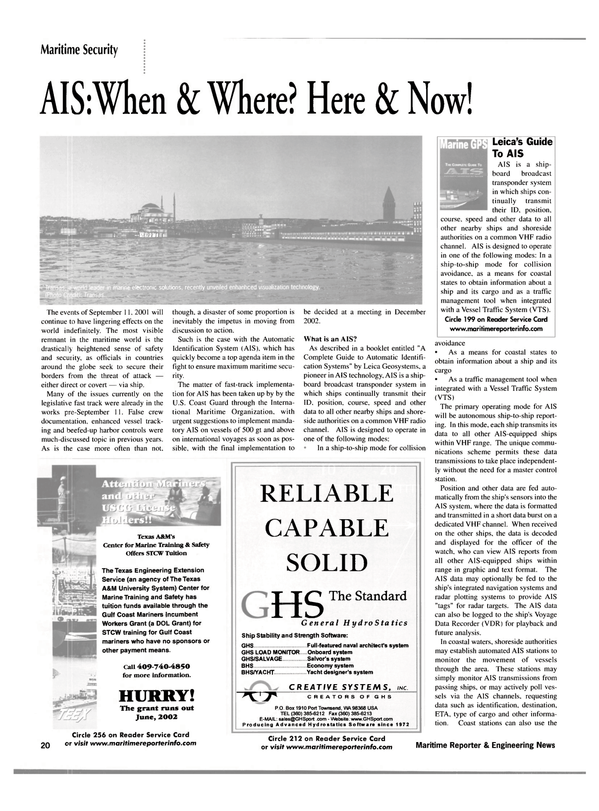 Read AIS:When & Where? Here & Now! in Pdf, Flash or Html5 edition of May 2002 Maritime Reporter
Other stories from May 2002 issue
Content