OSHA Standards Applicable on Uninspected Vessels
By Charley Havnen
There has been much ado over the recent Supreme Court ruling that a commercial uninspected drilling vessel must comply with applicable Occupational Safety and Health Administration (OSHA) standards since the vessel was not regulated by under the USCG inspected vessel standards. Those in the know within the industry do not regard this ruling as anything of great consequence, but rather a return to nationally uniform rulings of the law.
The case Choa V. Mallard Bay Drilling, Inc. involved an explosion onboard the inland drilling barge RIG 52 in June of 1997. The RIG 52 was in Louisiana waters and was nearing completion of a well when an explosion occurred killing four crewmen and injuring two others. The USCG investigation found that the inland drilling vessel had never been inspected by the USCG nor was there any requirement that it be inspected or hold a Coast Guard issued Certificate of Inspection.
Their report noted that the USCG "does not regulate mineral drilling operations in state waters, and does not have the expertise to adequately analyze all issues relating to the failure of an oil/natural gas well." The USCG investigation focused on vessel related issues.
The USCG determined that natural gas leaked from the well, spread throughout the barge, and was most likely ignited by sparking originating in electrical equipment in the pump room.
Based principally upon the USCG investigation, OSHA issued three citations concerning the operating company's failure to evacuate their personnel, failure to have an emergency response plan and failure to train employees in emergency response. An Administrative Law Judge (ALJ) found that the uninspected inland drilling vessel was a "workplace" under the OSHA standards and that the citations were appropriate.
When the case got to the 5th Circuit Court of Appeals in New Orleans, they reversed the ruling, indicating that the uninspected vessel standards of the USCG that were applicable to RIG 52 were sufficient to establish exclusive USCG jurisdiction even though many of those same standards did not apply to RIG 52 because it was not self-propelled.
The 5th Circuit ruling went counter to all other jurisdictions in the US and was generally considered to be an aberration.
The Supreme Court entered the fray to resolve the difference between the 5th Circuit and the rest of the country.
The Supreme Court ruled that the USCG regulations for uninspected vessels were in this case not adequate to preempt application of the OSHA standards. There is broad general agreement that the USCG inspected vessel standards preempt the application of OSHA standards to those vessels holding USCG Certificates of Inspection. It is the normally accepted premise that the USCG uninspected vessel standards do not preempt the application of OSHA standards to uninspected vessels.
The Supreme Court indicated that uninspected vessel regulations do not address occupational safety and health concerns faced during inland drilling vessel operations.
While this ruling is narrow and only applies directly to uninspected (by the USCG) inland drilling vessels, it nonetheless provides a fairly clear direction and restores the US to one overall national view concerning the relationship between OSHA and the USCG.
It now seems inevitable that OSHA standards will be applied to most if not all uninspected vessels. This list will probably include inland industrial vessels, inland and seagoing towboats. inland and seagoing cargo barges and inland drilling vessels.
There has been talk about various maritime segments seeking legislation from the Congress, bringing their specific vessels under USCG inspection to protect themselves from OSHA. The rationale behind this move would be based upon the belief that it is better to work with the USCG than it would be to work with OSHA. It is not at all clear that many companies endorse this policy.
At this time it does not look like there will be any mass petitioning of the Congress to broaden the various classes of vessels currently inspected by the USCG.
OSHA has been around for more than 25 years. The Congress has limited their budget as a means of preventing them from overly aggressive industry inspections.
Despite this OSHA has had and will continue to have major impact upon all elements of the maritime, even upon USCG inspected vessels, although indirecti ly.
Confined space entry, HAZWOPER training, in depth personal protective equipment standards, and competent person inspections are a few of the OSHA generated issues that now tend to impact everyone in the maritime. It is anticipated that future USCG rule makings will include more extensive occupational safety components.
The USCG has already started this process by the inclusion of these issues in the December 1999 proposed changes to the Outer Continental Shelf Activities rules at 33 CFR Subchapter N. While it is not at all clear that these proposals will all become final rules, the proposal demonstrates present USCG thinking on the subject. Many would say that these proposed OSHA type rulings should be applicable to all commercial inspected vessels and not just those vessels engaged in the offshore oil industry.
The specific USCG OCS proposed workplace safety and health standards included: Personal Protective Equipment • Eye and face • Head • Feet • Hearing • Clothing • Respiratory • Fall arrest • Radiation • Airborne Substances • Infectious material General Workplace Conditions • Electrical work • Lockout/Tagout • Noise C h a r l e y Havnen • Machine guards • Equipment use and maintenance • Slings • Personnel transfer nets Confined space entry • General • Entry requirements • Prior to entry • Preparing space for entry • Calibrating atmospheric test equipment • Atmospheric testing • Permits, Certificates & logs • Restrictions on equipment and work • Testing and protective Equipment • Personnel training • Rescue team • Offshore competent person Does it really matter if these standards come at the industry from OSHA or the USCG? In the past it was often said that the USCG understood the maritime far better than OSHA. It is also true that the USCG's empathy with the maritime in recent times has not been particularly favorable as evidenced by the USCG methodology involved in the implementation of the Standards of Training, Certificating, and Watchkeeping (STCW).
It would seem that eventually OSHA standards will apply directly to uninspected commercial vessels and OSHA type standards will be issued by the USCG for all inspected vessels. Unfortunately, implementing these issues will probably the USCG's current focus on security issues and other long term Administration funding problems.
Final resolution of all occupational safety and health issues in the maritime will likely take 10 years or more to resolve.
Charley Havnen is a Commander USCG Ret. His organization can help you with your vessel construction project, regulatory problems, vessel manning issues, procedure manuals, accident analysis or expert witness. His organization can do what you can't or don't want to do. He can be reached by contacting the Havnen Group: (800) 493-3883 or (504) 394-8933, fax: (504) 394-8869.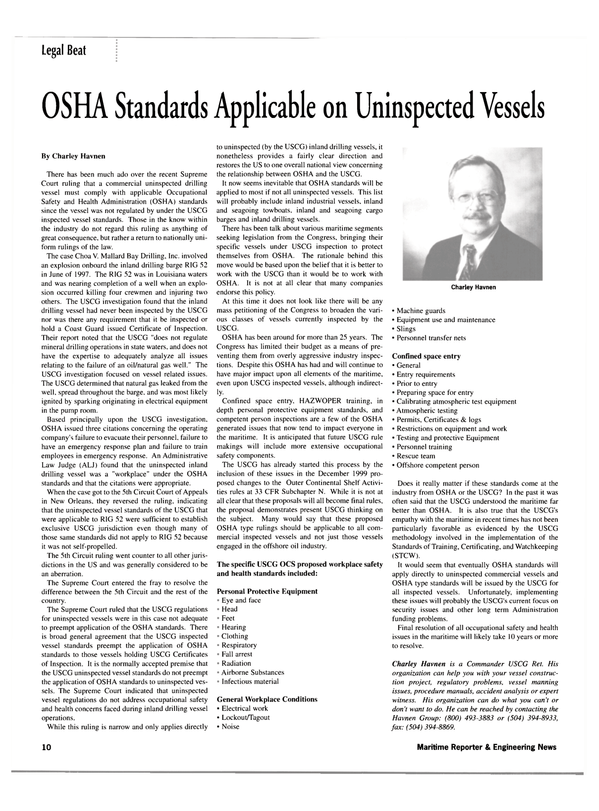 Read OSHA Standards Applicable on Uninspected Vessels in Pdf, Flash or Html5 edition of May 2002 Maritime Reporter
Other stories from May 2002 issue
Content