Shipboard Life in Style
new concept in luxury living and travel has been brought to realization with the completion of the much-vaunted ResidenSea ship. The World, which made its service debut at European ports during April.
The unique vessel, home to a resort community continuously circumnavigating the globe, is the brainchild of Knut U. Kloster Jr., and is a testament to the Nordic maritime sector's propensity for innovation. Mr. Kloster was former chairman of Royal Viking Line and Norwegian Cruise Lines, and his father was a pioneer in the cruise industry, operating vessels out of Miami in the early 1960s.
Several prominent cruise, shipping and hospitality industry investors have joined Kloster in funding the company ResidenSea, registered at Freeport.
Bahamas.
Wholly distinct from cruise ship vacations, the offering from ResidenSea is described as a 'lifestyle product,' founded on a perception of a niche market opening for a resort vessel incorporating privately-owned apartments.
Its 110 residences, ranging in size from 1.106 to 3,242-sq. ft. and commanding prices between $2.2 million and $7.5 million for ownership on a long-term, leasehold basis, are complemented by 88 guest suites available for the high-end vacation market. All-inclusive fares for guests start from approximately $4,000 per person for a sevenday voyage.
At a presentation aboard the 43,524-gt vessel moored off London's historic- Greenwich waterfront on April 8. ResidenSea's chief executive Fredy Dellis said approximately 80-percent of the apartments had been sold, with some 40- 45-percent of the buyers coming from the U.S.
As to when the company will give the green light for the construction of a second such vessel remains to be seen. For sure, though. The World is a new showcase for Norwegian shipbuilding and the associated maritime cluster, putting main contractor Fosen Mek Verksteder among a select league capable of fulfilling major passenger vessel projects.
A key aspect of the ResidenSea operating philosophy is the extended stay times for the ship in port, allowing longer tour programs and more time ashore. In addition, the itineraries of five to 17 days dovetail with major sporting and cultural events, such as the Monaco Grand Prix, Cannes Film Festival, and the British Open M .
Golf Champi- onship. In the course of her global meander- ings. The World's sojourns in port will typically be from two to five days. The vessel's operating systems reflect the unusual service profile, whereby time in port is expected to amount to some 250 days per year.
Although owners of the residential apartments will of course determine just how much time they spend on the ship, it is thought that they will typically be aboard for periods ranging from a few weeks up to as much as six or nine months, although some may choose to live on the vessel throughout the year.
Since The World is effectively a place of domicile, rather than a floating hotel with an ever-changing population, the particular challenges presented by the technical newbuild project included meeting the most stringent criteria relating to noise and vibration levels.
The knowledge that perceptions of quality in all its manifestations would be vital to the long-term business success of a residential, resort ship venture gave added dimension to the ResidenSea technical program.
Power and propulsion system supplier Wartsilii applied its skills in hydrodynamics, advanced design and flexible propulsion control to meet the requirements relating to noise and vibration, while classification society Det Norske Veritas carried out comprehensive studies to ensure that the highest standards of its Comfort Class notation would be met.
While a maximum speed of 19 knots is attainable with the ship's diesel-mechanical drive, optimization and flexibility of installed diesel power for energy needs both at sea and in port, and low drive train and propeller noise under all conditions have been more pressing requirements than high speed.
The novel approach to domestic life at sea has also resulted in the incorporation of a kitchen in each of the apartments.
The fact that this has imbued the ship with 1 10 private galleys, each posing a fire risk, has also called for a circumspect and comprehensive technical approach.
Under a solution developed by the owner and shipyard in cooperation with DNV. every kitchen has been treated as a galley from a regulatory standpoint.
Each kitchen has accordingly been surrounded by class A fire boundaries, and fitted with a dedicated exhaust and fire extinguishing system.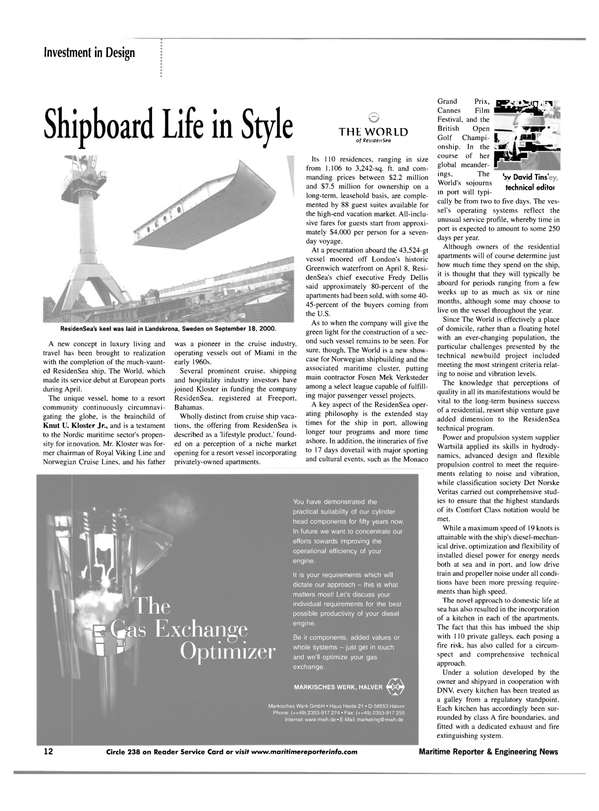 Read Shipboard Life in Style in Pdf, Flash or Html5 edition of May 2002 Maritime Reporter
Other stories from May 2002 issue
Content