Big Turecamo Barge Launched At Bay Shipbuilding Yard
Bay Shipbuilding Corporation in Sturgeon Bay, Wis., entered saltwater shipbuilding when the 396-foot tank barge Marie Tilton, built for Turecamo Coastal & Harbor Towing Corporation, was christened and launched in a recent dual ceremony.
The Marie Tilton is named in memory of Mrs. Marie Tilton, wife of George Tilton, retired vice president of Turecamo Tankers, and sister of Bart J. Turecamo Sr., president of Turecamo Coastal & Harbor Towing Corporation and Turecamo Tankers.
Mrs. Mary Loy Robshaw, the vessel's sponsor and the daughter of Marie and George Tilton, broke the champagne bottle christening Bay Shipbuilding Hull 725. Moments later, the 396-foot tank barge was side-launched.
The Marie Tilton has a beam of 72 feet and an amidship side depth of 25 feet 10 inches. The barge can be either towed or pushed by tug. To be operated in the New York City area, the barge will be suitable for carrying grade B, and lower, petroleum products, including heavy fuel oil.
Ten c a r g o t a n k s with two abreast and five in length will have a volumetric capacity of 103,500 barrels. Three main cargo deepwell pumps, with individual capacities of 6,000 barrels per hour, will be on deck. Each pump will be powered by a GM Detroit Diesel V16 engine developing 480 bhp. Three additional diesel engines, rated at 446 bhp each, will give the barge a total off-loading capacity of 18,000 barrels per hour.
Constructed as an "Unmanned Offshore" and "Special Service Manned Barge," the Marie Tilton has two outfitted staterooms and a complete galley for a two-man crew. Ship's service e l e c t r i c al power is provided by four diesel engines driving two 30-kw and two 100-kw generator sets.
A flexible cargo-handling system has been built into the Marie Tilton to facilitate the carrying of multiple cargoes. More than seven miles of heating coil piping has been incorporated into the barge for cold weather operation.
This was the first vessel built by Bay Shipbuilding for Turecamo Coastal & Harbor Towing Corporation. Bay Shipbuilding, a s u b s i d i a r y of The Manitowoc Company, intends to actively engage in securing contracts to build more saltwater vessels.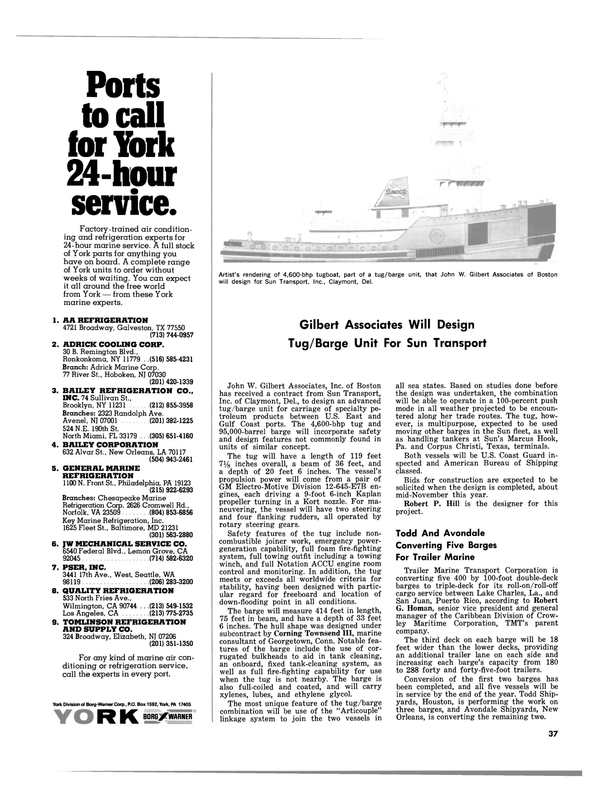 Read Big Turecamo Barge Launched At Bay Shipbuilding Yard in Pdf, Flash or Html5 edition of September 1980 Maritime Reporter
Other stories from September 1980 issue
Content