McDermott Official Says Marine Building Outlook In Gulf Area Is 'Best Ever
"The outlook for marine construction in the Gulf of Mexico in the 1980s is, in my view, not only good, it is great," Robert E.
Howson, president of McDermott Marine Construction, recently told participants in a symposium sponsored by the University of New Orleans on the "Economic Future of the Gulf South." Noting the Louisiana Gulf was the birthplace of offshore oil and gas development more than 30 years ago, Mr. Howson said: "Normally, when an area has been developed for 30 years you would expect the oil and gas to have been depleted to the point that production is in decline. Such is not the case in the Gulf." In fact, he said, oil companies are paying more than ever for Gulf offshore leases. In response to the most intense drilling ever in the Gulf, the demand for mobile drilling rigs has created backlogs to 1985 at the Gulf Coast yards that build the rigs, according to Mr. Howson, and the demand for vessels used to service offshore rigs and platforms is up.
He added that a recent U.S. Interior Department survey of 31 oil, gas and pipeline companies ranked the Louisiana offshore area as the one preferred most f o r f u t u r e Outer Continental Shelf development.
Mr. Howson said McDermott's basic business — building fixed steel platforms and laying undersea pipelines — in 1980 was more active in the Gulf than anywhere else in the world. Last year the industry installed 130 platforms in the Gulf and laid 715 miles of pipe there, he said, while worldwide, 273 platforms were installed and 1,606 miles of pipe were laid.
An important reason for the current activity in the Gulf, Mr.
Howson said, is that economic incentives created by higher energy prices are leading to renewed development of existing fields. Mr.
Howson also said the Reagan Administration's promise to accelerate offshore leasing is an important factor in the current boom.
"With the end to increasing demand for oil and gas nowhere in sight," Mr. Howson said, "the numbers of wells drilled and the amount of marine construction required in the Gulf are getting stronger each year. Our prediction is that work will continue to pick up at least through the middle of the decade, and that it will only begin to taper off after the peak of production is actually reached." Mr. Howson said that the oil industry spends billions of dollars yearly on marine construction in the Gulf. Accordingly, he said, companies such as McDermott will continue to have a profound effect on the Gulf Coast economy.
One constraint he said the industry faces, however, is a lack of skilled labor in the area.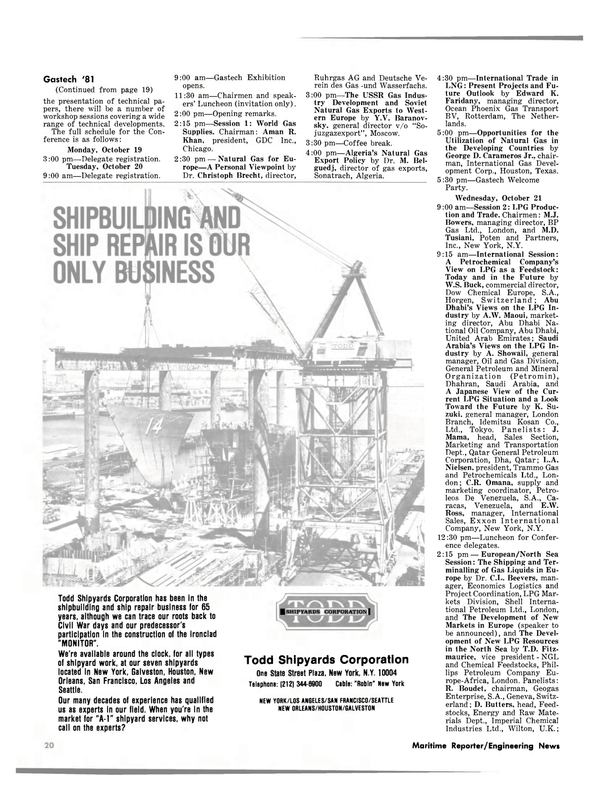 Read McDermott Official Says Marine Building Outlook In Gulf Area Is 'Best Ever in Pdf, Flash or Html5 edition of October 1981 Maritime Reporter
Other stories from October 1981 issue
Content