Perkins Introduces Compact V-8 Diesel Designed By Rolls-Royce
—Free Literature Offered— Perkins North America of Wayne, Mich., recently introduced an exceptionally compact, Rolls-Roycedesigned engine as part of a major entry into the commercial marine diesel market. The new 8HD400T design is an 8-cylinder, V-form engine that develops 400 bhp at 1,800 rpm. It is a member of the Rolls- Royce line of diesels that Perkins has introduced in the U.S. and Canada.
Perkins has also introduced other members of its HD family of 4-, 6-, 8-, and 12-cylinder commercial engines that provide economical and efficient performance for the commercial and fishing vessel markets.
The Rolls-Royce line comprises eight engines with outputs ranging from 210 to 800 bhp in both naturally aspirated and turbocharged versions.
Only two models are currently available in North America—the 8HD and a 12-cylinder line introduced last year.
The first U.S. installation of the Perkins/Rolls-Royce 12-cylinder marine diesels is in the twin-screw catamaran Bottom Time II delivered recently by Atlantic and Gulf Boat Builders of Fort Lauderdale, Fla., to Bottom Time Adventures.
Each of the twin CV12 engines provides 800 bhp at 2,100 rpm.
With the addition of the Rolls- Royce models, Perkins offers 10 marine diesel engines ranging from 51 to 800 bhp, suitable for main propulsion as well as auxiliary power in a wide variety of vessels, including workboats, patrol and customs vessels, ferries, trawlers and other fishing vessels, rescue craft, and offshore supply boats.
These diesels are also suitable for generator sets to provide electrical power for air conditioning, refrigeration, lighting, and other on-board applications. They are also used in shoreside cargo-handling vehicles.
The 8HD engine was developed in cooperation with the British Royal Navy. This diesel represents the first coordination of the design talents of engineers at both the Perkins plant in Peterborough, England, and the former Rolls-Royce factory in Shrewsbury.
The lightweight 8HD, with good power-to-weight ratio, is a low-profile engine designed for many applications in commercial craft. Its compact size allows for smaller engine rooms, providing more space for cargo or accommodations, as well as greater flexibility in vessel design.
The 8HD's major benefit is said to be its outstanding fuel efficiency, coupled with ease of routine maintenance.
Available options include a power takeoff unit, keel cooling, and change-over filters. This new engine complements the 12-cylinder Rolls- Royce design introduced last year.
The 12HD610T diesel is a 60-degree V-form, water-cooled engine that provides 735 bhp at 2,100 rpm for light-duty commercial applications and 610 bhp at 1,800 rpm for heavyduty work.
Other members of the Perkins HD family of engines include the 4HD76 diesel that provides 76 bhp at 2,250 rpm, the 6HD100 of 100 bhp at 2,000 rpm, the turbocharged 6HD150T that provides 150 bhp at 2,400 rpm, the 8HD153 of 153 bhp at 2,000 rpm, and the turbocharged 8HD215T giving 215 bhp at 1,800 rpm.
For free color brochures giving full details on the Perkins HD engine family, C i r c l e 9 9 o n R e a d e r S e r v i c e C a rd For additional information and free color brochures on Perkins' Rolls-Royce-designed marine diesels, C i r c l e 2 o n R e a d e r S e r v i c e C a rd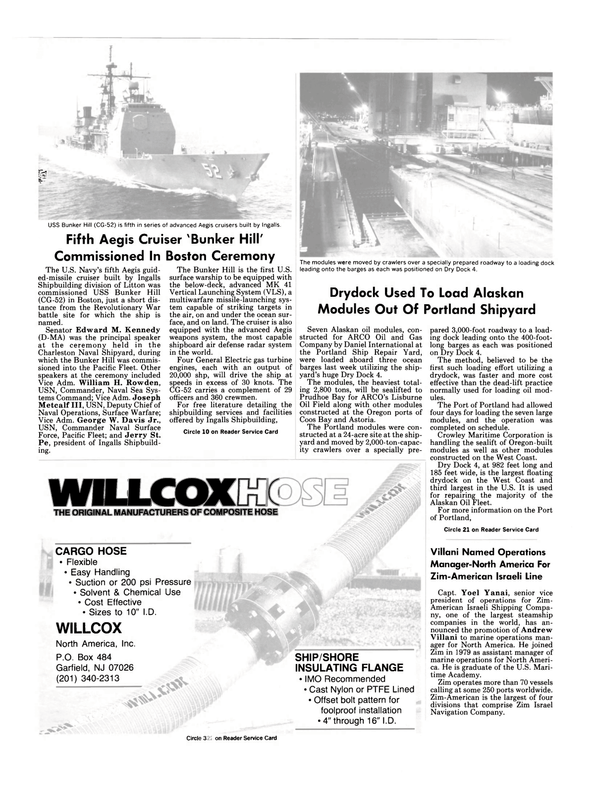 Read Perkins Introduces Compact V-8 Diesel Designed By Rolls-Royce in Pdf, Flash or Html5 edition of November 1986 Maritime Reporter
Other stories from November 1986 issue
Content