Free Literature Offered On The GPS Core Module From Sperry Corporation
Sperry Corporation of Charlottesville, Va., has recently made available literature on the Sperry GPS Core Module the company has designed and manufactured specifically for the marine environment.
The Sperry GPS Core Module is a single-channel, C/A Code, sequenced receiver, with position calculation accuracy to 30M. Latitude, longitude and GMT are available every two seconds on either of two RS232 Ports.
The Core Module can be directly connected to Sperry Satnav's or Sperry PCs (or IBM compatible).
Optional interfaces range from simple navigators to integrated systems.
Owners of one of the following satellite navigators will be interested to know that Sperry can upgrade your existing set to a full Global Positioning System receiver: S p e r r y 501TR/GPS; Sperry SRN501; Sperry ESZ4000; and SAL4000.
The Sperry GPS Core Module enables the reception and navigation computations from both the Transit and GPS satellites to be displayed on your existing system display.
During the transition from Transit to GPS, the 501 TR/GPS will automatically select the best fix source and continue to provide you with total navigation data with no need for time-consuming switching or input coding. In GPS mode, the 501's format will provide continuous course readout and bottom speed at any depth.
When GPS is available, the Satnav display shows GPS in lieu of "DRT" (dead reckoning time). Position updates then occur every two seconds with a smoothed display update every 10 seconds, completely independent of heading or speed input errors. Navigation calculations such as CMG/SMG/SET/ DRIFT, and waypoints are virtually real-time information.
New Transit Satnav positions will continue to update and the "alert" page is updated as normal. When less than 3 GPS satellites are available, the display automatically reverts to "Transit" Satnav mode.
Dead reckoning by log and gyro inputs then updates position information, rather than relying on inaccurate extrapolations of clock error using information from only two GPS satellites.
An alternative method to display LAT/LONG/TIME/SMG is to connect one of the GPS Core Module's RS232 outputs to a Sperry or compatible PC display units. With this method of display the navigator has many powerful uses for the GPS Core Module information, including: continuous LAT/LONG/ SPEED; display GPS Satellite Advisory Software; use in digital track plotting. Suitable PCs are those with 8088 processors and 8087 coprocessors.
(Color monitor required for track plotting and Advisory Software).
Leading up to the time when enough GPS satellites are in operation to give worldwide two-dimensional coverage, there will be periods when continuous GPS Fixes are not available. Sperry addresses this situation in two ways: (1) With the GPS Core Module connected to the Satnavs above, the display automatically reverts to Transit mode when GPS fixes are not available; (2) Sperry provides free, the GPS Satellite Advisory Software diskette, which predicts periods of coverage and additional satellite parameters at any given position or date. This graphic software allows anyone with a Sperry PC compatible personal computer to have, at his fingertips, the necessary information for navigation planning.
The publication includes a liftout technical data sheet that gives detailed performance information and physical facts.
For full details and a free copy of the color literature on the Sperry GPS Core Module, Circle 95 on Reader Service Card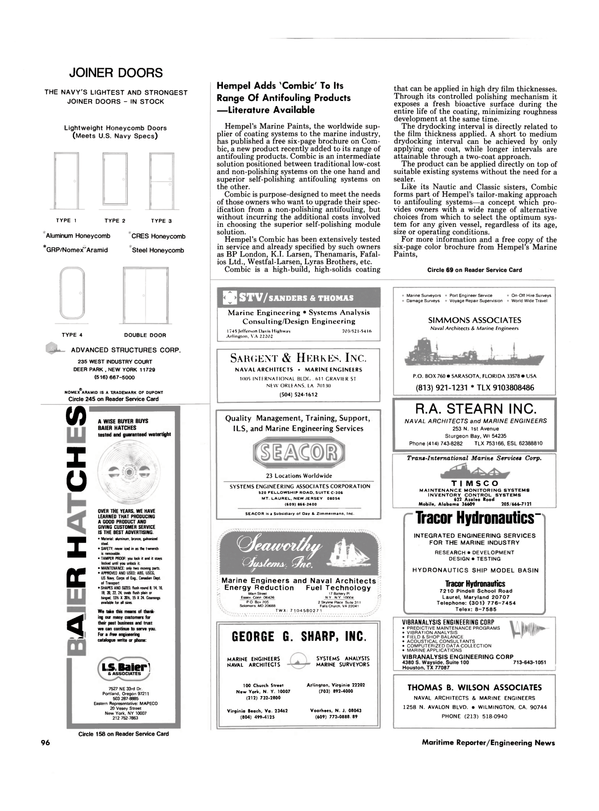 Read Free Literature Offered On The GPS Core Module From Sperry Corporation in Pdf, Flash or Html5 edition of November 1986 Maritime Reporter
Other stories from November 1986 issue
Content