A New Wave of Customer-Driven Offerings: The SAGA Process
In the past, companies have expanded their product lines via strategic acquisition of complimentary companies.
More recently companies have expanded their product offerings by creating strategic alliances with other companies to surround clients with recognizable brands. The wave of the future is to expand through customer requested and customer led programs. Cruise ship operators have long known that the only way to guarantee repeat business is by offering the guest a fair price and by exceeding all of the guests expectations.
To meet these ends, cruise ship operators are requiring more specialized services in support of the expanded needs of guests. This growing trend of vendors that focus on customer needs is already effecting the field of vessel procurement. To meet these changing needs progressive vendors, such as Unitor, are already following strategic models to support the expanded needs of their customers. Successful vendors will increasingly utilize a SAGA process to promote a culture of customer driven programs. The SAGA process is a fourstep model for launching a new customer offering onto the market. SAGA stands for (S) Start a New Strategy, (A) Advance the strategy, (G) Group Focus, (A) Analyze the strategy.
When commencing a strategy, the vendor must have a process to identify the needs of the customer. A vendor must always be in tune with its customer's evolving needs. Customers' businesses are constantly expanding or contracting and — depending upon the direction the industry is going — will change the nature of the business relationship.
It is no longer acceptable to solely monitor product shortages to customers to determine effectiveness.
One must monitor all aspects of the business relationship.
A critical area to monitor is customer requests. What a customer actually requests of the vendor, regardless if it is part of the vendor's portfolio at the time, is critical information. For example, it was this type of data that was the basis of the Unitor Cruise Service concept product list. Vendors must monitor what the customers' request beyond the traditional supply.
If one customer requests a certain item, chances are good that five other companies believe that the vendor supplies it on a regular basis.
Start offering what the client is requesting, rather than what the vendor feels the customer should be requesting.
It is these requested items that make the best strategies to start.
The second process in SAGA is to advance a strategy.
Once data has been gathered about possible new offerings, advance these thoughts within the organization.
Discuss these new products or services with all levels in the organization, especially with customer service. Gather as much information from within the company regarding the merits of the idea. Let others add, modify and grow the idea. The best idea to advance is one that was formed at all levels of an organization.
If one person has heard these requests, then chances are good that others have heard them as well.
If it turns out that other groups have heard similar requests often then the chances are good that the project will be very successful. A common concern in this process is that it leaves the initiator open to rejection and criticism. Do not be afraid of rejection by others in your organization. Rejection is just a sign of resistance to change and has nothing to do with the value of the idea. Do not let this stop the process. If it is fact-based, criticism can be extremely helpful. Always search for valid reasons that are based in fact and not answers such as "we have already tried that years ago and it failed." or "I feel that my customers will not go for that." If you find these reasons early, you can avoid having a fatal flow in your business plan. On the other hand, if others state they have not had similar requests or there are some compelling valid arguments why the company should not go in that direction - then this is valid criticism. If the facts do not support the expansion.
scrap the project and search for a new offering.
Regardless of the outcome, make the most of the data and then either proceed to gathering external data or start the SAGA process over.
The third process in SAGA is group focus.
Once the vendor has gathered internal information, then proceed with gathering information externally. Group focus, unlike the other processes, has two distinct phases.
Phase one is to discuss the ideas in small focus groups; phase two is locating a suitable company for a strategic alliance. In phase one of group focus the vendor must contact a few long-standing customers for feedback. The vendor must gather a small group of long standing customers and ask them if the direction under consideration has merit.
These vendor comparisons will undoubtedly offer both positive and negative comments - leading to an effective learning experience through these discussions.
Focus groups are excellent forums to establish exactly what favorable and poor vendor performance look like to customers. If customer response is negative, consider scrapping the idea.
More companies have failed by introducing a host of products that customers do not want than by the launching of a single program that the customer really requires. If customer response is positive, then proceed to phase two of the group focus process.
Phase two is to find an acceptable vendor to partner with in this new direction.
If possible, start discussing cooperative efforts with companies that may have been mentioned in the focus groups.
This phase of the process will take considerable effort, however the final result will certainly be worth the effort. This step will also take time to educate this new partner vendor to the ways of the customers, as well as the ways of the industry. Once all contractual and operational details have been completed, launch the program with as much fanfare and enthusiasm as possible.
Analyzation is the focus of SAGA's fourth step.
Once the new vendor program has been launched and has been operating for a few weeks, one must analyze and review feedback about the program.
Gather feedback from the industry as well as from customers receiving the new product or service. This process is very important and many organizations have a tendency to skip this process.
Typically, if a program becomes a financial success - the company does not follow up. If it is unsuccessful, the follow up consists of an inquisition-type search from someone to blame within the organization.
These types of behavior are to be avoided and real analysis of what succeeded and what failed is necessary for the success of the next project. Companies must learn from their successes and failures alike. More importantly, just because a new project achieves its sales targets does not mean that it does not have a hidden potential of one hundred times its current success. Companies have a tendency to forget that sales targets established for any new program are only a guess; the actual potential of the program can only be determined after reviewing the reaction of the market.
Although the goal is to always create successful new programs, much can be learned by examining failure. Unsuccessful programs should be examined quickly, as failure can be a result of many different factors. A common mistake of companies is to slowly reduce a program over time. It is best to totally end a program and give ample notice to users prior to the ending of the offering.
This allows for an orderly transition and avoids a long drama of both companies watching sales and service slip, and while it may not be popular with customers, it certainly will not turn them away from a new company offering.
Companies that consistently apply the SAGA process will find themselves with a strong portfolio of aggressive programs that offer customers superior quality and service. Unitor is one such company that clearly follows the SAGA process. The Unitor Cruise Service pro- gram is a clear sign of the new wave of programs that will be designed for and by customers.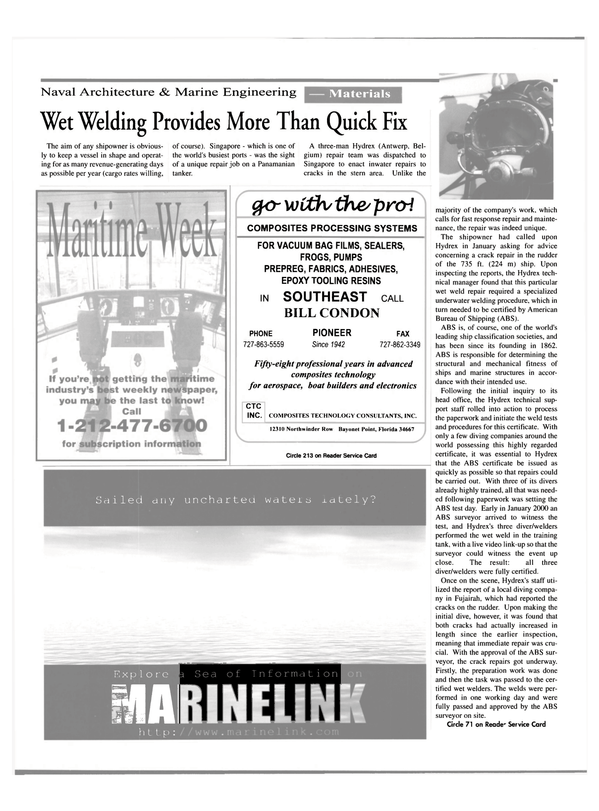 Read A New Wave of Customer-Driven Offerings: The SAGA Process in Pdf, Flash or Html5 edition of May 2000 Maritime Reporter
Other stories from May 2000 issue
Content