Wet Welding Provides More Than Quick Fix
The aim of any shipowner is obviously to keep a vessel in shape and operating for as many revenue-generating days as possible per year (cargo rates willing, of course). Singapore - which is one of the world's busiest ports - was the sight of a unique repair j ob on a Panamanian tanker.
A three-man Hydrex (Antwerp, Bel- gium) repair team was dispatched to Singapore to enact inwater repairs to cracks in the stern area. Unlike the majority of the company's work, which calls for fast response repair and maintenance, the repair was indeed unique.
The shipowner had called upon Hydrex in January asking for advice concerning a crack repair in the rudder of the 735 ft. (224 m) ship. Upon inspecting the reports, the Hydrex technical manager found that this particular wet weld repair required a specialized underwater welding procedure, which in turn needed to be certified by American Bureau of Shipping (ABS).
ABS is, of course, one of the world's leading ship classification societies, and has been since its founding in 1862.
ABS is responsible for determining the structural and mechanical fitness of ships and marine structures in accordance with their intended use.
Following the initial inquiry to its head office, the Hydrex technical support staff rolled into action to process the paperwork and initiate the weld tests and procedures for this certificate. With only a few diving companies around the world possessing this highly regarded certificate, it was essential to Hydrex that the ABS certificate be issued as quickly as possible so that repairs could be carried out. With three of its divers already highly trained, all that was needed following paperwork was setting the ABS test day. Early in January 2000 an ABS surveyor arrived to witness the test, and Hydrex's three diver/welders performed the wet weld in the training tank, with a live video link-up so that the surveyor could witness the event up close. The result: all three diver/welders were fully certified.
Once on the scene, Hydrex's staff utilized the report of a local diving company in Fujairah, which had reported the cracks on the rudder. Upon making the initial dive, however, it was found that both cracks had actually increased in length since the earlier inspection, meaning that immediate repair was crucial.
With the approval of the ABS surveyor, the crack repairs got underway.
Firstly, the preparation work was done and then the task was passed to the certified wet welders. The welds were performed in one working day and were fully passed and approved by the ABS surveyor on site.
Circle 71 on Reade' Service Card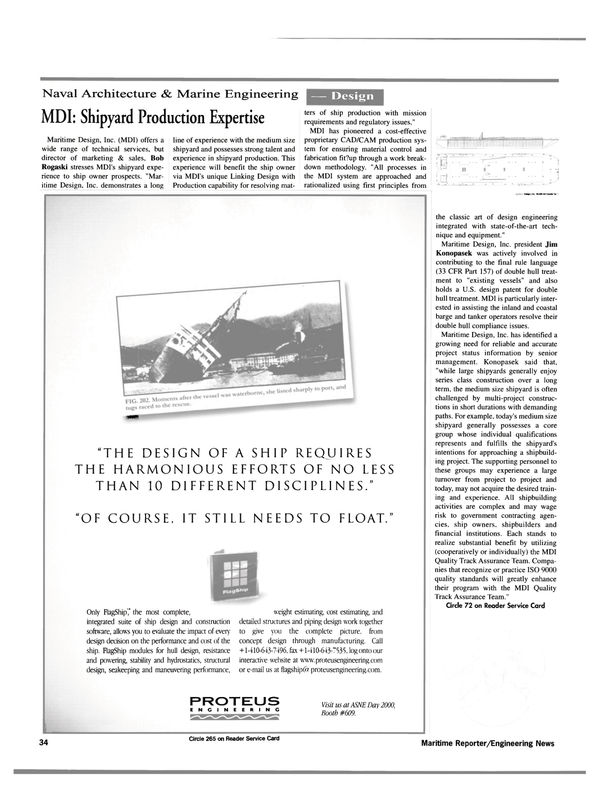 Read Wet Welding Provides More Than Quick Fix in Pdf, Flash or Html5 edition of May 2000 Maritime Reporter
Other stories from May 2000 issue
Content