Efficient Bunker Buyers "Need to Know"
By Ivar T0nnesen, chairman of the International Bunker Industry Association (IBIA)
The bunker industry is witnessing interesting times. Throughout the last 12 months, prices have doubled for many grades of fuel, reaching unparalleled levels. At the same time, the industry has seen the launch of the first serious Internet- based marine fuels sales operations.
While apparently unconnected, both developments have had a similar effect on the industry. They have underlined the importance of training and education for those in the bunker business. Without knowledge, those working in marine fuels, purchasers in particular, will not be able to face up to the challenges of high prices and electronic trading.
The sharp increase in bunker prices during the last year is in stark contrast with what was going on immediately prior to the rise. Eighteen months ago, oil prices around the world were at levels that could barely sustain well exploitation in some areas, and they looked to be heading lower still. The Economist went so far as to predict that oil prices would dip as low as five dollars per barrel. Behind the fall was a massive oversupply of oil in nearly every market. This was good news for consumers, including the shipping lines, for whom buying bunkers is the most expensive part of running a fleet. Bunker prices in key markets edged close to $50 per ton at one stage.
It didn't last, though. The Economist was proved wrong. Rather than dipping further, oil prices suddenly started to rise. Alarmed at collapsing revenues, OPEC dramatically pegged back its production.
The tried and trusted supplyand- demand mechanism did the rest. Oil prices started to climb. First back to sustainable levels, then to heights that sent jitters around the world. At the time of this writing, oil in some markets is being quoted at close to $30 a barrel, a rate previously only matched during the oil crises of the 1970s.
The consequences for the bunker industry of the high oil prices were profound.
Prices rose in line with the wider oil picture. Fleet managers saw their monthly fuel bills increase dramatically.
Rates were rising so fast that even a day's delay in placing an order could add thousands of dollars to the final invoice.
Shipping companies, already operating with slim margins or even at a loss, reacted by charging shippers bunker surcharges and told their crews to go slow in order to burn less fuel. Some made the error of buying as cheap as they could, regardless of quality, and got caught out with off-spec fuel.
The increase in bunker prices has proved the merit of training and education in the industry. It is almost certain that those ship operators who invested in training for their bunker purchasing staff are now reaping the benefits. They are doing so, either because their purchasing staff were able to buy their fuel ahead of time at lower prices, using sophisticated products now available to the bunker industry, or because their staff are able to make the best of a bad situation.
You would think that in an environment where a difference of a few dollars in bunker prices can spell the difference between a profitable and a loss-making voyage, that the Internet, with its capacity to provide i n f o r m a t i o n from a wide range of sources directly to the purchaser's PC, would be a boon. Indeed, there is a lot of bunker price information available on the Internet. It is even possible to buy fuel on the Web. Yet without proper knowledge of how the bunker industry works, purchasers will not be able to get the best out of these new services.
Many news articles have focused on the launches of online bunker purchasing sites. Two of the most renowned launches have been of eFueloil.com (backed by Chemoil and Itochu) and OceanConnect.com (founded by a grouping of Shell, BP and FAMM, itself a joint marine fuels marketing initiative of Chevron and Texaco). So far, newly- engine with 4 percent HFO contamination before and after the use of Taro 40 XL 40.
Undercrown deposits Due to the continuous increase in output, the piston cooling space temperatures have been increasing. The piston undercrown temperature is typically about 250°C. In the latest engines, temperatures of 300°C have been measured. This can cause carbon deposits on the piston undercrown due to thermal carbonisation of the lubricant.
The carbon deposit layer forms an insulating layer upsetting the piston cooling increasing the piston temperature.
Temperature increases of around 100°C have been measured.
A second deposit formation mechanism is the adhering of the asphalt particles that originate from HFO contamination.
The build up of such a carbon layer in the piston coolant chamber is illustrated in Figure 5.
To cope with the extreme temperature conditions, especially in highly loaded engines, the thermal stability and oxidation stability of lubricant had to be substantially increased. FAMM has found that the thermal stability and oxidation stability of Taro 40 XL 40 has matched and even exceeded a number of synthetic commercial oils.
Figure 6 shows a similar piston cooling space of an engine lubricated with Taro 40 XL 40. No carbon was formed in spite of very high cooling space temperature (300°C) and HFO contamination of 4 percent. This was due to a combination of thermal stability and asphaltene dispersion technology.
Piston Head Corrosion Undercrown deposits in combination with high load operations can lead to piston head corrosion. Undercrown piston deposits inhibit cooling, resulting, as already mentioned, in an increase of about 100°C in piston temperatures.
Above 450°C, some sodium/ vanadium salts form a melt with the piston crown material, causing hot corrosion on top of the piston. In case of high load operations and reduced piston cooling, the critical temperature is easily reached at the top of the piston.
As a result, material melt and material removal by hot corrosion is occurring. This means earlier replacement of the piston crowns and, in severe cases, hole formation in the pistons, a problem which could endanger the safety of a ship.
Field inspections of a number engines lubricated with Taro 40 XL 40 indicate that in nearly all cases the piston undercrown deposit problems were eliminated. Very severe applications, such as power plants in the tropics running constantly at 100 percent load, were included in the study.
Looking back at the experience of the last three years, Roger Stubbs, FAMM's General Manager Lubricants Europe, sees Taro's success as further evidence that marine lubricants cannot be regarded as just another commodity.
He said the lubricant had shown 'outstanding' levels of cylinder and crankcase protection at a time when high output engines with high internal temperatures and pressures and reduced oil consumption had become the norm.
By Ing. A. Verhelst, of FAMM's Marine Lubricant Technology Department.
First published in Marine Lube Buyer, March 2000.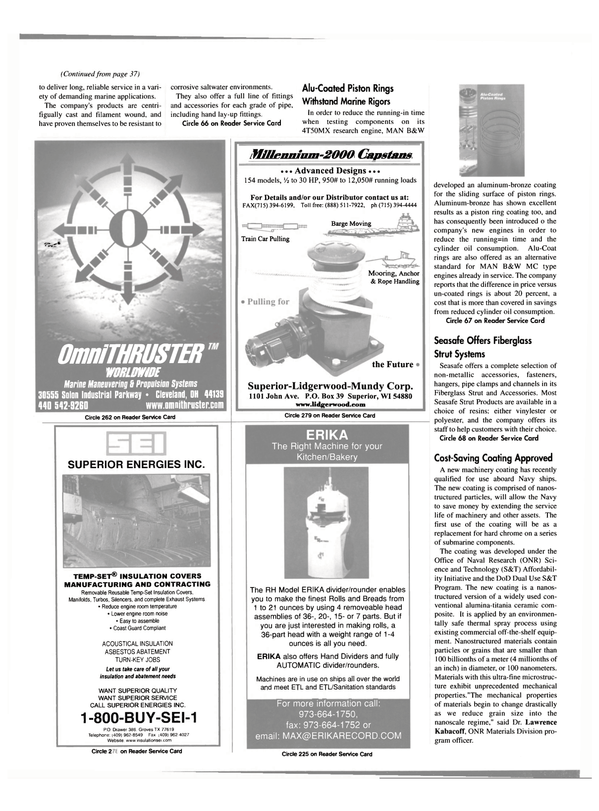 Read Efficient Bunker Buyers "Need to Know" in Pdf, Flash or Html5 edition of May 2000 Maritime Reporter
Other stories from May 2000 issue
Content