Greek Ferries: The New Business Model
The ultra competitive Greek ferry market has not only proven to be a fertile breeding ground for advanced marine technology, it has served as a role model for the direction of shipping services in both the region and the world.
The Greek market has provided the collective builders and suppliers of advanced fast and conventional ferries a rich environment for business over the past few months, a trend that seems likely to continue.
Specifically, Greek owners and operators have been at the forefront of an international buying binge for large, fast passenger, vehicle and cargo carrying craft. Driven by the need for speed, many owners are turning to advances in marine electronic and propulsion systems to ensure that the multi-million dollar investments are kept running safe and efficient.
"Consumers can choose the best available rather than being forced to accept mediocrity, so that competing companies are forced to continuously improve their products or service," said Pericles S. Panagopulos, chairman of Attica Enterprises board in the company's annual report. "This is exactly the opposite of what is happening in Greece's domestic sea transportation, where lack of competition and the perpetuation of monopolies have created a lackluster industry." Heavy Investment In New Ships Hallmarks of the Greek ferry market in the past 12 months have been consolidation and major investment in new ships, and the December 1999 takeover over of Strintzis Lines by Attica Enterprises serves as the perfect example.
Attica Enterprises, a leading Adriatic passenger shipping firm, recorded a net profit improvement of 0.5 percent to 9.1 billion drachmas ($24.5 million) in 1999 (excluding Strintzis Lines; Strintzis and Attica results will be combined in 2000), on earnings before interest and depreciation growth of 3.4 percent to 13.1 billion.
Strintzis Lines 1999 net profit rose 27 percent to 3.0 billion drachmas ($72.3 million) on sales growth of 10.5 percent to 26.8 billion, with earnings before interest and depreciation increasing 10.3 percent to 7.2 billion.
Strintzis Lines is ideally positioned to capitalize on phenomenal growth in both its passenger and truck segments. Yearend 1999, Strintzis saw passenger volume jump nearly 20 percent to 1.9 million, and truck volume leap an astounding 39 percent to 131,000, as compared to 1998 numbers.
The substantial increase in commercial traffic in the Adriatic is in line with the company's strategy of reorienting the fleet to RoPax ferries with greater truck capacity and higher speed. It is worthy to note that the growth rates in the Adriatic were achieved despite the introduction of three new fast ferries by other operators.
The company has staked its future on partnerships and new ships. In September it agreed to a takeover with Attica Enterprises. The companies aim to expand their operations into new domestic and international routes while taking advantage of economics of scale and operating synergies. After signing its agreement with Attica, the company proceeded to launch three new brand names: Blue Star Ferries, Blue Ferries and Blue Star Jets.
Under the Blue Star Ferries trade name will operate all newbuildings, ie. Blue Star 1, Blue Star 2, Blue Star Ithaki, Blue Star Chios and Blue Star Mykonos. All other vessels of our fleet will operate under the trade name Blue Ferries, except of the two catamarans, the Seajet 1 and Seajet 2 that will trade as Blue Star Jets.
This rebranding is expected to help increase sales and our market share, domestically as well as in Adriatic routes Strintzis has been particularly active in the ordering of new ferries for expanded operations, and on March 31. 2000 it took delivery of Blue Star Ithaki from Daewoo Heavy Industries Ltd. Blue Star Ithaki is an ultramodern RoPax Ferry and can achieve maximum speed of 25 knots. This month and later this summer, the company plans to take delivery of Blue Star 1 and Blue Star 2, which are currently at their final stage of construction.
The vessels will serve daily the Patras - Brindisi route at a record time of nine hours and the Patras - Ancona route via Brindisi daily at 21 hours. In addition, during the first quarter 2000 the keel-laying of the vessels Blue Star Chios and Blue Star Mykonos will took place at the Hellenic Shipyards Co.
Last November Strintzis exercised the option for a third newbuilding at Hellenic Shipyards Co. This vessel is due to be delivered within the first six months of the year 2002.
The company sees its investment in newbuildings and the cooperation with Attica Enterprises paying immediate dividends, with an improved profit margin owed to the operational efficiencies of its new ships and intense marketing and promotion of its new brands.
Superfast Ferries Profits Flying Attica Enterprises said its main unit Superfast Ferries Maritime SA posted a 15.1 percent rise in net profit to 8.6 billion drachmas ($23.2 million) in 1999, on sales growth 10.4 percent to 29.6 billion and a 11 percent rise in earnings before interest and depreciation to 12.5 billion.
Superfast Ferries Maritime SA ranked first for the second consecutive year in passenger and commercial vehicle traffic, and second in private car traffic among the 45 ships in service in the Adriatic Sea routes .between Greece and Italy.
Its four Superfast ferries carried 13.7 percent more passengers, 20 percent more trucks and 24.2 percent more private vehicles in 1999 compared to 1998.
Strintzis Lines was in third place in overall traffic in the Greece-Italy routes with its six ships, carrying 14 percent of passengers, 16.1 percent of lorries and 13.3 percent of private vehicles. It recorded a 21.4 percent rise in passenger rise in 1999 versus 1998, 60.1 percent growth in trucks and 63.1 percent growth in private vehicle traffic. The six brand new ferries of latest technology due for delivery this year are expected to boost group sales and profits in 2000.
Minoan Earnings Up 60 Percent Minoan Lines reported that 1999 earnings before depreciation grew 60 percent year-on-year to 20 billion drachmas, on operating revenue growth of 7.5 percent to 46.5 billion drachmas ($125.5 million). Earnings before depreciation and financial expenses improved 53 percent in 1999 to $62.1 million. The earnings report was particularly impressive in the face of traffic losses due to the Kosovo crisis. Its investment of $660 million in seven newbuildings is expected to be completed mid-2002, allowing for a renewal of its fleet and the realization of capital gains from the sale of older vessels. Four of the new vessels are being built by Fincantieri, with the other three coming from Samsung.
34 Ship Ordering Binge Subsides Fast moves on the water were matched with like speed in the boardroom, as Minoan Lines' 70-percent subsidiary Minoan Flying Dolphins completed a rather aggressive and amazing buying spree last year into this, acquiring 34 vessels. The company, which became a instant favorite with equipment suppliers and shipyards alike, went on a purchasing swing that included buying: • ferry Penelopi A. from Agoudimos Lines for an undisclosed sum, adding about 350,000 passengers and 60,000 cars to Minoan Flying Dolphins' total of passengers and vehicles transported and about 1.2 billion drachmas in revenues annually.
• four ferries — Super Naias, Panagia Ekatontapyliani, Apollon Hellas and Ulysses — operating on routes to the Cyclades islands and the Argosaronic Gulf.
• in November 1999 a block of 10 ferries, including Poseidon Express II, Pegasus, Milos Express, Papadiamantis, Poseidon Hellas, Aeas, Apostolos, Hellas, Aphaea and Aegina • three ferries — F/B Anemos, F/B Lemnos and F/B Macedon — from the shipping family Nomikos for an undisclosed amount. At the time the company reported that the three ferries have a combined annual turnover of about 2.05 billion drachmas ($6.51 million), carrying 300,000 passengers and 50,000 cars to the Sporades annually and 125,000 passengers to the Dodecannese destinations.
• six ferries, operating in the sea routes linking the ports of Piraeus and Rafina with the Cyclades islands.
The ferries are Express Afrodite, Express Athena, Express Apollo, Express Hermes, Express Olympia and Express Santorini.
• ferry Sea Speed 1, a three-month-old newbuild from FBM Marine.
• four RoRo vessels, including Sea Trailer from Valentine Marine Ltd., Star Trailer from Kameron Marine, Nave Trailer from Nave Maritime and Cielo Trailer from Cielo Maritime. At the time the company said that the RoRo vessels were acquired to complement Minoan Lines' six highspeed ferries operating in the Adriatic Sea, offering cargo transport services.
• five used ferries which service routes linking the port of Piraeus with islands in the Saronic gulf.
The ferries are F/B Nefeli, F/B Georgios, F/B Saronikos, F/B Eftyhia and F/B Express Danae.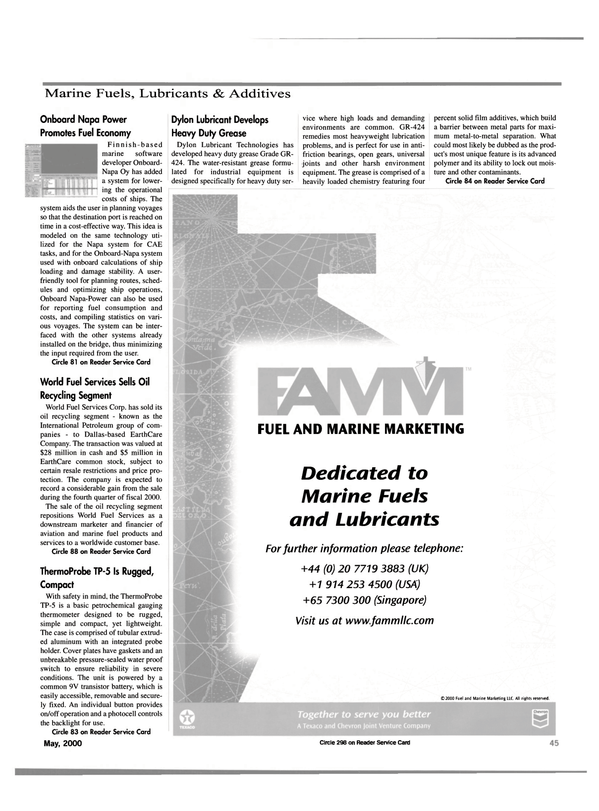 Read Greek Ferries: The New Business Model in Pdf, Flash or Html5 edition of May 2000 Maritime Reporter
Other stories from May 2000 issue
Content