Specialties Cornerstone of Canadian Market
The past decade was a tough one for the Canadian shipbuilding market. It was a decade that produced a decline of both employment and decline of newbuilds, many of which were contracted in the late 1980s still awaiting construction.
This unfinished business was concentrated mostly on various military projects that had been thought out but were never actually followed through. It is estimated that by the time the 1990's came to a close that Canadian yards had experienced the worst decade since postwar times with total sales declining by about 50 percent since 1991. In addition, total employment in the industry has broken off by about 50 percent from 12,000 workers in 1990 to today's figure of 5,000.
It has been reported that these figures, while they are grim, are not a reflection of the Canadian maritime industry as a whole, but merely the shipbuilding community's staggering unemployment and economic rates. Some may find that in these trying times, they are better suited for employment in a field that would deem more productive, despite the industry's relatively high wage pay out.
Customarily, shipbuilders around the world would fall back on their government and national carriers for sustainment, but alas, this is no longer an option. All shipbuilding countries must construct vessels for export, as well as for their own use. For instance, government policy states that government fleets must be renewed and repaired in Canada, while this is good news for the country's shipbuilding arena in that owners will not call upon outside yards, the maintenance of the country's government fleets alone cannot sustain the industry.
In revitalizing this industry, Canada's strengths lie within the construction of high-value specialty vessels, such as ferries, ice breakers, naval craft, offshore support vessels and barges. The vessels are an intricate portion of the country's economy, as they can be marketed internationally.
In fact, it has been noted that Canadian shipyards have experienced a government assisted rationalization that has lowered their capacity by 40 percent - furthering the industry as much better suited to future market prospects.
To further implore Canadian companies to build their fleets and Canadian yards, other means of revenue could be dedicated to Canada's Coastal Trading Act, which states that the owner of a ship constructed or purchased internationally must pay a 25 percent tariff (except as provided under NAFTA), to have their vessel fly the Canadian flag, as well as operating in the country's domestic trade. This tariff, combined with the additional Capital Cost Allowances shown in the Income Tax Act and Regulations provide the only policy tools.
According to Les Holloway, executive director. Marine Workers Federation, the Canadian maritime industry is important to the country's infrastructure and sovereignity.
Holloway feels that more pressure needs to be placed on Canada's federal government to get the wheels spinning on an industry that is in dire need of set policies and procedures. He will, in fact be presenting his argument to a federal committee comprised of all political parties regarding a pending bill titled: Bill C.2I3 - Calling For A National Shipbuilding Policy. At press time, the committee was gearing up for a second reading on this bill.
Touting itself for the production of quality products, the Canadian maritime industry has strived to further its means for the past 10 years, despite a downturn.
The industry recently experienced a successful run with its patrol frigate construction program, which could most probably be the mold for a premiere vessel on the cusp of the latest technology. This program has led to Canadian industry as holding automation and system integration skills that are top-of-the-line. The industry also has the means to develop, design and build specialty vessels for niche markets. Specifically, naval architect Robert Allan who completed the design last year for a new escort tug for Norwegian tugowners Johannes Ostensjo dy AS. The tug, which incorporates many unique hull form developments is currently being built at Astilleros Zamakona of Spain. The company also created a low manning design that features many new components in the development of a high-performance ship-assist tug for Brusco Tug & Barge of Longview, Wash., which will be delivered during the fourth quarter 2000.
While the overall aura within Canadian shipbuilding seems to be industry downturn, the yards have not let up in terms of competition. Canadian chargeout rates are comparable to the U.S. and Japan, and in some instances less than European competitors, but higher than Korea and China. On another hand, labor costs, after converted into U.S. dollars are typically lower in Canada than in the U.S. when dealing with most industry aspects. It has been estimated that the average total hourly labor costs in Canadian shipbuilding are $5 per hour less than in the U.S.
The country's labor costs are low in terms of its competitors, with hourly costs standing at 50 percent less than German yards and 40 percent lower in Japan. Despite the downturn in business, Canadian yards successfully completed some technically challenging projects.
Canada Steamship Lines (CSL) has fared well, with CSL Niagara (one of MR/EN's Great Ships of 1999) and the M.V. Rt. Hon. Paul J. Martin - two seamax vessels that are the largest Canadian ships to be constructed for the Great Lakes-St. Lawrence. Paul J. Martin is also noted as the second (including CSL Niagara) of a three part forebody joining to be built by Port Weller as part of a $100 million fleet reinvestment program by CSL.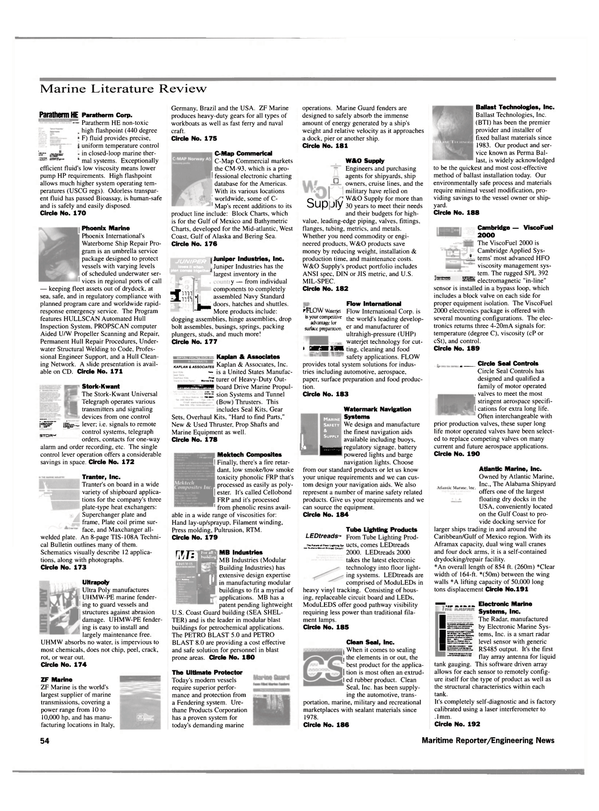 Read Specialties Cornerstone of Canadian Market in Pdf, Flash or Html5 edition of May 2000 Maritime Reporter
Other stories from May 2000 issue
Content