Bridge of the Future
Seen by Audrey Vorobiev, Manager of the Navigation Product Unit, Transas In the light of the overall tendency in the industry towards the integration of information into single interactive solutions, Transas feels that integration technologies will also be dominant on the ship's bridge.
Today, captains are becoming much more like business managers who have to simultaneously deal with many different types of information. Responding to this trend, Transas is developing modules that will take ECDIS to another dimension allowing it to make recommendations about the best route to follow or how to handle the vessel.
We at Transas see that in a few years, the ship's bridge will be a fully integrated environment incorporating Radar/ARPA, ECDIS, AIS, and other types of equipment with, as a rule, two flat-panel displays located at a central workstation. Note, this is basically, the implementation of the DNV (Det Norske Veritas) "Watch One" configuration.
Either display on the bridge will be capable of showing any combination of information. However, one will primarily be used for chart-related navigation (grounding avoidance), and the other for collision avoidance. Now, Transas offers high tech solutions that fully conform to our vision of the ship's future. The Navi- Bridge from Transas, which was introduced to the worldwide maritime community as recently as at the Europort 2001 exhibition in Amsterdam in November 2001, allows instantaneous switching between the Navi-Sailor navigation software, Navi-Radar and Navi- Conning systems at any workstation.
Another characteristic feature of the future bridge will be its increased capability of displaying the information for the use in the decision support (i.e., the "what if"). With ever larger, deep draft vessels, decision support will become increasingly valuable in terms of tides, water levels, current flow, ships tactical characteristics (e.g., squat), cargo loading, just-in time-arrival, etc. Such functions of Transas Navi-Sailor systems as Trial Manuever or Weather Module allowing to overlaying 5-day weather forecast against the electronic chart screen, seem to be efficient leads towards this 'trial' functionality of the future bridge.
AIS (Automatic Identification System) in combination with Radar/ARPA will result in far more accurate and reliable information about the location and movement other vessels. Potentially, it will also lead to a significant reduction in voice communications (ship to ship and ship to shore).
VTS of the future will be more Vessel Traffic Information Services (VTIS) as well as port security operations. If information on a particular port exists, the key to be able to access and display it onboard a ship. Potentially, this will be similar to a Maritime Internet service (satellite or land based communications).
At the same time, un-manned ships will hardly become the reality in the foreseeable future.
One can seriously think of one-man ships — only for certain classes of vessels, not likely SOLAS. The advanced functions that can be expected in ECDIS, in the near future, include, for instance, the Route showing on both Autopilot (or Track Control) and ECDIS. Also, routes will be sent in digital format from VTIS center or shipping company to the vessel to notify of a change in route/destination if required.
At present, the Transas navigational product line consists of a range of marine navigation systems, including the world's first type-approved ECDIS, suitable for any type of vessel; a world collection of exclusive vector electronic navigation charts; software/hardware instruments for processing of radar information; and a wide choice of specialized software applications.
Transas products are successfully used onboard thousands of vessels, operating worldwide. Transas products are designed in full compliance with the international requirements set out for navigation equipment, and with the SOLAS convention. This compliance has been confirmed many times by a number of classification societies in various countries.
Quality control procedures are carried out in accordance with the ISO-9001 standard.
Circle 2 on Reader Service Card www.maritimereporterinfo.com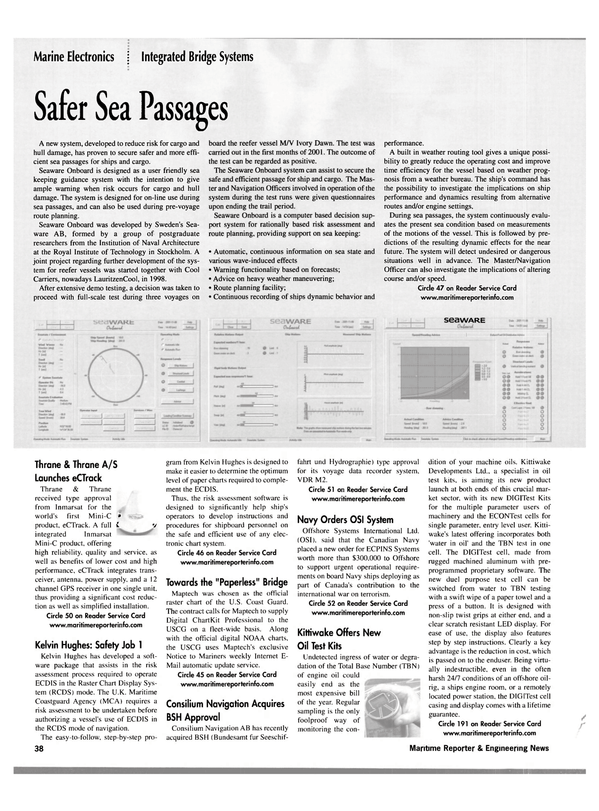 Read Bridge of the Future in Pdf, Flash or Html5 edition of January 2002 Maritime Reporter
Other stories from January 2002 issue
Content