Entry of the Titans Delayed
After consistent annual growth of between seven and nine percent, the global containership market is experiencing severe conditions, with the collapse in charter rates and continuing, extensive capacity additions to the fleet at a time of stagnation in the world economy.
The international trade downturn, exacerbated by the broader economic impact of the terrorist outrages in the U.S., has resulted in the deferment of contracts for the much-vaunted, proposed new generation of linehaul vessels over 8,000-TEU capacity. The events in the liner sector underscore shipping's propensity for extreme market conditions, over-and-above the cyclical patterns that have traditionally been experienced in the bulker and tanker fields. That very fact points to recovery in due course, albeit after the current period has exacted a heavy toll on operators and the related industries.
Dr. Hans G. Payer, one of the industry's most circumspect as well as erudite representatives, has expressed confidence in the long-term growth prospects for the liner business, and in the ultimate scope for newbuildings offering more than 8,000-TEU slots. In his capacity as executive board member of Germanischer Lloyd, he told a recent London gathering that "There will again be a doubling of container volume to be shipped by the year 2010," and pointed to the tempting economies of scale embodied in a future breed of cellular ships outstripping currently operated tonnage.
"The continuing investment in hub ports to handle vessels of this size and beyond testifies to the preparedness of ports in most parts of the world to accommodate them," noted Dr. Payer, adding "They are an inevitable component in the further development of the container transportation industry " Although the 'stretched' Maersk Stype ships and Hapag-Lloyd's recently commissioned, 7,500-TEU Hamburg Express have already taken the industry close to the 8,000-TEU category, there had been earlier expectations that ships of 9,000-TEU and larger would be ordered in 2001.
Dr. Payer criticized certain of the mega-container ship design studies undertaken by various organizations on the strength of earlier market interest as being "superficial and technically inadequate".
He felt they did not compare in depth and thoroughness with the sixyear German maritime industry research study, project-managed by GL, into the feasibility of an 8,000-TEU containership, including detailed design consid- erations. He also contended that some of the proposals publicized by other organizations did not match "the technical comprehensiveness of our subsequent design study for a 9,200-TEU vessel." The society's research endeavors pertinent to boxship technology and safety include participation in a number of European Union- and German government- sponsored projects. One are of study, dubbed Roll-S, is the phenomenon of parametric roll as affects large containerships in particular.
GL has also addressed issues relating to the adoption of ever-more powerful main engines in increasingly large boxships, as regards engine deflections and interactions between the machinery and the ship's hull. It has developed a new method of engine alignment aimed at minimizing loads on crankshafts and obviating the engine-hull interaction problems experienced by some containerships.
Furthermore, the society has been involved in strengthening containership hulls at anchor contact points, hawse pipes and tug pressure points. It is also developing instrumentation to indicate hull stresses and reduce storm damage, and is investigating improvements in lashing systems.
GL's stake in boxship classification amounts to 31-percent of gt and 35-percent of ships in service, as at October 2001. However, this is set to grow by virtue of a 51 -percent penetration of tonnage under construction and on order, corresponding to 56-percent by vessel number.
Comfort in Class Italian ferry operators' widespread endorsement of vessel speed as a tool of competition and improved productivity has provided a platform for the advance of maritime technology across a broader front in Italy. Through its project for a new breed of full-displacement, RoRo passenger ferry able to attain a top speed of 31-knots. Neapolitan coastal and shortsea specialist Tirrenia di Navigazione signaled its determination to ensure long-term competitiveness in a core business, namely the traffic between the Italian mainland and Sardinia.
Bithia, the first of two sisters, which bring the concept to realization, is a testament to Fincantieri's design skills in achieving a remarkable combination of speed, power and carrying capacity.
In addition, the award of the Comfort Class notation by Registro Italiano Navale (RINA) denotes the designers' ability to overcome the particular technical challenge associated with ensuring minimal noise and vibration in a comparatively fine-lined hull encapsulating a multi-engine plant and power train intended to ensure a cruising speed of 29 knots.
The 36,500-gt Bithia is the first RoPax ferry of conventional type to receive RINA's Comfort Class certification, hitherto conferred on cruise ships and high-speed craft since its introduction in 1999.
The award was made by the society following a comprehensive series of tests carried out in the course of the vessel's regular operating pattern linking Genoa with Porto Torres. The vessel was found to comply with the strict noise and vibration criteria laid down by RINA to ensure an especially high standard of passenger comfort. Similar investigations were also undertaken on a unit of Tirrenia's high-speed ferry fleet, the 1,800-passenger Scorpio, leading to the parallel assignment of the Comfort Class status to the 43-knot vessel, which runs between Civitavecchia and Olbia.
Bithia is due to be joined in February by sistership Janas. Both were constructed in the Naples Bay area, at Fincantieri's Castellammare di Stabia yard. The Tirrenia vessels are arranged for 2,700-passengers, complemented by a RoRo intake of 900-cars, or 70-trailers plus 500-cars.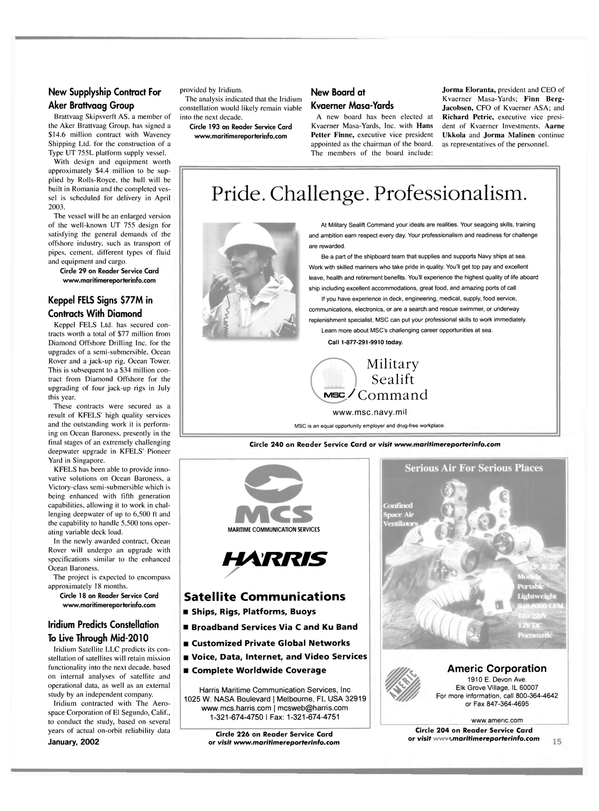 Read Entry of the Titans Delayed in Pdf, Flash or Html5 edition of January 2002 Maritime Reporter
Other stories from January 2002 issue
Content