Integrated Bridge Allows Cutting Edge Design
The integrated bridge system concept has steadily gained speed over the last decade, as much the result as a market driven phenomena with owners and regulators demanding safe, efficient and labor-saving bridge design, as the result of the tremendous level of consolidation among marine electronics and software providers. Because of its diversity of vessel builders and owners spread around the world, it is foolhardy to believe that the marine business will, in this generation, approach the standardization inherent in the airline industry, for example. However, a number of highprofile accidents and navigation mishaps, combined with owners that increasingly demand more efficiency from less crew, has helped to advance the IBS concept very rapidly.
STN Atlas Marine Electronics recently received orders worth $10 million from South Korean yards for 23 NACOS integrated navigation command systems incorporating Atlas Radarpilot 1000 radars, ECDIS and other proprietary sensors. Worldwide sales of systems for installation aboard commercial vessels and new-generation cruise liners as well as retrofits now exceed 700 configurations. The new commissionings include 35-4 systems for a series of LNG carriers and oil tankers being built by Daewoo on behalf of Exmar, Golar LNG and Chandris for delivery in 2002-3; the systems will form part of Atlas Ship Control Centers (SCCOs) also featuring integrated bridge automation and communication functions. Similar 35-4 assemblies have also been commissioned for installation aboard 13 container and crude oil tanker newbuildings under construction by Hyundai Heavy Industries for delivery to Costamare Shipping, MSC Mediterranean Shipping and the National Iranian Tanker Co. Meanwhile, four new 50,800 gt container vessels ordered by NSB from Hanjin's Busan yard for completion in 2003 are to be equipped with NACOS 55-4 systems which additionally feature Atlas Multipilot multi-functional navigation workstations combining ARPA, ECDIS, conning and steering control functions.
Kongsberg Maritime Ship Systems (KMSS) reported recent success in selling its Bridgeline, Integrated Navigation System in Korea, as the system is to be fitted to seven of the new LNG tankers, with options for further deliveries in the future. The orders have been placed by the three major Korean shipyards; Hyundai, Samsung and Daewoo for tanker operators; Shell Tankers (U.K.); BP Amoco (U.K.); ALSOC (Australia); Bergesen (Norway); Osprey x 2 (Singapore); and SK Shipping (Korea).
KMSS will provide Radar/ARPA, ECDIS- electronic chart display system, MBB- voyage data recorder, UAIS- universal automatic identification system with full integration of the navigation instruments.
The Bridgeline assembly will be carried out in Korea.
In addition to these key LNG tanker orders, KMSS also received contracts for BridgeLine to two other large LPG tankers from Hyundai, to be operated by CMM (Greece) in addition to two shuttle tankers from Samsung for Interocean Ugland Management.
Ever the innovator, Kelvin Hughes Ltd. introduced its new bridge design concept at the recent Europort 2001 exhibition in Amsterdam. "The new bridge system represents a radical departure for Kelvin Hughes and for the shipping industry," said Ron Nailer, managing director. A radical departure from traditional bridge design, the new Kelvin Hughes offering employs only flat panel displays and a new, completely independent control unit. Patent is pending.
The new unit effectively ditches the preconceived "T" bridge design, as operators can now move freely between displays and controls. A pair of high chairs at either side of the control unit enable operators to have a maximum head-height vision while using ergopods to control displays. Five 23-in. flat screen panel KHOR (Kelvin Hughes Optimum Resources) 2300 displays are aesthetically placed on a base console.
The new layout is deigned to make maneuvering around the bridge easier for operators and to significantly improve access to displays and controls.
Kelvin Hughes recently was the recipient of a major contract to have its fully integrated bridge system installed onboard the new flagship Queen Mary 2, a record-setting ship that was a hotly contested reference.
Measuring more than 1,131 ft. (345 m) the ship will be the largest passenger liner ever built, and is due to be launched in 2003 from the Alstom-owned Chantiers de l'Atlantique in France.
Transas launched two new products of its own in Amsterdam, the Navi-Radar and Navi-Conning products.
The company, which is a confirmed leader in the production and delivery of advanced, integrated bridge concepts, shares its vision of the future of the integrated bridge in an article by Andrey Vorobiev, manager of the Navigation Product Unit, starting on page 41 of this edition. Transas' Navi-Radar is an advanced system combining a variety of functions, including video signal processing, displaying radar and auxiliary information, ARPA tasks, displaying SENC data, the control of radar operations, interfacing with external systems and documenting information.
Navi-Conning presents information from a variety of external sensors on a single display. The standard panel layout of Navi-Conning permits indicators for such vital systems and parameters as wind, depth, anchor, navigational lights; course, speed ai d rudder state; route, time, position, rpm and engines.
Furuno's integrated bridge system is dubbed voyager, and combines ECDIS, Route Planning and Route Monitoring, ARPA and Radar, and ANTS — with centralized conning display.
The Voyager incorporates an adaptive steering control in the automatic track control system, which automatically steers the ship from point to point along a planned route in narrow waters, or across the ocean in the most economical way. The ANTS, or Automatic Navigation and Track-keeping System, has built-in adaptive steering control and a centralized conning display.
nView Corp. introduced the Virtual Bridge, providing a panoramic view of the ship's integrated monitoring systems on multiple side-by-side displays. The Virtual Bridge is now offered by nView as an optional capability with SiMON, the Ships Information Monitoring system.
The Virtual Bridge is comprised of up to four large flat-panel LCD displays, mounted end-to-end, running from one central computer. It creates the appearance of having one very wide display, capable of providing information from all the ship's critical operating systems simultaneously.
The user can easily drag and drop operating information, such as the radar display, electronic charting and SiMON from one screen to the next in any direction with simple point and click functions.
The information on the displays can be dynamically reconfigured as the captain chooses, using a single computer keyboard and mouse. SiMON is an integrated system designed to monitor any system, subsystem or sensors on the vessel.
It collects real-time data from any number of analog or digital sources, and formats the data for display on the ship's computers.
Polar Marine is sending its Able Bodied (AB) seamen to MarineSafety International (MSI) San Diego to become proficient as Radar Observers and ARPA operators.
This approach was developed by Polar Marine to enable their AB's to better participate as watchstanders on its new Millennium tankers. The Polar Endeavor Class vessels are equipped with stateof- the-art Integrated Bridge Systems (IBS). When underway, the ABs stand a lookout watch day and night on the ship's Bridge.
Due to severe weather conditions in many operational areas, the bridges are fully enclosed from wing to wing.
Although they do not relieve the Watch Officer of responsibility, a better-trained Lookout will be better able to assist the Watch Officer in identifying contacts and assessing threats.
MarineSafety International will conduct the nine-day combined Radar Observer and ARPA course at its San Diego Simulator Center.
MSI instructors, certified by the USCG under STCW guidelines, will train students in the theory of radar operation, Rules of the Road, rapid radar plotting and relative motion as part of the Radar Observer Course. An examination will be given at the end of the course. ARPA training will include theory and systems practical exercises and a USCG approved comprehensive final examination. Graduation from the nineday course will culminate with the awarding of Radar Observer and ARPA certificates recognized by the USCG.
For further information on the companies listed in the preceding article, please circle the corresponding Reader Service Card number, or for faster service, visit www.MaritimeReporterlnfo.com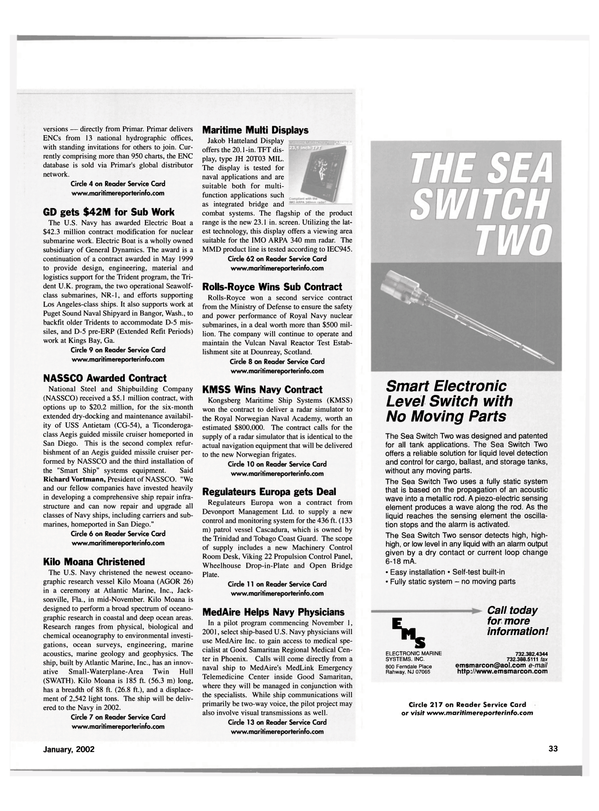 Read Integrated Bridge Allows Cutting Edge Design in Pdf, Flash or Html5 edition of January 2002 Maritime Reporter
Other stories from January 2002 issue
Content