Creating a Portable Dynamic Positioning System
Imagine being able to take something as a simple as a barge, and convert it into a highly sophisticated dynamically positioned vessel. Now, imagine this conversion being done dockside, in the water, in a week's time. Thrustmaster's deck-mounted Portable Dynamic Positioning System (PDPS) eliminates the need for dry-docking, structural changes to the vessel, and only takes a minimal amount of deck space, so a vessel can be ready to go with a minimal amount of down time.
The Arctic Discoverer was the first vessel on which a Thrustmaster portable DP system was installed in 1988, and the Thrustmaster 4 x 500-hp portable DP system was used by Nippon Salvage on its 270 x 85 x 17-ft. (82.2 x 25.9 x 5.1-m) deck barge, which has been outfitted for reel pipelay.
Installation of the thrusters and HPUs is accomplished dockside by the use of cranes, either shorebased or on the vessel.
The equipment is modular and easily trucked overthe- road, even to remote locations - installation and mobilization can be accomplished in just a few days. A service technician, who uses a laptop computer for program fine-tuning, troubleshooting and performance analysis, is required during mobilization of the system.
Demobilization of the system is simple and is performed via the interconnecting hydraulic hoses and cables, which are removed, drained and packed. The thrusters, HPUs, and controls are removed from the vessel and transferred to the next project vessel, or stored until needed.
How It Works Thrustmaster's PDPS is a computer-controlled propulsion system that allows a vessel to maintain its position in open waters against wind, waves and current.
It can also let a vessel follow a predetermined track at a specified heading and speed, or follow an independent target such as an ROV or AUV.
The PDPS consists of four thrusters controlled by a computer, which calculates and controls the amount and direction of thrust necessary to control the vessel's heading, position and speed.
Position reference sensors, combined with wind sensors and a gyrocompass, continuously provide data to the computer regarding the vessel's position, heading and wind forces.
In addition to the thrusters, the PDPS also has four containerized HPUs, one remote manual bridge common control panel, one DP computer system, the interconnecting hydraulic hoses between the thrusters and HPUs, and the electrical cable between the HPUs and the control consoles. Standard thruster sizes are 300, 500. and 1.000-hp, and using multiple thrusters, systems up to 8.000-hp can be configured.
Accurate control of thruster output is essential in DP applications. The PDPS uses fixed-pitch propellers with hydraulic podded drives, thruster output is regulated through control of the propeller speed and the closed-loop hydraulic drive facilitates precise propeller speed control from zero to maximum rpm.
Thrustmaster's portable thrusters are deck-mounted using a minimum amount of space. The variable speed hydraulic drive motor is in the lower foot of the thruster. directly in line with the propeller shaft. This direct hydraulic drive eliminates the need for right angle gear transmissions and drive shafts used on other thrusters. Hydraulic hoses run from the deck-mounted upper thruster assembly down to the propulsion motor in the lower foot of the thruster. Other than the hydraulic fluid running through the hoses, there are no moving parts in the thruster stem. The stem length can easily be adapted to accommodate different vessel hull depths. Each thruster comes with a self-contained HPU, consisting of a marine-type hydrostatic transmission unit using a radiator-cooled diesel engine as a prime mover. The HPU may be installed at any convenient location on deck.
Each HPU comes with: Diesel engine; hydrostatic pump package; a fuel day tank; an independent batterypowered electric start: control system with automatic alarms and shutdown; critical grade muffler and noise attenuating equipment; and a standard ISO 20-ft. container as an enclosure (on some HPUs) These power packs produce the hydraulic power for the propeller drive system as well as hydraulics for steering and auxiliary functions. The power is provided through hydraulic hoses that run on deck from the HPU to the thruster. The basic PDPS uses a compact dynamic positioning computer specifically adapted for use with Thrustmaster's hydraulically driven azimuthing thrusters. The basic DP computer system is designed to satisfy IMO DP Class 0/1 and communicates with the thruster output steering systems through conventional signal cables. The basic system consists of a controller unit and an operator terminal.
The controller provides interfaces to the position reference systems, wind sensors and the hydraulic thrusters.
Using a three-axis joystick, course adjustment wheel, a selection of dedicated buttons, and an LCD display, the operator can automatically hold or manually adjust the position and heading of the vessel. Thrustmaster also furnishes a drop-in style manual remote bridge control panel to provide manual control over each individual thruster when the DP computer is off-line.
Circle 76 on Reader Service Card www.maritimerepoterinfo.com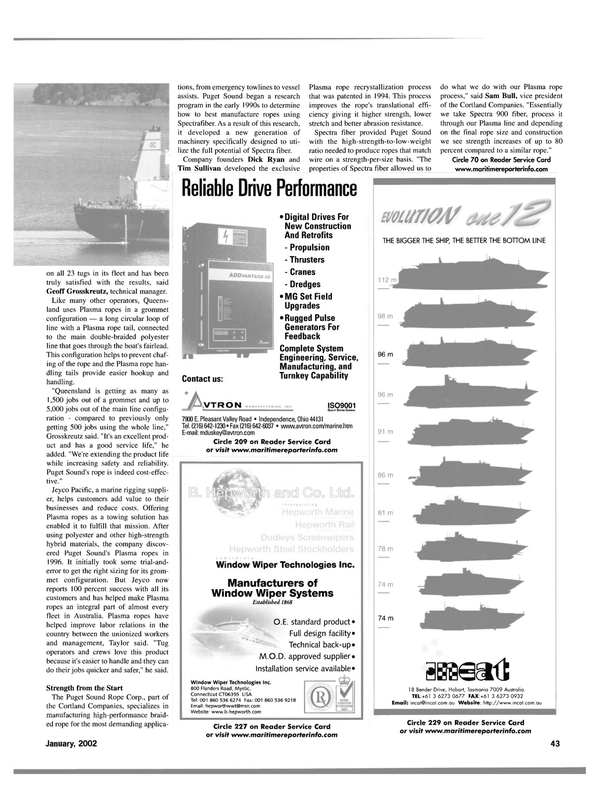 Read Creating a Portable Dynamic Positioning System in Pdf, Flash or Html5 edition of January 2002 Maritime Reporter
Other stories from January 2002 issue
Content