Full Steam Ahead
New AIS solutions and applications are coming out as you read this report!
The evolution of AIS solutions is proceeding at breakneck speed, with a healthy mix of traditional names and new faces introducing new and improved products at every turn. The advent of AIS technology is particularly important now, as ports and vessel operators increasingly focus on safety, collecting and analyzing as much information as possible about a given vessel.
This year's SMM exhibition in Hamburg proved to be fertile ground for the introduction of new and the familiarization with established AIS systems. The following is a summary of recent news from electronics manufacturers.
During its decade of business, the maritime community has expected and received constant evolution of technology from Transas, and SMM 2002 did not disappoint. The company held a live demonstration of its UAIS messaging system with neighboring booth Radio Holland. During the demonstration two "virtual" vessels each carrying a newgeneration electronic chart system exchanged text UAIS messages in the real time mode. Transas and Radio Holland have a long-standing partnership, and the companies have agreed to merge their efforts in promoting the UAIS/Navi-Sailor configuration as the optimal AIS solution.
NSB announced that its worldwide fleet of 77 container ships would be refit with STN Atlas Marine Electronics' new Debeg 3400 Universal AIS system, via a contract signed during the SMM exhibition. Developed by STN Atlas and type-approved by the German Bureau of Shipping and Hydrography (BSH), the fully autonomous Debeg 3400 transmits ship's own data while receiving the same from other UAIS systems within VHF range. Main features include merging of AIS and ARPA target data, in addition to acquisition of target information where no radar contact is available.
For more than a decade, Saab TransponderTech has designed, developed and marketed transponders for Maritime and Aviation applications. To date Saab TransponderTech has delivered more than 700 IMO compatible ship transponders to domestic and international customers, and also holds a leading position with land based AIS infrastructure products related to AIS.
Earlier this year, the company was first given type approval by Bundesamt fur Seeschifffahrt und Hydrographie (BSH) in Germany, on AIS according to the international standards and requirements.
Today Saab TransponderTech markets its products for land-based applications direct and shipping related products through partners, ICAN (www.ican.nf.net); Kelvin Hughes (www.kelvinhughes.com); Leica (www.leica.com); PinPoint (www.pinpointsys.
com); Saab Rosemount Marine (www.saabmarine.com.sg); Sperry Marine (www.littonmarine.
com) and Tokimec (www.tokimec.co.jp) From Vienna, Austria, Nauticast AG specializes in the development and distribution of refined AIS navigation aids, catering for both the commercial, inland navigation and leisure shipping industries as well as ports and VTS centers.
Simply stated, the Nauticast solution is a compact, lightweight version that is sure to gain favor with companies seeking not only a solid technical solution, but also one that takes up the absolute minimal amount of space. The core product of the X-Pack range is the X-Pack DS AIS-Transponder, assembled to ISO 9001 Standard by outsourced production partner Siemens AG Austria. The XPack DS AIS-Transponder integrated alphanumeric keyboard to ensure its popularity with space conscious owners.
The X- Pack DS, which interfaces with existing NMEA compatible equipment, automatically and continuously broadcasts and receives static, dynamic and voyage related ship data and exchanges it with other AIS equipped vessels and shore stations within VHF range. The company intentionally created a unit with a compact design - 280 x 200 x 60 mm.
Japan Radio Company's (JRC) AIS product — JHS 180 has been typeapproved.
It is a shipborne system that is capable of continuously broadcasting ownship information while continually receiving and displaying information being broadcast from other vessels. New technology on the unit includes Self- Organized Time Division Multiple Access (SOTDMA), which allows increased interoperability while helping to eliminate channel congestion. In addition, the VHF data link allows the AIS to "see around corners," helping to avoid dangerous situations before visual contact is established.
Founded in 1948, and boasting more than a generation of designing communication products for use at sea, Sailor offers the UAIS 1800 (Universal Automatic Identification System), a Class A ship borne transponder designed to comply with the IMO Resolutions MSC.74(69), Annex 3, for compulsory installation on SOLAS Convention vessels.
The Skanti UAIS 2000 has been developed according to IMO's requirements and fulfils the requirements for Class A ship borne equipment of the Universal Automatic Identification System (AIS). It is designed according to, among others, IMO resolution MSC.74 (69) Annex 3., "Recommendation for performance standard of UAIS;" ITU.R.M.1371 "Technical characteristics for an Universal Ship borne Automatic Identification System"; IEC 61993 Part 2 "Universal Ship borne Automatic Identification System (AIS).
Operational and Performance Requirements, Methods of Testing and Required Test Results"; and IEC 61162 "Maritime Navigation and Radio Communication Equipment and Systems - Digital Interfaces." The KDU 2000, Keyboard Display Unit, fulfills the IMO requirements for a control and display unit. However, the UAIS 2000 will typically be connected to more advanced display systems, which may already be installed on board the vessels.
ObsTek and its partner SML Technologies, manufacturers and distributors of vessel traffic management and port safety systems have already been awarded a contract, and have been approved, by the United States Coast Guard for the demonstration of a Universal Automatic Identification System (UAIS) in the port of New Orleans. The demonstration consisted of two UAIS transponders: one connected to a desktop system and one to a portable system; the demo took place in the spring of 2000. The Coast Guard has solicited public comments on its proposal to the IMO before it presented draft recommendations at an intersessional meeting of the Maritime Safety Committee (MSC) in February.
The MSC will meet again in May to develop amendments to the Safety of Life at Sea Convention (SOLAS) that IMO will vote on at an international conference on Maritime security scheduled for December 2002. The initiatives the Coast Guard is considering proposing range from vessel equipment to increased portside security and would apply to vessels currently subject to SOLAS (vessels over 300 gt engaged on intentional voyages, and vessels over 500 gt on any voyage).
For more information on the companies listed in this report, circle the appropriate number on the Reader Service Card in this edition, or visit www.maritimereporterinfo.
com.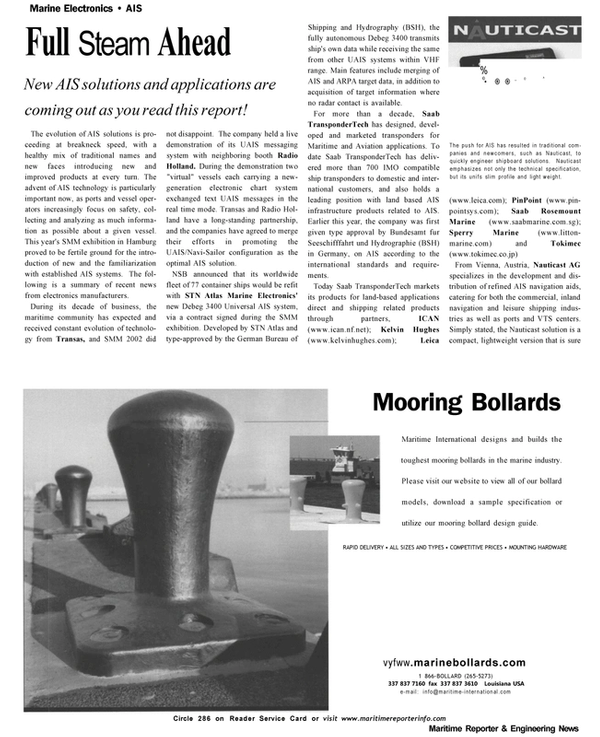 Read Full Steam Ahead in Pdf, Flash or Html5 edition of November 2002 Maritime Reporter
Other stories from November 2002 issue
Content