Lerchbacker Puts Austal USA on the Fast Track
By Angie Drobnic Holan
When Austal Ltd. of Henderson, Western Australia, started looking last year for a CEO to lead its U.S.-based operations, the job description must have been daunting. They wanted a leader to take the helm of their newly built shipyard in Mobile, Ala., and turn it into a major contractor for both military and commercial vessels in the United States.
Austal had recently entered the U.S.
market for the first time, intent on competing with higher-profile rivals such as Incat/Bollinger, Derecktor Shipyards and Kvaerner.
The company settled on Alan Lerchbacker, 50, an energetic former Navy Aquanaut with a business background, who took the position in February 2002.
Lerchbacker had never heard of Austal until a headhunter contacted him. But the more he learned about the job, the more excited he got, he said.
"Austal is very entrepreneurial. They don't have a lot of corporate layers of management and they're very on the edge technologically," Lerchbacker said.
"I felt like I'd been training my whole career for this." The son of Navy parents, Lerchbacker grew up in the Cleveland area before attending the U.S. Naval Academy in Annapolis, Md. Over a 26-year military career, he worked with the Explosives Ordnance Disposal Unit and headed up the Navy's recovery efforts for the doomed space shuttle Challenger in 1986.
His shipyard experience included running operations for the 2,200-personnel Naval Shipyard on Guam, as well as overseeing quality and strategic planning for 22 ship repair facilities with a $574 million budget and 18,000 workers.
After retiring from the Navy, Lerchbacker earned a master's degree in business administration. He went to work for the Metropolitan Water District of Southern California and then a state business incubator project.
Though 50 and a grandfather, Lerchbacker appears years younger and bears a strong if surprising resemblance to Steven, the Dell Computer Dude. In his spare time, he plays professional volleyball and enjoys renovating old houses as a hobby.
Lerchbacker leads a management team that combines equal portions American military and Australian shipyard experience.
Simon Thornton, a 30-year veteran of Australia's aluminum shipbuilding industry, heads up operations in Mobile.
Another Australia transplant, Chris Pemberton, serves as Austal USA's vice president of marketing and sales.
Rounding out the team as vice president of marketing and administration is Bill Pfister, who, like Lerchbacker, is a former Navy officer and Naval Academy graduate. Pfister has private-sector shipyard experience as well: He worked at Halter Marine's Mississippi operations before leaving to help Austal scout its location in Mobile.
The three vice presidents guided Austal USA for two years before Lerchbacker's arrival. Because of federal maritime laws, Austal had to open a shipyard on U.S. soil in order to sell ships that could sail between U.S. ports. In 1999, Austal selected Alabama, and tax breaks from a city government eager for high-paying welding jobs sweetened the deal.
Another factor in site selection was Austal's partnership with Bender Shipbuilding & Repair Co. Inc., an 83-yearold Mobile shipyard revitalized in recent years by third-generation owner and president Tom Bender. Bender's investment in laser-cutting technology has been a boon to both companies, and the shipyard also shares its dry-dock facilities with Austal USA when needed. Bender holds a 30 percent stake in Austal USA, while Austal holds 70 percent.
"Nothing is more important than local eyes and understanding what the local issues and the local dangers are," Pfister said of the partnership.
Since February 2001, when Austal USA opened its boat-building shed, the operation has delivered two vessels and taken orders for four more. The first two vessels sold were not U.S.-flagged, but were bought by Otto Candies LLC, a Louisiana-based oil and gas support company, for offshore use. Austal's first U.S.-flagged vessel was sold to Lighthouse Fast Ferry of New York, which operates under the name New York Fast Ferry. The 85-ft. (26-m) ship was scheduled for delivery in October 2002.
The other three announced contracts include a small cruise ship for Island Queen Cruises of Miami, scheduled for delivery in November 2002; a dinner cruise vessel for Cloud Nine of New York, scheduled for April 2003 delivery; and a 141-ft. (43-m) catamaran for Circle Line- Statue of Liberty Ferry Inc.
scheduled for June 2003 delivery.
Though Austal USA won't disclose the prices for the vessels, Australian news reports have pegged most of them in the $12 million to $15 million range.
One contract the company lost, however, was due to an overly high bid.
Austal submitted a proposal for two large car/passenger ferries to be used by the Alaska Marine Highway System, a division of the Alaska Department of Transportation. Austal's designs were fine, project manager Gary Smith said, but the price tag came in too high. The Austal bid was about 25 percent higher than the one offered by Derecktor Shipyards of New York, Smith said.
"It was pretty cut and dry, really," he said.
Lerchbacker said Austal sticks by its bid. "We feel that with the price (Derecktor) gave, they're going to have a hard time meeting that price and delivering the speed they said they would deliver," he said.
Despite the loss, Lerchbacker said Austal is intent on winning contracts for larger ships. A major expansion at its Mobile shipyard will quadruple its current covered workspace by May 2003, he said.
The expansion will also allow the company to fulfill any military contracts, which Austal USA is aggressively pursuing, Lerchbacker said.
Earlier this year, the parent company Austal Ltd. leased a 331-ft. (101-m) catamaran, the WestPac Express, to the Navy's Military Sealift Command for use by the U.S. Marine Corps' Third Marine Expeditionary Force in the Pacific region in and around Japan. The ship, capable of carrying 970 passengers and 32,000 sq. ft. of cargo, needs only a 14-ft. (4.2-m) draft.
One of Austal's primary competitors for military work is the Australian shipyard INCAT, based in Tasmania, which has allied itself with Bollinger Shipyards in Louisiana to fight for military contracts.
While INCAT/Bollinger is considered a formidable team, INCAT has suffered financial problems with its Australia operations and has been recently held in receivership. The company is expected to recover, but some analysts believe the receivership has hurt INCAT's reputation.
"INCAT will probably survive if it can sell just one vessel, but it has lost industry credibility," said Peter Strachan, an Australia-based analyst with the stockbroker D.J. Carmichael & Co.
Strachan follows the parent company Austal Ltd., which is a publicly traded company on the Australian Stock Exchange under the symbol ASB. Last year, Austal Ltd. had revenues of $194 million and employed 1,700 workers.
Strachan said he expects Austal to continue to do well both internationally and in the U.S.
Austal USA, meanwhile, continues to raise its profile in its new market. Lerchbacker, for instance, is scheduled to appear at the International Workboat Show in New Orleans in December, where he will share the stage with rival Donald "Boysie" Bollinger of Bollinger Shipyards. The two men are billed to discuss partnerships between U.S. and international companies.
The energetic Lerchbacker said he's eager to take the stage with Bollinger.
"I'm going to love it," he said, adding that some of his old Navy buddies have promised to show up for the event.
Lerchbacker said he expects Austal USA to win enough contracts in the coming years that the company will have about 2,000 workers by 2007. The company now employs 120.
He envisions the company handling a mix of commercial and military projects, using the diversity to offset slumps in any one market segment, he said.
Austal Ltd. may be better known in Australia and Asia than in North America, but Lerchbacker hopes that will change soon, he said.
"Globally, it's a very prominent name.
It's hard for the Australians to understand that in the U.S., they're a lot of other companies," he said. "But we're getting our brand out. Things are going really well."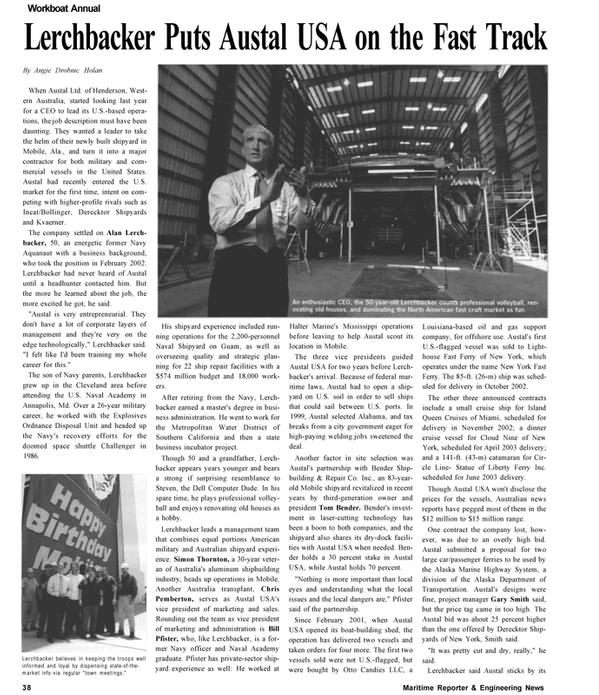 Read Lerchbacker Puts Austal USA on the Fast Track in Pdf, Flash or Html5 edition of November 2002 Maritime Reporter
Other stories from November 2002 issue
Content