Markey Provides the Strong Pull
Seattle-based Markey Machinery, for nearly one century, has proven itself to be one of the top deck machinery companies in the country. Started in 1907 by Charles Markey as the C.H. Markey Machinery Co. — serving the marine and logging industries — the company evolved into a leading maker of advanced deck machinery, as evidence by its long list of high profile references, such as Crowley's new tug Response.
The company's early years included a number of different partners and business tactics. Perhaps the defining moment for the company was World War I, which resulted in a skyrocketing demand for machinery, and resulted in the company moving in the spring of 1917 to Horton Street in Seattle, which is where the company's main plant still sits today.
That factory, in order to supply the burgeoning need for steam cargo winches, anchor windlasses, power steering engines and other types of deck machinery to support the war effort, ran at full capacity, around the clock, for two years.
With the company now solidly entrenched in the Seattle culture, it progressed through subsequent times - both good and bad - with its signature adherence to building, installing and maintaining quality products. The steam steering system installed aboard the sternwheeler tug Portland in 1947 is perhaps the best example. The tug worked in the Columbia River for years, before becoming a riverside museum. Markey's steam steering system still works, and the company continues to service it on a regular basis, even making parts when necessary.
Today, the company's product line consists of: • Deep Sea Winches for line sizes from 0.25 to 1.5-in. (6 to 38 mm) with line capacities up to 45,000 ft. (13,700 m); • Near Shore Research Winches for line sizes from .1875 to .3125-in (5 to 8 mm) with line capacity up to 6,500 ft. (2,000 m); • Traction Winches for line sizes from .25 to 1 in.
(6 to 25 mm) with line capacities up to 45,000 ft.
(13,700 m), ideal fiber optic cable or below deck installation; • Single and double drum Tow Winches for line sizes from 1 to 2.5 in. (25 to 64 mm) wire rope clutches, with a full range of control options and diesel, hydraulic and electric drives; • Escort & Ship Assist Winches, with hydraulic or electric drive, a full range of control options, fast line speeds, high braking capacities, line monitoring system and emergency abort operating mode.
In addition, the company is able to produce any number of specialty winches to a customer's specification.
Markey Machinery on Response Markey Machinery Co., Inc. of Seattle has supplied equipment onboard Crowley's tug Response.
The bow of the tug is fitted with a WYW-20-48 hydraulic combination winch/windlass with a 1.25-in. anchor wildcat, and soft-line storage drum.
Adjacent to the main hawser winch is a type DEPC-42 electric deck-winch for 350 ft. of soft-line, used for tie-up and basic barge-work (thus protecting the main line from general-purpose wear and tear) The DESS-52 250 HP Electric Hawser Winch provides the Captain with the ability to devote his attention to utilizing all of the tug's potential, and leaving the Hawser Winch to handle the line. The winch capabilities include: • Constant-tension winch line pulls to three times the Tug Bollard (440,000 lbs. maximum) (similar to DNV type "Escort Winch" requirement) • Automatic inhaul and payout up to line speeds of 700 fpm • Water-cooled "slip" brakes , capable of continuously dissipating up to 1,600 hp, or the bollard pull of the tug at 3 knots.
• Render - Recovery to 3 times the bollard pull - i.e active winch during escort/arrest evolution • Automatic or Manual (Selectable at Wheelhouse console) three-speed gear transmission • Dual, all electric AC drive, (75 hp, 175 hp (combine to 250 hp) • Tension monitoring system during braking and inhaul-payout operation, i.e. real-time display of line-tension at all times • User controlled electric-motor driven level-wind; ability to override the levelwind at the Wheelhouse console • "Seamless" transfer from the Render -Recover mode to the "Render only" mode using the water-cooled brakes • "Drop in", fully integrated winch design (excluding the electric power unit (EPU) which is mounted on shock mounts in the space below the winch).
For additional information on Markey Machinery: Circle 99 on Reader Service Card www.maritimereporterinfo.com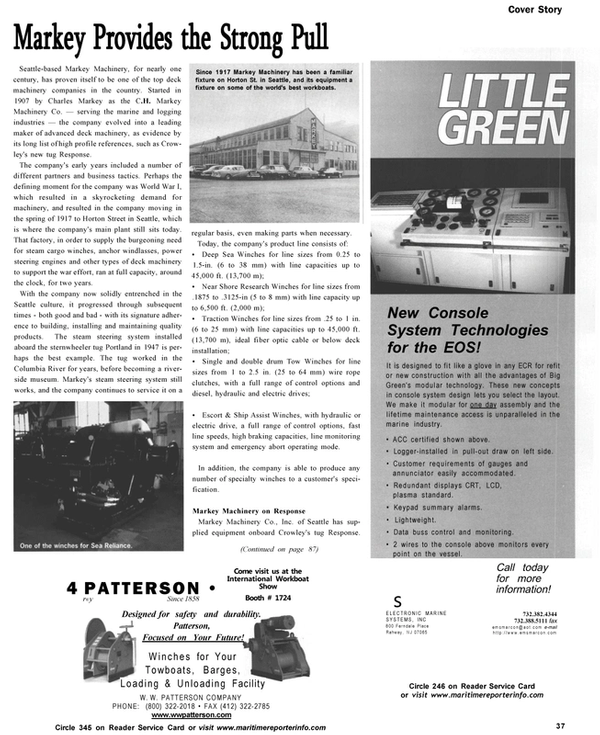 Read Markey Provides the Strong Pull in Pdf, Flash or Html5 edition of November 2002 Maritime Reporter
Other stories from November 2002 issue
Content