Marine Software: Aiming to Lower Costs
Founded by a group of marine engineers in 1991, Marine Software, Ltd.
was established with the goal of providing the industry with simple, easy-to-use software. By virtue of the founder's experience, it was sure that the company had a clear insight as to the needs of the industry and intricacies of systems for onboard use. The company today counts 330 vessels as customers, with others joining the installed base at a steady rate. Existing clients include the U.K.
Ministry of Defence, Seabulk International, Global Marine Systems, Reederei Nord, Dobson Fleet Management, Bluewater Marine Management & Midocean (IOM) Ltd.
All systems produced by the company are manufactured in modules, a tactic that allows customers to purchase only what they need. For example, if the operator requires only Planned Maintenance, then this could be supplied as a stand-alone system. If needs changed requiring stock control, purchasing or project management, Marine Software can easily add these and additional modules, linking them to existing modules with no disruption to the system.
Marine Software recently launched Marine Planned Maintenance Lite for Windows and Marine Storekeeper Lite for Windows, systems that only exhibit the core functionality for basic planned maintenance and stock control. While the 'Lite' systems are perfectly adequate for basic functionality they can, if the customer later requires, be upgraded to the full systems with a simple program change, without the need for restructuring or importing their databases.
For ship operators, sourcing a planned maintenance package is only the first part of the task of implementation. The more formidable hurdle is setting up the system for individual ships — a process that can be the most time consuming and expensive part of the project.
A Helping Hand Down Under Incat — a leading supplier of fast ferries — needed to supply a standardized planned maintenance package on delivery of each vessel, as Marine Software had already supplied planned maintenance systems directly to the ship operators, Sea Containers and Condor Ferries, for many of their existing vessels.
These systems, due to their simplicity and ease of use, had proved very suitable to the operating environment found on board fast ferries, limited manpower, fast turnaround times, high operational work load and frequent changes of crew.
Sea Containers therefore contracted Marine Software to supply planned maintenance systems to four fast passenger ferries operating in New York Harbor for Seastreak Inc. Once again a heavy operational load on the operators left them without spare resources to set the systems up, so Marine Software was able to supply a skeleton system from equipment lists and some manuals for the main machinery. Sea Containers technical staff in the U.K. will then flesh these skeleton systems out, liasing with the ship managers in New York for final polishing. Sea Containers technical team will be able to carry out the installation of the systems using their own staff.
In the Navy The U.K. Ministry of Defence, Warship Support Agency, had a requirement for planned maintenance systems suitable for a class of patrol boat sized training vessels, totalling 16. Due to the similar operating environment as on a fast ferry, i.e. small crew, high operational workload, etc., an easy-to-use system was preferred. As much of the routine maintenance for these vessels was to be carried out by outside contractors and, as the maintenance had to be structured in a manner compatible with Royal Navy practice, many changes to the system were commissioned. The actual planned maintenance databases were set up and installed by BAE Systems Ltd., who also undertook the small training requirement at time of installation onboard.
Global Marine Systems Sub-Sea Division operates many remotely operated vehicles (ROVs) and cable ploughs for the maintenance of existing telecom cables and the laying of new ones. Each vehicle together with its control cabin, workshop, and spare gear outfit housed in containers can be deployed, as a unit, either on owned tonnage or suitable chartered tonnage. Also many of the owned and long term chartered tonnage had a requirement to control maintenance on the ROV handling equipment, A-frames etc., and the cable engine and associated equipment which is part of the vessel's outfit, but comes under the responsibility of the Sub-Sea department.
Because of the specialized nature of much of the equipment, the need to have a deep understanding of cable ship operations and the heavy workload of Global Marine's own technical staff, the company employed a consultant to carry out the set-up and installation work on their behalf. Marine Software, which was selected to supply Marine Planned Maintenance and Marine Storekeeper for 43 systems, was able to modify its products to fit closely with Global Marine's requirements and to co-operate with the consultant to aid with the task of set-up and installation. Many planned maintenance databases were copied from one system to another and most installations provided inventory data on Microsoft Excel spreadsheets, which Marine Software was able to import.
Circle 195 on Reader Service Card www.mariHmereporterinfo.com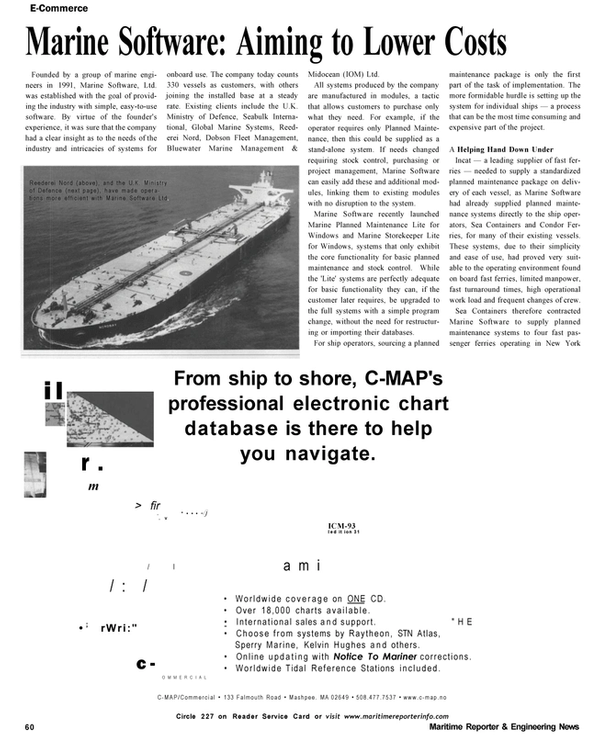 Read Marine Software: Aiming to Lower Costs in Pdf, Flash or Html5 edition of November 2002 Maritime Reporter
Other stories from November 2002 issue
Content