Maritime E-Business Growth Continues
By Edward Lundquist
E-business means doing business on the Internet. This can include any business process — to include buying and selling, which is known as E-commerce.
The arranging for transport by sea or the buying and selling of things needed for ships that sail from port to port are among the world's oldest professions.
Many ship owners, operators or managers still conduct business the old-fashioned way, building and maintaining close and longstanding relationships with suppliers or customers.
While the dot-com craze of a few years ago has passed, E-business is revolutionizing several important business processes in the maritime industry.
Computers can aid in the design and construction of vessels, and the Internet can be used to transmit design information and changes instantaneously. Communication capabilities are expanded with the web. Equipment sensor data, such as engine oil temperatures and pressures, can be transmitted from a vessel at sea via satellite to be monitored by a company manger or by the manufacturer ashore to determine when maintenance or replacement is required. The chartering of vessels or space for cargo aboard vessels is a process that relies on close and personal working relationships, but has also found efficiencies through web-based chartering applications.
Ships require manning; charts; weather; insurance and classification (the establishment and administration of standards) can all use the Internet to be more efficient and productive. With satellite communications and on-board equipment, a ship can now maintain a complete set of charts, and get regular updates.
At the height of the frenzy, some "dot.coms" promised to change the way the maritime industry did business by replacing multiple in-house processes with their comprehensive web-based applications. The approach was flawed, in that the applications could not do everything, and do it all well. Some sites could tell you the temperature in Tampa, the container count in Calcutta or the latest quote on oil in Antwerp.
There are survivors, however, and they are the companies that have added efficiencies and economies to specific functions within the maritime industry instead of replacing them Just as websites like HotIobs.com and Monster.com help employers and job seekers connect, such specialized sites exist for the maritime field as well.
"Recruitment is placed perfectly to take advantage of the web, especially in an international industry like shipping," says Phil Parry of Spinnaker Consulting in Essex, U.K., which operates the maritime job site shippingjobs.com.
"We specialize. We all have maritime backgrounds. We kept the site simple to use and focused on our core business.
We've worked to make sure that our registered candidates and infrequent visitors to the site are kept up to date with new vacancies." Similarly, sites such as www.maritimejobs.
com have flourished in the U.S.
U.K.-based Kittiwake, (which claims that approximately 70 percent of its business is conducted online), performs fuel, oil water and other time-critical sample testing. "Traditional business models are failing. E-commerce removes the barrier to growth," states Michael Dines, systems developer at Kittiwake.
There are applications to help maritime companies manage their businesses, installed locally on their own computers.
Xantic offers a system called AMOS, deployed in more than 7,000 different applications. AMOS provides a shipping company's "core business enterprise solution." Oslo-based ShipNet offers a variety of software applications from manifesting, container tracking and voyage planning to accounting, purchasing and office management. ShipNet is compatible with purchasing portals, like ShipServ and iShipExchange. Such integration means the shipping company's accounting software knows when the purchasing system has bought something and can pay the invoice, for example.
ShipServ is an application service provider (ASP). You access the software when you log in as a registered user.
ShipServ provides a trading platform and network called TradeNet that shipowners and their suppliers can use to exchange the documents involved in the process. Clients can access TradeNet either through their own software, which has been integrated with TradeNet, or the client can log onto ShipServ's applications on the web and use the site's hosted purchasing or sales system.
Paul 0stergaard, CEO of ShipServ, believes that e-commerce in ship supply is now a reality: "Our business is mostly about changing the process rather than changing relationships. In most cases the shipowner continues to order direct or seek quotes from his usual suppliers.
Today we have 25 ship owners buying from 175 contracted suppliers and a further 800 suppliers have had orders through TradeNet." Computer aided design and manufacturing (CAD/CAM) has revolutionized ship design, construction and repair.
Now CAD/CAM is being integrated with e-commerce.
Tribon in Malmo, Sweden is a leader in design and information systems for shipyards, and has now added a "marketplace" to their CAD/CAM systems.
According to Tribon's Magnus Feldt, "A designer can select a component and virtually place it into the three-dimensional product model of the ship." That gives users access to a lot of information about that component, such as specifications, service availability, presentations about the manufacturer, or detailed drawings. "If the component fits your need, you can order it directly with our 'Tribon.com' marketplace," he says.
"You can extract all design and production information needed to build the ship.
The product model can be delivered to the ship owner/operator together with the real ship. As all information on the components and systems will be stored in the product model, this can be used for maintenance and product life-cycle support," says Feldt.
Tribon.com is open, says Feldt, which means it works with any CAD/CAM system.
And it is neutral, in that it doesn't favor any particular shipyards or suppliers.
Since Tribon's site is a subscriptionbased service, buying something via the site has no additional line-item charges or commissions.
An On-Line Fuel Exchange The buying and selling of "bunkers," the fuels that ships use, is a multi-billion dollar market. OceanConnect is an exchange for marine fuel, and one of the e-commerce success stories in the maritime industry. "Our technology finds the best deal for buyers and suppliers alike," according to the company's Website.
There were many e-chartering sites launched a few years ago, but only a few have survived.
ShipIQ is a company with an electronic chartering platform that connects the oil chartering community and the tanker owning community. "ShipIQ provides its users with the information, tools and the platform to complete complex transactions online. Charterers can search for vessels meeting their criteria while tanker owners can identify cargo matches for their vessels. After a negotiation is initiated on ShipIQ, the parties are able to complete the deal online, leaving a clear, well-organized audit trail and documentation," says Bob Conley, product development manager for Massachusetts-based ShipIQ.
One of the keys to his company's success is not eliminating the middleman.
"Our system is broker friendly. We do not 'disintermediate' the broker from the transaction," Conley says. The online approach also improves the accuracy by providing transaction history and documentation.
ShipIQ receives a commission from its customers based on the transactions conducted on its site.
While ShipIQ is a neutral service, Conley says his company is backed by Repsol-YPF, the large Spanish national oil company and Global Petroleum, both charterers. "Cargo is king," says Conley. "The cargoes attract owners and brokers to the site." Even the venerable Baltic Exchange in the heart of London, has gone digital. According to the Baltic's Peter Hill, the 250-year-old Exchange, whose shipbroking members are involved in negotiating charters for much of the world's merchant tonnage, launched its electronic platform last summer. "In addition to providing members with the facility to search for and match ships with cargoes, the system also provides them with immediate access to the Exchange's unique array of freight market indices which are published daily and which reflect the prevailing freight rates for typical vessels on a wide range of standard routes," explains Hill. E-commerce providers make their money by charging subscription fees, transaction fees or commissions.
Some provide integration with in-house systems for a few.
For all the efficiencies and economies, few maritime E-business providers have yet to make a serious profit. Some of the highly touted and well-funded competitors of a few years ago have burned through their cash and abandoned the market. Those that have remained have focused on their customers' specific needs. Maritime consultant John Shearn thinks the right long-term approach will be a mix of in house ecommerce facilities and external exchanges. "But the key area where buying organizations need to put in major effort seems to be in supplier community management — knowing their suppliers, monitoring their performance and using them better, for which there is a new breed of knowledge management tools addressing the sourcing area." Efficiencies for Purchasing A promising benefit of maritime ecommerce is the streamlining of the purchasing process. The present process might be something like this. A ship pulling into port needs supplies, stores and repair parts. The ship's master contacts the ship's owner via ship-toshore phone or by landline upon arrival in port. This company uses a form for requisitions, and the handwritten order could take up a number of pages. The master will fax it by a long-distance phone call when the ship pulls in. For this example, the company owns several ships, and has a full-time purchasing manager — in this case on the other side of the world from where the vessel is — who receives the requisition. The purchasing manager reviews the requisition to determine whether or not the items were needed right away or could wait until later. Perhaps the ship has a repair period scheduled in the not-too-distant future; perhaps the material will already be available on the pier when the ship pulls in; or maybe the material can be transferred from another vessel in the company. In this case, the purchasing manager decides that the list of items is valid, and must be purchased.
The purchasing manager usually deals with the same suppliers. But his vessel is calling at a port that the company doesn't visit often, so the manager has several options. He can deal with his regular local suppliers and have them ship the material ahead; he can use the company's agents in that port (if they are using an agent) and let them find the items; he can look for a supplier by consulting any or all of the various directories listing suppliers, husbanding agents and chandlers at ports around the world; or the parts may be available through the manufacturers' representatives.
Time is of the essence. The ship will be in port just long enough to unload and load cargo. Any extra time awaiting parts will cost the company money. In all likelihood, when the purchasing manager finds someone who can get what he/she needs — he/she won't bother to shop around for a better price.
The search and the subsequent ordering process takes place with costly phone calls and faxes. The resulting records might consist of some files with copies of the orders.
Standards Adopted With a web-based application, however, the process is faster, easier and more efficient. The applications vary, but most use an adaptation of the standard language for Internet trading (called Extensible Markup Language or XML) called Marine Text Markup Language or MTML, developed and maintained by the Maritime e-Commerce Association (MeCA). The association says that MTML is simple to use and is open to any maritime company that wants to conduct e-commerce.
The ship's master can create his formatted requisition on board then send it via the Internet via satellite while underway or via phone lines when ashore. If prepared in advance, it takes only a few seconds to submit (which is critical when considering phone charges). The purchasing manager receives it almost instantly, and since the purchasing office uses the same format, he can selectively review and approve each line item. The requisition can then be submitted as a request for quotation (RFQ) to one or multiple suppliers. The suppliers who receive the RFQ can quote their availability and prices. The purchasing manager can select which items he will buy and return it as an order. Then the supplier, in turn, can confirm the order and submit the shipping details.
The transaction can be integrated with both the buyer and seller's in-house systems; the transaction data can be useful later on, too. If a company has four vessels, the data can be easily compared to see if one vessel is using more engine parts for example, or more lubricants, which might indicate the need for an overhaul or replacement.
Some ship owners have just one or two vessels and do the management themselves. Other companies are larger, or provide management services to various owners. Eventually, maritime businesses need to automate their functions.
There are various software packages that shipping companies can use to manage their operations. This can include crew assignments and personnel records, payroll, schedules, maintenance and repair, record keeping, purchasing, chartering and more.
For example, Xantic has agreements with portals so that purchase orders created with its AMOS system can be submitted to suppliers directly.
"As a result of the partnership between Xantic and the portals owners, users onboard vessels running the AMOS software AMOS M&P will be able to send a requisition to their onshore office, from where the M&P system automatically sends the request for a quote a spare part through to an Eprocurement portal. From here, information from vendors (prices, delivery times, part numbers, etc.) will be fed automatically back into the AMOS M&P system. This information can then be used to select parts for a requisition or the purchase order. In addition, the information is then stored in the database for future use," reports Xantic in a company press release.
Likewise, suppliers have automated their in-house buying, order fulfillment, accounting and inventory management, too, and can integrate with the portals and buyers using MTML to achieve similar efficiencies.
Catalogs Go On-Line There are several catalogs that have become industry standards. The International Marine Purchasing Association publishes the IMPA Marine Stores Guide, complete with illustrations, specifications, product information and comparison tables for all major manufacturers.
The Marine Stores Guide has 1,000 pages listing 3,777 commodities and 32,500 different codes.
The International Ship Suppliers Association also has its Ship Stores Catalogue listing 55,000 line items of ship stores.
Both IMPA and ISSA are based in the UK but have members worldwide.
Several e-commerce companies, like ShipServ and iShipExchange have "preferred partnership" arrangements with IMPA, ISSA, or both.
Items can be ordered using either catalog's numbers. Both catalogs are available on CD, with a "shopping cart" feature that enables a master or chief engineer to pick items from either catalogue and create a requisition that can be faxed, emailed or transmitted via ShipServ TradeNet to the owner's purchasing department, for example.
One commercial supplier, Unitor, has a catalog with 10,000 products for shipboard use from maintenance and repair equipment to marine gases and refrigerants.
The Inventory Locator Service (ILS) serves as an auction site. Anyone with excess inventory can use ILS in much the same way that E-Bay works for collectibles.
ILS not only supports the maritime industry, but the aviation industry and government purchasing as well. A search for a part can be conducted by a variety of ways, including by National Stock Number (NSN).
Some e-commerce systems charged suppliers a percentage-based commission based on the value of the goods purchased, but this proved to be unrealistic.
A one-percent commission may seem small, but on a $100,000 winch it can become steep. Some companies charge a straight transaction fee. In the case of the supplier, a monthly fee may also be accompanied by a transaction fee - in the range of $2 -$5 — for each purchase order. Some e-commerce companies, however, make no charge to the supplier on the basis that the shipowner pays for the service. Most e-commerce businesses today charge subscription or monthly license fees. In the case of the ship owner this will be related to the number of ships (around $100 per month).
Despite much promise, some maritime e-commerce companies have flamed out.
Even with the most sophisticated technology, at the end of the day it all comes down to trust and relationships.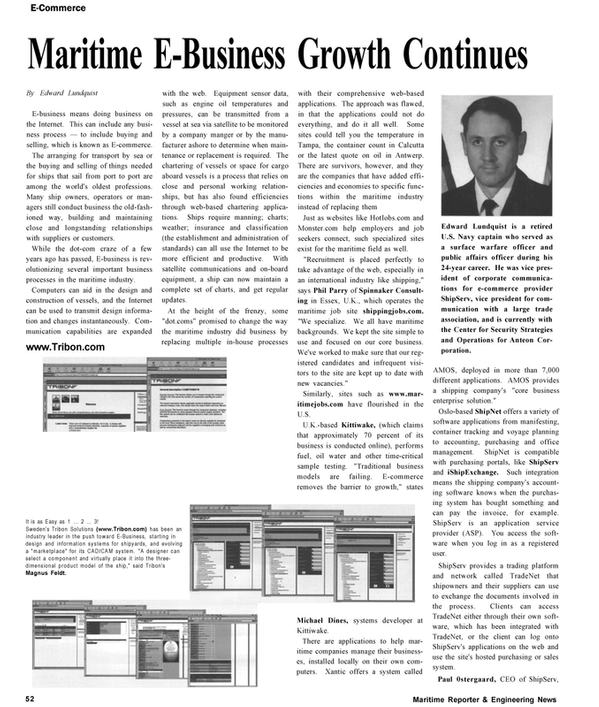 Read Maritime E-Business Growth Continues in Pdf, Flash or Html5 edition of November 2002 Maritime Reporter
Other stories from November 2002 issue
Content