11,000-Ton Drilling Rig Towed 15,000 Miles
A 280 by 150-foot offshore drilling rig arrived in the Gulf of Mexico off the coast of Coatzalcoalcos, Mexico, June 27, completing a 15,000-mile trip from Nihama, Japan, in some 77 days, according to G.A. Watkins, acting managing director of Global Transport Organisation, San Francisco, Calif., the firm responsible for transporting the rig.
The jackup rig is Interocean II, owned by a subsidiary of The Offshore Company and operated by Interocean Drilling, S.A., a joint venture owned by subsidiaries of The Offshore Company and a member of the Royal Dutch/Shell Group. The 11,500-ton rig, recently constructed by Sumitomo Heavy Industries in Toyo, Japan, has a drilling capacity of 20,000 feet in 300-foot water depths.
The jackup rig completed the long ocean journey loaded aboard a GTO 400 by 100-foot oceangoing barge towed by a 9,000-hp GTO tug which averaged 10 knots since the departure from Japan.
The trip is the longest of its kind ever attempted by GTO. This type of transportation has reduced the voyage time required by conventional wet tow methods.
This particular project required the successful application of a new loading technique. In similar moves, GTO has loaded offshore rigs by submerging a barge, floating the rig over it and then raising the barge with the drill rig positioned securely on deck. No submersion was necessary for this job. Loading was accomplished by positioning the barge between the legs of the rig and then jacking the rig down onto the barge. A similar technique is being used to discharge the rig at its final destination.
Interocean II was loaded aboard the newly constructed barge Genmar 105. The 400 by 100-foot barge features a totally automated submerging system and is equipped with hydrofoil skegs for improved tracking and less drag.
Global Transport Organisation is an international marine transportation group uniting three prominent marine carriers. Member companies are Crowley Maritime Corporation, Federal Pacific Limited and Genstar Overseas Limited.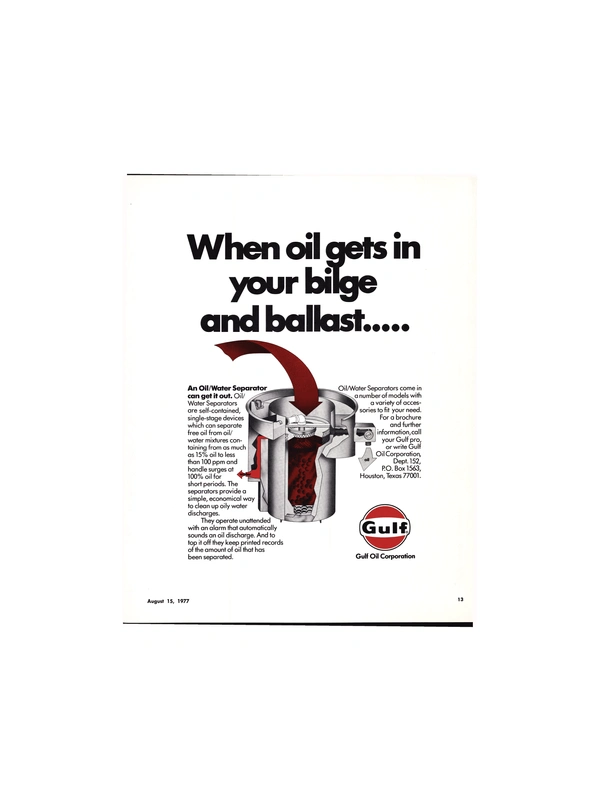 Read 11,000-Ton Drilling Rig Towed 15,000 Miles in Pdf, Flash or Html5 edition of August 1977 Maritime Reporter
Other stories from August 1977 issue
Content