Brochures From Hagglunds Describe Computerized Cargo Handling Systems
the overall economy of cargo vessels. When working with slewing cranes, a large portion of the total crane cycle time is accounted for by spotting of the cargo. In container handling, for example, spotting may take as much as 40 percent of the cycle time. The Swedish crane manufacturer Hagglunds Marine & Offshore AB has utilized a microcomputer to achieve appreciable reductions in spotting time.
The first of Hagglunds new cargo spotting aids, named Steadyline, was introduced in late 1985. It was followed during 1986 by a complementary system, known as Swing Defeater.
These tools constitute a major advance in cargo handling technology.
High-performance, high precision cranes are the basic requirement for fast, effective cargo handling. However, the attainment of maximum output is dependent on the skill of the crane operator. Even for the skilled operator it is difficult to compensate for the torque introduced into the crane during slewing and the unpredictable movements of the load caused by wind, heel or collisions with other cargo or the ship structures.
With Steadyline, the microcomputer has been harnessed to solve these difficult dynamic control problems. The microcomputer, located in the crane housing, is linked with sensors and electronic transducers in the electrohydraulic power swivel at the hook or spreader. When picking up a cargo unit, the operator sets his control lever to the required final alignment relative to the ship. Steadyline speedily adjusts the unit to the alignment and maintains it regardless of crane movements and external disturbances.
Unless the cargo is perfectly plumb when the load is lifted, swinging is inevitably introduced.
This pendulum effect is a leading time-wasting factor in cargo spotting. With Swing Defeater a microcomputer is used to analyze signals from a number of sensors which indicate the origin of the pendulum effects. By modifying the orders given by the crane driver, Swing Defeater counters pendulum effects before they arise.
Steadyline and Swing Defeater greatly improve the speed and safety of cargo handling, as well as reducing the risk of damage to the cargo, the gear and the ship.
As one of the premier builders of marine and offshore cranes, Hagglunds offers a wide range of products, from the smaller L type cranes, suitable for fast cargo handling, to the larger G type units for bulk and unit care goes.
In fact, since their introduction in 1974, more than 1,000 G type cranes have been ordered or delivered. The rugged G type, with capacities up to 50 tons in single mode, is a general purpose crane which can operate in some of the most severe environmental conditions.
For example, G type cranes have been fitted aboard several U.S. Coast Guard Polar icebreakers.
A number of G cranes have also been fitted on Arctic bulkers and will be installed aboard Soviet nuclear icebreakers currently under construction.
For free copies of a full-color descriptive brochure from Hagglunds on Steadyline, Circle 50 on Reader Service Card For free copies of the full-color brochure on the complementary system, Swing Defeater, Circle 51 on Reader Service Card For a free 12-page, full-color descriptive brochure on cargo cranes from Hagglunds, Circle 52 on Reader Service Card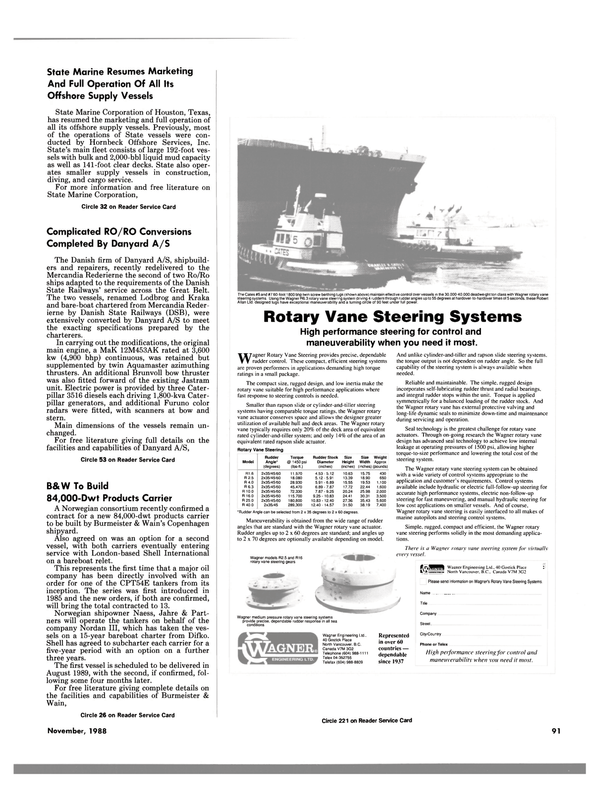 Read Brochures From Hagglunds Describe Computerized Cargo Handling Systems in Pdf, Flash or Html5 edition of November 1988 Maritime Reporter
Other stories from November 1988 issue
Content