OUTSTANDING WORKBOATS OF 1988
This special review highlights some of the most notable and important workboats delivered by U.S. boatyards during the past year. Each selection in this awardwinning group features its own distinctive stamp of performance excellence and fine craftmanship AARON MCCALL Gulf Craft Gulf Craft, Inc., Patterson, La., delivered the world's second largest crewboat, the Aaron McCall during 1988.
The 155-foot, 84-passenger crewboat, the sister boat of the Blair McCall, which was delivered last year, was built for McCall Enterprises of Cameron, La.
Unlike her sister, the Blair McCall, which is equipped with five Cummins engines, the Aaron McCall is powered by six Cummins KT 1150M diesel engines coupled with Twin Disc MG-518 2.5:1 ratio reduction gears. Each engine produces 680 shp at 2,100 rpm. The Aaron McCall's propulsion equipment also includes Aquamet stainless steel shafts and Columbian Bronze four-bladed 40-inch by 36-inch propellers.
Electrical power aboard the Aaron McCall is provided by two 50- kw KATO generators driven by Detroit Diesel model 4-71 diesel engines.
The main engines were supplied by Cummins Mid-South and the generator package was supplied by Kennedy Engine.
Besides a 180-long-deck-ton capacity, the aluminum crewboat features the comforts of luxury accommodations for both the crew and passengers. All interior living compartments are air conditioned and heated by means of a water-cooled Carrier unit. Three staterooms provide sleeping accommodations for six crew members, while both passenger compartments yield seating for a total of 84 passengers.
The aft steering station, which is located just atop and behind the pilothouse, provides the captain with 360-degree visibility and effortless handling when unloading and loading supplies. All six Cummins engines are also controlled via the aft steering station by way of the Kobelt air controls. A Raytheon VHF radio and a Realistic P/A system, as well as the oil company's private radio in the aft steering station provide communications between the captain and platform and deck crews.
The Aaron McCall's pilothouse is fitted with a complete set of electronics.
It features two Furuno radars, two Raytheon loran plotters, a Comnav autopilot, a Raytheon VHF radio, a Stephens single side band radio and a Datamarine depth recorder.
GUIA/LIDER Houma Fabricators In the first quarter of this year, Houma Fabricators delivered the tractor tugs Guia and Lider to the Panama Canal Commission. The sister vessels both have Voith- Schneider cycloidal propulsion systems which feature 360-degree thrust for outstanding maneuverability.
The tugs are used to assist and tow ships through the narrow Panama Canal and locks.
The 95-foot tractor tugs are powered by two 1,500-hp EMD diesel engines that generate a bollard pull of 85,000 pounds. The tractor tug concept is enhanced by 58,000 pounds of side pull which allow the Guia and Lider to hip up to a ship and maneuver it into tight places that prove to be troublesome to conventional tugs.
The delivery of the Guia and Lider brings the number of vessels recently delivered by Houma Fabricators to the Panama Canal Commission to five. The 3,000-hp twinscrew harbor tug Esperanza was delivered in 1985, while the 3,000-hp Chagres was outfitted as a dredge tender and delivered in June 1987.
In addition, a 130-foot salvagediving barge complete with machine shop, salvage crane and decompression chamber was delivered in September 1988.
Houma Fabricators was recently awarded a contract by the Panama Canal Commission to build another tractor tug identical to the Guia and Lider. The contract contains an option for a sister vessel. The Commis- sion also awarded the Houma yard a contract to build a tender tug, identical to the 1987-built Chagres. Both will be 3,000 hp and are scheduled for delivery in the fall of 1989.
NORTHERN ENTERPRISE Halter Marine Halter Marine's Moss Point, Mississippi, shipyard completed the conversion of a 180-foot supply vessel, formerly used in the offshore oil and gas industry, into a crabber/ processor for owners Arctic Alaska Seafoods of Seattle.
Halter removed the vessel's drilling mud tanks below decks and sandblasted, painted and insulated that area, turning those spaces into a 26,000-cubic-foot refrigerated hold. Miscellaneous offshore equipment and a wooden aft deck were removed and replaced with a 1,400- square-foot processing room.
Two hydraulically driven Alaskan Marine knuckle boom cranes with 50-foot booms on 12-foot pedestals, a hydraulic double pot launcher, a Marco power block, and a Halterbuilt picking boom were installed along with stability enhancing rolling chocks.
The Northern Enterprise's electrical system was also redesigned to support the extensive processing and refrigeration equipment. Two Detroit Diesel 8V71T diesel engines were added to drive two new 250-kw generators, and a Detroit Diesel 12V92T engine was installed to drive a 425-kw generator.
The boat's propulsion is provided by two EMD 12-567-BC diesels with Falk 2.98:1 reverse/reduction gears.
Halter Marine Inc. is one of six shipyards in the Trinity Marine Group, which is owned by Trinity Industries, Inc.
PHOENIX III Munson Manufacturing Earlier this year, Edmonds, Washington-based boatbuilder Munson Manufacturing, Inc. delivered the specially designed multipurpose crash/fire/rescue boat Phoenix III to the San Francisco International Airport authorities for use in water rescue operations.
The waterjet-powered Phoenix III, designed for low-speed operation in shallow water, is 34-feet long with a beam of 13 feet. With a large pumping capacity and 100 gallons of AFFF foam, she is readily equipped for firefighting.
Driven by twin Crusader 350/454 marine engines coupled to Nomera 12 jet pumps, she can reach speeds in excess of 25 knots. The jets have diverter and check valves engineered by North American Marine Jet, Inc., to divert water flow into the firemain system.
The firemain system also oper- ates valved bowthrusters to allow operators to maintain boat stability during pumping. One 12-volt 2,000 gph Rule bilge pump was installed in each watertight compartment.
Built to withstand working pressures up to 300 psi, the firemain system was designed with a header to collect water from each of the main jet drives. The header was designed to reduce the turbulence in the system prior to discharging water into the firemain system.
Two Ansul M-l monitors are mounted on the bow and are controlled by joysticks near the operator's console. These monitors will deliver 240 gpm of foam and may also be used for water.
One mission of the boat will be to speed rafts to passengers who evacuate downed airplanes into the water. The boat carries 20 MRP-10S Switlik rescue platform type inflatable rafts on forward and aft decks.
She is even equipped with some medical facilities.
PROTECTOR SeaArk Marine This past spring, SeaArk Marine, Inc. (formerly MonArk Boat Co.), Monticello, Ark., delivered a 28-foot 6-inch aluminum patrol boat to the U.S. Coast Guard Base at Burlington, Vt.
The boat is based on SeaArk's Protector hull design, which features a shallow draft of about 1 foot 10 inches, rugged construction and other excellent performance characteristics.
SeaArk has built Protector Class boats for the U.S. Coast Guard Base at Governors Island, N.Y., and they are presently building another boat for a Coast Guard base in Portsmouth, Va.
Powered by two Yamaha V-6 outboard motors rated at 225 horsepower each, the boat is able to reach speeds of up to 42 knots.
Other features include a raised sheer forward for increased freeboard, bow deck safety railing, recessed after deck and shallow gunwales for small boat inspection, extruded rubber bumper installed at the sheer and on the hull sides, and a heavy-duty tow post for use in assisting disabled vessels.
SAJO VICTORIA Campbell Shipyard Campbell Shipyard, San Diego, Calif., made a significant breakthrough in the commercial fishing market when it delivered a 1,200- ton-capacity tuna purse seiner, the Sajo Victoria, to Sajo Industrial Co., Ltd. of Seoul, Korea.
The Sajo Victoria is a single screw steel hull tuna purse seiner, with a steel deckhouse and an aluminum pilothouse. She has 15 refrigerated fishwells, an anti-roll tank and a free-standing king post to support the main boom, cargo booms and crow's nest.
The vessel, which has an overall length of 221 feet 7 inches, beam of 40 feet 3 inches and draft of 20 feet 1 inch, is powered by a single General Motors EMD 20-cylinder 20645 E7B main engine developing 3,600 bhp at 900 rpm with a single fixedblade propeller. She has an approximate net tonnage of 475 tons and a gross tonnage of about 1,000 tons.
For maneuverability, the Sajo Victoria is fitted with a 350-hp, 47- inch MARCO model T350 bowthruster powered by a Caterpillar model 3406 DITA engine. Her auxiliary power is provided by three KATO 300-kw generators driven by three Caterpillar Model 3412 DITA engines.
SALLY Gladding-Hearn Shipbuilding Gladding-Hearn Shipbuilding, Somerset, Mass., delivered the powerful docking tug Sally to Wilmington Tug and Launch, Inc., Wilmington, Del.
Powered by two Detroit Diesel 12V-149TI diesel engines rated at 900 shp at 2,400 rpm, the Sally has an overall length of 70 feet, beam of 30 feet and draft of 12 feet 6 inches.
The builder describes the Sally as having "the power of a bulldozer and the maneuverability of a sports car." She can handle vessels with deadweights ranging from 50,000 to 125,000 tons.
Like her sister boat Tina, she does not employ conventional rudder with fixed propellers. Rather, the Sally is fitted with a pair of independent, high-thrust, fully rotable propulsion/steering units that can be operated individually or together in any direction to put maximum power exactly where it is needed.
The Sally's pilothouse, high above the deck, offers excellent visibility.
The helm station features dual unilever-type controls and a functional console with all necessary instrumentation. The tug is fitted with 12-inch bow and 16-inch aft towing bitts, two 40-ton hand-operated barge winches, and a hydraulic vertical capstan which is incorporated into the aft towing bitt. She is capable of a bollard pull of some 80,000 pounds. Schulyer 6-inch and 11-inch tendering borders the deck edge, and 9-inch-thick tendering provides gripping action during ship-handling operations.
For ease of service and maintenance, the Ulstein angle drive units, including propellers and Kort nozzles, can be lifted through deck hatches without drydocking the vessel.
SEATTLE ENTERPRISE Bender Shipbuilding Bender Shipbuilding & Repair Co., Inc. of Mobile, Ala., completed a major reconstruction of the at-sea fish processing vessel Seattle Enterprise for Arctic Alaska Fisheries Corporation of Seattle.
The redesigned Seattle Enterprise is one of only four at-sea U.S.
vessels capable of transforming fish, primarily Alaskan pollock, into lowcholesterol fish paste (surimi), used to make imitation crab meat, shrimp and other products.
Originally a 220-foot steel-hull boat used for offshore oil and gas research, the Seattle Enterprise will be employed primarily for fishing and surimi production in the waters of the Pacific Northwest.
With the assistance of a team of maritime professionals, including Arctic Alaska chairman of the board Francis Miller, Bender's in-house engineering and design group severed the ship at its midsection and inserted a 50-foot midbody to add a main fish net deck, processing deck, freezer compartments and freshwater processing area. The converted Seattle Enterprise now measures 270 feet from bow to stern with a 44-foot beam.
The Seattle Enterprise is equipped with a 47,000-cubic-foot freezer cargo hold and has the capacity to make 104,000 gallons of fresh water per day. The vessel is powered by two EMD main diesel engines rated at 1,950 hp each at 900 rpm. For maneuverability, she is fitted with a Caterpillar-powered 425-hp Bird- Johnson bowthruster. Four KATO generators provide power for the ship's processing plant and crew facilities.
Arctic Alaska owns and operates one of the largest American-owned catching and at-sea processing fleets in the North Pacific. The Seattle Enterprise, manned by a crew of 50, became the largest catcher/processor in the company's fleet when she was placed into service this year.
SUPERAMERICA Q u a l i t y Shipyards In the spring of this year, Houma, Louisiana-based Quality Shipyards delivered the SuperAmerica, the third in a series of three new 4,200- hp pushboats built for Ashland Oil, Lexington, Ky.
The SuperAmerica, with an overall length of 150 feet and breadth of 45 feet, is powered by a pair of Caterpillar 3606 diesel engines fitted to Falk 24MR40 reduction gears with a ratio of 4.48:1 turning 105-inch Columbian Bronze five-bladed propellers.
For additional low-speed power, the SuperAmerica's propellers are fitted with Kort nozzles.
Electrical power is provided by two 155-kw generators each powered by a Caterpillar 3306TA diesel engine.
Some of the navigation and communications equipment featured aboard the pushboat includes two Standard Horizon VHF radios, a Motorola SSB radio, two Sperry Marine radars and an Elac depth sounder.
The SuperAmerica along with her sister vessels, the Paul B. Blazer and the Valvoline, cost $10.5 million.
The three pushboats replaced towboats in the Ashland fleet that were all more than 40 years old.
U.S. ENTERPRISE Halter Marine Besides its delivery of the con- verted Northern Enterprise to Arctic Alaska Fisheries, Halter Marine, Inc., New Orleans, La., also delivered the first American vessel designed and built to catch pollock and process surimi to the Seattlebased company.
The 224-foot U.S. Enterprise is a floating factory vessel, which is able to catch up to 250 tons of pollock per day and process 50 tons of surimi.
The boat, which was built at Halter's Moss Point, Miss., yard, was originally intended for use in the offshore oil and gas market.
However, while the vessel was still under construction, Francis Miller, chairman of Arctic Alaska, saw the boat's potential use as a catcher/ processor. Mr. Miller and the Halter design team redesigned the U.S.
Enterprise for her present use.
Powered by two GM-EMD 16- 645C diesel engines developing a total of 3,900 hp through Reintjes WAV 2660 reverse/reduction gears, she has a beam of 42 feet and a depth of 16 feet. Her diesels drive two Coolidge, five-bladed, 118-inchdiameter by 130-inch pitch, stainless steel propellers in Kort nozzles.
The catcher/processor is fitted with an Atlas Danmark 110,000-gallon- per-day, three-stage evaporation- type watermaker, which provides more than double the watermaking capacity needed for processing surimi.
In addition, electrical power for the vessel's Baader filleters, skinners and other processing equip- ment, refrigeration and hotel service is provided by three Detroit Diesel 380-kw generators driven by three Detroit Diesel 12V71T diesel engines.
A fourth 12V71T powers a Schottel S300L bowthruster.
The U.S. Enterprise is fitted with a Westfalia model OSA 7 centrifugal purifier from Centrico to clean the vessel's diesel fuel.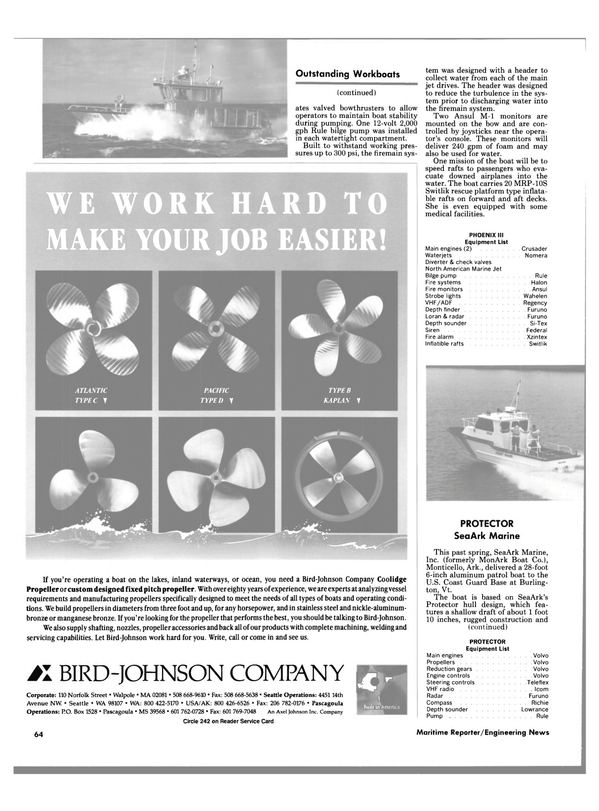 Read OUTSTANDING WORKBOATS OF 1988 in Pdf, Flash or Html5 edition of November 1988 Maritime Reporter
Other stories from November 1988 issue
Content